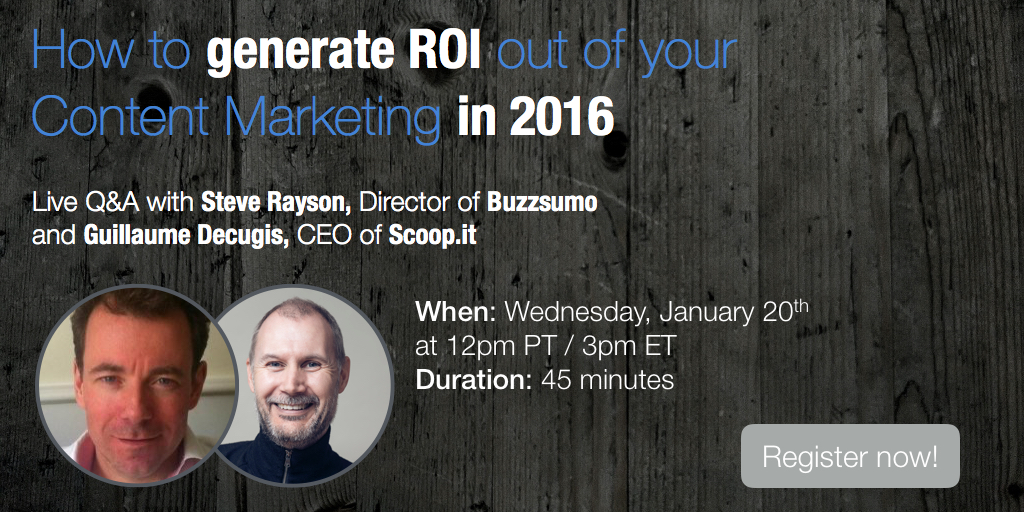 Content Marketing ROI can take time to achieve. Even with the best content and the smartest strategy, it can take weeks or months to build the right audience and see the compounding benefits that cumulate over time. So while you're executing your content plan, how do you know whether you're on the right track?
If you're like 90% of marketers who are not confident about their content effectiveness, you're probably trying to benchmark what you're doing against industry best practices. The problem is: which ones? Content marketers are practicing what they preach and as a result, the Web is not lacking content marketing advice… To the point where this can be really overwhelming. There are so many blog posts telling you to do this or recommending to try that, how can you get an overall assessment of how you perform?
Join Steve, Director at Buzzsumo and Guillaume, CEO at Scoop.it for this free webinar all about how to generate ROI out of your content marketing in 2016.
Among other things, you'll learn how to:
Be clear on your content objectives: generate awareness, create engagement & shares, drive traffic, achieve links, generate leads, etc.
Measure return on your content investment in these different areas.
Figure out which content formats generate high returns for your specific objectives.
Create evergreen content
Update and upgrade content for better Return rates