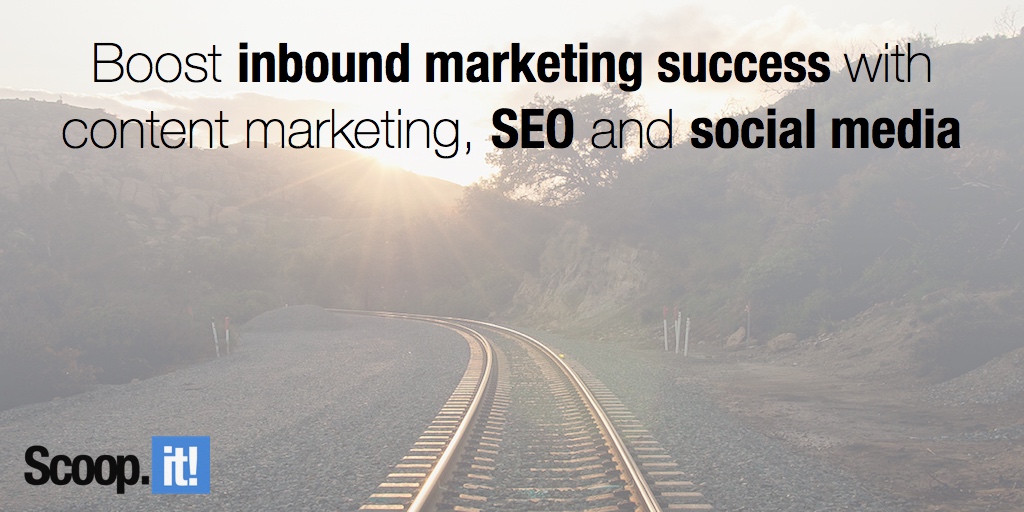 Google currently indexes close to 50 billion pages in its algorithm and every minute that goes by, nearly 70,000 blog posts are created and added to the internet. Content marketing has become an effective inbound marketing strategy for companies around the globe. Yet many businesses still don't seem to have a strategic content marketing approach in place and sadly their content never reaches its targeted audience. I was thrilled when Scoop.it reached out and invited me to discuss how to boost inbound marketing success with content marketing, SEO and social media in a forty-five minute online webinar.
The complimentary webinar is scheduled for Wednesday, March 9th, 2016 at 11:00 am PST (2:00 pm EST). Register now!
Digital marketing experts Marguerite Inscoe of ReLaunchU and Julie Gauthier of Scoop.it will join me in presenting how to systematically create and promote buyer-person targeted content that will boost organic search traffic to a website and generate more leads.
I'll shed some more light about each of the components that we'll discuss in this session right below, but you can expect to understand the principles of campaign-based content marketing and why search engine optimization and social media marketing are a crucial part of getting your content in front of the right audience after attending this session.
Key components of campaign-based inbound marketing
Campaign-based inbound marketing, which involves a combination of content marketing, search engine optimization (SEO) and social media marketing, is necessary to reach new customers and retain existing customers. Events, such as this webinar, provide an amazing opportunity to build an inbound marketing campaign.
Inbound marketing is the process of promoting a company organically by generating content that shows your thought leadership and isn't a sales pitch. With traditional outbound marketing, you pay for pay-per-click such as Google AdWords, cold calls, advertising through ads, flyers and mail, etc. Per dollar spent, inbound marketing produces three times the number of leads as the more traditional outbound marketing. With a solid inbound marketing plan, you can rank higher in search engines which drives more organic search traffic to your website, leading to increased leads, sales and customers.
Content marketing
A big component of inbound marketing is content marketing, which involves producing high-quality, relevant content in a variety of formats on a regular basis to engage your customers. You need to create a content development plan, starting with a content calendar, such as Scoop.it Content Director. The calendar is your roadmap to developing and publishing content and should include things like the content type, subject, author, publishing platform and release date. You also need a resource to manage the plan. You can either use in-house resources or outsource the work, and there are pros and cons to each method. Once you have a plan, a key component to success is to maintain it moving forward. Content marketing is ingrained with SEO keywords, which is explained briefly below.
Search engine optimization
You don't want to create all this rich content and then not see any results, which is where SEO comes in. SEO begins with researching and using the right keywords or phrases that people are entering into search engines to find things. People often use words that they think their customers are using, but without doing proper research, you won't know. I invite you to view a webinar I did awhile back in which I explain keyword research for SEO in a bit more detail.
Once you know what keywords you need to focus on, make them a part of your content development. If SEO is done correctly, it can move your content higher up in search engine rankings and more people will find you. By tracking the data, you can determine how you're doing.
Social media marketing
Social media platforms, such as LinkedIn, Twitter, YouTube and Facebook, have become another rich source of content. Google sees all these platforms as other search resources. Google and Twitter recently teamed up so if something is trending on Twitter, there's a good chance it'll show up in Google search results. Including social media in your inbound marketing efforts has become a necessity for potential customers to find you. Content curation platforms such as Scoop.it make it real easy to find and share relevant content to your followers on social media.
Bringing it all together
Here's an example of how campaign-based inbound marketing can work. If you have an upcoming event, you want to create a campaign around it. You can start by creating a landing page on your website to promote the event, making sure that you're using the right target keywords in your content. Then update your social media platforms such as LinkedIn, About.me and Google Plus company pages, with links back to your webinar landing page on your website, and tweet about the event. With all the cross-promotions, you have more opportunities to reach your customers.
We've implemented this strategy for many of our clients and I frequently get feedback on how well it's working for them. Ready to get started? Sign up for the below webinar and learn how it's done:
I hope you can join us!
Image by Kenneth Moore.