If you aren't including your own customers in your content marketing efforts, you may feel as though your blog posts, articles, and social media updates are missing something crucial. Whether you tailor content to the stated interests of your most loyal customers or you poll your customers and use the information in your posts, that feedback can strengthen your marketing efforts. Not only will your fact-loaded content set you apart as an authority in your field, other publications will quote the statistics cited, especially if they relate to an industry as a whole.
But gathering customer information and conducting surveys can be challenging. People often skip the feedback requests that come after a purchase is complete and requests to answer question by phone usually come across as annoying and time consuming.
Here are a 5 essential tools that can help you get the information you need to add facts to your content.
1. Twtpoll
Your social media followers might be more likely to answer questions when they come one at a time. Twtpoll allows you to create one-question polls and post them to Facebook, Twitter, include them in emails, or wherever else your customers can answer them in just a few seconds.
Over the course of several months, you can gather enough data on a topic to use it in a report or whitepaper. The tool is free for up to 100 votes, with a $9 per-question plan offering unlimited votes.
2. Client Heartbeat
If you're going to strive for traditional surveys, Client Heartbeat can increase your response rates. Here are a few things the software can do:
Walks you through creating simple, personalized surveys, and promises response rates of 60%.
Shows how your responses compare to other businesses in your industry. You can compare each round of results to previous survey periods to see how any changes you make impact your customer feedback, then put that information to use in creating content.
3. Desk.com
One way to boost response rates is to solicit feedback as frequently as possible. By embedding surveys in every support email your company sends, you give customers ample opportunity to participate.
Desk.com's survey tool attaches questions to support emails, with answers measured in simple rating scales, complete with comment boxes for any information customers want to add. You can use the responses to create reports that track trends and identify opportunities for improvement. You can also use the responses to create white papers and data-rich articles that demonstrate how your business has improved its customer service over time.
4. AYTM
As valuable as customer feedback tools are, you're usually limiting your respondents to your existing customer base. This keeps you from getting information from prospective customers who might not have even heard of your brand before.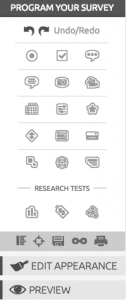 AYTM, which stands for Ask Your Target Market, gives you access to a selection of more than 25 million members of the platform.
Your surveys will be distributed to people who fit within your business's target demographic to give you an accurate picture of the sentiment of customers within your market.
AYTM allows you to easily design and program your survey. Each of their question types and features is carefully crafted to address the most common research objectives, which takes all the heavy lifting off your plate.
5. GutCheck
When businesses need information, GutCheck delivers. Within days of being contacted, GutCheck's research strategists give businesses the data they need from relevant market segments. GutCheck handles the survey creation and data analysis, then delivers the information to the business in a report. The business then has the data it needs to create content without having to spend hours surveying customers and analyzing responses.
Conclusion
When you have detailed data from your customers, you can create content that gets attention. You'll also gain insight into your target market that will help you create better products. Most importantly, your customers will see you're paying attention to what they have to say, which will increase brand loyalty.
If you want to get 30 effective techniques to master content marketing along with valuable insights from 10+ influencers like Mark Schaefer, Rebecca Lieb, Lee Odden, Jason Miller or Ian Cleary, download our free eBook now!
Image by Alejandro Lopez