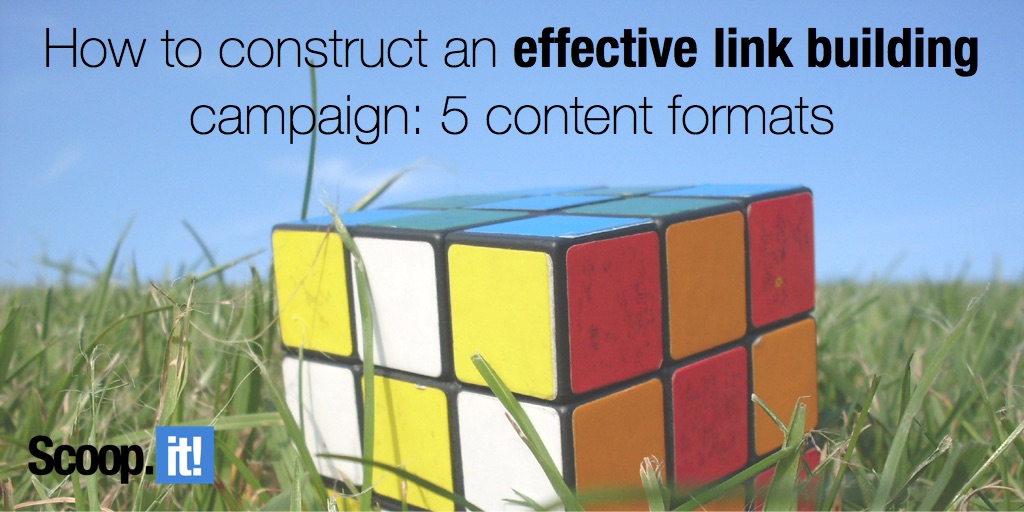 Some of the primary goals of content marketing in 2016 are to attract backlinks and build an audience. For a business, this ultimately results in more brand exposure, better website metrics, and an increased opportunity to upsell. But link building campaigns can't succeed without the right types of content. The question is, which content formats should you use?
In this post, we're going to walk you through the top forms of content you should consider:
1. Listicles
There's a reason you see so many listicles on social media – because they work! People absolutely love numerical headlines and posts, therefore they read them and share them with their friends.
The truth is that our love affair with listicles is actually rooted in our innate response to make sense of the information in our oversaturated environments. The internet is an overcrowded environment with millions and millions of words being thrown at us on a daily basis. Therefore, listicles have a way of simplifying the content we encounter.
Here's an example of a headline from one of many listicle articles from BuzzFeed:
As Maria Konnikova of The New Yorker puts it, "A headline that is graphically salient in some way has a greater chance of capturing our eye, and in an environment where dozens of headlines and stories vie for attention, numerals break up the visual field."
Take a look at this example from foodie Brad Nierenberg. The title – "Top 10 Summer Beverages" – is incredibly simple, yet effective. It's both time-sensitive and compelling. Readers know exactly what they're getting and don't have to worry about wasting their time.
There are a variety of theories and tips when it comes to writing listicles, but the point is to consolidate your information into a digestible article that's easy to share. However you do that is up to you – just don't overlook the role of numerals in headlines.
2. Infographics and maps
People go crazy for visuals. Visual information is far easier to consume than text and it's much more conducive to sharing on social media platforms. While we'll touch on videos in the next section, let's highlight two of the other types of visuals that are killing it right now: infographics and maps:
Infographics: these are powerful because they take extensive data and create a single, aesthetically pleasing image. They're typically very colorful and use clever icons and layouts to organize the flow of information. Here's an example of an infographic on blogging for content marketing. And if you're still curious, here's an infographic of an infographic:
Notice how much more entertaining the infographic is than the preceding article?
Maps: these are the second visual format worth pointing out. This is actually a relatively new trend, but one that's helping many marketers enjoy nice returns. The benefit of maps is very similar to that of infographics – they pack a lot of information into a single graphic that's pleasing and easy to look at. The below map from The Wall Street Journal is one example of a visual that was shared a lot when it was first released:
If you're going to invest in infographics and maps, don't cut corners. Invest in accurate data and stunning graphics. Done well, this content will go a long way towards furthering your link building campaign.
3. Videos
The value of video continues to grow. Globally, experts are predicting that video traffic will account for 82% of all consumer internet traffic by the year 2020.
Did you know there's also a lot of flexibility with video? Here are a few helpful examples for creating and taking advantage of video:
YouTube: launch a YouTube channel and publish videos there.
Your own website: host your own videos on your website.
The possibilities are endless. Depending on your link building goals, some platforms may perform better than the others. Overall, make sure you're investing in sustainable video.
4. Memes
If you spend any time on social media, then you probably know that memes are hugely popular with the millennial generation. They're funny, relatable, and shareable. As a marketer, this makes them ideal for a link building campaign.
In the marketing world, people refer to the process of leveraging memes as "meme jacking." The name comes from the idea that you're simply identifying a popular meme and using it to your advantage.
"A concept doesn't exactly get classified as a meme if it's not fun, engaging, and wildly popular. That's why memes are so great for marketing," expert Pamela Vaughan says. "Rather than creating something from scratch and crossing your fingers that it 'goes viral,' you're leveraging an idea that is already successful."
Memes go in out and out of style, so you have to be ready to move at a moment's notice, but here are some examples of how different brands have used memes in the past.
5. Case studies
If there's one form of content that gets ignored almost entirely, it's the case study. Case studies are super effective, but usually get neglected because of the time and effort that's required to produce them. Don't let this stop you, though.
A case study is valuable because it shows prospects exactly how your product or service works. It essentially says, "this is what we do and here are the results that prove why you need to purchase."
In order to create a case study, you'll need to identify a major pain point that your target customers deal with. Next, you'll need to show how your product helps them overcome this challenge by setting up a real-world experiment or situation, and then collecting data. Finally, you'll need to consolidate the findings into a few sentences that can be shared in a digestible fashion.
Pay attention to your audience
After reading this article, you may feel like you know which type of content you want to focus on. However, our advice would be to proceed with caution. Instead of choosing the content formats that you want, listen to your audience and figure out what they want.
Content should always be formatted around your target audience. This is the only way to generate a healthy return and build links that garner traffic.
And if you'd like to see how content marketing can help you improve SEO, you should read this eBook!
Image by ThreeHeadedMonkey