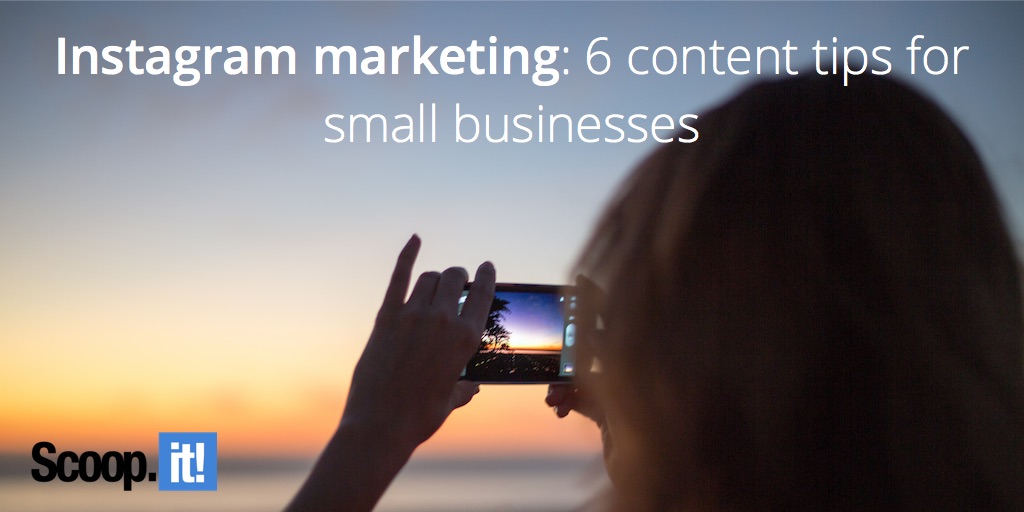 Instagram, the popular photo- and video-based social media platform, is not just for celebrities and teens. It can help small businesses increase their exposure, and generate leads and sales.
Adding yet another social media channel to your marketing mix might seem daunting; you have to produce even more content to provide real value for users. With Instagram, however, all you need is a smartphone to get started. Its 500 million users certainly make it a channel worth exploring.
Here are 6 engaging content ideas for creating an active Instagram presence.
1. Showcase company culture, history
Instagram is an ideal channel to showcase your company's culture. It can be as easy as showing pictures from around the office, company celebrations, or spotlighting employees. Posting company images will give your customers and prospects a sense of what it's like to work for there and do business with you.
If your business has been around for a while, it's fun for your customers or fans to see how times have changed. For example, retailer Target showcases images from what its stores looked like years ago.
2. Promote sales, offers, events
Like the other social media channels, Instagram can help promote sales, offers, and events. Providing users with an update on what's going on will keep your business top-of-mind — your branded graphic will stand out in their Instagram feeds.
Whether it's a sale with a promo code, an upcoming event, or promotion, Instagram can help spread the word.
The Children's Place, a clothing retailer, promotes its sales through branded graphics as a reminder to followers to stop in or shop online.
3. Host a contest
Instagram has yet to publish official guidelines regarding sweepstakes and contests. One of the most popular forms of Instagram contests is to ask users to post pictures and use a dedicated hashtag. Select winners at random by pulling all the images with the dedicated hashtag.
Contests are a quick and easy way to increase the number of followers. Make sure to promote your contest on your other social channels as well.
Gap, for example, ran a contest asking followers to show its best festival look — with the hashtag #styldby — for a chance to win a VIP experience to the Sasquatch Festival, a music event.
4. Provide insider access
When adding a new social media channel to your marketing mix, it's important to use unique content that people can't obtain elsewhere. Providing followers with insider access or a sneak peek of what's in store for your company, products, and services is a good way to make Instagram a unique channel. It's common to see visually abstract images on Instagram, so you don't risk giving away too much.
J. Crew, the clothing retailer, shares images from upcoming collections, including color swatches that inspired them, with followers.
5. Feature your fans and advocates
Getting people to post relevant images of your company will help attract more exposure. The more you can reward people for their efforts, the more likely they are to participate.
Consider picking a photo of someone who has tagged your company each week and post it via your Instagram account. This simple nod to your fans will not only reward them for participating, but it will also showcase how people feel about working with you, which is helpful for prospects to see.
Ben & Jerry's frequently post photos it has received from fans enjoying their ice cream.
6. Leverage the power of hashtags
Instagram, like Twitter, allows users to search content, and find new profiles to follow, via hashtags, making hashtags critical to your strategy.
Use a mix of brand-specific hashtags that you have created based on your name, products, services, and contests so that you can establish your unique branded categorization.
However, generic hashtags are often even more important so that you can attach your content to popular categories and capitalize on the exposure around users searching or filtering by generic hashtags. Have a mix of both, and don't overdo it. Too many hashtags will annoy people.
Clothing retailer Free People frequently uses a mix of branded and generic hashtags to build awareness.
Conclusion
Companies of all sizes can benefit from having an Instagram presence. With a smartphone and a little time, you can be off and running. Test your content, find what resonates with your followers, and continually add new images (and videos) to the mix.
If you want to get 30 effective techniques to master content marketing along with valuable insights from 10+ influencers like Mark Schaefer, Rebecca Lieb, Lee Odden, Jason Miller or Ian Cleary, download our free eBook now!
Image by Scott Schiller