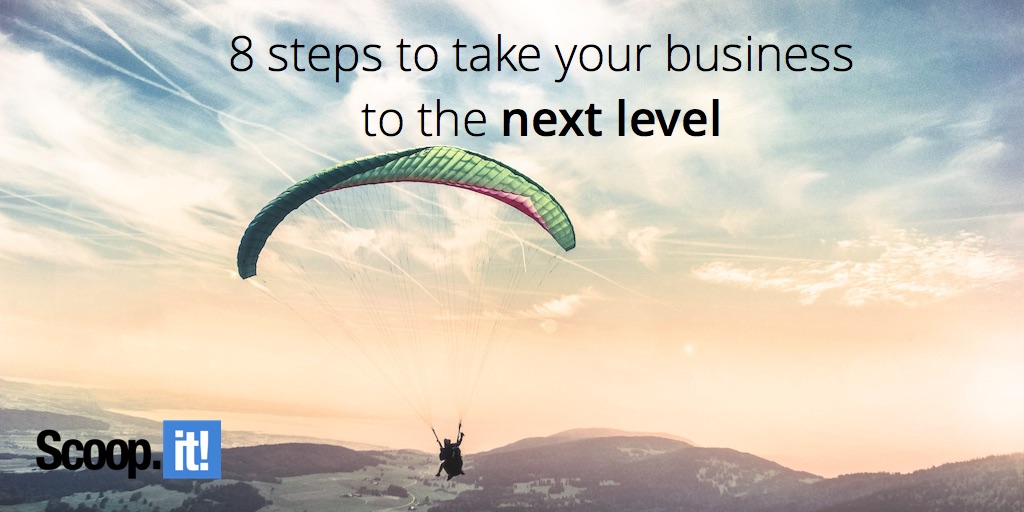 Once you develop your company into a viable business from an idea, the next thing to do is to start figuring out how to expand it into something bigger. While you may see your business making more money you might not be sure of what steps you'll need to take and in what order to get there.
To get there requires a clear strategy with numerous actionable steps that address all aspects of your business in terms of changes that need to be made in order to prepare for that next growth stage.
Here are eight steps to consider that can help make that happen:
1. Describe and define what the next level looks and feels like
In order to execute all that's necessary for taking your business to the next level, you have to have a blueprint of what it will look like. A home isn't just built by sending out a construction crew and telling them to get started. They have a set of drawings that illustrate the dimensions and specifics they need. This visual provides direction on what it needs to look like. From there the construction company can determine what resources and materials they will need to make it look that way.
The same goes with your business growth.
Frame some details around the size of your business, additional locations and staffing, and other features that define that next level. Share that picture with everyone in the company so they also have a visual on where it's headed.
2. Inspire others on the team to get on board about future changes
Reaching the next stage of growth for a company requires a lot of help in the form of your team, including their talent, experience, knowledge and skills. They need to know what role they play in making it happen plus how it will benefit them. This requires regular communication about the strategy, how it will be implemented, and who plays what role in achieving it. As a leader you need to be present and among the troops to motivate them toward these changes so they maintain their enthusiasm throughout the journey.
3. Use collaborative tools to enact the changes and generate framework for larger organization
Teamwork is always important but becomes more critical as you expand and enact changes that accommodate for this growth. Various online collaboration tools make it easier for a company to expand, especially if there are many remote workers already on the team.
Here are several helpful online collaboration tools:
These collaborative tools all offer ways to communicate, share files, have discussions that update everyone at once, and bring each department together in a manner that will prove to be even more useful as the company grows and adds team members rather than always relying on meeting.
4. Automate processes within the organization to maintain efficiency while moving to that next level
Since so many of a company's non-revenue tasks are so time consuming, it makes sense to consider automating these processes for greater efficiency while allowing the team more time to focus on other aspects of the company that involve taking it to the next level.
Everything from tracking time on projects to estimates and invoices to payment receipt and confirmation can be automated to help a company make more time now and accommodate rapid growth in clients or customers in the future. Here are a few examples:
Other tools can automate HR, sales and marketing, and IT processes for the company, offering a similar benefit and setting the stage for higher volumes of work in the near future.
5. Evaluate your financial position now and for the future
While it's important to assess all parts of your business before you take it to the next level, your financial position is one of the most critical areas. This is because it determines what you can and can't invest in to take it to the next level. Within your financial position you need to examine where you might be able to save more money that can then be used for your expansion.
This means carefully examining each cost and expense within the company to see if it can be reduced. Changing how corporate expenses are accounted for and tracked can also yield more time for the team that can be better served in other areas, making it possible to go to that next step.
6. Be prepared to make changes to the strategy along the way
With these evaluations and as the work progresses, you may find that one of the steps to the next level is actually a pivot or small sidetracks to revise your goals and expectations for this new version of the company. While you don't want to be changing the plan too frequently because this could slow down the progress toward that next level, you do want to regularly stop and check that you are still heading in the right direction.
You can do this by studying the market or geographical areas you are pursuing, surveying your customer base to determine if their needs or wants have changed, and looking at the competition's recent strategic moves.
7. Start enacting changes every day within the company
Most likely, moving to the next stage of the company won't happen in one or two large changes. Instead, it will be a compilation of smaller actions on a daily basis that will eventually move the company forward. Make sure your leadership shows that you are living the plan every day through strategic decisions, projects, and tasks that are being delegated to the team.
By talking and walking the changes each day, the team then sees it as their new reality and are encouraged to help activate it. Over time, the changes lead to that next level of the company in a way that feels more comfortable and acceptable than if you had tried to get to the next stage overnight.
8. Remain positive even if setbacks occur
Keep a positive frame of mind that you will move your company to that next level even when faced with setbacks or push back from your team. Believing that you will achieve these goals is half the battle while the rest is using your entrepreneurial know-how, instincts, and passion to ignite the change and provide the same belief that it will work within your team.
Conclusion
When you do experience that next level of the company, you can reflect on these steps and see how they worked or how they need to change. You will need to do this because eventually you will be ready again to tackle that next stage after the one you just accomplished.
If you want to get 30 effective techniques to master content marketing along with valuable insights from 10+ influencers like Mark Schaefer, Rebecca Lieb, Lee Odden, Jason Miller or Ian Cleary, download our free eBook now!
Image by Llwyelyn Nys.