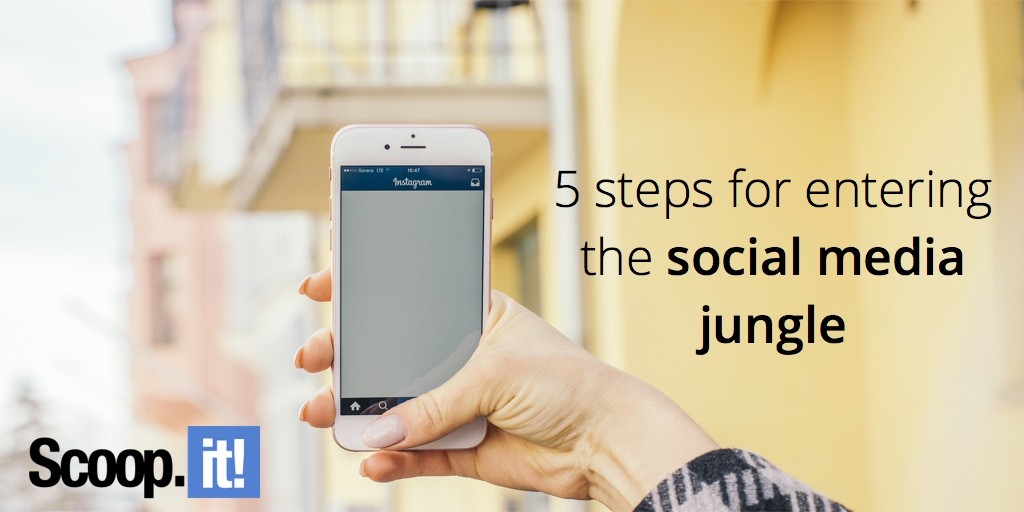 Let's face it, social media is a world of its own. From viral videos of animals to brash tweets from celebrities, the social sphere is impossible to escape. But more than that—it's hard for new brands to make headway in an already overcrowded jungle.
Yet whether you are B2B or B2C, a mom and pop shop or a global business, your customers are online. There's no ignoring the power of social media. Rather than fight it, join it— strategically. If working with an integrated digital marketing agency isn't in the cards for you, follow these five steps for creating and improving your social media presence.
Step 1: Stop, look and listen
Before you tweet, post or share anything, become an observer. Survey the social landscape to find your competitors (you know who they are), your allies (like non-competing or complementing brands), and your target audience. For the latter, ask yourself:
What channels do they frequent?

Do they engage with other brands?

How often do they post or share information?
Observing won't be your prerogative for long, so make the most of this time. This is a simple, but often overlooked, part of strategy. Silence can be golden.   
Step 2: Get to know your networks
While there's a good chance you use social media on your own time, approaching it from a business perspective is a new ballgame. Let's take a look at the main social channels, best practices, and red flags:
Facebook
Good for:
Engagement

Paid social advertising

Mobile visibility

Driving traffic to a site
Best practices:
Optimize your Facebook Business page by using keywords in your "About" section, selecting the correct category for your business, and using high-quality images for your profile and cover photos

Leverage Facebook ads and rotating the ad every 1-2 weeks

Use conversion pixels on your ads

Strategically use hashtags (stick to one or two) and tie them to larger campaign goals

Post photos—

they receive 39% more interaction

 than text updates
Red flags:
Twitter
Good for:
Short communication and updates

Using hashtags to find and engage your audience
Best practices:
Participate in or host Q&A's to connect with customers

Maintain a strong and consistent brand voice

Add value to every tweet by giving them an incentive to click—like humor or customer service. Check out successful brands like

Taco Bell

 for some inspiration.

Follow thought leaders or influential accounts

Use "pinned tweets," which will keep a designated post at the top of your feed, to highlight an important update or announcement
Red flags:
Too many hashtags. Stick to a maximum of four per tweet

Poor grammar. You're still a business, so stay away from abbreviations and acronyms like, "omg" and "lol."

Automated direct messages (DMs). They aren't engaging and no one reads them. Feel free to send and respond to personal DMs.

Not posting enough. Your goal should be

six tweets per day

.
Instagram
Good for:
Visually showing your brand

Reaching a wide audience

Using hashtags to find and engage your audience

Running contests

Interacting with customers

Social advertising
Best practices:
Learn and leverage the new updates as they arise, like Instagram Stories and "multiple image and video" posts.

Respond to comments and concerns on your posts

Ask questions and start a discussion through your captions and images

Focus on high-quality images

Track your performance using the Instagram analytics tool

Post

1-2 times per day
Red flags:
Low-quality images

Not engaging with your audience or trying to build a following

Paying for followers

Inconsistent brand voice
Step 3: Strategize
Once you have the lay of the land, the next step is to decide how your brand will make its grand entrance. Resist the pressure to walk in without a plan.
Consider these points: What social network is best for you and your audience? Do your customers frequent Facebook, Twitter or Instagram the most? Good, now you can spend your time building a presence there.
Now, what does your brand voice sound (or read) like? Likely, you've already established this voice through your previous communications with customers. Hone in on your tone and make sure everyone with access to your accounts can talk the talk.
Next, determine how you will establish authority as a brand. While it won't happen overnight, there are a few tactics that will jumpstart your efforts:
A backlog of high-quality images

Influencers

Paid advertising (In the beginning, paid or boosted posts will be good for spreading awareness.)
And finally, who will run your social accounts? Social media is a full-time job, and many businesses leverage brand activation agencies for external help. If you choose to keep it in-house, decide who will run it and how they will drive results (for example, a content calendar and/or scheduling tool like Hootsuite).
Step 4: Press post
Now it's time to step into the jungle—go post that first tweet, Instagram or status update. Immediately after, jump into conversation with your target audience. Follow influential accounts, get to know people and foster a sense of community. Oh yeah—and make sure to use that brand voice you've mastered.
Step 5: Measure, adjust and post again
A crucial, but often overlooked, component of a social media strategy is measurement. Like any marketing campaign, ROI must be tracked. In the beginning, your metrics will skew toward engagement such as likes, shares, and followers. As your brand grows and you gain a steady following, your focus will transition to business-oriented metrics, like conversion and cost per conversion. Google Analytics will be your guide for measurement.
After you identify trends in your social growth and individual campaigns, adjust your strategy as needed—then get right back in the game. Social media is not a one-and-done process, and the only way you'll see the results you want is to keep at it. Stay active, stay engaged and stay true to your brand.
You don't need a big budget to launch a successful social presence. With some initial courage (we weren't kidding—it's a jungle!), a strategic plan and nimble fingers, you can attain high social status.  
If you want to understand what will make you succeed or fail at content marketing, and get 8 steps to beat the content marketing paradox, download our free eBook!
Image by Toni Hukkanen