Content Readability refers to the ability of your content to attract the target audience with its simplicity, clarity, relatability, and natural flow, from start to finish.
The B2B marketers confront numerous challenges to drive their content marketing campaign. However, nothing tests them quite like creating engaging content.
In fact, 60% of the content marketers surveyed during the 2016 B2B Content Marketing Trends put "Producing engaging content" as their #1 challenge.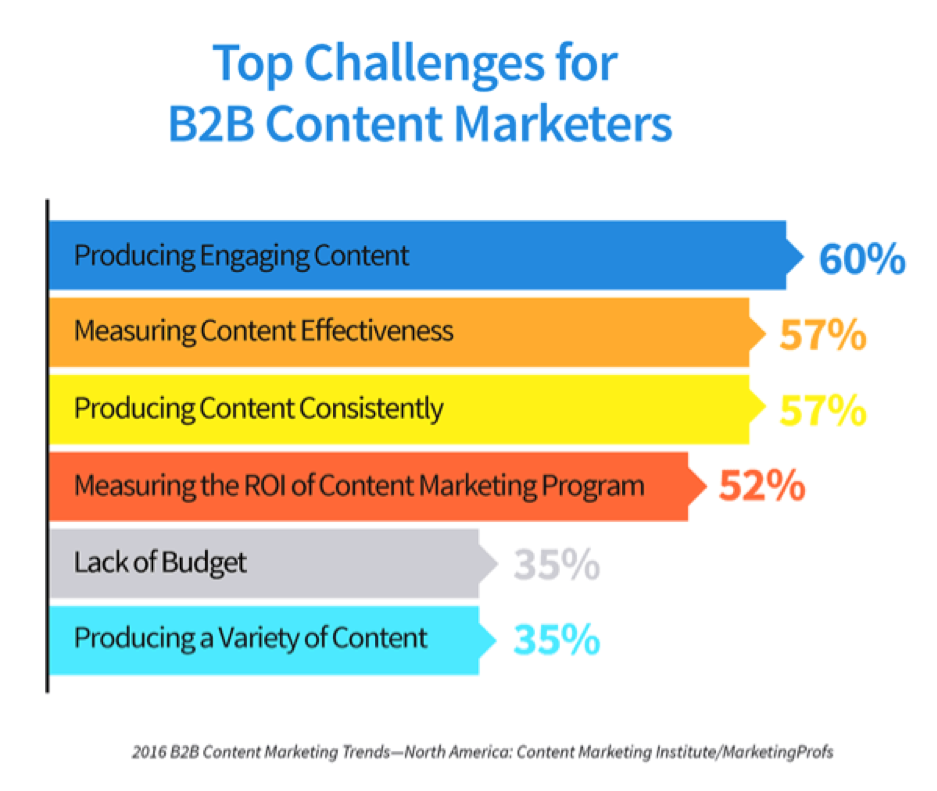 Source: act-on.com
"Readability" is one of the key factors that critically determine the engagement quotient of your content.
Simplifying Content Readability
From B2B content marketing perspectives, "Readability" isn't about "dumbing down" your content. It's about making it accessible to "your target audience".
Each target audience is different and they share some common comprehension traits. In your pursuit to create "resonating content" for your B2b audience, you should always consider those common comprehension traits.
Here are a few questions that simplify understanding of your target audience's common comprehension traits.
#1 – What's the ideal profile of my target audience?
#2 – What kind of content do they enjoy reading?
#3 – What kind of platforms do they visit more?
#4 – What is their common psychographic profile?
The answers to these questions will define the readability of your content. For example, if your target audience tends to spend a lot of time on Instagram or LinkedIn, the design of your content will vary accordingly. If they like reading specific publications, you have direct access to their style of reading. If they share a lot of infographics, you should deliver your message through interesting and engaging infographics.
Recommended Reading: 8 Content Marketing Tricks to Turn Dry Topics into Engaging Narratives
Cognitive Load: Don't Make Your Readers Think Too Hard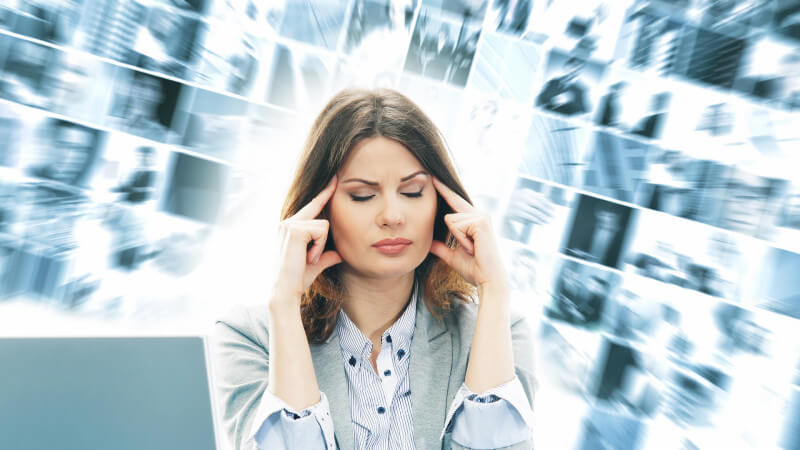 Source: Search Engine Land
Readability of your content is like the usability of a product. If it's too complicated for your users, it'll hurt the user experience. Not many people would engage with content that seems to make them think hard or create cognitive load. As a matter of fact, it's the same philosophy which Steve Jobs followed to build products, which played a crucial role in making Apple an iconic brand.
In other words, if it's simple enough for them, it strikes a chord with them. According to a research by Georgia State University, cognitive load affects reading comprehension significantly. Any content that forces the readers to put on their thinking cap would easily lose them. If you want your audience to find your content engaging, optimize your content to avoid creating any unnecessary cognitive load.
Source: AYTech.ca
How Cognitive Load Affects Your Readability
Cognitive load significantly affects the readability of your B2b content. When you design your content in line with the existing mental models of your target audience, they tend to engage with it naturally. By reducing the cognitive load, you essentially eliminate the additional mental tasks required to process the information, your audience tends to find it more resonating and easy-to-consume.
How Cognitive Load Affects Your PPC Ads
Content readability isn't related long-form articles alone; it also affects the conversion of your PPC Ads.
According to Search Engine Land, the language you use while crafting your PPC banner ads should be simple enough for your audience to follow. For example, ads that use weird abbreviations tend to confuse the audience and perform poorly.
How Cognitive Load Affects Your Conversion Rate
In the UX theory, the cognitive strain is a popular phrase, which is known to cause confusion in content consumers, leading to loss of positive engagement. In the B2b marketing world where the brands employ content to nurture leads, the cognitive load can be counter-productive. As a result, it can throttle your marketing efforts and affect conversion rates.
How to Hit the Perfect Readability Score
According to Shane Snow from Contently who ran a readability test on best-selling authors, the key to building an audience is to activate the reward center in their mind. Here are some tips and tricks on how to hit the perfect readability score for your content.
Define Your Target Audience
Indeed, understanding your target audience is the first and foremost step to creating perfectly readable content. When it comes to defining the target audience, the B2b process could be quite different from B2c.
From capturing the personal and professional details of your audience to building their psychographic profile, it can be a very comprehensive process. The more information you're able to gather and analyze, the closer you get to establish a solid understanding of their needs and aspirations.
Analyze Their Reading Patterns
With regards to your B2b audience, digging into their reading habits and establishing a pattern can go a long way in understanding their interest areas.
Depending on the industry in which you operate, you can list popular media (e.g, Forbes) and niche media (e.g, HBR) to analyze their language and incorporate it into your content creation process.
For a perspective inbound marketing audience, for example, you could analyze the reading patterns of popular publications such as MarkeitngProfs, HubSpot blog and so on.
Evaluate Publications' Readability Score
In order to achieve the perfect readability score for your content, you need to set a benchmark readability ease score within your industry.
Therefore, it's essential to evaluate the publications readability score. Your aim is to achieve the target grade-level (ease score) for your content in order to optimize it for your target audience readability patterns.
Optimize Content for Optimum Readability
Once you have developed content as per the readability guidelines, it's time to test it against the industry benchmark.
While the age-old Flesch Reading Ease Test and Flesch-Kincaid Grade Level Test are great for determination of readability scores, B2B content marketers employ state-of-the-art AI platforms (such as Atomic Reach) to not only gauge the content readability in real-time but also recommend optimizations to improve readability.
Final Thoughts
B2B brands that invest a sizable portion of their marketing budget in content creation can ill-afford to ignore the potential benefits of readability optimization. With online consumers getting inundated with an overwhelming amount of information online, it's imperative that B2B content marketers tailor their informative content as well as marketing messages to match the taste of their target audience.