It is no longer news that content curation will boost your content marketing efforts. It is an excellent way of sharing useful content to your audience if you have one already. And if you don't have an audience, it is a wonderful way of building a community around the topics you care about most.
But while you're probably finding success with content curation, others are struggling to justify the time they spend curating content. Because the time spent seems futile. Before we delve into what you can do to remedy a situation where you're seeing little to no results with content curation, let's see why you're failing at it in the first place.
In my experience, many people curate content because they feel it's some sort of quick fix for when they're not creating their own high-quality content. Hence, they jump in head-first with no strategy. Sooner than later, they realize that content curation is everything but a quick fix.
Relying solely on tools for curation
Yes, there are tools involved for proper content curation. But when you rely solely on tools, you'll end up eliminating the human factor and alienating your audience. Besides, it's easy to spot automatically generated curated content.
Not giving it enough time
Most digital marketing tactics take some time before there are end products for any actions taken. Content marketing, link building, and SEO are some I can easily think of. Some people fail at content curation because they've not been at it long enough.
Choosing the wrong curation topics
When you choose to curate content on topics that do not align with your expertise you will find it difficult to build an audience. Conversely, when you curate content on topics you have expertise in but your existing audience isn't interested in, you'll see little to no positive outcome from your exertions.
What to do instead
Rethink your content curation strategy
This applies whether you previously had a strategy or not. Like this post on content curation strategy explains, there are five steps to planning an effective content curation strategy:
Set your content curation goals

Define your audience

Identify the real value you can provide

Set and categorize your schedule

Build a bank of topics and sources
I'll add two more namely:
Share your curated content via a variety of channels

Analyze and evaluate the performance of your curated content
Regardless, the right strategy is useless if your curated posts are crappy. So when you create a curated post, here are seven attributes you must watch out for.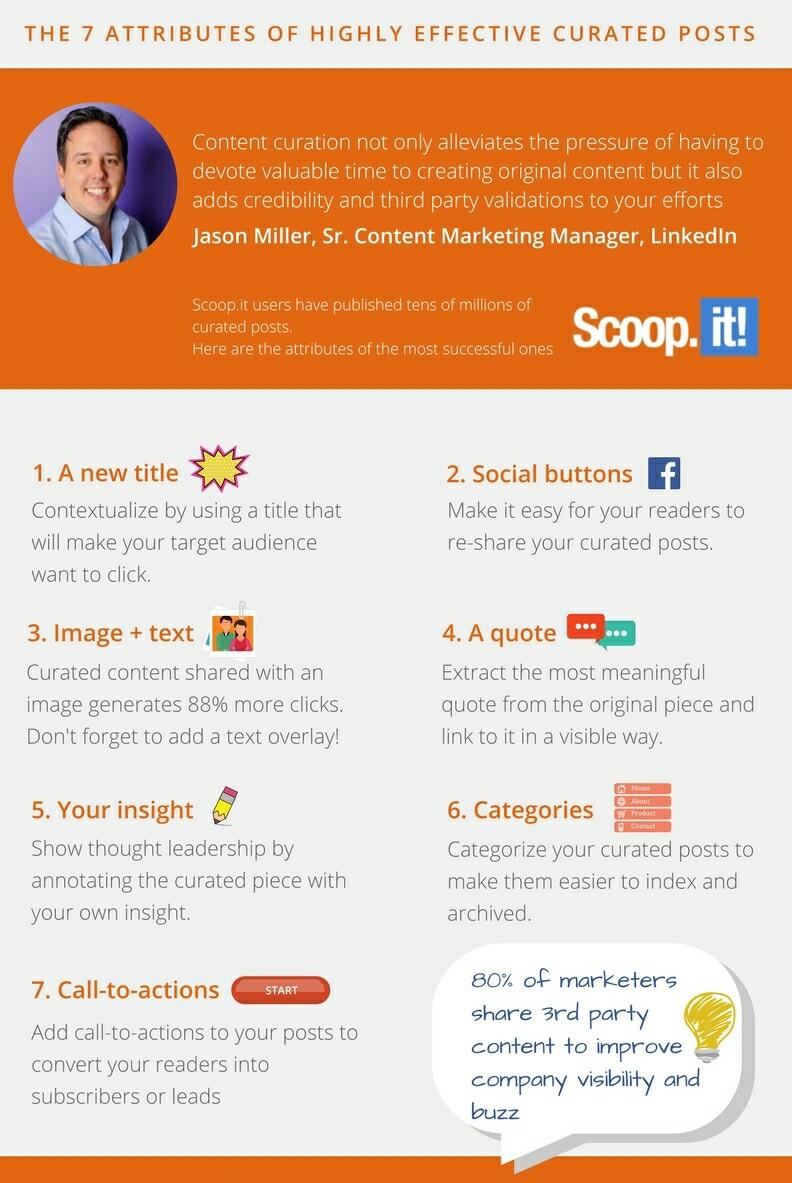 When you're sharing your curated content, share on channels specific members of your audience prefer. Because omnichannel marketing is a thing. It's the reason why a tool like Omnisend offers a marketing automation platform for e-commerce marketers to reach out to customers via email, SMS, web push notifications, Facebook Messenger, WhatsApp, and Viber, to name a few.
So rethinking your content curation strategy involves rethinking the tools you're using too. And that's the next point.
Use the right tools
I love what Robert Moritz, an editorial director at Saatchi & Saatchi LA says about using content curation tools:
"If you're lazy, you'll just end up with a bunch of junk nobody wants to read. If you have a good eye and take your time to curate a mix of stories that create a new, uniquely original narrative that complements your own brand, then it's a total win for both you and the original content creator who gains new eyeballs."
It's like using relevant business listing sites to list your business. It's a win for you, as you'll get more eyes to your business, and a win for the business listing site too which makes money from your presence there.
A tool like Scoop.it enables you to do much more than research content for curation. It allows you to publish it on one or more WordPress blogs, share it on multiple social media, and generate a customized newsletter for email automation solutions.
Patience is key
The world is filled with lots of products and services from salespeople promising quick wins on a particular task in a short time. And as outrageous as these promises may seem, some folks still believe them and pay for them. This "I-want-it-now" attitude has carried on even into the digital marketing world.
Many people often give up on a particular marketing tactic just before they're rewarded. Don't be that person. After creating a content curation strategy and following it closely, be patient. It's a part of a setting SMART goals.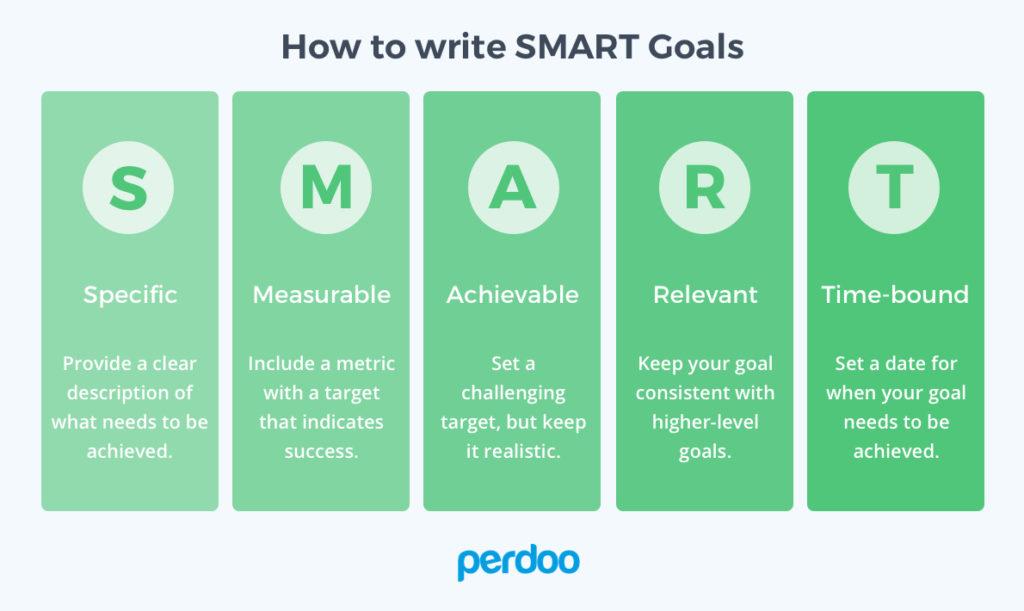 A realistic target time will vary depending on your niche and topics, but it a could be anything from three months to a year and that also depends on your devotion to content curation. Don't let impatience undo your hard work when you should be seeing results.
Experiment with curation topics
"Experiment" here doesn't mean choosing random curation topics to see which ones stick with your audience. If you're starting out without a niche it might be best to choose a niche you have some expertise in to enable you to add insightful comments to content you curate from other sources. It is those comments that will eventually help you build a following.
This Venn diagram illustrates it better.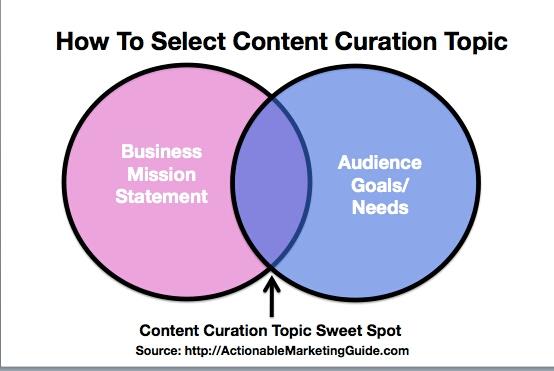 Create a resource for topic ideas in several ways including but not limited to:
Follow influencers in your niche to see what they're talking about. Adding your own take to an influencer's opinion on a particular issue is an excellent way to build brand visibility. This is true especially when your own idea is in contrast to but the influencer's but supported with data or personal experience(s).

Set up Google alerts for terms you're interested in. This will keep you up to date with events and current affairs in your niche. As an example, here

 are some topics I've set up

Google

alerts for.
Add your favorite blogs and websites to an RSS feed, and sift through to find content from them that would be valuable to your audience. This isn't automated but it's an option.

Use Scoop.it's curation tool. After you create a topic, it recommends content based on keywords, social shares, the newness of the content, and other criteria to ensure you get the best possible content available. Whatever you choose to do thereafter, as mentioned earlier, Scoop.it will help with it.
Stay flexible
Digital marketing is constantly evolving. Think of it, SEOs who still stick solely to techniques they used in 2009 would be obsolete now. It's the same with literally every arm of digital marketing you can imagine.
What's more, today's audience is more educated and has anywhere from hundreds of thousands to millions of sources to choose from apart from you. Give them reasons not just to choose you but always come back to you for more. Continue evolving, learning, and changing your strategy as needed to stay in the content curation game.
Content curation isn't a stab in the dark
Successful content curators were not borne from guesswork. It was a mix of using the right strategy, the right tools, choosing the right topics, and being patient enough to wait for the rewards. And still, though they're successful, they keep learning to keep up with trends and best practices.
Successful content curation isn't rocket science. But the question is, are you willing to put in the work?