It's common knowledge that if brands want to get their marketing messages in front of the right audience at the right time, then they would do well to focus on social media platforms for authentic engagement. Twitter, in particular, offers brands numerous opportunities to grow a loyal and enthusiastic following.
The problem is, while many brands understand they need to have a strong presence on Twitter, a majority make some common mistakes that significantly hurt their marketing efforts.
With this in mind, here are the 10 biggest mistakes brands commonly make on Twitter and how YOU can avoid them:
1. Selling
There is one GOLDEN RULE in social media marketing and that is to NEVER SELL! Social media is all about having conversations with your followers. If you get on there and post blatant sales pitches, you'll begin to lose a lot of followers and, ironically, sales.
While you can put offers in front of your audience, do so sparingly and with caution. Spend most of your time and resources engaging your followers with valuable information that helps them in some way. By doing this 90% of the time, you'll see a far better ROI on the other 10% where you actually make them an offer they can't refuse.
2. Ignoring Analytics
Making marketing decisions without consulting your data is like making traveling decisions without consulting a map! Analytics are absolutely essential to the growth of your business.
Sadly, not many business owners leverage the insights they have at their disposal.
If this is you, make this the year you actually sit down with your team on a regular basis and track your campaigns and marketing efforts. What's working and what's not? Who are your ideal customers and what content are they engaging with? These and other answers can help you take your marketing, and your bottom line, to the next level.
3. Not Scheduling Posts for Consistency
Be honest: are you tweeting on a regular basis or whenever you remember and/or get around to it? Tweeting haphazardly reduces the visibility of your posts and sends a message to your followers that you aren't taking things seriously.
Consistency is really key with Twitter marketing. Create a Tweet plan and stick to it. if necessary, use a tool that will help you to schedule and drip out your tweets throughout the day and week.
You can use an app like HootSuite to schedule your tweets. There are quite a few free apps out there so see what works best for you.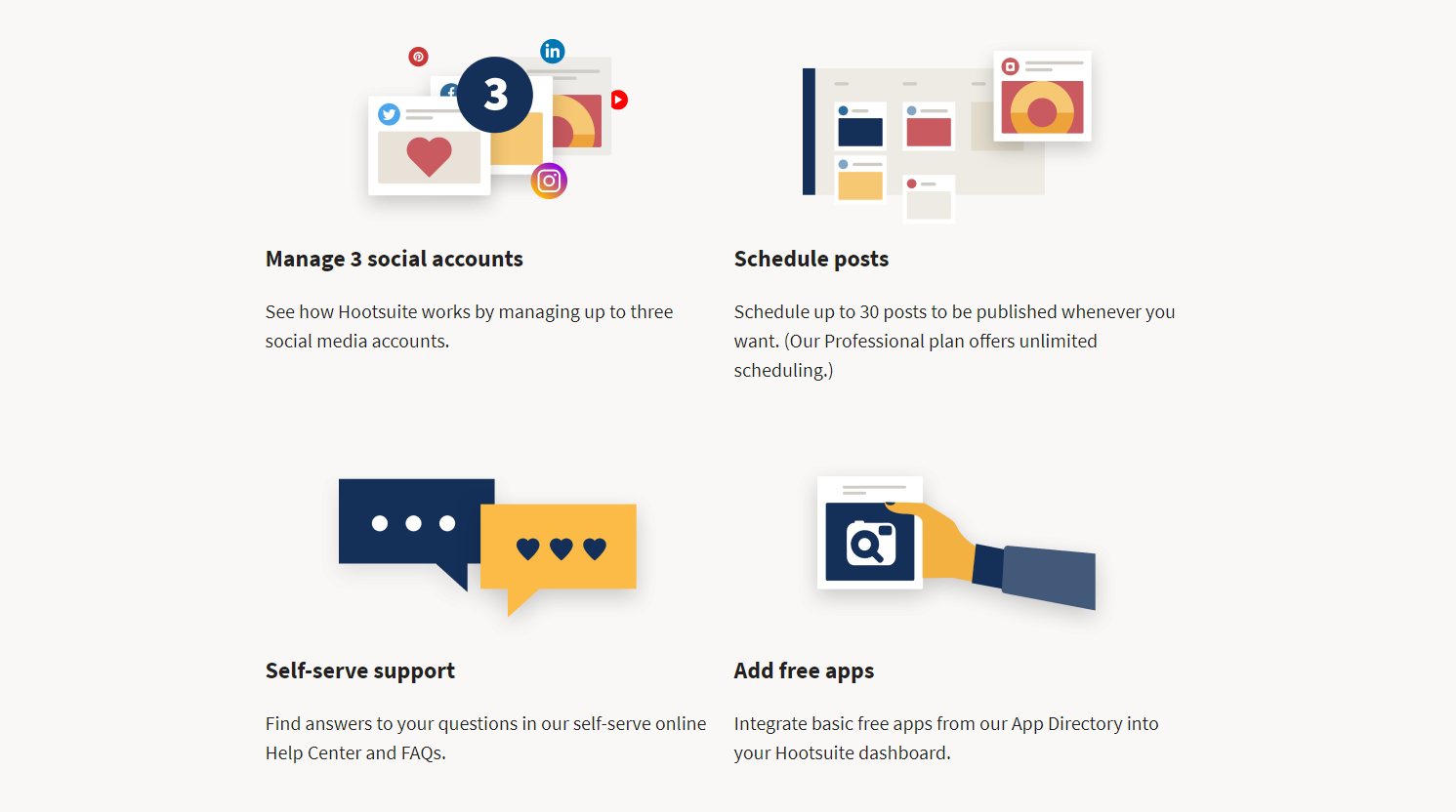 4. Creating Filler Content
So I already mentioned that you should not be using every single tweet to blatantly SELL your product or service. But that doesn't mean that 90% of your content should be filler. Each and every tweet you tweet MUST provide value to your audience. This can mean your tweets educate, entertain and/or inspire your audience. Think tutorials, behind the scenes videos and case studies.
5. Not Engaging with Followers
Don't be like one of those people that shows up to a party, then spends the entire time standing in a corner in the kitchen, not mingling or speaking with anyone. Think of your Twitter hashtag campaign as a party that you are hosting. You have invited people to follow you, so don't ignore them now that they are there.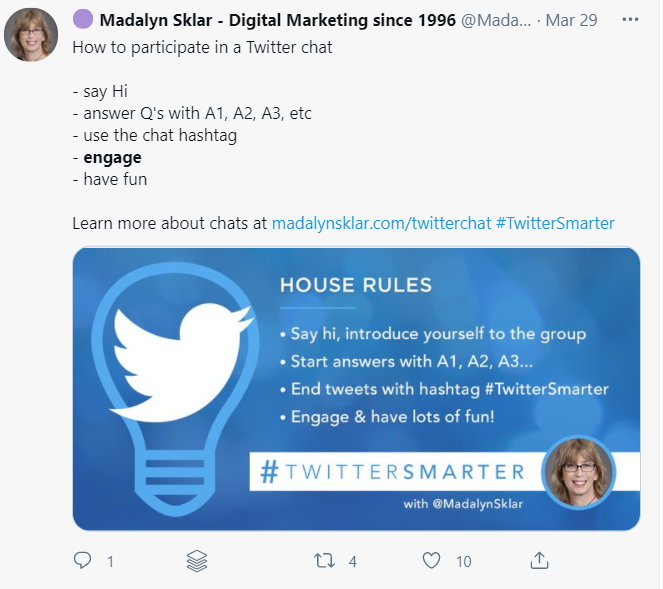 It's not enough to post quality content, you've also got to have those conversations with people. When people comment, engage with them. Twitter allows you to re-tweet, reply to and favorite tweets for a reason: because it helps turn followers into loyal customers and brand ambassadors. Show your followers you care by engaging with them!
6. Misusing Hashtags
Hashtags are kind of like salt: You know you're supposed to use them, but get it wrong and you can make your tweet completely inedible. Too many brands use hashtags wrong. They hope to appear trendy or hip by stuffing their tweets with irrelevant hashtags. But this always backfires as it appears unprofessional and desperate.
Check this tweet from DiGiorno who misused the hashtag and made apologies for the same.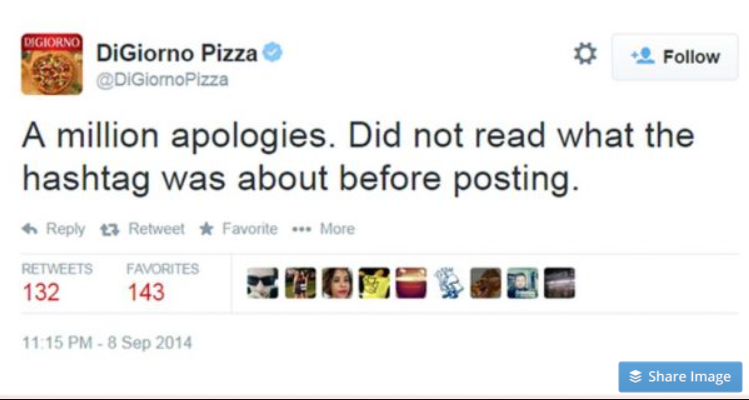 To follow twitter hashtags successfully, use a tool like Socialert, which can tell you the hashtags that are currently the most popular on Twitter as well as those your direct competitors are using successfully.
7. Ignoring Multimedia
Imagine going into a pizza joint and all they offered was cheese pizza. That's it. No other toppings – just cheese. BORING!
Know what's also boring? Tweets that only use text to engage.
When you fail to incorporate multimedia into you tweets, it comes across as lazy. Be sure to include pictures, videos and infographics in your posts.
Look at this tweet from Nike. See how adding a video helped them get a ton of engagement!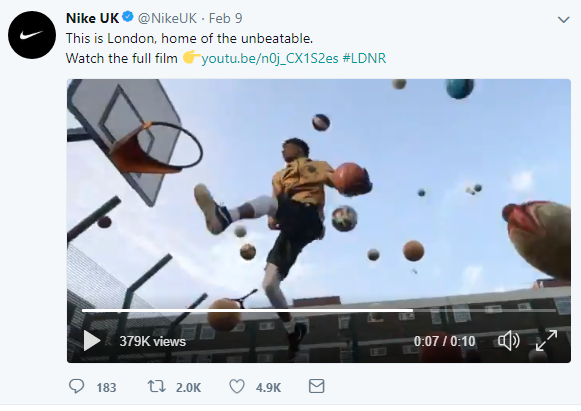 8. Not Knowing Your Audience
So far we've talked a lot about how important it is to create useful and engaging content for your followers. But here's a question for you: How do you create useful content if you don't know who your followers are?
Do you KNOW your ideal customers? Are these the people you are trying to attract to your twitter profile? Do you know their behaviors? Their likes, fears, hopes and pain points? If not, your marketing efforts are sure to fail.
Take some time to brainstorm EXACTLY who it is you are trying to market to. Who is most likely to buy from you? The more you know about these people, the more able you'll be to create content that resonates with them.
9. Having No Strategy
Every marketing tactic requires a strategy behind it in order to be successful. Twitter marketing is no different. Without a solid strategy, how will you know what moves to make and whether or not those moves were successful?
When outlining your Twitter marketing strategy, think of things like:
Audience insights and segmentation

The kind of content you will create

How often you will post (don't forget to schedule your posts)

Hashtag use (don't forget to use Socialert)

Optimizing your bio

Etc.
And before you send out any tweets, be sure to decide on what your overall business goals are with your Twitter marketing. Are you looking to build brand recognition? Support a new product or service? Something else entirely? Make sure you know and be specific so you can align your efforts with your goal.
10. Not Including a Measurable Call-To-Action in Your Posts
One of the absolute BIGGEST mistakes we see Twitter marketers make is to not include a call-to-action in their posts. This is an important way to engage your readers.
Consider adding short links back to your blog or another one of your digital assets. Other calls-to-action include mentions or tags referencing a source or a relevant Twitter user. And remember to use those relevant hashtags and any keywords that will help you with visibility.
Here's a great example of a clear call-to-action in a tweet.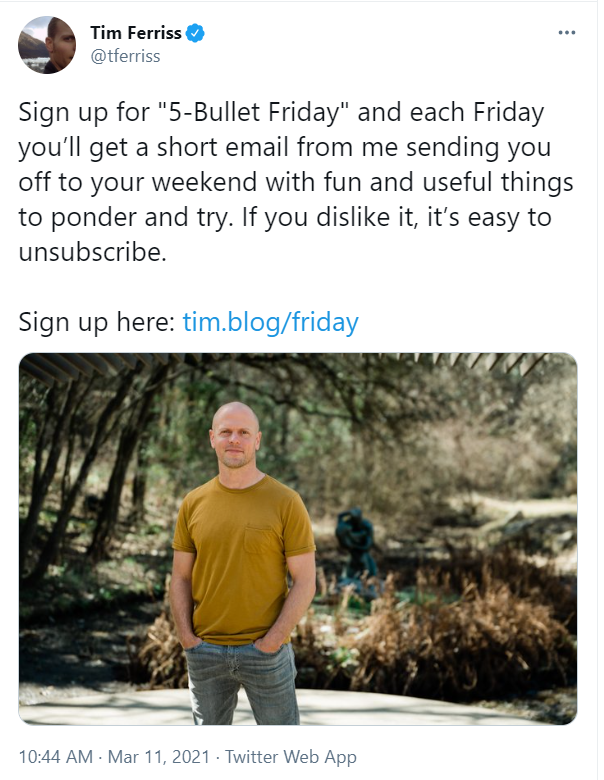 Conclusion
Twitter marketing is as powerful today as it ever has been. That's if you know what works and what doesn't. So be sure to follow these 10 suggestions so you know the mistakes you should avoid.