Visual-centric content and media dominates the digital marketing space today. Online marketing is built around videos, motion graphics, and many other forms of visual and interactive content. The use of visual content has created other industries to support developing the content. The use of visual content in marketing is referred to as visual marketing.
The trend of using audio-visual content for marketing messages is based on the simple fact that our recall of audio-visual content is 2-3X higher than audio or visual content.

In addition, a recent survey showed that more than 60% of internet users today prefer consuming content via visual formats.
So, yes; videos and other similar content marketing formats are great for your branding and marketing efforts. But where do you even begin if you want to hit the ground running? That's what we're going to discuss in this article.
We are going to explore a few of 2021's newest visual marketing trends you can use to overhaul your existing visual marketing strategy. Let's go!
Short-Form Videos
Attention spans are shrinking and your audience is looking for sound-bite messages in short form videos. Regular-length videos are more suited  for educational or news content.
There is no consensus on the exact duration range of short-form videos, but it generally sits between 1-3 minutes. Social media platforms like Twitter and Instagram have different duration limits, with 2:20 minutes on the former and 60 seconds on the latter.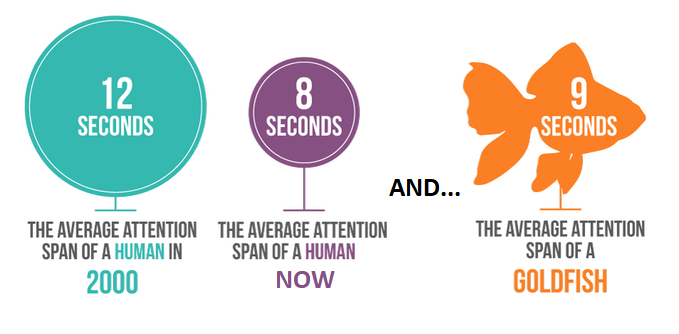 Never view short-form videos as a hindrance to your creative freedom. Instead, see them as an opportunity to condense your message down to the core and captivate your audience with short sound-bites.
It's factually proven that people today generally have much shorter attention spans than ever before. Users will swipe out of a video if it doesn't engage them within seconds. Unfortunately, it means that you'll have to find creative ways to package your video content into succinct, bite-sized formats.
For dynamic short videos, experiment with techniques like close-ups, sharp motion graphics, and colorful charts/infographics. The best part of it all is that little social media training is required to get started.
Live Streaming
The widespread availability of internet connections – coupled with the popularity of mobile devices like smartphones and tablets – has made live streams the go-to interactive content format for online audiences.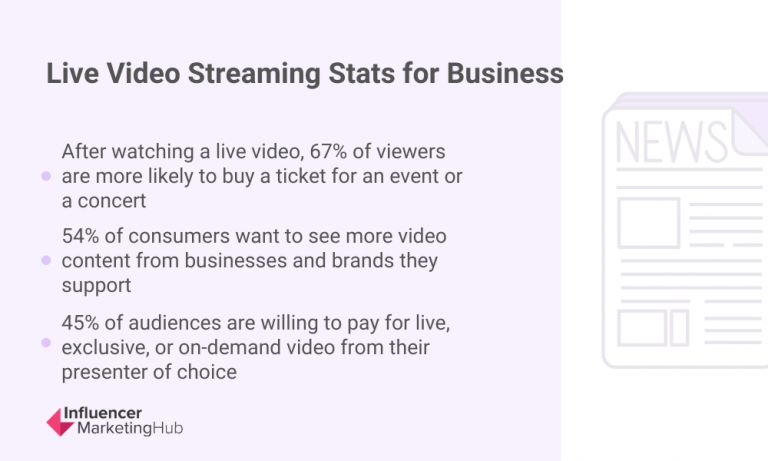 From product announcements to sporting events, award shows, corporate conventions, and consumer trade shows, more people nowadays are tuning in to watch live streams. In addition, it is a great way to drive the viewers towards your paid content.
You don't have to worry about livestream video quality as a majority of the prominent platforms today support high resolutions (1080p and beyond), crisp audio encoding, and multiple simultaneous camera frames and angles.
You can get into live streaming content with a minimum amount of time and money invested. All you need is a competent DSLR camera, a reasonably up-to-date PC running Windows or macOS, and a set of affordable clip-on mics for recording audio.
The technical aspect of live streaming lies more in configuring and setting up your preferred platform than working the equipment itself. YouTube and Vimeo represent two of the largest platforms for live streaming your content. Make sure you market and promote your live streams on social media platforms.
If you're on that boat, here's a resource to get you started.
Gamification of Content
Are you exploring added video elements that can elevate your engagement metrics? Well, content gamification might be all you need.
In simple terms, it is the infusion of game-like elements, traits, and mechanisms into non-gaming entities or activities. These days, the "reward" element is the most prominent gateway leveraged by brands to keep viewers hooked on content.
Gamification occurs in all aspects of life: from work to fitness tracking, and even education. For the purposes of this piece, however, we'll focus on how it relates to content marketing.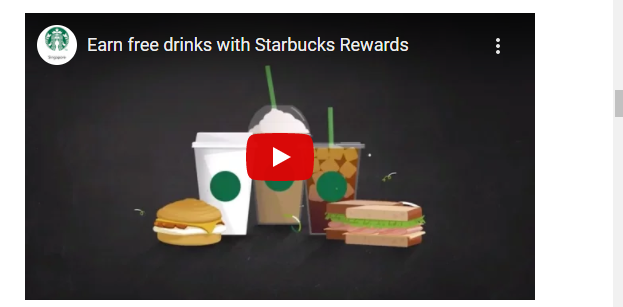 Take Starbucks' rewards program, for example. The world-famous coffee brand came up with the idea of making videos that directed customers towards its Starbucks Rewards app. There, customers could win points every time they buy something at any qualified location. These points could then be redeemed for free products.
Gamification gives viewers a sense of purpose; like they're working towards a desirable outcome. More importantly, it motivates them to stay glued to your content.
Animation
Do you want your videos to stand out, even from the first second of the first frame? Try animated video content. Cartoons, illustrations, and other animated content formats help relax the viewers and prepare them for your content.
While the crux of the content itself might be something serious, the irreverent way in which it is presented creates a laid-back ambiance in the minds of viewers. This, in a nutshell, is why viewers today enjoy visual content presented in animated formats.
Unlike many of the aforementioned tips, getting into animated videos will almost certainly require hiring a skilled animator full-time or freelance. Oftentimes, however, the cost of creating the position is offset by audience retention and expansion gains.
What are you waiting for? Start animating your short-form social media videos today!
Use AR and VR
Technological advancements have broadened the ways in which different forms of content appeal to and stimulate our different senses. Two major examples of these advancements are Augmented Reality (AR) and Virtual Reality (VR).
Virtual Reality is the concept that most of us are used to. It involves using a set of devices to create a whole new visual and auditory environment that is completely lifelike and responds to inputs from the user (such as movement).
Augmented Reality, on the other hand, involves altering the user's existing real-life environment by adding a few life-like (but virtual) elements. AR applications are usually experienced through a mobile device. The device's camera maps the environment and subsequently allows the user to drag and drop new elements as they choose.
Since the maturity of both these technologies around 2018, brands have leveraged them to create new ways for potential customers to experience products and services.
Take the new AR "try before you buy" experience, for example. Clothing and accessory brands are letting customers try items virtually to ascertain the fit and appearance, even before stepping one foot in a physical store.
Bottomline
Success in video content marketing today is more about exploring more creative horizons and less about "playing it safe."
Netizens today are on a constant search for something different, and therefore, tweaking up your content to accommodate a variety of video types and formats is sure to engage and captivate. If you want to amplify your marketing efforts even further and scale your growth, process automation could be a powerful tool in your arsenal.
So, what are you waiting for? Play around with short-form social media videos, live streams, and animated content, and watch your engagement metrics soar!