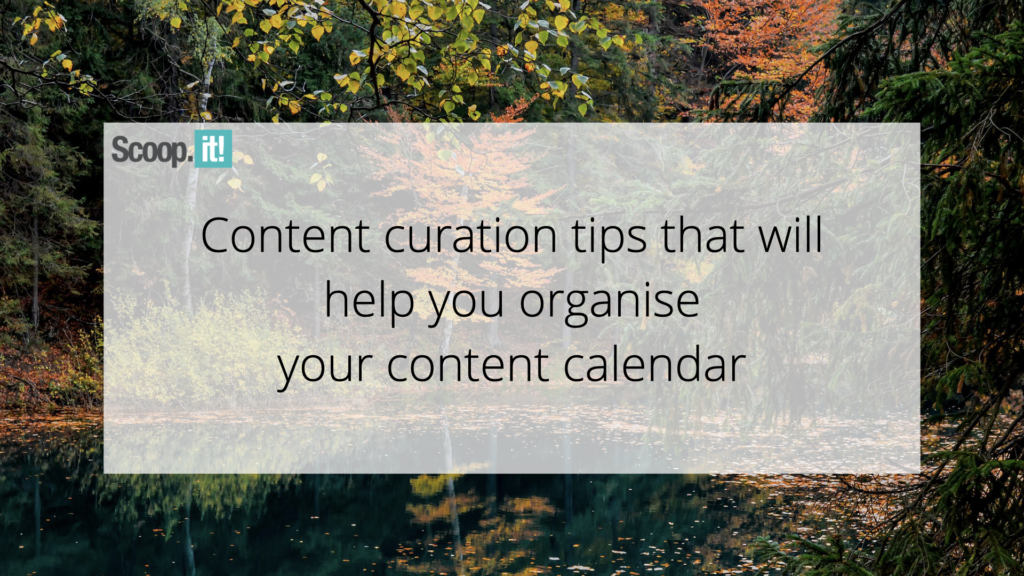 One of the most powerful tools in the hands of content creators is the ability to collaborate with other creators. What results is a fruitful partnership, where a chunk of the audience from one creator can easily hop on over to your content and vice versa. It's very rare to find successful content creators who live in a vacuum and don't interact with others.
Content curation is not an easy task, especially considering the metric tons of content being published. A content calendar allows you to plan what content to curate, when, and how to streamline this overwhelming process. You can read all about the benefits of content curation in one of our other blogs, but for now, let's start the new year with a few tips on how to create and plan an effective content curation calendar.
Follow the Trends
Most content lives and dies through trends. What is very popular today may end up less topical tomorrow. This doesn't mean only popular topics should be included in your content calendar, but rather, it's important to keep trends in the back of your mind when sifting through content to share with your audience.
January works as a fantastic example of how this can be done. There are a lot of countries where New Year's resolutions are a popular tradition. If the niche you're focused on is food, consider curating content about healthy eating or dieting, as these are very popular New Year's resolutions for a lot of people.
By following trends and planning accordingly, you can optimize your blog to remain topical within any given time frame. This strategy can help grow your audience, as you bring in new readers by covering topics relevant to them.
Keep a Consistent Topic or Niche
On the other side of the spectrum of following trends is keeping your own topic or niche consistent. Those content curators who only chase what's popular end up sacrificing their unique voice and lose their niche. This is why it's so important to find that sweet spot between what's popular and what's relevant to your niche.
A content hub covering the film industry would curate content about innovations in audio technology but probably wouldn't publish content about what car a famous actor is driving just because it's a popular article. Their readers are more likely to be interested in topics that are not directly related to popular film releases, such as new microphones, but a topic like cars is definitely a stretch.
Reasons Why You Should Share Listicles
Did we just create a listicle within a listicle? Yes, we did, and here are the reasons why we did it:
Listicles are a light and accessible form of content. They are typically very easy to read and quickly skim through;
They are very SEO-friendly, as they are essentially a table of contents for blogger content and can be conveniently linked to lots of other articles;
There are a ton of listicles out there, so you can easily find one that fits your niche and meets all your standards.
As you can see, we were able to deliver information in a format that is super easy on the eyes but is also quite enlightening. It's not as detailed as a Wikipedia page, but it's a great way to pass on the gist of a particular topic without losing your readers' interest in the article.
Be careful not to go overboard with listicles. While they are a very entertaining form of content, having too many of them could jeopardize the niche or focus of the topics your readers come to you for. Keep that in mind when planning your content curation calendar so as to avoid curating repetitive content.
Holidays are a Great Shortcut
If your content calendar looks empty, consider researching what holidays occur in that particular time frame. If you notice you have a large number of readers from a specific country and there is a local holiday coming up, share some content about that holiday.
You'd be surprised to find how many lesser-known holidays are celebrated throughout the world. In fact, you don't even need to find holidays based in a specific country or culture. January alone has an assortment of international holidays you can curate content on, such as Dress Up Your Pet Day on January 14th if you have a pet blog. For an IT blog, you could plan for Website Development Day, which is on May 31st, or Programmers' Day on September 13th.
Depending on what kind of topics you cover, keep holidays on your content curation calendar. Whether you publish an article going in-depth into the origins of the holiday, or an effectively-formulated shoutout on social media, planning for the holidays is a useful step in your content curation process.
Look Into Your Metrics
Speaking of knowing where your readers are from, metrics are a very important factor in your content curation calendar. Consider viewerships, read-through rates, returning visitors, new followers, as well as location, age, and interests (if applicable) when planning content curation.
You need to know which content resonates with your audience the most. Perhaps you shared an interesting article from a very talented blogger, but the read-through rate isn't great because their article was a little longer than the ones your audience is used to.
Now that you know this, you can curate content that is shorter and faster to get through. Alternatively, if you're really set on curating a long article from a particular creator as you anticipate a very fruitful collaboration with them, ask them to make a compact version of their content. You're sure to find influencers that are open to experimenting with different content formats.
Ask them to make a short reel for social media or even a listicle that summarizes all the information in a concise and easily-consumable format. This is where content curation shines, as you develop a network with content creators that specialize in the same niches as your own. This growing network will give you more future options in what content you can curate.
Diversify Curated Content
Focusing on a particular niche or topic doesn't mean the content you share should always be the same. You need to properly diversify curated content to keep it fresh. This diversity relates to the format of the article, the information it covers, and the creator you curate it from.
One way to diversify article formats is to space out similar releases throughout the content calendar. For example, don't curate several listicles in a row one day after another. Keep them weekly, so that you retain a regular viewership from the audience that prefers to read listicles.
Make sure to also diversify the topics and content ideas that you're working with. If your curated content focuses on the automotive industry, feature content about car maintenance, car part reviews, and weekly tuning spotlights. This method prevents your readers from getting bogged down by repetitive content topics and provides them with something fresh to read.
Finally, keep your curated creators diverse. Everyone has a different voice when it comes to creating written, spoken, or visual content. Two creators covering the exact same topic will produce content that looks and sounds drastically different. Keeping your curated content too homogeneous could lead to your audience getting tired of hearing and seeing the same creators.
Diversify your content creator network to keep things fresh throughout the month. When filling in your content curation calendar, try spacing out the publications based on the creators as well. If you only work with a single creator, then add your own spin to some of their publications (with their permission, of course). This approach gives your curated content a diverse voice, even if it comes from the same creator.
Successful Content Curation with Successful Content Planning
By utilizing these simple but effective curation planning tips, you can surely expect more positive metrics in the future. These are not all-in-one solutions to all your content curation metrics, but they are a great place to start if you're looking to optimize how you curate content this year.
Keeping up with trends can be a little convoluted at first, but once you start to understand the patterns, it will become much easier to take advantage of them. The same goes for keeping a balance between curating content that's trendy versus content that matches your voice and niche.
Shortcuts like curating holiday content or listicles are also a great way to increase engagement without having to jump through hoops to find that perfect piece of content. Knowing the right way to diversify your curated content will ensure that readers will regularly visit your website hungry for some new information to challenge their knowledge with.
And above all, remember that at the end of the day, you share content with people, not abstract metrics. Think about what you find interesting or what you would be interested in reading, and chances are, there will be many people out there who share your opinion.