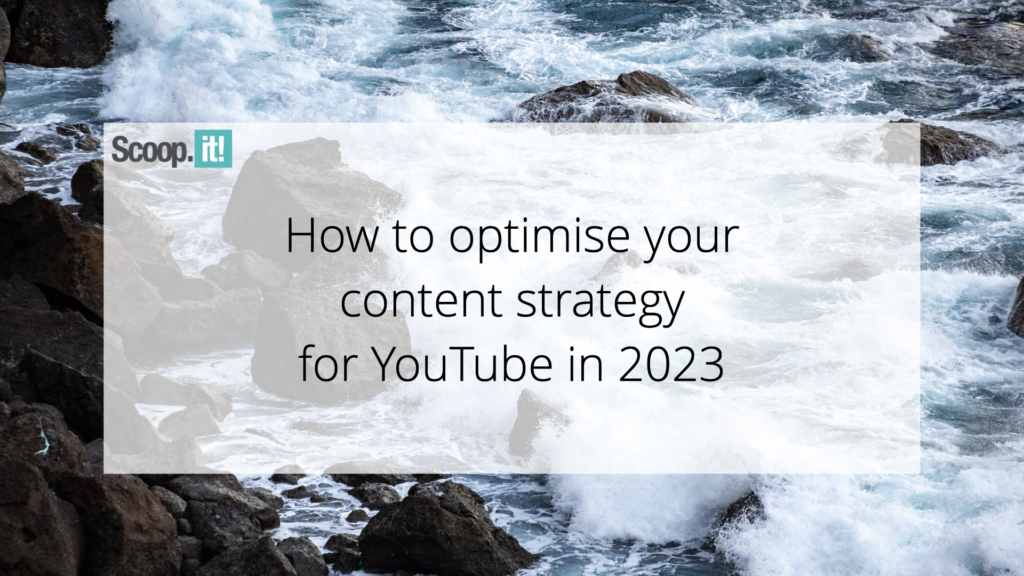 The second largest search engine in the world, YouTube was believed to "eat" 82% of all consumer internet traffic by 2022.
2023 is here, and what do we have?
720.000 video hours go to YouTube daily, and users consume 1 billion hours of video every day.
YouTube has more than 2.6 billion active users, and 68% watch a video to help them make a purchase decision.
YouTube ads receive viewer attention 84% of the time, and users are three times more likely to watch a video tutorial or guide than to read it.
Long story short:
If you don't have a YouTube channel or don't create videos to engage your audience, it's high time to start. Think of video content when creating your small business marketing strategy and optimize it accordingly for higher rankings and maximum results.
Here go five steps to optimizing your content strategy at YouTube.
1) Make Sure You Understand YouTube Algorithms
In 2012, view count was the only metric that mattered for popularity on YouTube. Later, they added machine learning to their recommendation system. In 2018, the platform concentrated on content quality and monetization.
And now, they battle with "borderline content" and say their algorithms work "to help viewers find the videos they want to watch." In other words, YouTube has become a neural network considering user behaviors to rank videos in search results. So your overall YouTube marketing strategy success will depend on the fine line between "content for people" and "optimization for engines."
<insert video here: https://www.youtube.com/watch?v=1PGm8LslEb4 >
YouTube algorithms are constantly changing, and they have nothing in common with those of Facebook or Instagram. To succeed here, you need to:
Create and upload videos regularly
Work with organic search
Follow the trends and react to them
Respond to the market changes before it's too late
Think of the audience but remember that you work with a machine
2) Set Marketing Goals and Learn About Your Audience
Before creating a content strategy for your small business YouTube channel, make sure you understand its goals. For what do you need this channel?
Is it a popularization of our brand and building its image?
Do you plan to sell products or services via YouTube?
Do you aim at getting new markets with its help?
Is it a monetization of your content that worries you?
Or do you want to inspire the audience by educating and entertaining them with compelling videos? After all, it's among the best ways to build their loyalty and trust, agree?
Your YouTube content strategy will highly depend on your marketing goals. Also, make sure to learn your target audience inside out: You need to know what they want to come up with the relevant content for them.
The Analytics tab of your YouTube channel gives tons of info about the audience: Here, you'll find quantitative insights on their behavior (view counts, average watch time, interaction rates) as well as valuable data on their demographics (age, gender, devices they use to watch your videos, etc.).
It's a great tool to see if you reach the right audience with your video content.
But if your YouTube channel is new and you don't have any qualitative or quantitative insights yet, feel free to browse your competitors there. Their channels will help to understand what content the audience loves, their reaction to it, and tricks you could "steal" for optimizing your own content strategy on YouTube.
3) Create a Content Plan for YouTube
Once you've defined the goals, you need a content creation strategy for your YouTube channel. As Google says, "before making videos, create a content plan to ensure that your content both meets your brand's goals and engages your intended audience."
Regardless of your marketing goal, your video content should cover all sales funnel stages: attract users, engage them, nurture them, and convert them. A well-structured content plan will help you communicate the right message to the right audience.
First, decide on the content types you will share. Will it be brand videos or vlogs? Will you create how-to videos or DIY guides? Do you plan to post commercials in your videos?
Then, calculate the percent of each video type you'll need for the channel and determine how long it will take to create each content asset. Will you craft it yourself or collaborate with video makers? Come up with final costs (both time and money) for your video content.
And finally, write down the structured content plan and publication schedule. Editorial planners like Trello, CoSchedule, and others would come in handy here.)
4) Optimize Your Every Video for Better SEO and Engagement
And now, for the most critical part:
Given that YouTube is a search engine, you might want to think of an advanced SEO for your content to get views and win the audience.
For that:
Optimize titles with keywords but ensure they are relevant to your video topic. No one likes click baits, you know. YouTube keyword tool can help you choose the right keywords for titles. Subtitles and closed captions are your advanced options to boost YouTube SEO.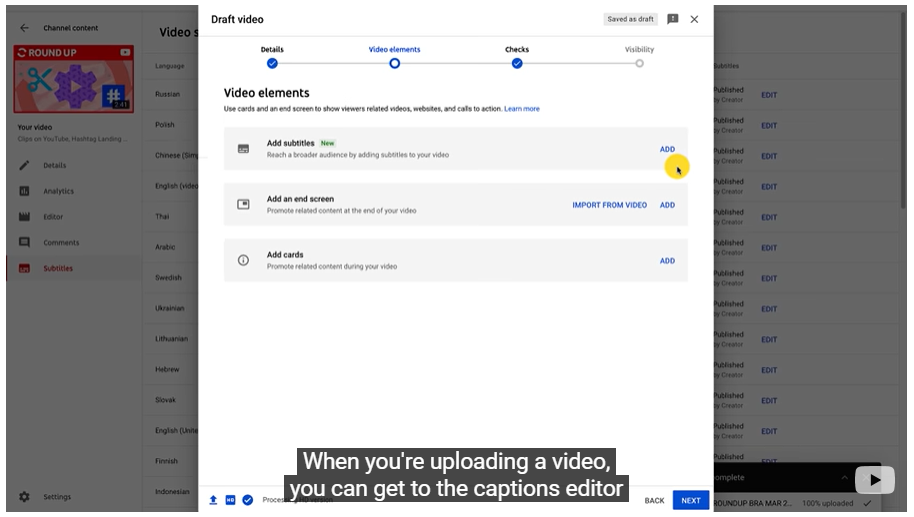 Your video description should include relevant keywords too. Make it clear to the audience what your video content is about, and don't forget to include a link to your website and social media accounts. Also, add some relevant hashtags (up to 15). This tutorial on adding tags to videos will help you understand the details better.
Remember to tag a video with popular keyword variations for more people can find and watch it. But again, relevance matters: watch time is still a #1 metric for YouTube to understand if your content is worth high rankings. It's better to have 100 five-minute views than a million ten-second ones.
Make sure to categorize your video once you've uploaded it. Go to "Advanced settings" and choose a relevant category to appear in different lists and gain exposure to more viewers. Also, define the best time for your videos to publish. When is your audience most active?
Remember: videos get the maximum views in the first 48 hours after publishing; the more views you get during this time, the more YouTube will recognize your content as significant for others.
The first thing that makes users watch your video content is a thumbnail. Create a custom thumbnail for each asset to help your content stand out. Tools like VistaCreate, Snappa, Fotor, and many others will assist you in designing colorful and branded thumbnails.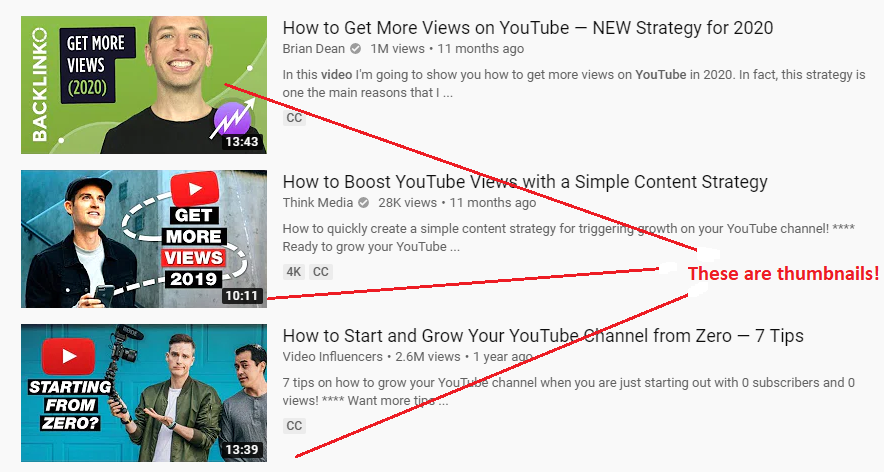 Cards, end screens, and watermarks are great instruments to increase the viewership of your YouTube content. Consider using them for content promotion, and don't forget about other calls to action for viewers to interact with your channel. Be creative: ask them to subscribe, add social media links or links to your landing page at the end of videos, and more.
Last but not least:
About 90% of YouTube watch time comes from mobile devices. So if you don't want to lose most of your audience, optimize your videos for mobile viewing.
5) Promote It Like a Boss and Analyze the Results
Engaging content and relevant videos are all well and good. But if you want the audience to see them, work hard on video distribution and promotion.
Try YouTube advertising or cross-promotion. Search the most relevant channels by keywords in your niche, find those with the most subscribers, and pitch them, offering your video content.
Consider working with social media influencers: reach them to explain what's in there for them in your content and ask them to share it with their audience if they like. Also, make sure to promote videos to your email subscribers.
And don't forget to monitor and analyze the results!
YouTube Analytics and Google Analytics are your instruments: See your channel's performance and adapt your content strategy for even better results. Also, spend some time reading comments: it's the best way to find out what the audience thinks of your videos, what topics to cover next, and what to do to improve your content strategy and content curation.