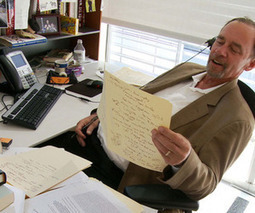 This is a great interview of David Carr, the well-known columnist at the New York Times where he publishes "The Media Equation" on the future of Media and Journalism. It was suggested to me by Serge van Oudenhove: thanks!
Carr was a speaker at a recent SxSWi pannel named the Curators and the Curated and he comes back in this interview on his "yes, but" about curation: yes, he believes content curators have an important role to play, quoting Maria Popova who was at that same pannel, but also pointing out the importance of attribution and credits, a "form of compensation" in the sometimes too free-for-all Web.
But his interview takes a step back looking at the future of publishing, including the business model challenges in the digital age.
He gives interesting persepctives making it a great read.
Via www.theverge.com