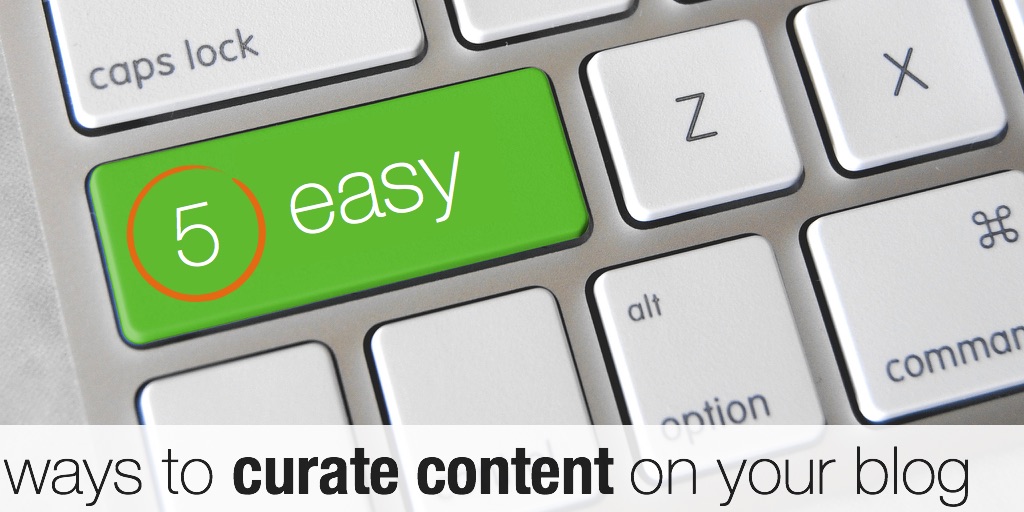 Content curation is a hot topic these days. It's a welcome strategy for business owners who don't have the time to constantly come up with new content. But when you curate content on your blog, it isn't just about saving time: it's also about adding value to existing content to make it even more useful for your audience. I like to think of content curation as utilizing existing content in a new, value-added way. It isn't sharing entire pieces of other people's content with your audience (that's syndication), and it isn't compiling lists of links with no additional commentary (this is content aggregation, and Google doesn't like this!) Content curation is a bit of an art form, and takes some time to perfect. But once you've figured out a strategy that works, you'll have a process in place for regularly finding, compiling and editorializing content your audience will love!
Where to source content for curation
In order to curate content, you first need to find it. The net is teeming with information ripe for curation, but the challenge is finding relevant content in a timely manner. This section will give you ideas and tools to find high-quality content to curate. Facebook and Twitter lists: Finding curation-worthy content on social media can be a bear. With hundreds of posts and tweets vying for placement in your feed, it's easy to miss important and newsworthy content. Creating Facebook Interest Lists targeting various topics can help, as can creating Twitter lists of influencers in your niche. Scoop.it: A tool like Scoop.it can help you discover relevant content you may never have otherwise found. Get daily updates based on topics you've selected, as well as on complimentary topics. Content Gems: This tool scours the net to find content related to a category of your choosing. It returns results from social media, news sources, blogs and RSS feeds. Google Alerts: An oldie but a goody, Google Alerts keeps you on top of breaking news, blog posts and media references that mention your chosen keywords. Social bookmarking sites: Following relevant subreddits is one of the best ways to see what topics are trending in your industry. Other sites you can use include Digg, StumbleUpon, Delicious and Pinterest (more of a bookmarking/social networking hybrid, but still worth mentioning). Your own content: I'll dive into this one below, but suffice it to say, your own content can be a goldmine for your curation strategy!
5 easy ways to curate content on your blog
1. Ask industry experts to contribute their top tips
Example: 32 Family Finance Experts Reveal Their Top Tips for How Families Can Save Big Money Strictly speaking, content curation is using existing content in a new and value-added way. With this strategy, you can either create brand new content or utilize existing content. Choose a topic or issue in your niche and ask industry influencers to offer their best tips. They can either point you to existing content you can use, or provide brand new tips. You can also frame your piece as "What the experts have to say about ______", summarizing their views on a particular issue (and giving credit by linking back to their content).
2. Create a roundup of the best resources on a topic
Example: 21 of the Best Social Media Articles This Year Some bloggers misinterpret this strategy to mean compiling a list of links on a topic. However, as with any curated content, it's extremely important to add your own insights and commentary to add value for your audience. One definitionof curation is, "To pull together, sift through, and select for presentation". Good curation will carefully select resources based on quality and relevance; poor curation will simply grab random links from the SERP's (search engine results pages) without thought to quality or value.
3. Curate blog and social media commentary
Example: Illinois State's Commencement: Your best tweets, posts, and photosImportant industry-related conversations take place on other people's blogs and social media profiles all the time. Leverage these discussions and add your own voice by creating a piece that summarizes and gives an overview of the larger conversation taking place online. As always, be careful with how much of the original content you share on your blog, as the line between curation and plagiarism can be a tricky one. Most experts recommend keeping curated copy to around 200 words or less.
4. Compile data, statistics or research on a particular topic
Example: Hubspot's Ultimate List of Marketing StatisticsCompiling industry research and statistics can be a great way to provide value to your readers, and to naturally accumulate tons of inbound links. These types of posts can act as a resource that your readers and other bloggers can reference again and again; and they often don't necessitate adding a lot of your own commentary. Most of your time will be spent finding relevant data, not editorializing the content.
5. Curate your own content
Example: The Best of Smart Passive IncomeYou're not limited to other people's content when it comes to curation. Your own blog, emails and social media posts can also be a treasure-trove of content. Some ways you can curate your own content include:
A "best of" post: Link to and summarize your best blog posts
Write a post compiling stories or opinions shared in your blog comments
A page discussing and linking to your past newsletters: Can be sorted by topic, date, popularity, etc.
The important thing to watch out for is that you're not simply aggregating content. Pages filled with links (but no commentary) may be helpful to your visitors, but will be unlikely to rank for your desired keywords. Proper curation will not only include links to your source content, it will provide discussion or insights that supplement the material. The process of content curation gives business owners a way to cut down on the time it takes to create original content, while still providing true value to their audience. When done right, curated content can hold as much value – if not more – as original content, with a more reasonable investment of time and money. Do you curate content on your blog? In what ways? Share below!
And if you'd like to see how content curation can help you improve SEO, you should read this eBook!
Image by GotCredit.