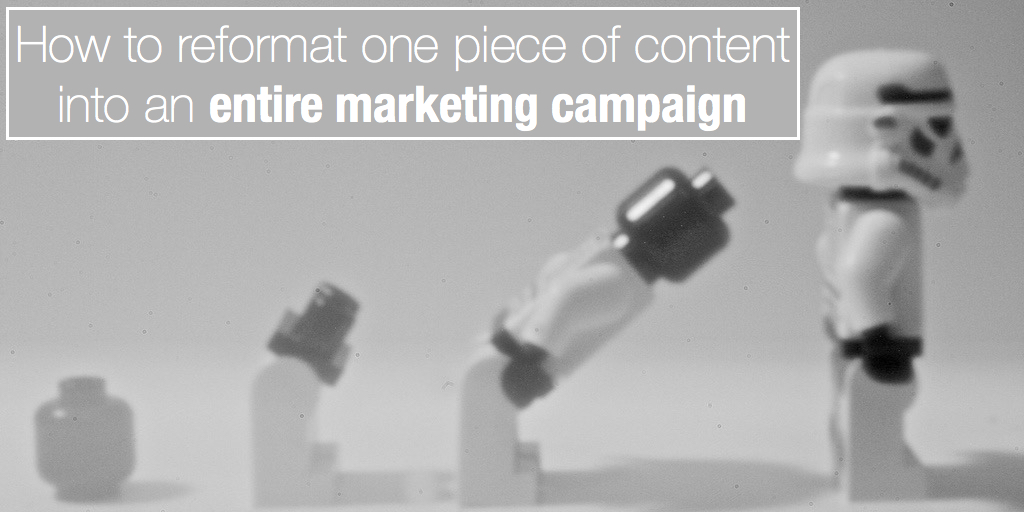 This is my favorite content marketing quote:
"Our goal is to create the least amount of content with the maximum amount of impact."
Robert Rose, Chief Strategy Officer for the Content Marketing Institute
Here's the tone I hear those words in: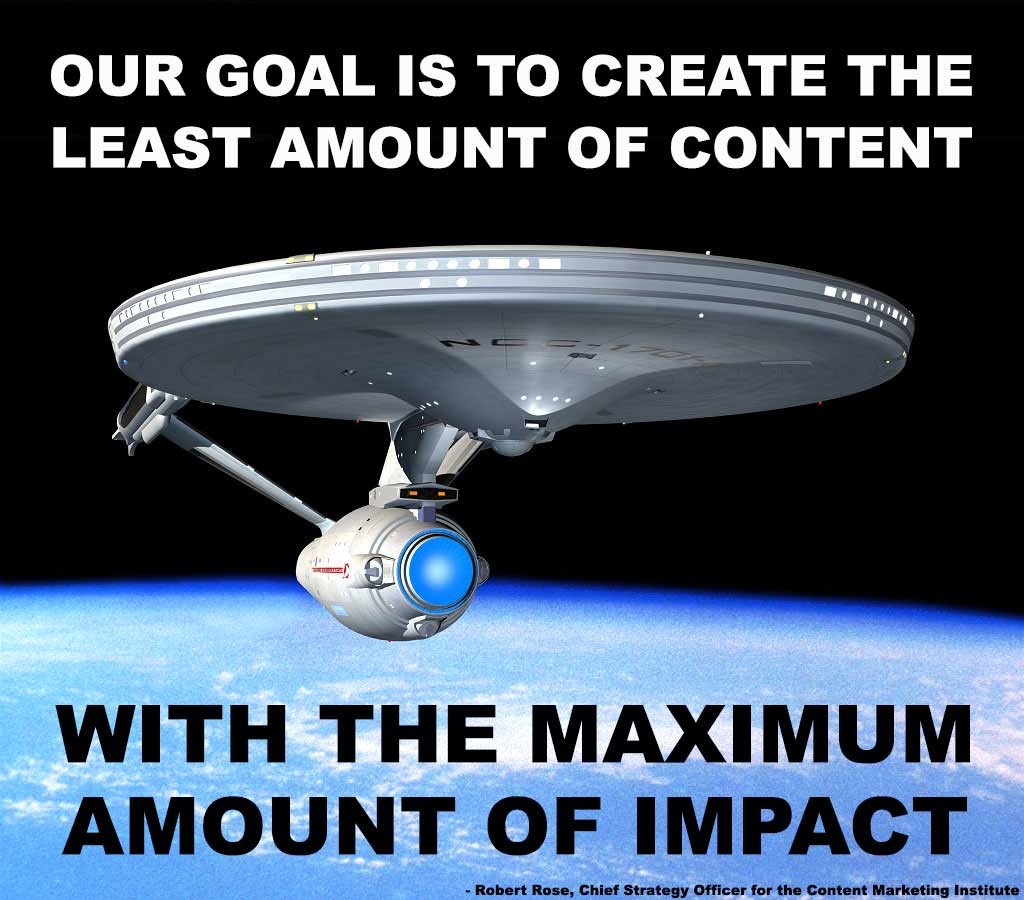 There are several reasons to create less content:
1. So-so content fails. Good content takes time.
Want to get any sort of shares or inbound links now? Then you need content at least as good as the first result in the search listings for the keyword you want that content to rank for. So says Rand Fishkin of Moz, in the Whiteboard Friday video, "Why Good Unique Content Needs to Die".

"But why does this mean you should create less content?"
Because first-rate content takes time. Lots of time. Orbit Media recently published a study showing how bloggers are taking longer and longer to write posts. If you're doing original research, that adds even more time to how long it takes to finish a post.
All this either means you work 80 hours a week, you eventually burn out, or you create less content. Better content, but less of it.
2. Content shock.
This may or may not be the Armageddon we fear it to be. But there's no dispute on one point: More content is being created than can be consumed – by a lot. And even more will be created next year.
3. Marketers say the biggest obstacle to content marketing success is a "lack of content creation resources".
In other words, they're already having trouble meeting content needs. They already need to create less content, if they want to avoid stressing their resources.
Less content, same results?
How do we create less content but still get the results we need? It's the need for results that drives all this content creation. If we could create less content and still get the same results, that would hardly be a problem. Actually, I think most of us (even content creators!) would consider that a major win.
Not only can this be done, but there are three ways to do it:
Here is how you can reformat one piece of content into an entire marketing campaign using the repurposing strategy, which fulfills the promise of less content/same results.
Here's how:
Once you reformat one piece of content, it can be submitted to dozens of new content sites and social media platforms. That original piece of content, reformatted, has basically been cloned. Each one of those sites is a touchpoint for you to attract new audience members – and a way to get new links back to your site.
All those links, engagement actions, and social signals send people to your site (more traffic!) also support your SEO goals by being a form of link building.
Reformating is easier than starting from scratch. It takes less time to reformat content than it does to create all new content.
People have content format preferences. If you satisfy those preferences, they're more likely to consume your content. For example, some members of your audience may not prefer the content format you first published in (say, a blog post). They may want an audio podcast, or an infographic. Or maybe they're into SlideShare… or Pinterest. If you can offer them different formats, they're more likely to invest some of their precious time in your content.
Despite all those benefits, most marketers don't do much repurposing.
Most marketers repurpose their content only one to three times. That's the equivalent of taking a blog post and making it into
A section of an email newsletter
A few tweets on Twitter (or even one, I'm being generous)
One section of an ebook
Hmm.
The next most active group of repurposers make their content into 3-5 pieces of content. That would work out to a list like this:
A section of an email newsletter
A few tweets on Twitter (or even one)
One section of an ebook
A LinkedIn update
A Facebook update
That's better, but still not good enough.
A paltry 3% of marketers are repurposing their content five times or more. That's gotta change. Otherwise we're all going to get carpal tunnel syndrome from creating all that content. And more content. And more content.
Want to be in the 3% group? These are 31 ways you could repurpose just a blog post:
A section of an email newsletter.
Tweets (over time – not just within the first week of publishing).
Facebook posts (again about the "over time").
LinkedIn updates.
Answer a couple of questions on Quora.
Answer a couple of questions on industry forums.
Republish on LinkedIn.
Republish on Medium.
Republish on Business2Community (if you're B2B).
Use the post as a section of an ebook.
Make the post into a SlideShare.
Make the post into a quiz or poll on your site.
Use the post as a rough script for a video.
Make the post into an infographic (for Pinterest and other image-based platforms).
Use the post as the basis of a webinar.
Use the post as the basis of a speech or interview.
Convert the post to audio format (possibly for a podcast).
Create a more detailed version of the post and use it as a content upgrade to get more leads. Or offer the upgraded content in an email newsletter, or to a coaching group, as a special thank you.
Segment a long post into an autoresponder series, or use it as a few messages within the autoresponder series.
Use the post as the basis for an online course, or a segment of an online course.
Use the post as a small section of a book. (Not an ebook… an old fashioned, paper type of book).
Reuse the blog post as content for your app.
Could the post be adapted into an online tool, or a game?
Rewrite or augment the post so it's targeted to one of your buyer personas or audience segments.
Make the post into a downloadable checklist, or a visually-based checklist.
Republish the post in a printed company magazine or in a print newsletter.
Was the blog post newsworthy? Could it be rewritten into a press release?
Convert "listicle" blog posts into ly lists.
Make a Flipboard or a Storify story out of the blog post.
Republish the post on your own site, like Econsultancy did. And like Heather Lloyd-Martin does, too.
And, of course, use Scoop.it. Add your new post to Scoop.it so other people can curate it for their own use. Even better: Make several scoops, each about different parts/sections of the blog post. Or make the different scoops targeted to different audience segments.
Even visual content has a slew of reformatting possibilities. A short video could be made into:
A series of images from videos frames. Each image could be, or support, a social media update.
A couple of animated gifs. Extra credit: upload of few of your animated gifs to sites like Giphy – find a whole new sharing community.
Vine videos.
The images to be added to PowerPoint slides (or SlideShare slides).
Any blog content you create that might benefit from those frames/images.
Any ebook content that might benefit from those frames/images.
I'll stop there. You get the idea. Besides, once you really get the reformatting bug, you'll start to see reformatting opportunities everywhere. It can get downright overwhelming sometimes, just thinking about all the possibilities.
Some final tips for how to think like a content repurposing ninja
Think about how you're going to repurpose your content BEFORE you create it.
Plan your content ahead of time with an editorial calendar. Choose large themes that complement each other.
Use your personas. Could you repurpose a general-audience piece of content into content that's specifically tailored for each of your buyer personas.
Back to you
How many times do you reformat each piece of content you publish? Have you found any ways to repurpose content that I haven't mentioned here? Tell us about them in the comments.
If you want to get 30 effective techniques to master content marketing along with valuable insights from 10+ influencers like Mark Schaefer, Rebecca Lieb, Lee Odden, Jason Miller or Ian Cleary, download our free eBook now!

Image by Jay.