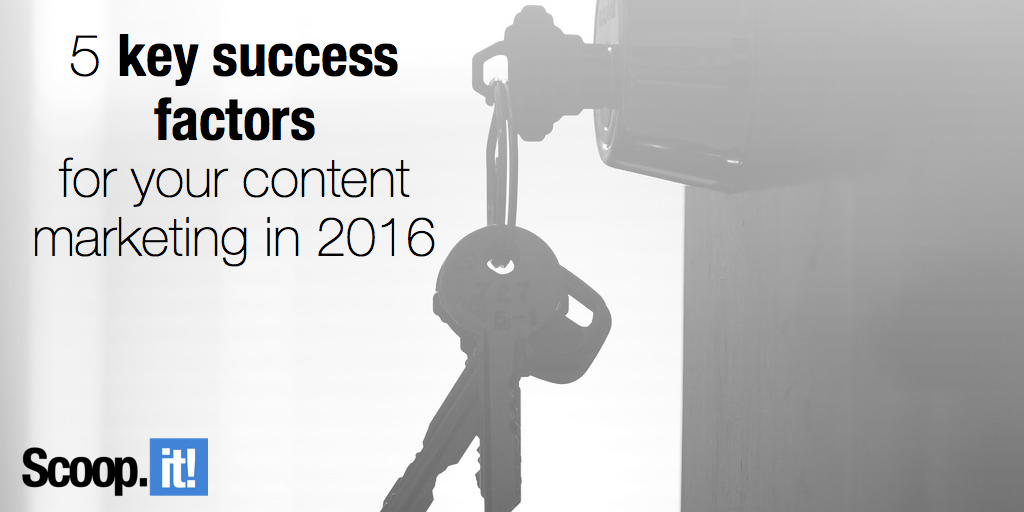 It's that time of the year when there will be much focus on devising marketing strategies that will help improve this year's marketing efforts – including your content marketing. After looking at your last year's performance and if you're still planning to put together a new one, here are some key success factors for your content marketing in 2016 you should consider.
1. Optimize your content for mobile 
With more and more people accessing and consuming content on their smartphones, it's important to make the experience pleasant and smooth for these mobile-savvy users. In fact, according to Jay Baer of Convince and Convert, "Short-form, mobile-friendly micro content will be the new strategic darling."
Most consumers are now glued to their mobile phones when it comes to daily activities such as shopping, consuming content and even for browsing through social media platforms like Facebook and Twitter. All major RSS feeds such as Feedly and social curation tools such as ScoopIt are now available in the form of mobile apps to give people the convenience of reading their favorite blogs on the go. Social media marketers feel that engaging their target audiences on mobile devices is a sure shot way to obtain results. Hence any successful content marketing campaign will depend to a great extent on an effective content marketing strategy.
2. Utilize the right SEO tools
Some people say that if you are not on the first page of Google search results page, you simply don't exist. How many times have you looked beyond the first page of the Google Search results? As a marketer, you may be churning out the best blog or sharing the most relevant information; but it's all in vain if your content is not searchable online. Therefore, choosing the right tool which will make your content searchable is the key to a good content marketing strategy. There are a wide range of SEO tools available which make your task relatively easy. One tool we like at Scoop.it is the free WordPress plugin Yoast. It helps you optimize your entire content for the keywords you'd like to rank one.
3. Select the right platform for your industry
Since we now exist in a world of connected consumers, a school of thought also suggests that Facebook could soon emerge as the new-age internet website for the wide spectrum of information and insights it offers. Businesses looking to communicate with their customers on social media platforms also need to keep up with the upcoming platforms such as Snapchat, Periscope, Instagram, Pinterest, and various other potential areas of engagement. Social media presence goes a long way in brand awareness and recognition and increases your visibility to prospective customers. Having said that, there is no 'one-size-fits-all' policy when it comes to social media marketing. A wise marketer should choose the platforms based on the engagement of the target audience, not just based on generic statistics. So start by publishing and engaging with your audience on several platforms through social media promotion, and monitor the results to see which platforms brings you the most traffic, leads, and qualified leads!
4. Have a system or process to help you keep track of the results
The main objective of content marketing is not only to gather eyeballs, but also to generate revenue in the long run. And that depends on how your marketing is performing. How do you measure your performance? For any organization, performance could mean customers, leads, footfalls, revenue etc. Similarly, in social media context they could be imprints, re-tweets, likes and shares. Therefore, it is essential for any content marketing strategy to use tools such as Google Webmaster Tools' Keyword Report, Bing Webmaster Tools, Google Analytics to keep track of the campaign's performance. There are also integrated solutions: Content Director for instance will offer you an integrated content marketing platform to plan, source, promote and analyze all of your content in one place.
5. Have an overarching strategy
Once you have identified the business goals, target audience and finalized the social media platforms you want your content on, the next step would be to design a strong content strategy. Creating unique content, adding relevant images and videos to the content are just some of the priorities that a marketer should have. An effective content strategy should ideally answer the following questions:
What kind of content would you need to publish/curate?
How frequently does your content need to go online?
Does your content strategy answer/address questions and concerns of your target audience?
If you want to get 30 effective techniques to master content marketing along with valuable insights from 10+ influencers like Mark Schaefer, Rebecca Lieb, Lee Odden, Jason Miller or Ian Cleary, download our free eBook now!

Image by Rachel.