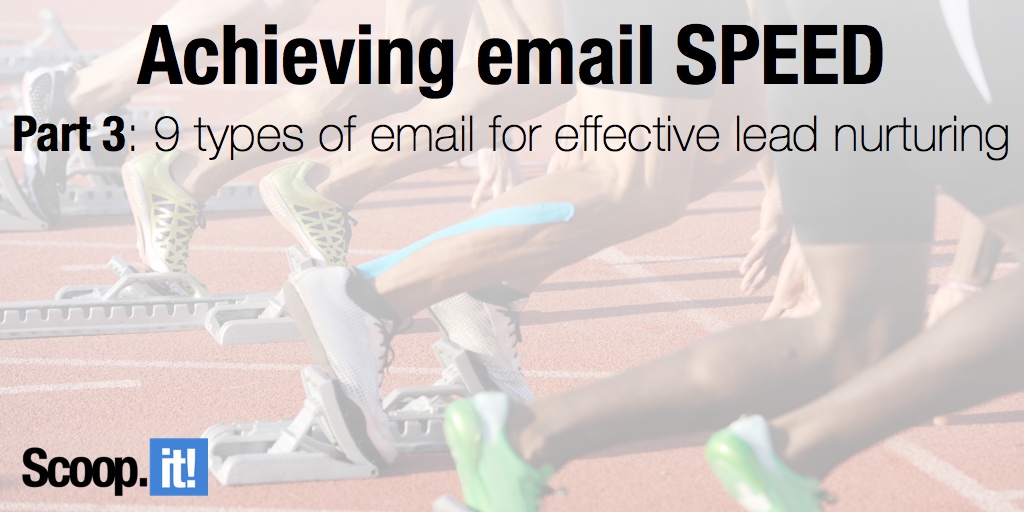 We're in a groove here on the Scoop.it blog—an email groove.
In Getting Started with Email Marketing, you learned why email's a must in your digital marketing mix, how to get started by selecting a service provider, and how to use readymade templates.
The second installment in the series, How to Build a Valuable Email List By Delivering Value, uncovered 26 ideas for using lead magnets for list building and a sizable list of ways to gather email addresses from new prospects.
When you apply these lessons, you're ready to put email marketing in motion to nurture leads and grow your customer base. And given the power of email marketing and automation platforms, there are a ton of strategies you can tap.
Here are nine types of email for effective lead nurturing you can analyze and implement if they're a fit for your strategy.
Newsletters
Email is a lead nurturing tool. Lead nurturing is a conversion strategy. Of course, email can also be a powerful play for fostering retention and referrals.
The email newsletter is your catch-all for these marketing tactics—and more. You put your brand, content, products, services, tips, tactics, and whatever else you choose to include in front of your prospects and customers at regular intervals.
If you're doing it right, you're building trust.
If you're doing it efficiently, you're using an easy system for assimilating relevant content and news from sources inside and outside of your company. In fact, many of the best newsletters feature a steady stream of curated content.
Pssst…
Digests
Behold curation. Behold simplicity. Behold email marketing of the digest variety: a powerful shortcut for you and a welcome time-saver for your subscribers.
Digest-style emails are simply lists of content, usually blog posts, though they can include podcasts, infographics, or anything you can click-to-find. Digests typically include short descriptions of the content, and of course, links to it.
Sometimes the content is connected by a theme. Sometimes not. The features a digest email focuses on may all come from one source (say, the best of our blog in February, for example). Or not.
There are quite a few reasons to consider delivering digest emails to your subscribers. Atop the list, it's easy. In fact, with many email systems, it can be entirely automatic.
MarketingProfs delivers its subscribers a daily digest with links to, and descriptions of, five features. Some are newly published while others are popular evergreen posts and products
Autoresponders
An autoresponder is a series of emails—usually focused on a specific topic—and often on a specific persona as well. Autoresponders are delivered in a pre-determined sequence at pre-determined intervals.
You'll want to consistently address your prospect's needs and stress the benefits of your products or services. How the sequence works is your call. Normally, they go something like this:
Welcome message > Content > Content > Content > Content > Content > Content > Promotion
Or, you can be a bit more aggressive.
Welcome message > Content > Promotion > Promotion > Promotion
Or, you can highlight your content with each email while including a product or service you offer. For instance, each installment of your autoresponder sequence might link to a different blog post, but also include an additional call to action to generate sales for an event, course, book, app, product, etc.
If things go as planned, your email autoresponder series will build trust with your prospects. Your messages will make regular appearances in their inboxes. And, you'll be sharing useful lessons and progressively gaining mindshare. If your content is well received, you'll essentially be training the reader to open your emails, visit your website, and ideally, do business with you.
This is the formula, simply stated:
Repeated touches and visits = familiarity = trust = sales.
Learn much more about implementing autoresponder email here.
Welcome email
New subscribers are more likely to open your emails. Sending personalized welcome emails creates a connection with first-timers and builds trust.
Welcome emails might educate recipients about your value proposition, ask them to tell you more about themselves, and provide resources and helpful information personalized to their interests.
Transaction emails
Savvy email marketers follow-up with transactions of every sort, be they order status receipts, service request updates, shipping notices or confirmations.
Your marketing automation platform enables you to trigger the emails immediately. Share some love in the form of content that delivers value, such as:
Product usage tips
Answers to frequently asked questions
Delivery tracking information
Links to community forums
Invitations to connect via social networks
Requests for feedback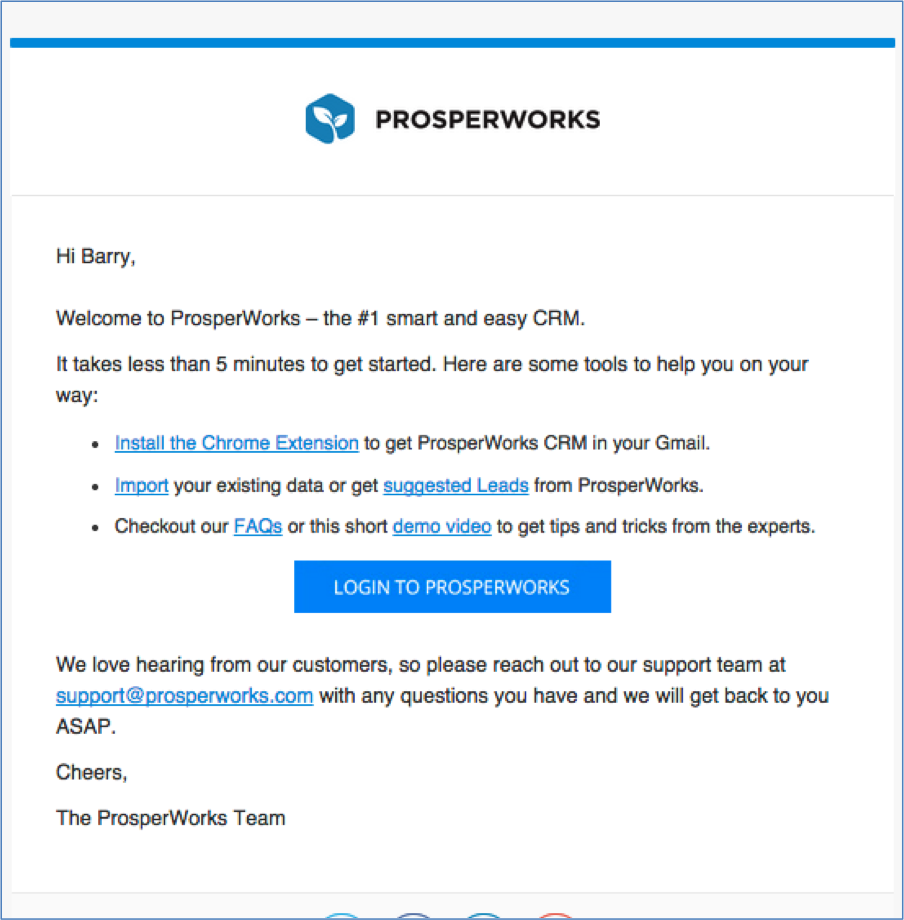 This transaction was merely a free trial. ProsperWorks is wise to recognize this and send a welcome email highlighting tools to help get me get started with their CRM solution.

Abandonment follow-up
The scenario here: a known contact clicks into a form, places a product in the cart, or nearly completes some desired action.
Thanks to marketing automation, you can respond via email with a message based on actions your prospect did or didn't take.
Messages triggered by cart or form abandonment may work to strengthen engagement and inspire the recipient to make another move. Email in situations such as cart abandonment should employ a friendly tone and offer helpful assistance.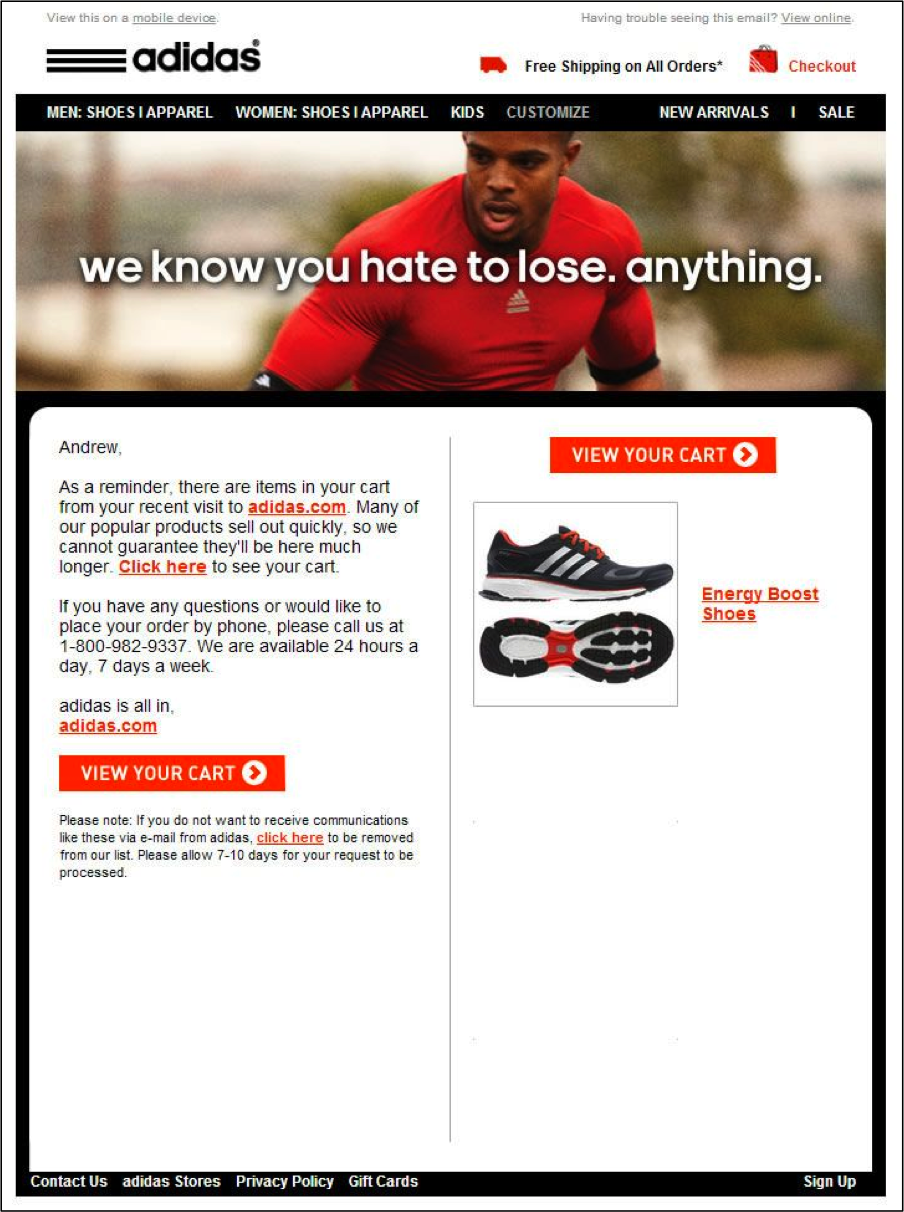 Adidas cleverly taps into the customer's competitive spirit: he hates to lose. Clearly, they'd like Andrew (the recipient) to come back or call. See, he also has the option to order by phone 24/7.
Special occasions
Special occasions can make for special emails. First, consider your customers' special occasions: birthdays, anniversaries, holidays or important milestones in their lives. Second, the occasion being celebrated could be your own—an anniversary for your company or for the customer's use of your products and services.
Of course, you need to put notices such as these into proper perspective. The one-year anniversary of a customer running your software may not be perceived as special. Your challenge is to make it special.
Be creative. Commemorate the occasion in a special way with a gift or offer that is perceived to be worthy of celebration.
Re-ordering email
Will customers need to replenish supplies at regular intervals or order seasonally? Do you have a large product line or offer a multitude of optional services you can cross-sell and upsell?
If so, consider some of the following ideas:
Deliver new product updates to business clients (e.g. software)
Send seasonal product order reminders (e.g. calendars)
Send reminders for fill orders (e.g. foods, ink cartridges)
Sending seasonal messages provides a convenient opportunity to thank patrons for their business and enables you to maintain a more continuous dialogue without creating additional work for sales people.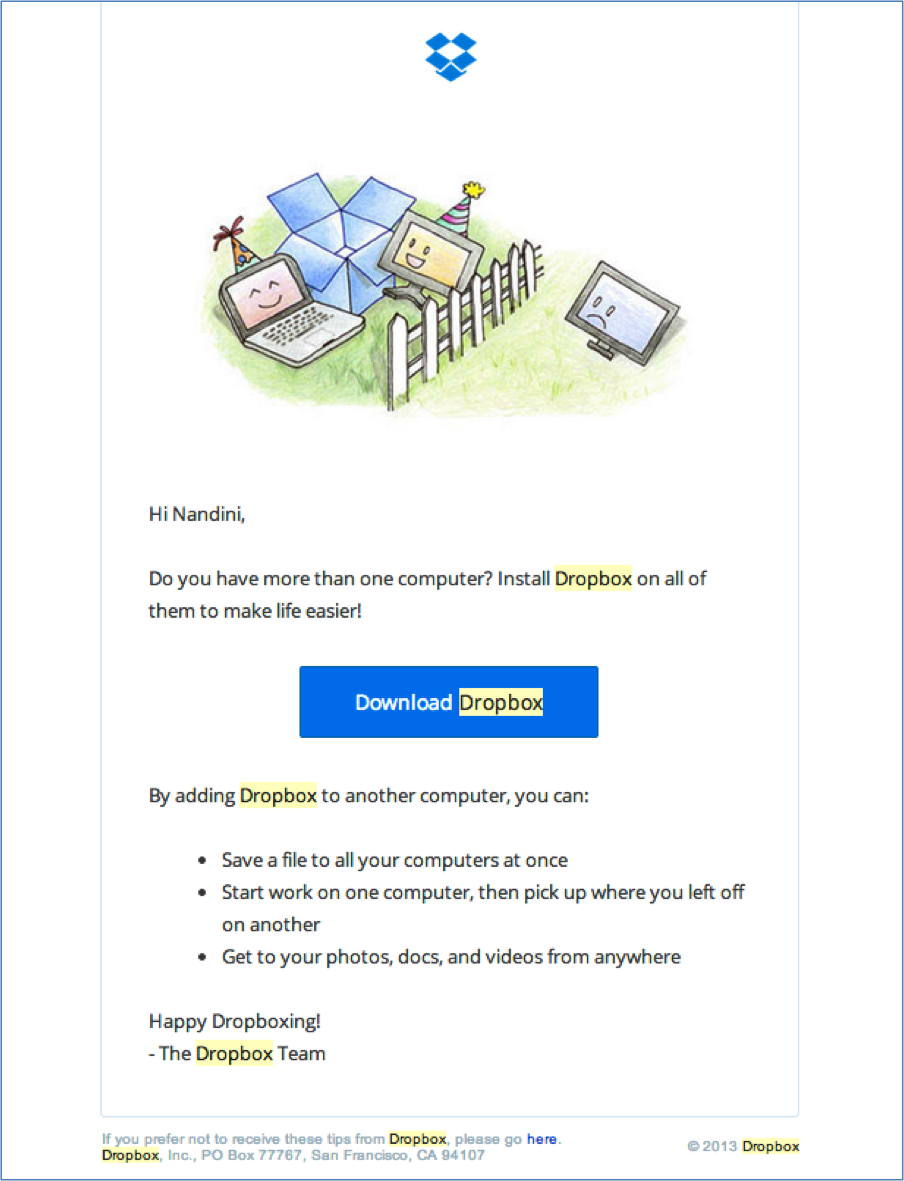 Dropbox encourages users to install Dropbox on more computers and also lists the benefits of doing so.
Lifecycle email
If you haven't sensed some of these email types overlap, you will in this final section. No worries. The purpose of this post is to help you discover a variety of ways you can put the power of email marketing to work, including, hopefully, some ideas you've yet to try.
Lifecycle emails make sense because your customers need different content at different times in the buying cycle. Your messaging might evolve throughout the customer lifecycle like so:
New prospects are sent welcome messages, educational content, or incentives to buy.
Engaged prospects get invitations to events, targeted content based on website activity, price information, customer case studies.
Lapsed or disengaged prospects are sent surveys, incentives to revisit the website or blog, and promotions.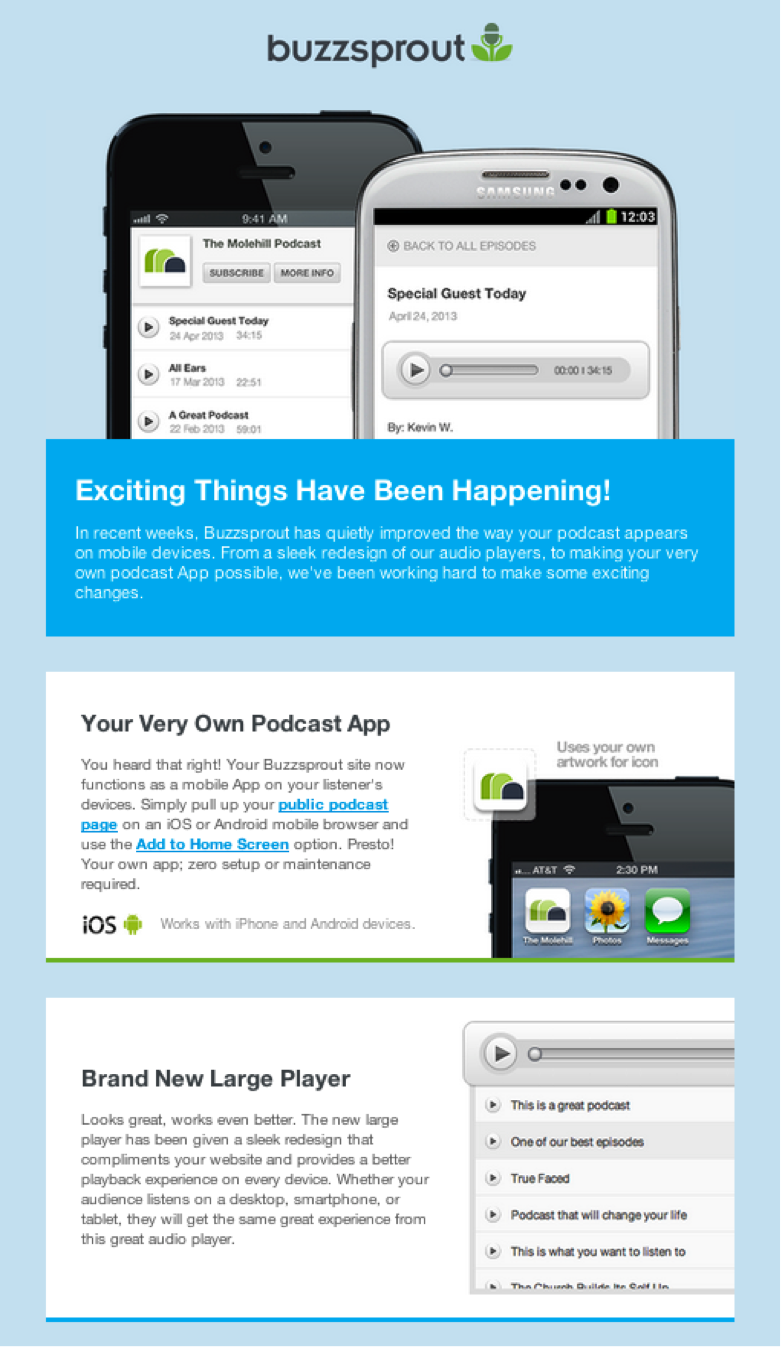 This email aims to drive inactive users into action by informing them about product updates.
You'll want to mix, match and find the email tactics that meet the needs of your customers and ultimately, prove effective for nurturing leads. The most effective email marketing plan will likely include many of the techniques covered here.
Picking up SPEED
What's SPEED? The first post in this series spelled out a formula for capitalizing on the power of email by achieving SPEED: Smart, Profitable, Easy, Effective and Data-driven.
E is for Easy.
In the next post in the series we'll examine SPEED strategies and tap into the mind of a guy who is especially keen on helping make email marketing easy.
If you want a whole set of tips to generate leads with content marketing such as ways to repurpose your content into other forms, insights on which format you should focus on, techniques to measure the results and other data points, download the eBook "How to generate leads through Content Marketing".