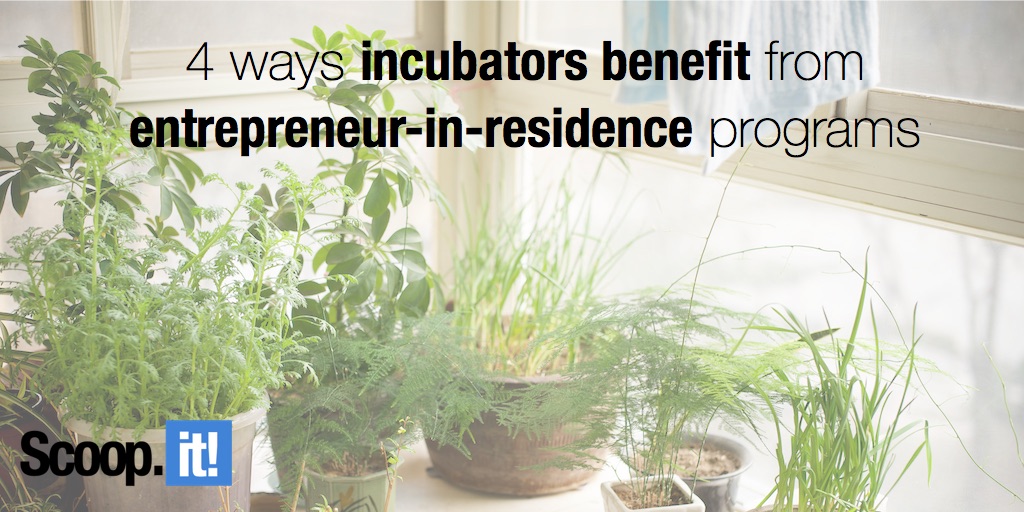 Business owners participate in incubators and entrepreneurial studios to get support for their startups. By simply being part of one of these programs, they gain access to resources not normally available to startup founders. Incubators exist to bring great minds together, but without the advisors they need to mentor and nurture their members, these organizations wouldn't be nearly as effective.
Like many corporations and nonprofits, startup studios have begun to use entrepreneur-in-residence (EIR) programs to offer the mentorship they need. Participating entrepreneurs are rewarded with support in their own endeavors, usually in the form of financial assistance and access to resources.
But what do studios get from these programs? Here are a few ways EIRs benefit incubators, accelerators, and startup studios.
Shared inspiration
One of the hardest things about founding a startup is working alone. Unless an entrepreneur has colleagues or employees to work with while generating ideas, the experience of coming up with new marketing slogans or product names can be grueling. By working within the support system an incubator provides, entrepreneurs can both inspire and be inspired, often leading to winning business ideas.
TechGrind's incubator partners EIRs with one of its startup teams, letting them work part-time or full-time alongside a fellow business leader. In doing so, the EIR can even serve in a co-founding role in some instances, giving the startup founder the support necessary to generate great ideas.
Help participating businesses
With so many incubators and studios now available to new business owners, programs need to be able to offer founders as many amenities as possible. Impressive EIRs give them the credibility they need to bring some of the most innovative businesses in. When it partnered with DV Torque for its startup studio, Boston Consulting Group wanted its entrepreneur-in-residence program to strengthen both participating entrepreneurs and startups equally. EIRs receive customized experiences that ensure they get the most out of the experience. In the words of Alex Gold, Venture Partner at DV Torque:
"What really matters more than anything else is getting access to exactly what you need as fast as possible and that's a cornerstone of our mission."
Build relationships with rising entrepreneurs
Often incubators and startup studios thrive on being well integrated into their surrounding communities, as well as specific business industries. An EIR generally has a history of leading businesses and can even be well known among other business owners in that community.
Each EIR who participates in a program will likely become a partner for life, sending referrals and coming back to provide support when asked. EIR programs give startup studios the opportunity to form relationships with entrepreneurs across a wide variety of industries, as well, which means that when a startup comes in that needs specific help, the program will have a resource available.
Over time, these relationships will serve to build an incubator's credibility, since an increasing number of successful entrepreneurs can call themselves former participants, leading them to recommend the experience to others.
Increase networking opportunities
EIRs have likely been in the workplace long enough to have cultivated a wide range of business relationships, from former coworkers to colleagues to past clients. When they participate in an EIR program, they can bring those relationships to the incubator, making introductions to startup founders who are participating in the program.
They may even be able to invite others from their community to conduct a workshop or attend after-hours events. Since most of the participants in an incubator or studio are new business owners, they often don't have the same extensive network an EIR can bring to the program.
Conclusion
An entrepreneur-in-residence program can benefit everyone participating in an incubator or startup studio, from its own leaders to its small business founders. When choosing the right entrepreneur for its program, an incubator should consider that professional's background to ensure the perfect fit with its culture.
Ideally, an EIR will provide insight and education, as well as helping connect the incubator's participants with some of the best minds in their own unique industries to give them the resources they need to succeed.
If you want to get 30 effective techniques to master content marketing along with valuable insights from 10+ influencers like Mark Schaefer, Rebecca Lieb, Lee Odden, Jason Miller or Ian Cleary, download our free eBook now!
Image by Lyle Vincent