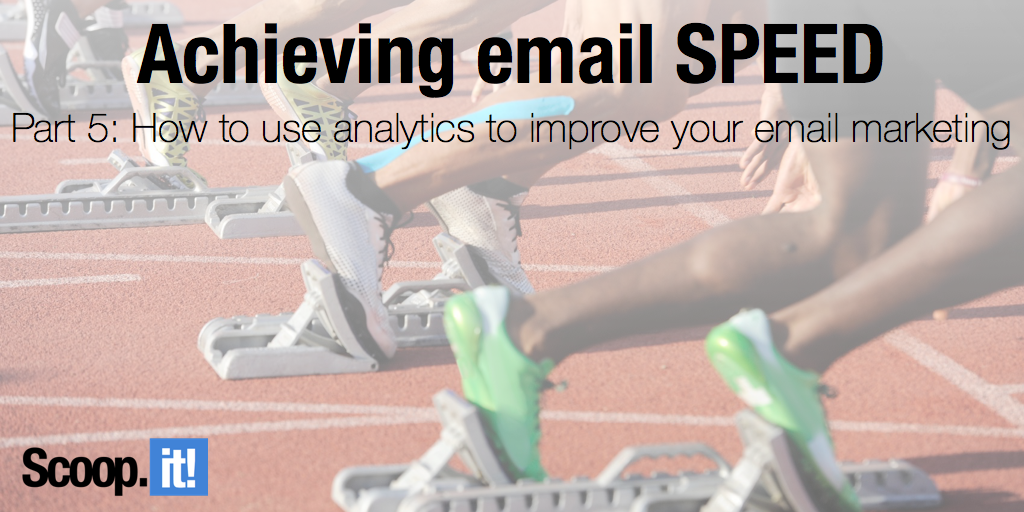 The best email marketer is the data-driven email marketer. Actually, you could say the same thing about all forms of digital marketing.
Email marketing affords you the ultimate opportunity to collect data and apply insights to perpetually improve your work. In fact, with email, you can trace actions to specific individuals. Powerful stuff.
Remember, in our five-part series about email marketing, we're spelling out the formula for email marketing SPEED—that is, Smart, Profitable, Easy, Effective and Data-driven.
Here, in Part 5, we'll examine email marketing analytics, what they mean and how you can put the data to use.
4 essential email metrics
Basic email metrics are fairly straightforward. You generally want to examine the following four.
Reports like this one from MailChimp deliver essential email analytics including open rate, click rate, as well as bounce and unsubscribe numbers.
Bounce rate: The percentage of emails sent, but not received is called bounce rate. "Hard bounces" indicate the email was sent to a bad address. No one's home. These addresses should be removed from your list. If you get a bounce rate of 1 percent or more each time you send an email, you'll need to look at your opt–in process. It's allowing would-be subscribers to enter fake email addresses.
Open rate: Your open rate tends to be an indicator of the success of your subject line, so it's always a viable metric. That said, email service providers warn the percentage of recipients who open your email is estimated, not exact. Factor open rate mostly as a means of comparison among your emails.
Click-through rate (CTR): CTR is your most important metric because it reflects how relevant and compelling your email is, or isn't. Aim to draw conclusions regarding why some emails get higher or lower CTRs than your averages.
Unsubscribes: A small percentage of recipients will unsubscribe. Don't fret. After all, you want to send email to those who actually want it. However, if you see a spike in your unsubscribe rate, it may suggest you have an issue worthy of consideration. Are you sending email more often than subscribers want? Perhaps you're not meeting the expectations of your subscribers. It could be your subject lines are making promises your emails don't keep.
A note on conversion rate. I want to introduce conversion rate, but not include it in the "four essentials" because not every email marketer is capable of gathering it. Measuring conversion requires integrating your email platform with your web analytics.
Conversion indicates the email recipient performed a desired action such as filling out a form or buying a product. For many email marketers, this metric may be overkill, but if your aim to sell product from your email, you should take conversion rate seriously.
In addition to revealing numbers and percentages to help me gauge my email performance, this analytics report from my own Campaign Monitor account features numerous links enabling me to drill-down into the metrics I want to learn even more about.
Basic email testing
You can get valuable insights about your prospects' behavior with some basic testing. It's easy to test your email in a variety of ways and doing so should enable you to perpetually improve results.
Subject line tests: Most email marketing services offer features to facilitate simple A/B tests (often called "split tests"). The easiest, and probably most valuable, A/B test to conduct is the subject line.
To do so, you simply write two subject lines, which are pitted against each other in a preliminary send to a portion of your list. Your email service provider (ESP) may offer you the option to select the winning subject line based on:
Open rates: Getting a subscriber to open your email is obviously an invaluable first step, so testing open rates can be very meaningful. Make this test worthwhile by trying two distinct approaches to your subject line. For example, one might be a question while the other is a statement or teaser.
Click-through rates: I favor this approach because a click-through to my site is generally the objective I deem to be most important.
Clicks to a specific page: Where an offer or sale is a factor, clicks to a specific page (based on a specific) link, is likely to be the most important variable.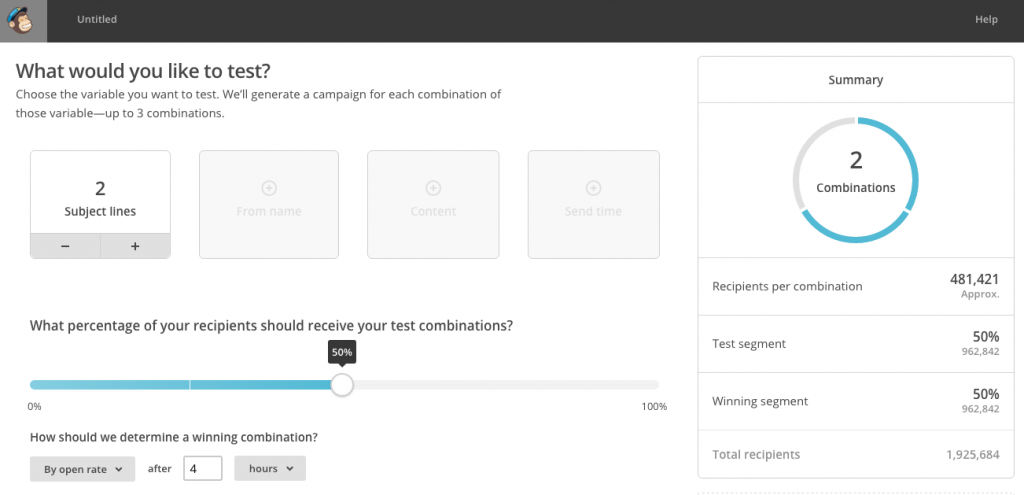 An A/B test that pits two subject lines against each other can be a simple and effective way to optimize the performance of emails.
Timing: If you have subscribers all around the world, you're likely to conclude there's no perfect time for sending an email to everyone on your list. Still, testing time-of-day delivery for a few emails is likely to be a worthwhile exercise, which will help determine the time of day that provides higher open rates.
With the U.S. as my primary market, I arrived at the conclusion that early work hours in the PST time zone (mid-day in EST) is a smart play. That said, my emails are opened over a surprisingly long period of time (48 hours or more), so timing the send isn't all that critical.
Many accomplished email marketers send emails after hours, in the wee hours, and even on weekends. Best to experiment and do what you can to be "data-driven."
Day of the week: You might experiment with the day or days you send emails. You may find a significant difference in response rates when you compare early, mid, late-week and weekend deliveries. And you may be surprised at the results.
Copy: The content of your email will have a lot to do with your success. So if you have different ideas about what to write, split-testing versions of the copy is another practical exercise to help you determine which style or message resonates best.
Design: The obvious way to determine which visual styles inspire clicks is to test a few. Consider testing masthead designs, multi-column vs. single, lengths, images, color schemes, fonts and styles.
It's conceivable your best A/B test for design is to run a nicely designed HTML-based email against a plain text version. I've found in some instances, such as multi-part series email, readers prefer the "nothing fancy" approach.
Structure and layout: Will a one-column stack work best? Does a sidebar help? Should every story feature an image?
It could be distracting to mess around with your layouts over the long-haul, however in the early going of an email type you'll send often (e.g. newsletter), testing layout variations might be useful. Consider testing what type of information you present and where it lands on the page.
Personalization: Email experts suggest personalization is a powerful tactic. I won't promise personalizing your email will improve results, but it's test-worthy. If you collect first names, send similar emails that do and don't contain them to see which perform better.
Call to action (CTA) You'll benefit from testing your CTAs. Consider experimenting with:
What they look like
How many to include
How often they are presented
Where they are located (at the end, beginning, both or in a sidebar)
Offers: Invest the time to test offers by dividing your email database in equal parts. The insights you gather are likely to have a significant affect on the return you realize with subsequent emails.
Email analytics is simple stuff
A scary percentage of email marketers don't bother with the analytics. Big mistake. You should check your metrics every time you send email.
Gathering insights from these reports is simple. There's no need to be an analytics expert to measure the impact of your email marketing efforts. Invest a little time exploring your email reports, choose one area you want to improve in, and check in after each email to track your results.
Conclusion
Email is the pinnacle of permission marketing and a highly effective way to boost your bottom line and grow your business. It provides a direct connection to your prospects.
Review the tactics and techniques offered in our five-part SPEED email series to take advantage of email marketing, digital marketing's most powerful weapon.
If you want a whole set of tips to generate leads with content marketing such as ways to repurpose your content into other forms, insights on which format you should focus on, techniques to measure the results and other data points, download the eBook "How to generate leads through Content Marketing".