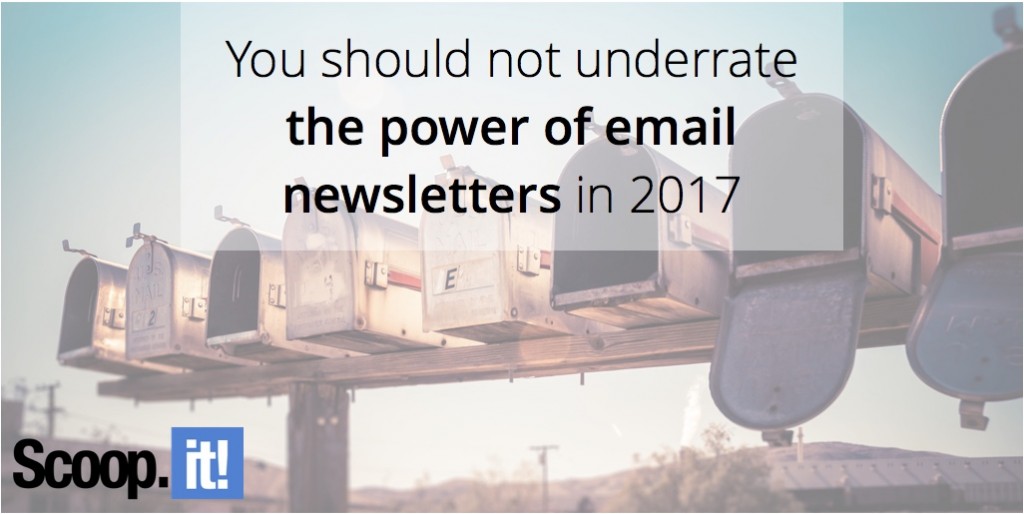 Content Marketing Institute Founder Joe Pulizzi says recent news illustrates five trends for content marketing in 2017.
Read the full article at: contentmarketinginstitute.com
2017 is finally here! During the past few weeks we saw a bunch of blog posts wrapping up all the content marketing achievements of 2016, but also a lot of predictions for the new year. It seems like a lot of exciting things are on the way. One post caught my attention though – this article by Joe Pulizzi is a great summary of the main content marketing trends we should all watch out for in 2017. One of them is email renaissance – I believe in the power of emails and I'd like to explain why, but first, let's have a quick review of what will allegedly shape the content marketing world this year.
Watch out for these trends in 2017
Buying influencers
According to Joe Pulizzi, there are a few trends we should definitely keep an eye on. First, let's talk influencer marketing.While brands used to partner with their influencers, it is becoming more and more common for brands to purchase these influencers. Here is one example: CNN bought a YouTube celeb's company to launch a new media property and therefore reach a new audience.
Content marketing as a defensive mechanism
Content marketing has also become an effective defensive mechanism. The story of Kellog's vs Breitbart after Trump's election is the perfect example, and according to Joe Pulizzi we'll see more and more actions of this kind in 2017.
Backlash against social platforms
More and more brands and influencers are frustrated with the main social media channels because of algorithm changes. As a consequence, "there will be more advertising on social media platforms and less organic publishing." says Joe Pulizzi. Brands will rather focus on their own platforms and leverage paid promotion "to create and grow an audience".
Print resurgence
Who said print was dead? Apparently print magazines got back in the game. Check out those examples from Airbnb and School of Doodle. To give you a bit more details, the Airbnb mag includes content created and curated from people who use the service. Joe Pulizzi believes that "a number of big brands are going to launch print magazines in 2017" as a way to complement some online components. Let's see if the prediction becomes reality…
Email renaissance
Here are the two main forecasts for emails newsletters in 2017:
More brands will send relevant newsletters to grow their audience
Marketers who already send newsletters will make sure they are "truly amazing and relevant customer experiences."
It's proven that sending email newsletters is one of the best ways to improve results. Not convinced? Let me show you.
Sending newsletters is definitely not outdated
The current state of email marketing
In a world ruled by new technologies, it's hard to imagine how emailing can survive as a content distribution channel. Yet, it remains content marketers' favorite medium, and I believe chances are good that the numbers keep growing.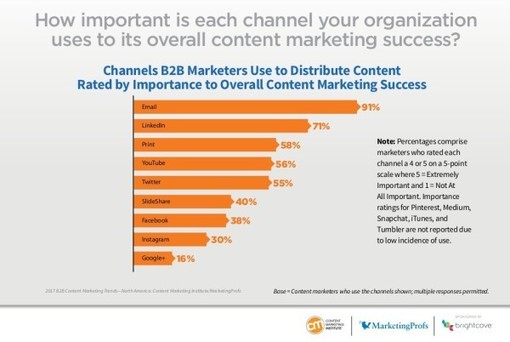 Email marketing is definitely not obsolete – it's the #1 digital channel for user engagement, and it's a serious source of highly-valuable data.
According to a study from Email Monday, "74% sees email marketing still being one of the channels with the highest return on investment." In fact, in 2016, people receive an average of 90 emails per day – this number has been growing every year and will continue to grow.
Which benefits can you expect from sending more emails?
Doubling the frequency of our newsletters didn't affect our open rates negatively – it actually showed us great results! It has been the number one factor for increasing reach, traffic and lead generation.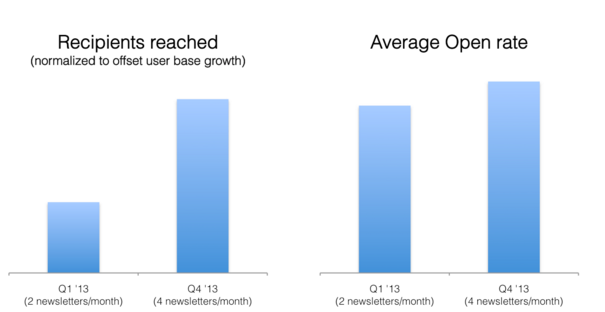 Here's what will happen if you send high-quality emails more frequently, without being spammy: your open rate will increase, and you'll easily reach 2.5x more recipients.
Emails are a great way to extend the life of your content – by sharing multiple times (don't forget to change the subject line!) you literally reach people that might not have seen your content before.
Conclusion
2017 sounds exciting – lots of predictions, but I strongly believe email marketing will surprise us. If you are ready to embrace the trend, you should check our five-part series about email marketing! And of course, don't hesitate to give your feedback in the comments section below.
And if you need help choosing the best software to skyrocket your content marketing results for 2017, download our free guide with over 44 tools reviewed!
Image by Wayne Stadler