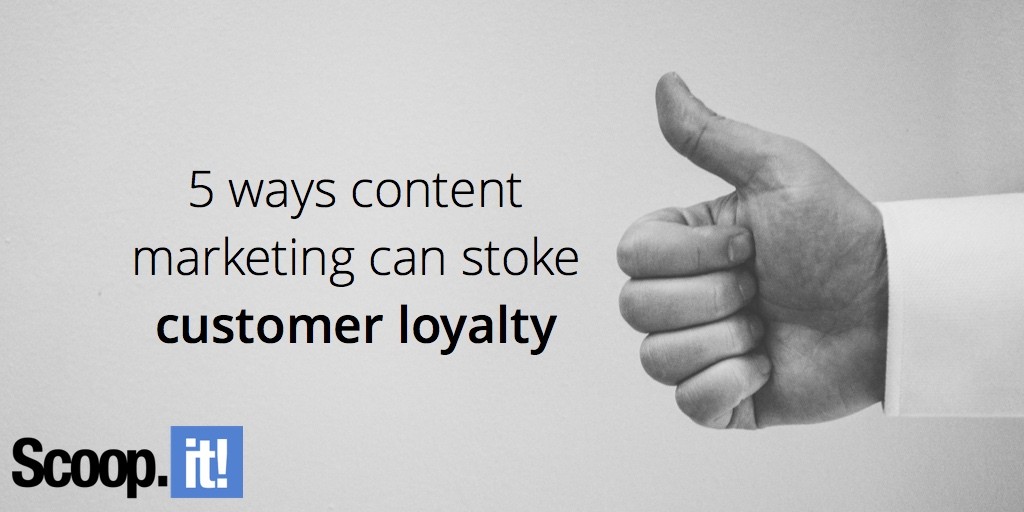 Nobody wants to knock your focus. But sometimes we content marketers get so focused on creating more and more content – or getting more and more leads – that we lose sight of really important things.
Like our existing customers.
This is a big missed opportunity. Your current customers – your repeat customers – are more likely to buy from you than prospects. They're also more likely to spend more, and to refer new customers.
This applies whether you're in B2B or B2C, though there's a snapshot of the B2C benefits below. Key takeaway here? Returning customers spend more than three times what one-time customers do.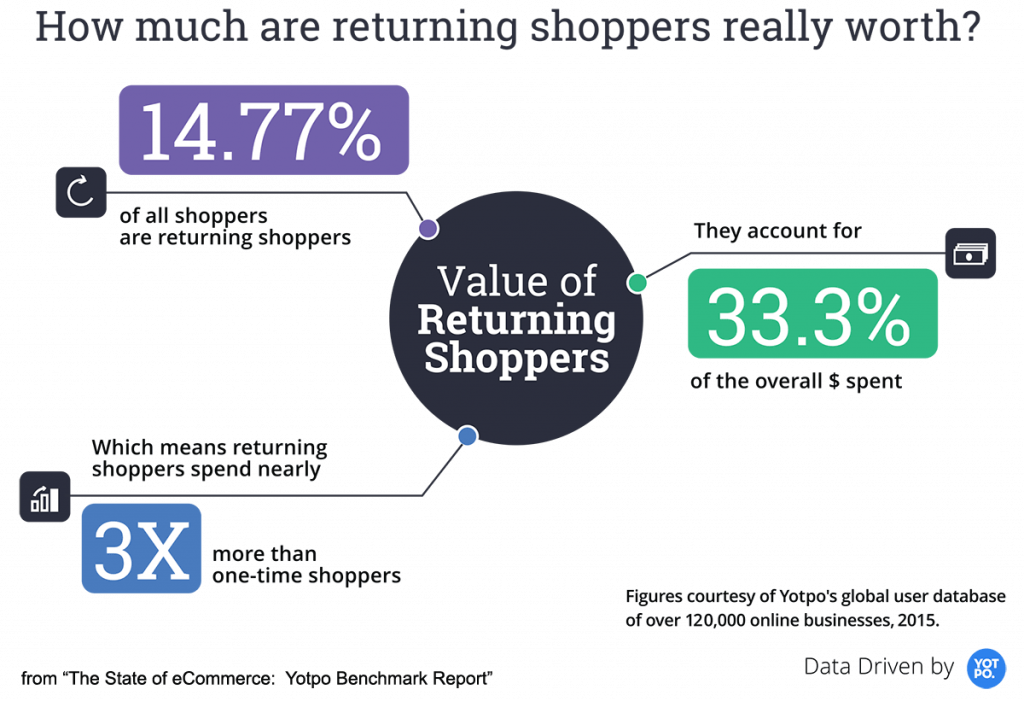 But that's not the only reason that omitting existing customers from your content marketing is a loss. The biggest reason is content marketing itself. Content marketing, you see, is awesome for customer loyalty. That's why so many content marketers are already using it for that.
You can see this in the latest Content Marketing Institute/Marketing Profs "Benchmarks, Budgets and Trends – North America" reports:

And in Ascend2's 2016 "State of Content Marketing Survey", if you call retention "customer engagement".
So know this, content marketing retention doubters: Content marketing works for retention and loyalty. Most of your colleagues are using it already.
Here's how you can, too:
1. Send a welcome email
It's the simplest little thing. After someone signs up for your email list, or after they've requested a content asset… say hello.
Welcome them to your list.
Like this: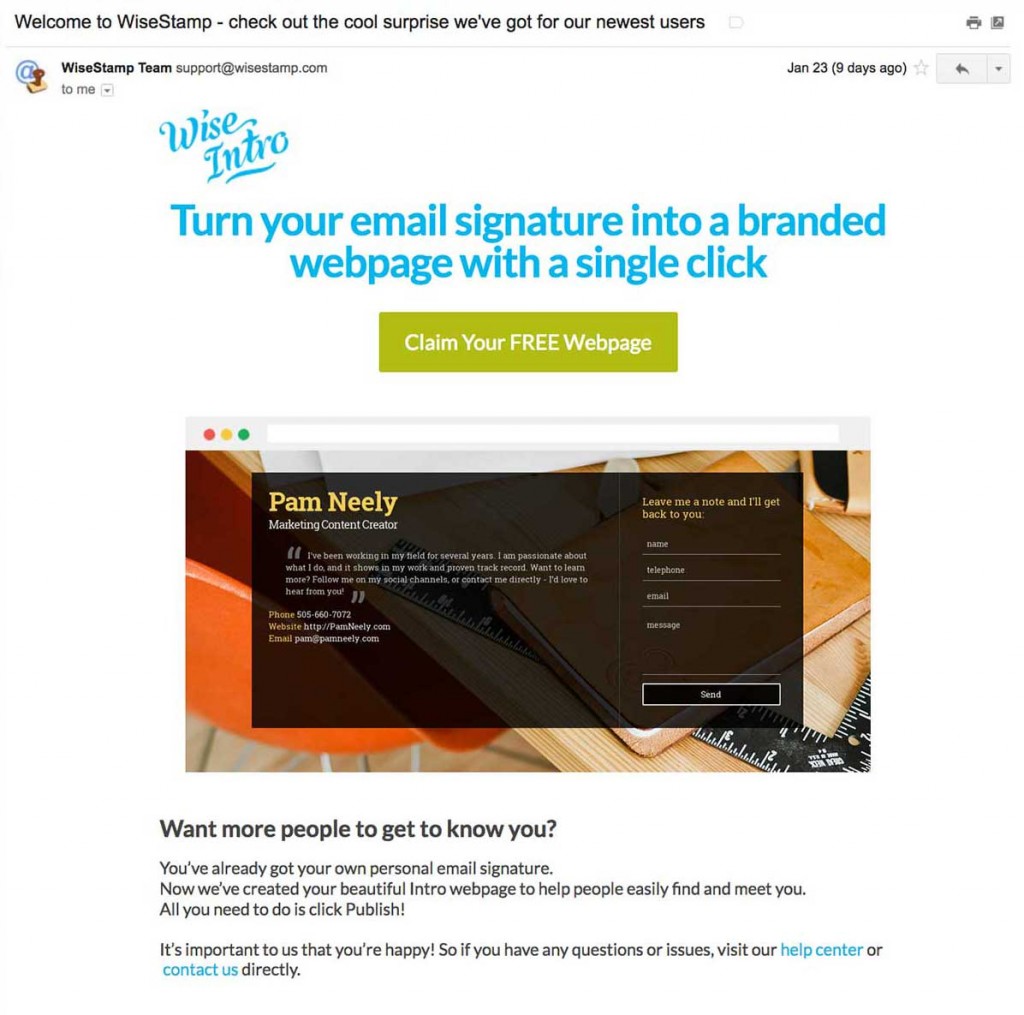 You don't have to send just one welcome email, either. Sometimes a series works best.
These welcome emails (often called "customer onboarding", especially if there's a series of them, or they're being sent for a SAAS company) are more than just a nicety.
They work. Sending a welcome email or a series of welcome emails tends to make subscribers stay on your list longer. They tend to be more engaged with your content, too. And they order more. In short, welcome messages increase your revenue.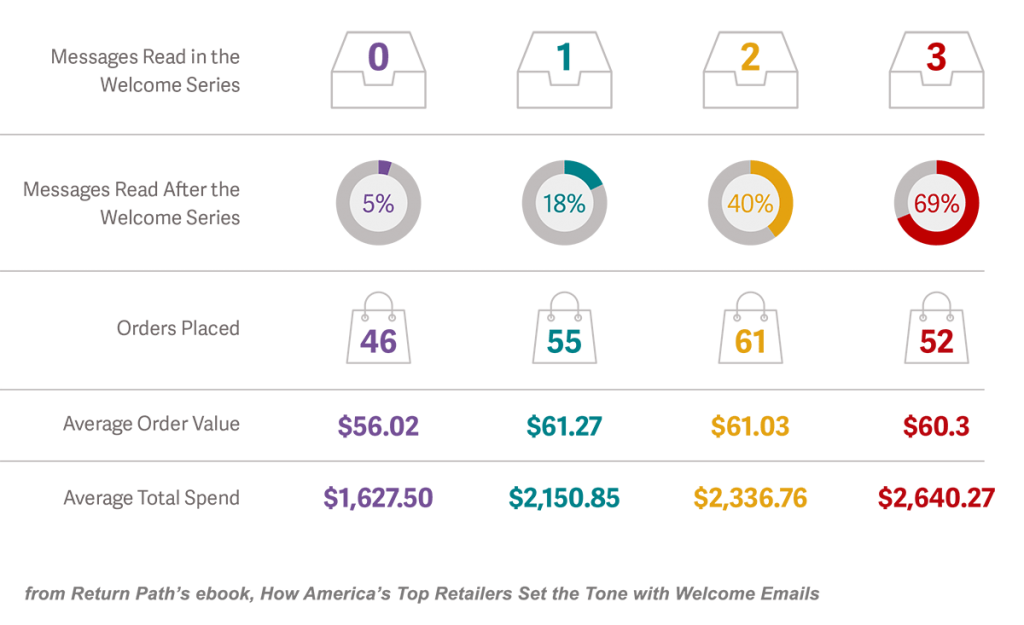 Here's a few ideas for how to use welcome emails as both content marketing, and as revenue booster:
Offer a discount on their first order
This is especially effective if you set a time limit on the discount. And B2B companies can absolutely use this trick, too.
Introduce them to your best "beginner" or introductory content
This is the essence of content marketing, and of getting people to begin their customer journey through your content.
Explain how your products works, or feature your most popular products.
Ask them to tell you more about themselves.
Short surveys are good. Or entice them to fill out a little bit more of their email preference center.
Simply say "Thank you for subscribing."
2. Ask for a review
You know about user-generated content, right? It's any content your audience or your customers create. So product reviews, social shares, comments – that's all user-generated content.
And it just so happens to be fantastic at selling stuff: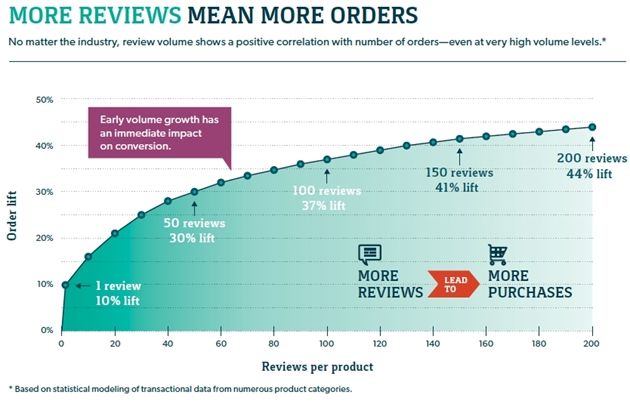 And at building trust, too: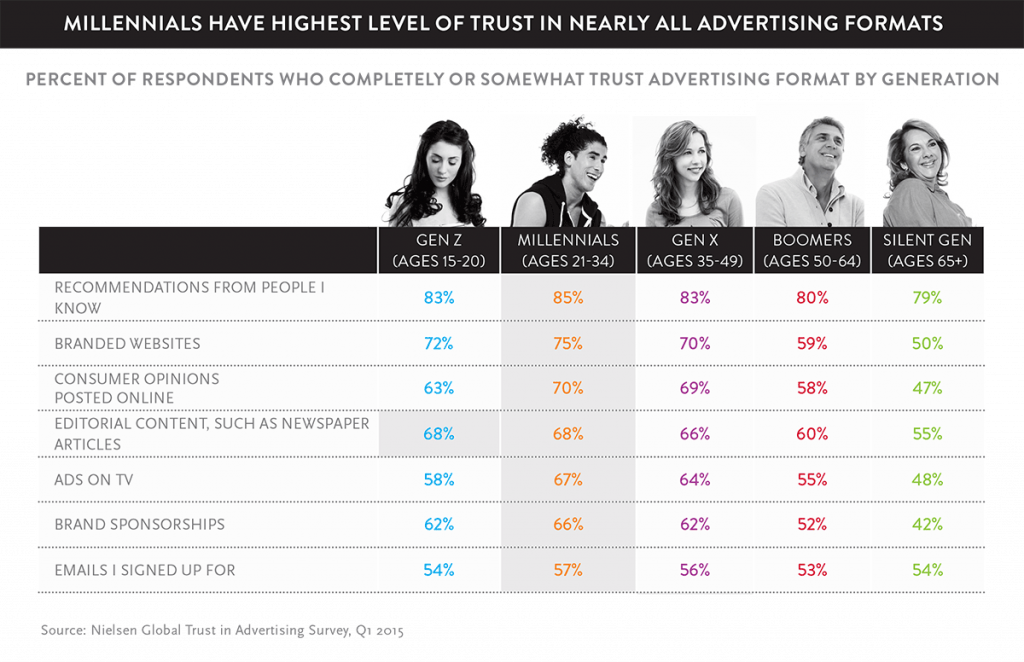 There's a slew of ways to encourage your customers to create some user-generated content.
You could ask for a product review via an email message.
You could ask them to complete a short survey about their experience with you. Like this: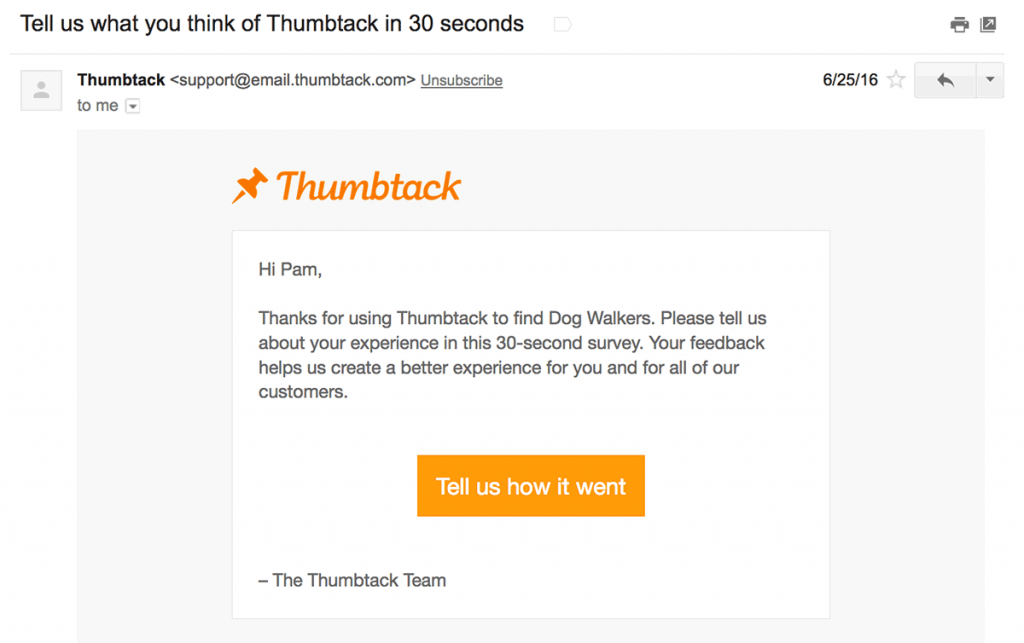 You could just urge people to leave comments about your content. We, um, really love people who leave comments on our blog posts, for example. (Just sayin'.)
You could ask for a testimonial.
You could run a social media contest. Like this: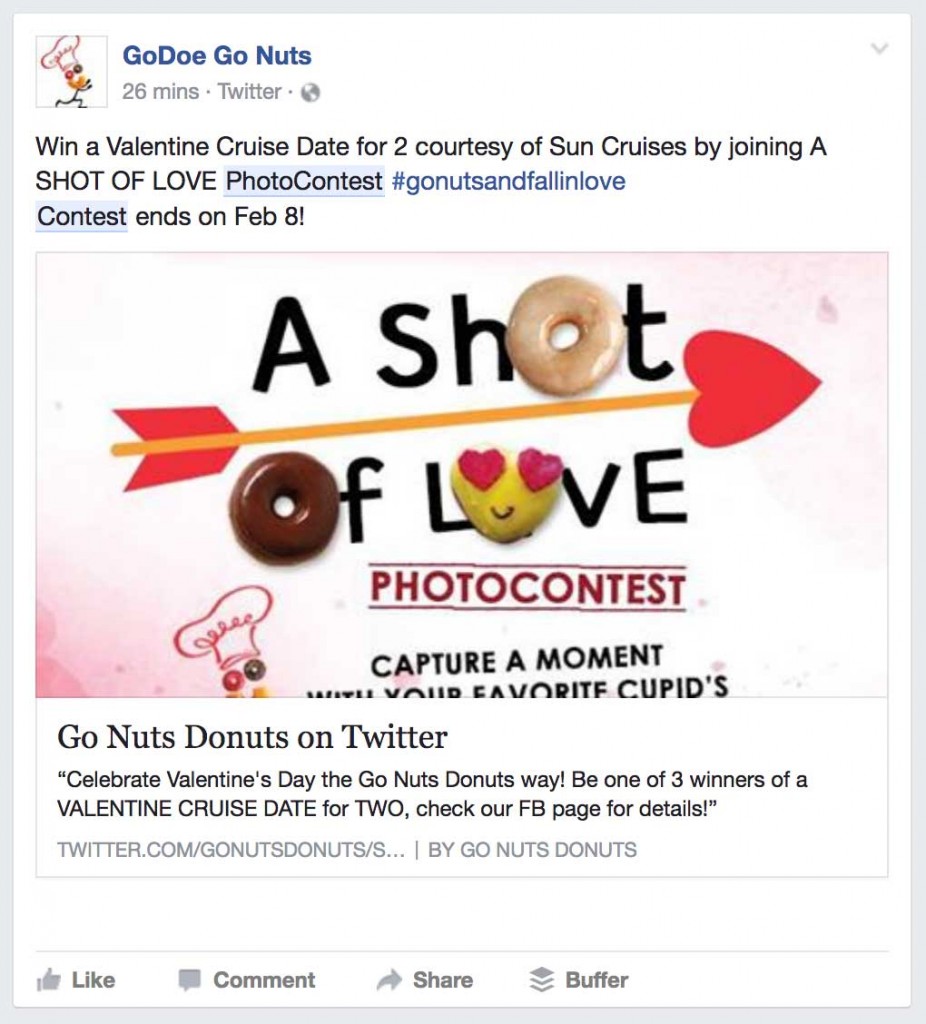 Get the idea?
If user generated content (aka "UGC") reminds you of influencer marketing – you're right. UGC is basically influencer marketing. But in this case, the people creating the content aren't "influencers" per se, because they don't have huge audiences of their own. But they are still highly influential with their friends and family. And they can be a great way to build trust among your other audience members, too.
3. Send email newsletters to keep people engaged (especially if the newsletters are engaging)
This is an underused tactic, according to our research. We found that only 29% of the visitors who were completing our Content Marketing Grader were sending email newsletters often enough.
4. Offer cross-sells and upsells – with supporting content
Never heard of these? They're old-school direct response terms.
A "cross-sell" is where you offer a related or complementary product in addition to what someone is about to buy (or has just bought). As in "Would you like fries with that?"
An "upsell" is where you offer a "better" or enhanced version of what the person is about to buy. As in "Would you rather have the cheeseburger deluxe? It's only fifty cents more."
These two sales strategies can generate significant revenue. For one thing, they increase order size, which is great for profits. But they can also be used to continue the conversation with a customer who just bought something. There's a reason retailers add those "You might also like" prompts to order pages.
And as you promote these cross-sells and upsells, you'll be promoting them with content. Perhaps with case studies, for example – the story of how one company bought product A, got good results with it, and so bought product B – and then got great results.
Here's one example of "cross sell" or "upsell" or "upgrade content": A comparison of Apple's iPhone models. Even if you already have one, it's fun to see how a new one might compare.
5. Stretch the idea of "content" to include customer service support (all those FAQ pages, product tutorials and the like)
As you probably know already, customer service and marketing are beginning to blend. They're increasingly under the umbrella of "the customer experience". Add in the fact that social media is a vital customer service channel, and it would be hard to deny that all this customer support isn't some form of content marketing.
The loyalty part of this comes in when you consider how quickly some customers will leave if they have a bad experience with your brand. That's why managing "haters" and angry customer online is so very important – and why Jay Baer's book, "Hug Your Haters" made the list of most people's "Must-Read Marketing Books Of 2016."
SAAS and B2B companies may be able to see this type of customer service content as a critical retention tactic more easily than other business models. They know they have to get people to use their product – and fast – or they'll lose them as a customer. And so these firms often have to develop video tutorials, help lines, and all sorts of engaging content… or risk losing their customers.
Here's an example. This is the support area for the online database tool Airtable. Is this customer service… or content marketing?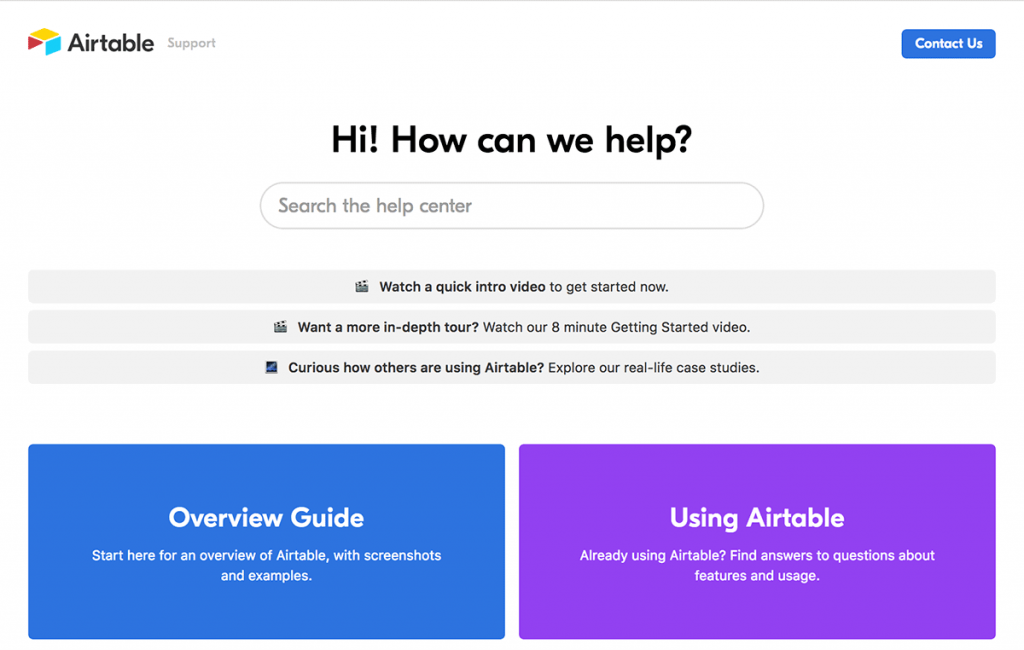 Conclusion
We talk all the time about the content marketing lifecycle (as shown below). It's the "cradle to grave" view of your content… except it hopefully keeps getting reborn.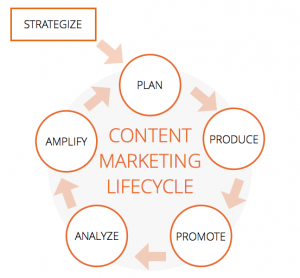 But there's another cycle going on. It's the customer journey, aka the "marketing funnel". And, as you know, there's specific types of content that fit into each phase of that journey.
The only difference here is to think past the first sale. The buyer's journey continues beyond that first sale. So your content should continue past it, too.
Back to you
What's your favorite way to use content marketing to stoke customer retention? Give it a shout out in the comments.
And if you need help choosing the best software to skyrocket your content marketing results for 2017, download our free guide with over 44 tools reviewed!
Image by Tookapic