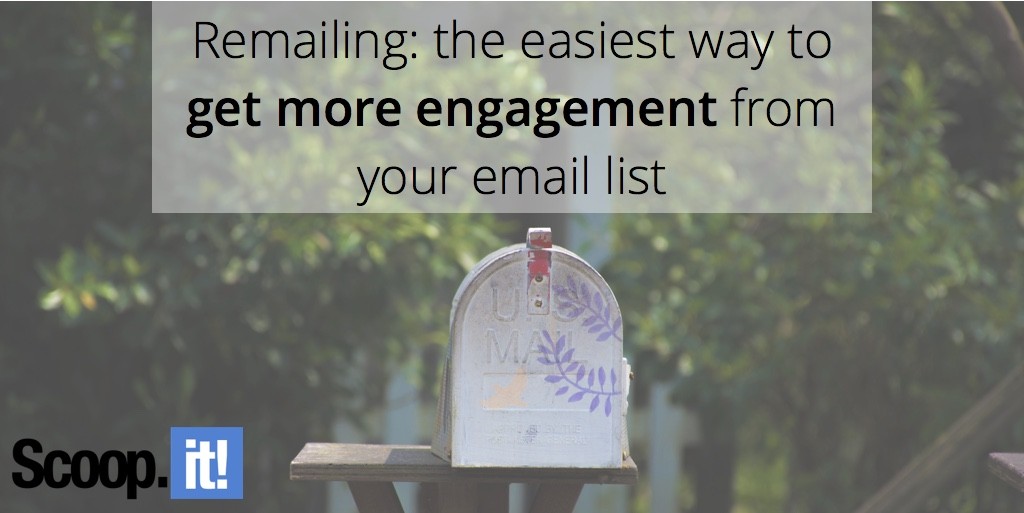 Got an email list? Are you using it?
Most content marketers aren't. When we tallied up how people had been answering our Content Grader Assessment tool, we found that only 29% of the respondents were sending email updates to their list at least once a week or more.

This is a big missed opportunity. Here's why:
You want to get people to see your content, right?
Well, the humble, ol' fashioned email list is one of the best ways to promote your content. Your email subscribers, after all, signed up to get your content. They've asked you to let them know when you've got new stuff. So do it.
You're missing out on one of the most effective, affordable and time-efficient ways to communicate with your audience.
Email marketing can be a life-long study, but you can also get the rudiments of it down in a day or so (though we recommend continuing education). A full-featured email service provider account won't cost much more than $30-40 a month, and you can put together an email newsletter in a couple of hours.
Email gets way higher engagement rates than social media shares.
It's actually peoples' preferred way to get updates from companies:
Maybe you know all that. And maybe you don't really care. "It's just not worth the hassle," you say. "I've got a small list, okay? And the open and click-through rates aren't all that great."
Hmmm.
I hear your pain. But what if you could get 20-30% higher open rates? What if you could get 20-30% more clicks to your content?
Would that make it worth your while?
Yes?
Well, you can. It might seem like cheating at first (because it's so easy and so effective) but you can send your emails out twice.
Yup. You can "remail".
Here's how to do it:
Send out your email update as usual.
Wait about 48-72 hours for it to reach your readers. After that period of time, you've gotten pretty much all the clicks you're going to get. Also, MailChimp warns that you'll be more likely to get complaints if you resend any more than two days after your original mailing.
Go into your email provider account. Select all your subscribers who did not open your email. Set up a way to send an email to just them. Depending on which email provider you're using, you can either put these people into a new list, or you can mail to them as a "segment" of your list. The important thing is to set up a way to mail only to non-openers. The instructions for how to do this in MailChimp are here.
Change the subject line of your email. Also consider changing the pre-header text of your email, as that will be visible to your subscribers from their inbox. It is a little sneaky, but we want this to appear like it's a brand new email.
There is one thing you shouldn't change, though: The sender name. It's a general rule of email marketing to keep the sender name (aka the "From" name) the same for every mailing. Why? Because it's the primary way your subscribers recognize your emails in the inbox.
Resend your email update to those non-openers. Many email experts recommend sending at a different time than when you sent the first email. For example, if you sent the first email out in the morning, set the resend to go out in the afternoon.
Watch your extra clicks come in. Hopefully you'll get a nice second round of sales or leads, too.
Bonus: Pay attention to the complaints and unsubscribe rates of both mailings. It's rare, but if your subscribers do rebel, you'll be able to spot the problem early. On the brighter side, if you don't notice any significant differences between the two mailings, you can stop worrying. 🙂
MailChimp's research didn't show any radical differences in metrics between the two mailings:
How well does remailing work?
Remailing (also called "resending") often nets 30% more clicks than if you just sent the email once. Noah Kagan reports that's what he gets from his remailing efforts.
Here's his results from the first email he sent:

And the results from his remailing:

Notice how that open rate tanked for the second email? That's not uncommon. But he still picked up over 7,000 additional opens.
Here's the results from MailChimp's study of resend campaigns:
Who's using this tactic?
Not everybody, but many of the smartest email marketers are.
People like… James Clear:
"But won't this annoy people?"
A lot of people worry about annoying their subscribers. But the reality is that most of your subscribers probably  get a hundred (or three hundred) emails in their inbox every day. They don't even notice your email the first time. They'll rush into work (or be rushing to work) and they'll just tear through their inbox, deleting everything that isn't essential or keenly interesting. They may not even remember seeing your email the first time.
But if you resend, you'll be able to reach a few more people who just didn't have time for your first email.
The resends that come into my inbox don't annoy me. Sometimes I'm relieved because I had to delete them the first time. On the second time around, I make a point of at least opening the message and scanning it so I don't miss something.
If the resend ever did annoy me, it would only be because I was already losing interest in the list. The resend itself wouldn't make much of difference.
Word to the wise: Don't re-remail
Remailing once won't annoy your subscribers (except possibly a few outliers, but they were probably "emotionally unsubscribed" already). But remailing more than once is a no-no.
So don't abuse this tactic. Don't think that if remailing once is good, remailing twice or thrice is better. It's not. Besides, the number of additional clicks you'll get will diminish rapidly with every additional send.
Many email marketers are so leery of this issue that they'll only remail an email campaign every so often, usually only for very important emails. That said, I also see quite a few marketers use this tactic for every email campaign they send. It all depends on your list, and how much your subscribers like your emails.
Don't expect this to fix a "fatigued list", either
You probably already know that if you mail to your subscribers too often, they'll start to tune you out. Some will unsubscribe. A couple will hit the spam button. But most will just tune you out.
If you're having a problem with list fatigue, resending may not help. It's not hard to see why – you're already sending too many emails. Just sending more exacerbates the problem.
This caveat usually only applies to marketers who mail every day or even twice a day. From our research on content marketers' email habits, that's not happening very much. Most content marketers are undermailing. But just in case overmailing does apply to you… well, you've been warned.
Conclusion
You know how competitive content marketing is. Why not give yourself an edge? Remailing is a simple way to get 20-30% more results from your email updates, and with only a couple of minutes additional work. It doesn't even cost any extra money.
Here's the results you might see over the course of a year:
List size: 10,000 subscribers
Average click-through rate: 3% (see average CTRs by industry here)
With a weekly mailing, you'd get 300 clicks per campaign
Increase that by 30%, and you'd get 390 clicks per campaign
With those 90 extra clicks per week, over the course of a year, you'd get 4,680 additional clicks to your content (or your offers, or whatever's in those emails)
It's not a tsunami of traffic, sure. But it is highly-targeted, friendly traffic.
Consider, too, that you aren't just getting 20-30% more clicks from your email updates with this trick. You're also getting more exposure for your content. That should ultimately translate into more leads, more orders, more business.
So this little trick isn't just amplifying your email updates. It's amplifying your content generally. That means bigger returns for your content marketing program. And maybe even for your business overall.
Back to you
Do you resend your email updates? Do you resend any of your email messages? Leave a comment and tell us how this tactic has worked for you.
If you want to get 30 effective techniques to master content marketing along with valuable insights from 10+ influencers like Mark Schaefer, Rebecca Lieb, Lee Odden, Jason Miller or Ian Cleary, download our free eBook now!
Image by Unsplash