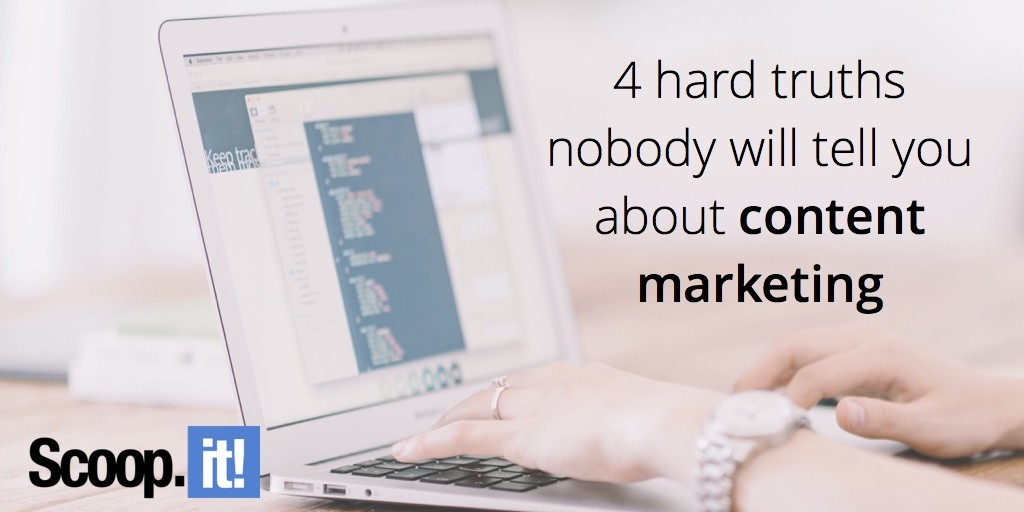 Today content has acquired all features of commodities. People demand and seek it everyday. We consume information in such an amount that blogging has become as popular as drinking coffee at Starbucks. However, only professionals know the real truths covered from untrained eyes. Here are those four truths every marketer can turn into significant conversion results.
1. You can't generate unique content for your blog all the time
Today content marketing has acquired all the features of fashion style and interior design. It actually works by the same principle. You can publish only two dozens of articles in your blog. But if they cover evergreen topics they can serve longer as you think. You can copy the world-famous fashion designers who revive the old ideas in new variations. In content marketing this phenomenon is called repurposing.
According to Curata statistics 29% of top marketers constantly repurpose their content. There are a few reasons why you should recycle your old publications.
You can reach new audiences
Searching for information each user scans websites and chooses that type of content which takes less time to contemplate. For instance, 65% of people best perceive visual information. However, there are those 35% that still look for other types of content. Who knows, perhaps they are your potential customers.
You can strengthen your viewpoints with more relevant data
Repurposing content can become a perfect way to improve your arguments with more data from newly published researches. Furthermore, if some of your previous viewpoints are watered you can strengthen them with better evidence.
You can boost your organic search results
You can considerably boost your organic traffic results refreshing your old content. Apart from organic visibility, you can also improve your social media presence. Below you can see seven types of the most popular content types in social media by shares.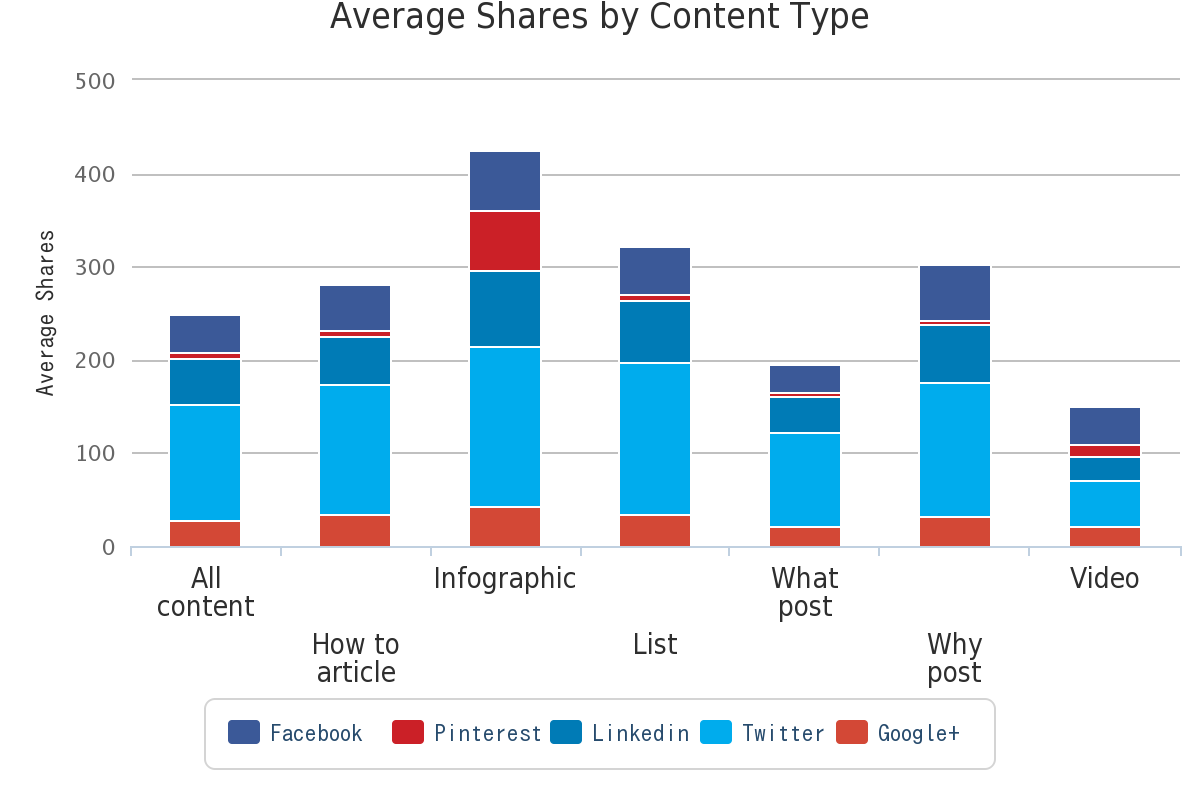 Hence, you should create various content types to cover the bigger scope of organic search inquiries and social sharing. Accompanied with a good designer, you can generate a surprising number of new posts from your old publications.
Ways to transform your existing content:
A blog post -> a guide -> a white paper -> a newsletter with useful tips
A white paper -> a slideshow
A slideshow -> an infographic
An infographic/ the most popular blog post -> a videographic
A blog post -> a podcast
Several blog posts -> a webinar
A webinar -> a video tutorial
A/B testing results/ researched data -> a case study
Industry experts' interviews -> expert advice ebooks
Blog post <-> Quora Q&A posts
Statistically-rich posts -> Twitter image stats
Before you rush to makeover your blog posts, also consider the data from 2017 Benchmarks report on the most influential types of content in B2C marketing.
2. Distribution and promotion are more important than content creation
The diversity of content can become inefficient if you do not promote your content. Therefore, you should reconsider your content marketing plan  in case the devoted time for content creation brings poor results. Distribution and promotion should take the half of your resources and time.
There are various channels of promotion and distribution. Yet, each marketer uses only those which help them reach their audience. According to Orbitmedia research, the main channels are social media, SEO, and email marketing.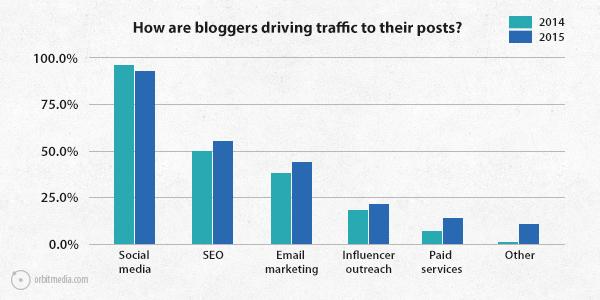 Thus, elaborating promotional tactics any marketer or blogger should mind the following tips:
First, choose top channels that will help you connect with your audience and generate the most of leads.

Make a list of ten leading platforms that gather influencers, your target audience, and potential prospects.

Create an influencer outreach email strategy. Find topics and ways to engage influencers and bloggers who can become interested in your expertise, service, or a product.

Devote at least six hours per week to social media promotion. 81% of marketers

 report that it significantly increases traffic rates.  

Create email newsletters to share helpful tidbits of information to your subscribed readers.

Use cost-effective content marketing tools

 to build your promotional tactics for new and regular customers.
3. Stories do not convince to do business with you
As Maria Veloso points out in her book Web Copy that Sells, today we no more read but scan. People become so overwhelmed with information that they spend less time on watching videos, reading articles and studying statistical data.
For example, an average percent of words people read on a web page is 28% out of 593 words. The shocking 4% of users who spend ten minutes viewing a page made many brands change their ways of delivering information.
Bloggers who use storytelling to resonate with their readers and create some emotional connection should turn to new ways of delivering content.
Today people seek structural and less time-consuming content. They request direct answers and solutions to their problems. Probably, that's the main reason why Quora's Q&A service attracts 100 million of unique users each month.
Thus, if you want to convince your audience to do business with you, stop delivering impressions. People value information and any useful data nurtures the feeling of gratitude to your brand. Soon you will be rewarded when a follower shares your posts or recommends you to others.
4. The less posts you have the more traffic they can generate  
Some content marketing tactics can win a few seconds of your customers' attention. However, in the long run they will cost you more when you get into the pool of bugs, bans, and limitations. Hence, you should be aware of those digital branding trends that can imply suspicious activity.
Although bad quality has never led to convictions in crime, it can cost you good traffic and conversion rates. So, when you choose between the quantity and quality, always lean toward the top quality. Some CTOs confirm the fact that fewer posts brought them even more traffic and social shares.
Therefore, start on creating and promoting the worthwhile content that will engage your audience. Repurpose it in different formats getting the most of highly requested information to reach more people.
Conclusion
When you decide to discover all the truths about content marketing, don't try to generate unique content all the time. You are allowed to deliver one message in as many formats as you need to reach more audience. Do not prioritize content creation over its distribution and promotion. It is also useless to appeal to your customers' emotions with storytelling solely. Finally, the quantity at the expense of quality can become a wrong choice to connect with customers who value the worthwhile information.
Image by Crew