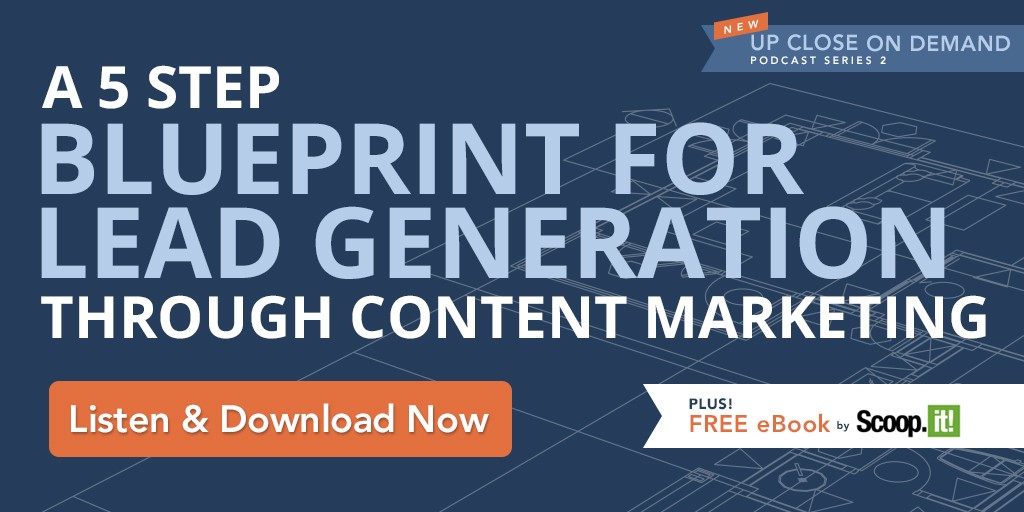 Want to finally generate leads from content marketing? You're in good hands!
Content marketing, when done properly, gives birth to leads. And it's proven! According to a study by Impactbnd, "B2B marketers who use blogs generate 67% more leads per month than those who do not."
Yet, many marketers still don't believe content works for leads. And among those who believe so, very few managed to build a measurement model and a comprehensive methodology to generate leads as predictably as possible from content.
We do have a methodology, and we partnered with Bernie Borges from the Find and Convert agency to help you get started.
A 5-step blueprint for lead generation through content marketing
Last week, we published a five-episode podcast series with Bernie Borges to help you understand how you can generate leads through content marketing. You can access all episodes here. By registering, you'll also access the free eBook "How to generate leads through content marketing". Here's a preview of each episode:
1. Content strategy and content plan
Are you creating content for content's sake or are you doing content marketing?

Content marketing: publishing and distributing content that drives people closer to a purchase decision.

Define your buyer personas.

Define the customer journey with funnel stages.

Define funnel stages and your audience's top questions at each stage plus relevant CTAs.

Content and customer journey mapping equals your content plan.
2. Marketing & Sales Alignment
Lead generation is a relay race involving marketing and sales: alignment is key.

The importance of documenting your content marketing strategy to make sure you have clear alignments on buyer personas, lead qualification criteria.

Involving the sales team in the content plan generation: what questions do you get from prospects and clients?

Involving the sales team in the content plan execution: sharing, distributing and even co-creating content.

Maintaining and managing the alignment: content as part of sales enablement. What content is used by sales? What is missing? What should be used but is not?
3. Content Marketing Infrastructure
All content should convert… provided you have the right content marketing infrastructure.

Distribute content to convert.

The 3 pillars of a content marketing infrastructure.

Why you need a content hub to generate leads.

Good content that gets distribution beats awesome content that gets none all the time.

Lead magnets vs traffic magnets.
4. Measurement
Why lead generation should be the #1 KPI to measure your content performance.

How to attribute leads to content (in a way that convinces your VP of Sales).

A simple action framework for content marketing analytics.

Why and how to perform regular content audits.

How to drive predictable results with content marketing intelligence.
5. How to Implement a World Class Lead Gen Content Marketing Program
Content marketing is a must-have for lead generation: the average conversion rate of a website without content is 0.5% vs 2.9% with content

Yet, we've seen that to generate leads with content marketing, you need a documented content strategy aligning sales and marketing efforts

You need a content marketing infrastructure to publish and distribute content that converts and a measurement system to measure how many leads your content generates.

How can you do that without failing or wasting months?

If you have limited resources, work with a content marketing agency

 to provide strategy and implementation resources.

Use automation systems that will ensure your methodology stays consistent, provide time-savings and intelligence to optimize your ROI.

5 examples of how automation can help streamline your lead generation strategy through content marketing.
Content marketing is a methodology: don't bet on magic!
Remember: content marketing is very doable, but it takes work. You need specific help and resources if you want to achieve concrete results. Luckily, Scoop.it and Find and Convert are here to help you get the most out of the methodology!
As always, if you have questions, comments, or anything you'd like to add, let us know in the comments below!