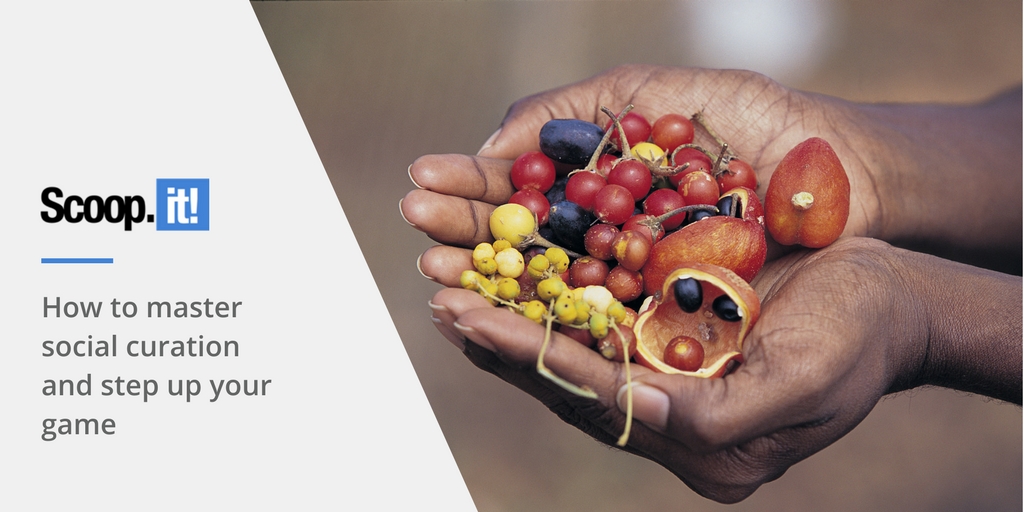 Having an online presence, especially on social media, is a given for companies today. (If you still figuring out how to get started, read our short guide How to enter the social media jungle).
Why? Because 70% of U.S adults (and counting) are on social networks. The data speaks for itself.
But being on social media without a strategy is simply useless. But at the same time, managing an online community and engage with them is not an easy task.
Therefore we want to give you a shortcut, how to maximize social media results without creating more content. (hint: social curation!)
Let's step up your social game. Here we go.
Curation is a must for your content and social media strategy
First things first – what is curation?
I bet this situation happened to you before: you're surfing the web and find an amazing post. You decide to share it on your company profile, adding (or not) your personal insight e.g "great piece by" or "a new take on" etc.
Well, good news: you're doing social content curation.
Keep an online presence and get noticed by actors in your space
We love social curation because its benefits are proven. And we wrote an article about it if you want further details. In a nutshell – curating content will definitely help you:
Publish more often

Be more credible and less self-promotional

Increase audience engagement

Build relationship with influencers
But does it actually work?
Yes. Here's a case study from Buffer I saw a few weeks ago. They decided to reduce the number of Facebook posts and publish more curated content. Here are the results: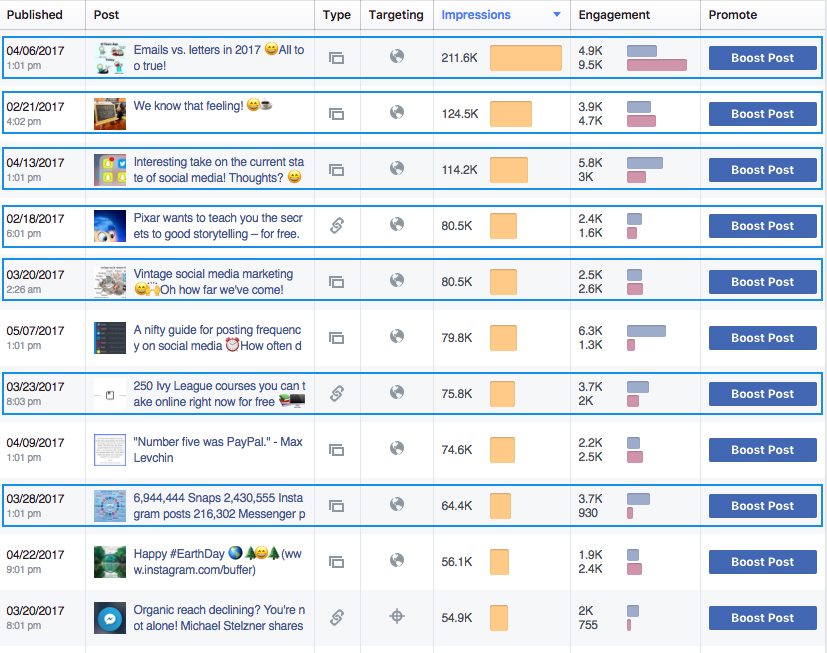 7 of 11 of their most successful posts are curated. Combined, these posts have reached more than 750,000 people. Impressive right?
H
ow to master social curation in 4 steps
If you want to be successful and increase your social media results, pay attention to each and every one of these steps:

You probably have your own trusted sources for discovering content and it's fine. But make sure to build a relationship with influencers as well. Share their content, quote them, mention them. It's all about finding a certain balance. As our partner at SproutSocial said during our last webinar, try to share 20% of your own content and 80% of other's people's content.
Don't be that guy at the party that only talks about himself :). Of course, we are not very strict on this 80/20 rule but we recommend not to share too much of your own content.
Here's another crucial thing to consider: filter your content by specific topics and keywords – you want to be seen as an expert right? Save yourself the effort by narrowing your search.
Craft impactful messages for each channel, and make them valuable to your audience. Choose the right visual, add hashtags and mentions. Yes it might seem time-consuming, but taking the time to customize your tweets and facebook posts to be more meaningful is definitely worth it. Learn and follow the best practices, and you'll see it pay off.
Here's an example:
Leverage the content that you have found as much as you possibly can. Look at this example. Here, we are sharing the same study, we simply changed the visual, and the angle. The link itself is unchanged! Tip – try the different angles used in the post and prepare 4-5 different messages to share over multiple channels, at different times.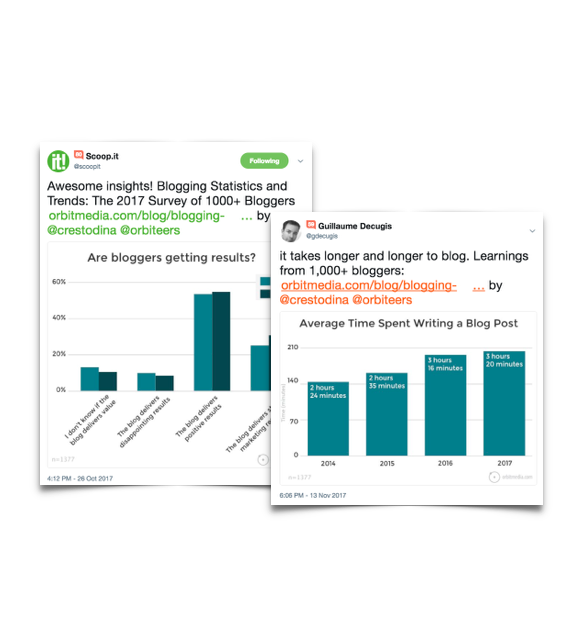 Yes, you're sharing someone else's content. But how do you know if it's performing well? This step is very important because it will help you refine your strategy in the future.
Here are 2 good reasons to measure:
1 – to prove the value of curation
2 – to improve your results
What to measure? Engagement. That's the 1st KPI you want to measure when you do social content curation. Because you don't get benefits from click-throughs, you should pay attention to engagement on curated content.
Automate your social curation practice
After reading all these best practices, you must think: "Wow, I don't have time for that". And you're right to think so. Content curation does take time. But automation is your best friend.
You can't automate everything though. The human touch is still necessary for certain tasks (hashtags, visuals etc).
Here's a step-by-step approach to curating content on social media, through Scoop.it Content Director.
Step 1. Discover new content
I use our "Research Content" feature to find inspiration (see it in action here). In this example, I chose the keyword "content marketing distribution".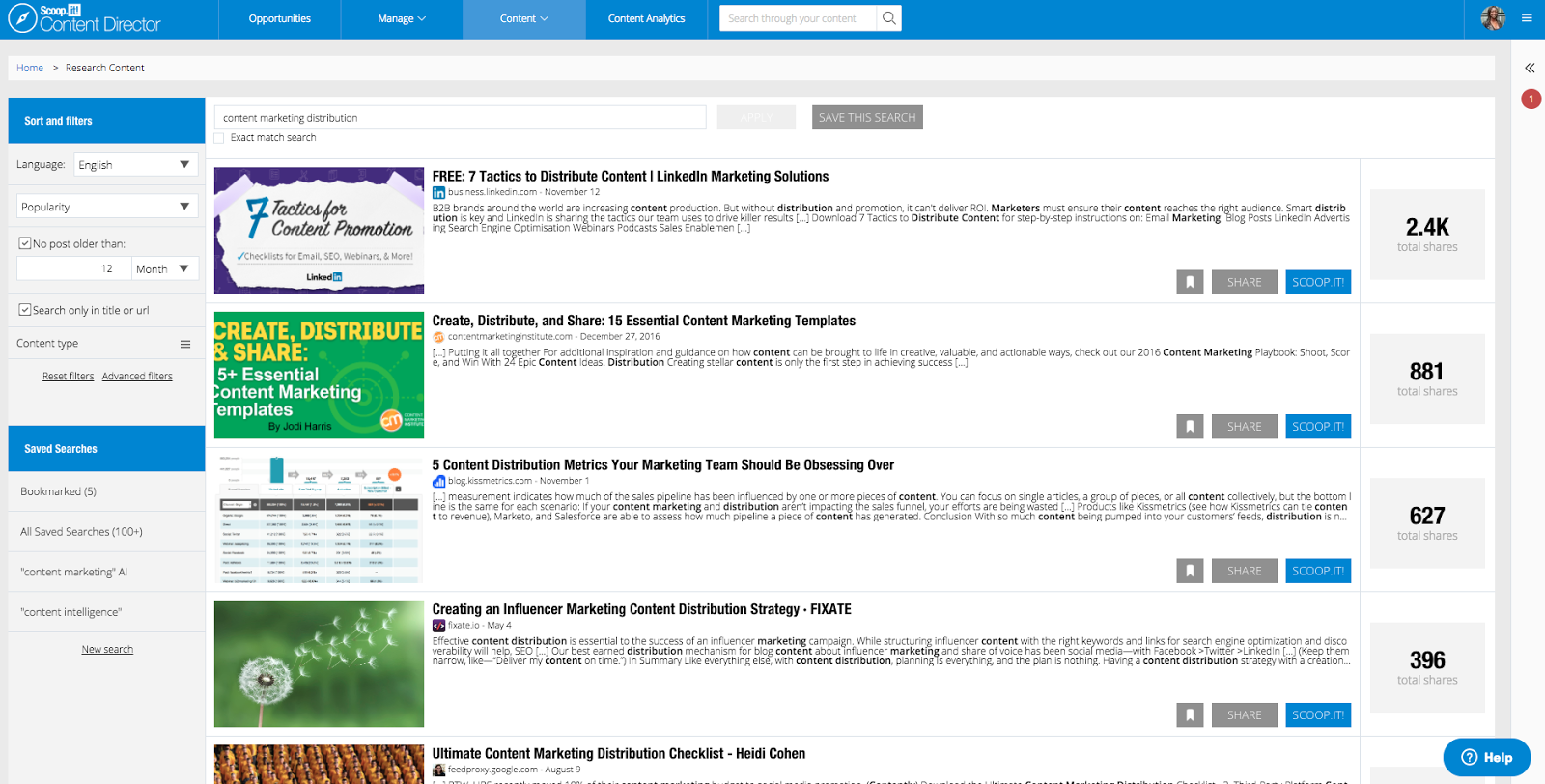 Step 2. Publish
When I click on "share" I am able to distribute my post on different social channels and adapt the message accordingly. It looks like this: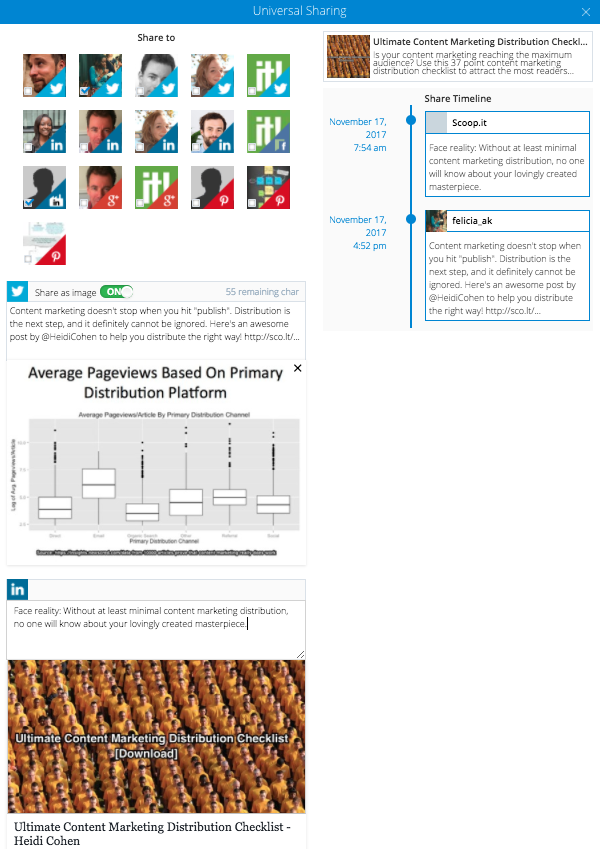 Let's zoom in. You can see that I added my own touch, changed the visual, added a hashtag. I chose my scheduling time and my post was ready to be published!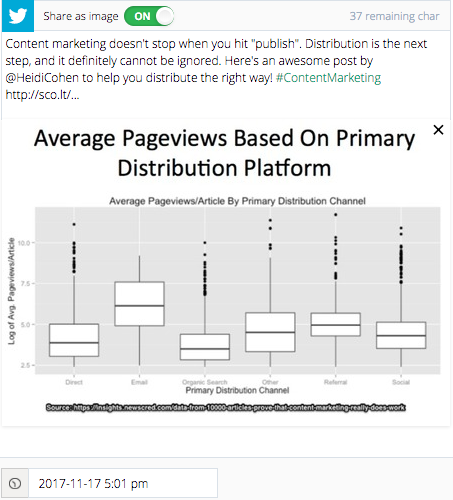 Here's how it looks like live:
Step 3. Schedule
Let's schedule a few more shares over the team's social channels 🙂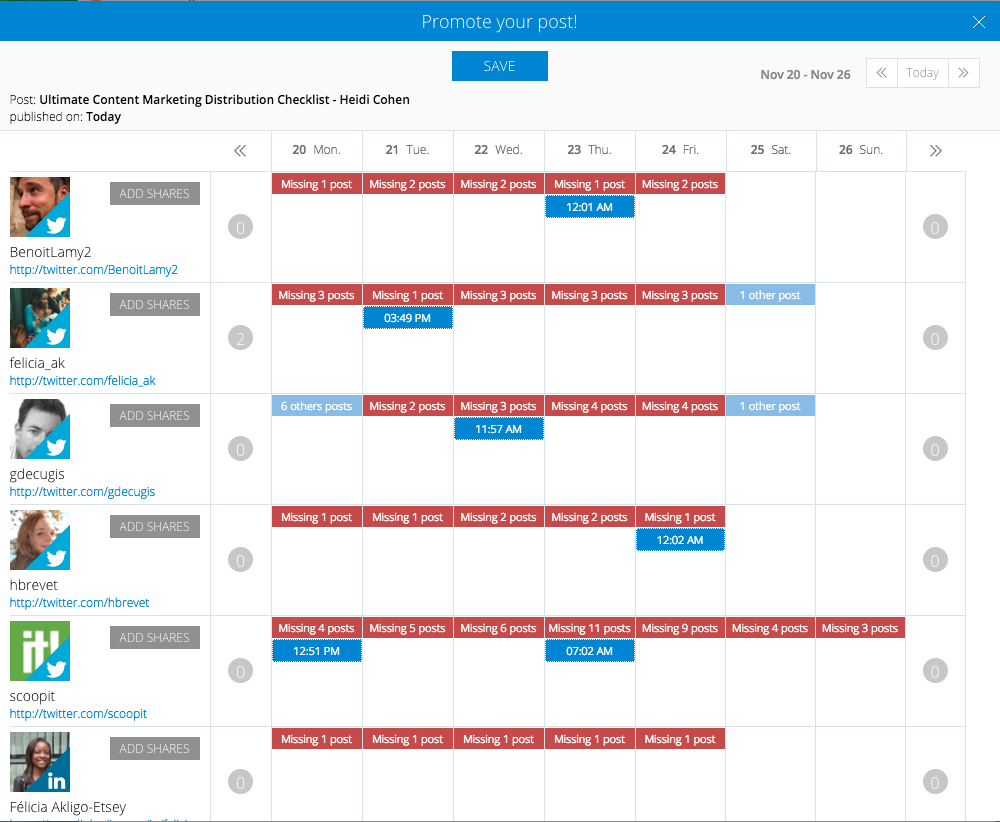 Step 4. Measure.
Make sure to check the performance of each post that's it!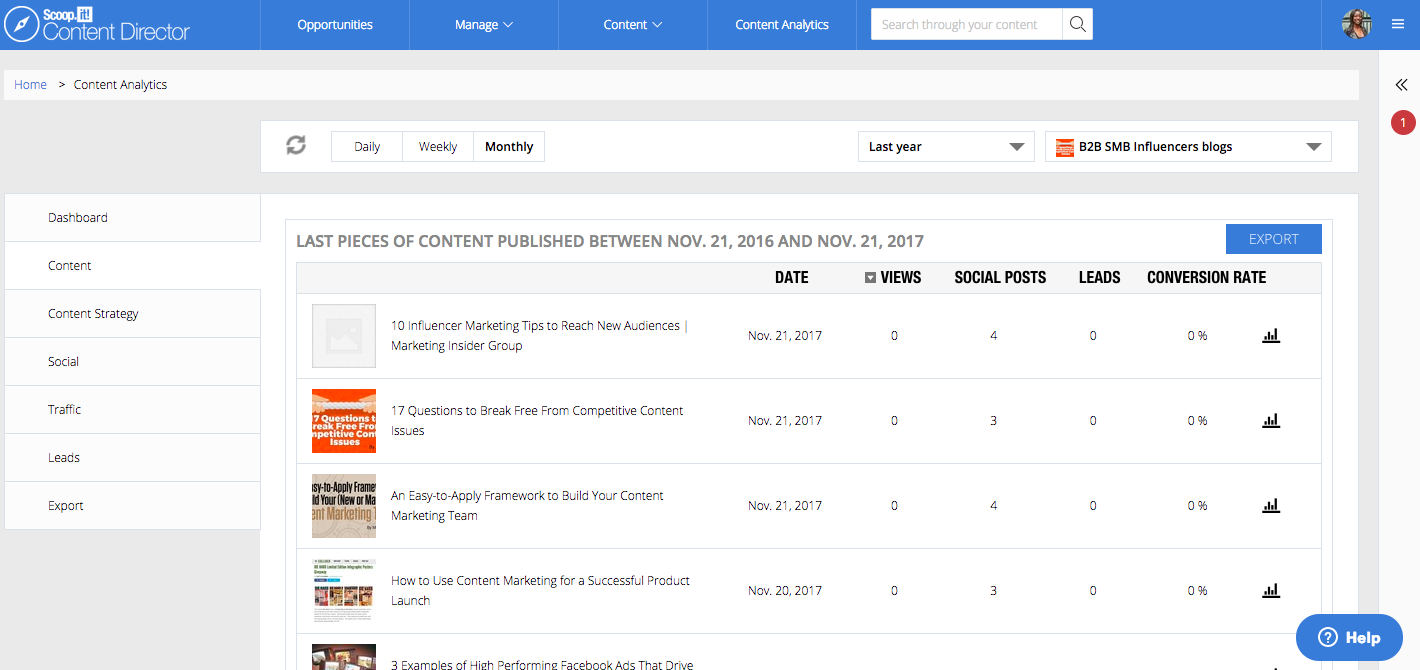 Want to work smarter and start generating real results from your content marketing? Find out how to use the new Scoop.it Content Director to help you become a smarter marketer!