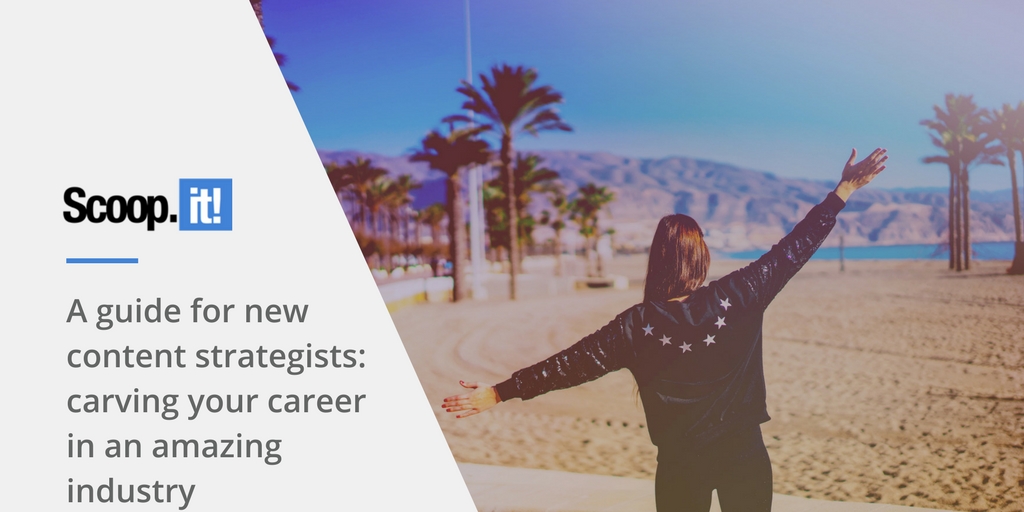 If you haven't noticed, content strategy has been gaining a whole lot of traction in recent years.
All Posts
Google Trends results for "content strategy"
And for good reason. After all, while 88% of marketers say they utilize some form of content marketing, only 30% of them have a consistent or integrated content strategy.
So, while far more organizations understand the importance of content marketing than ever before, many of them are confused or unsure about how to go about creating an effective strategy.
This divide has led to the rise of the content strategist.
In simple terms, a content strategist is an individual who has the skills and knowledge necessary to create and manage a successful content strategy.
And, according to The Creative Group, strategists with the necessary skills and knowledge are in high demand.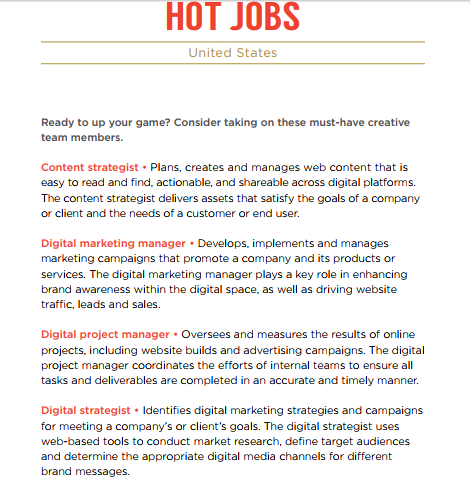 But, as a newbie content strategist, how are you supposed to take advantage of the current state of affairs?
More specifically, what does the career path of a strategist look like, how and where do you develop the necessary skills to succeed, and what can you do to position yourself as a prime candidate for top jobs?
This guide was created for the purpose of answering those questions.
Let's get started.
The opportunities for modern day content strategists
While being listed as one of 2018's "Hottest Jobs" is great, it's still important that we gain some insight into just how many jobs are available for content strategists.
If we take a look at popular job boards like Indeed, we'll quickly find that there are thousands of companies looking for content strategy professionals.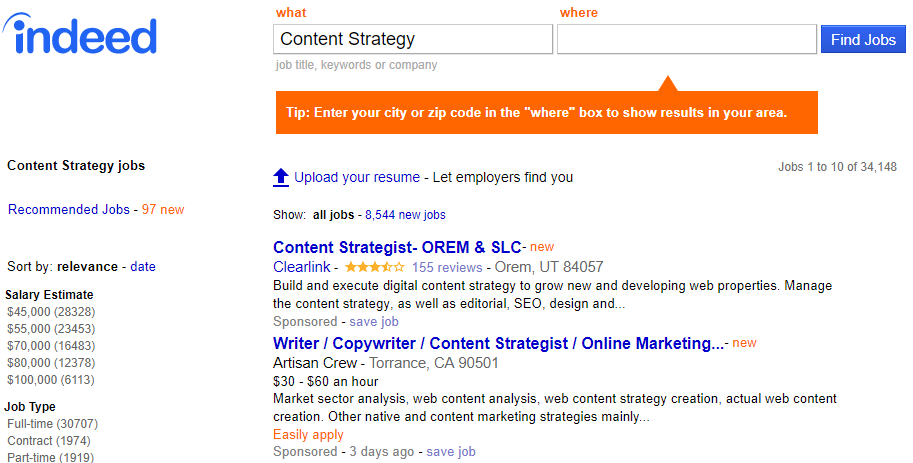 Over 8,544 companies are looking for strategists through Indeed
But what about salary? What type of compensation can you expect as a professional in this industry?
According to The Creative Group's 2018 Creative & Marketing Salary Guide, even inexperienced content strategists have a starting salary that averages $60,000+/year.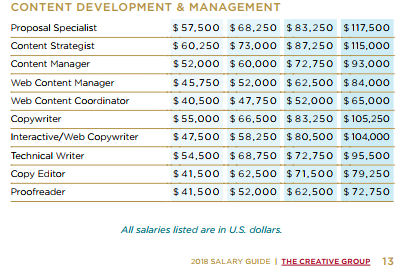 After viewing the images above, it's clear that there are plenty of opportunities for qualified content strategy professionals.
But, to make yourself a top candidate for these jobs, you first need to develop a well-rounded skill set.
Developing a well-rounded content strategy skill set
A content strategist has an exceptionally dynamic role.
And, as someone new to the profession, it's important that you understand the different hats that you'll be wearing.
Because while creating and executing content strategy is an essential part of your role, it's not the only thing you'll need to know how to do.
As HubSpot contributor Corey Wainwright points out,
"The best content strategists I know are the ones that aren't just churning out content, nor are they just strategizing — they do both, at the same time, all the time."
In order to become a professional who is capable of creating a strategy and the content needed to execute it, there are a few core concepts that you should understand thoroughly.
They include:
1. Knowing your foundations
This starts with identifying the goals of your content marketing strategy.
Understanding how to identify KPIs and track ROI, create a content sales funnel, and establish a Content Differentiation Factor (CDF) are all important here as well.
From there, it's about knowing how to devise an action plan for fulfilling those goals.
2. Audience discovery & brand position
To be truly successful with content marketing today, it's essential that you're creating audience-centric content.
To do that, you need to be able to develop detailed buyer personas for different versions of your target audience.
In addition, you'll need to know how you want to position your brand amongst that audience.
3. Understanding keywords
SEO and content marketing go hand-in-hand. If you want to succeed long-term through content, you need to maintain a focus on consistently ranking in search engines.
Understanding how to find, use, and track high-value keywords is essential to making this happen.
4. Building authority through content cores
With the millions of pieces of content being published daily, it's no longer enough to just create content consistently.
As Neil Patel tells us, content marketing leaders generate 7.8x more site traffic than non-leaders.
Knowing this, it's important that you're able to execute a strategy that builds authority and establishes your brand as a content marketing leader within your niche and/or industry.
5.  Practical content creation
Understanding how to efficiently and effectively create great content is key to a successful content strategy.
Without this skill, succeeding through content marketing is virtually impossible.
6. Editorial calendar & post-publishing
Having a solid grasp of content promotion strategies is arguably just as important as the ability to plan and create content.
Developing a plan for consistency through an editorial calendar is also crucial here.
Where can you develop your skill set and learn these core concepts?
The internet is filled with tons of resources and information regarding content marketing.
And while you could certainly develop a brief understanding of the industry by sifting through these resources one-by-one, it will take you several months or even years to develop the necessary skill-set and knowledge to become a professional content strategist.
After realizing this was a problem for many new content strategists, I decided to put together a comprehensive Content Strategy Certification Course.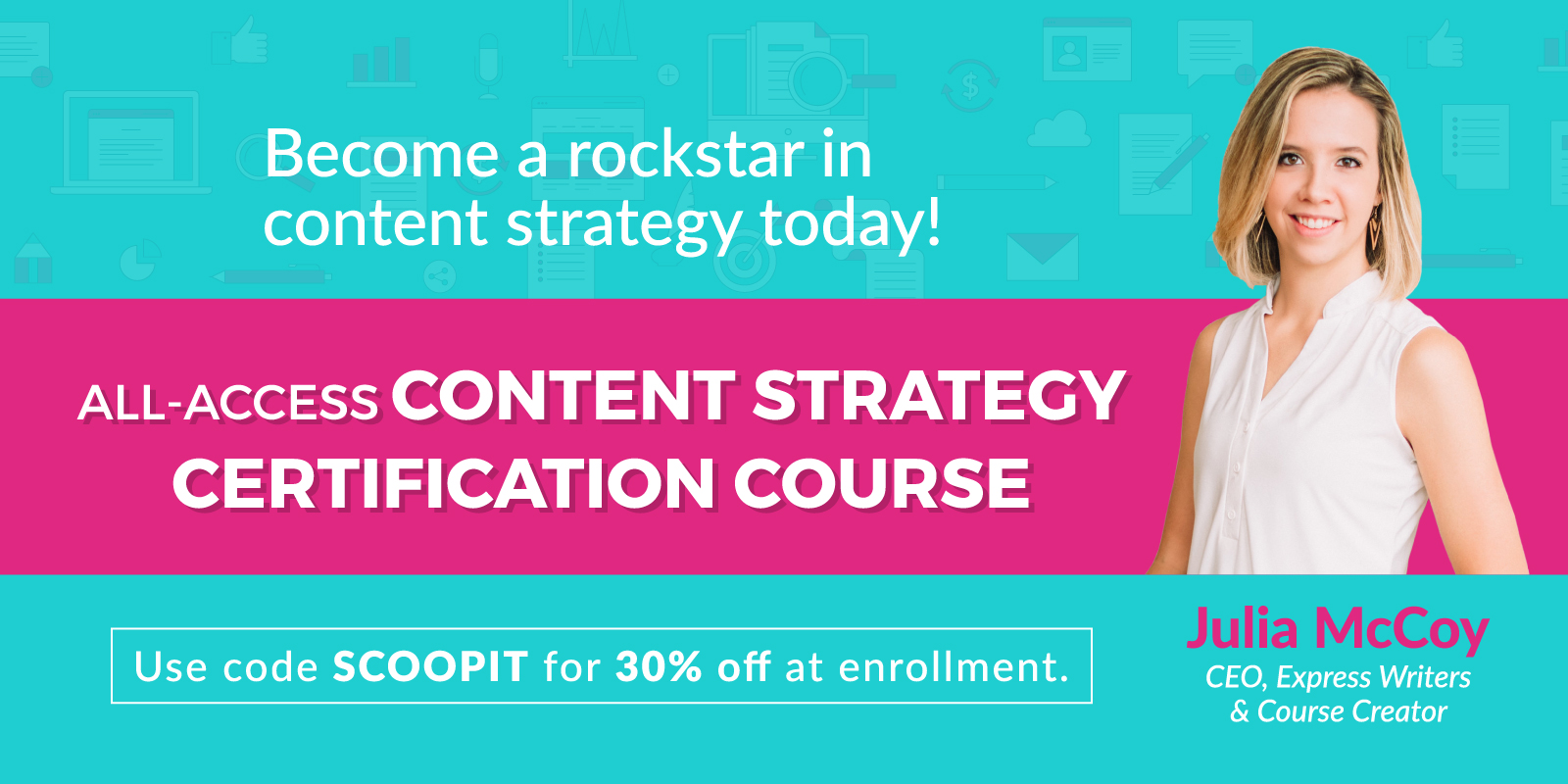 This self-paced course, which I developed with the help of top experts like Sujan Patel, Steve Rayson (BuzzSumo), and Michelle Linn (CMI), was created with the goal of helping people like you prepare yourself for a career in content strategy.
Through it, you'll learn everything you need to know about how to build an ROI-based online content strategy from the ground up.
And, more importantly, you'll develop the skill set and learn the core concepts necessary to take advantage of the many career opportunities available to qualified content strategists.
The career path of a newbie content strategist
While it's difficult to create a cookie-cutter career path for a content strategist, let's take a look at a simplified version of what it could look like.
Develop the Necessary Skill Set & Knowledge.

 Utilize comprehensive resources, like the

Content Strategy Certification Course

, to develop the qualifications needed to start your career.

Gain Experience Within a Niche or Industry.

 Once you have the necessary knowledge, choose a niche or industry that suits your interests.

Becoming a freelancer or working for an agency

 is a great way to get started and develop experience with this method.

Position Yourself as an Authority Within Your Niche or Industry.

 Work to prove yourself within your niche or industry by utilizing your skills to create a successful content strategy for the brands you work with.

Go After Your Dream Job.

 After gaining experience and proving yourself, start reaching out to the companies you'd like to work for and applying to jobs that fit
Once again, this is an oversimplified version of what a content strategist's career path might look like.
At the end of the day, every person's journey will be different.
Whatever path you take, don't be afraid to apply for jobs that you don't feel qualified for along the way.
Most companies understand that the ultimate skill for anyone in content marketing is the ability to consistently learn and grow.
Are you ready for an exciting, rewarding career in content strategy?
If you're willing to put in the work, an exciting and rewarding career as a content strategist awaits you.
I've been working full-time in this industry for the last six years, and to date, one of the best decisions I ever made was dropping out of college at 19 to "teach myself how to write." The content marketing career that followed has been more than worth it. I couldn't be happier doing what I love. You won't regret your time spent in learning these skills.
Go forward, sharpen your content strategy skills with the education and training of your choice, and get started. Now, more than ever, is the time for new content strategists to list their creative talents for hire in the booming industry of content marketing.
If you want to get 30 effective techniques to master content marketing along with valuable insights from 10+ influencers like Mark Schaefer, Rebecca Lieb, Lee Odden, Jason Miller or Ian Cleary, download our free eBook now!