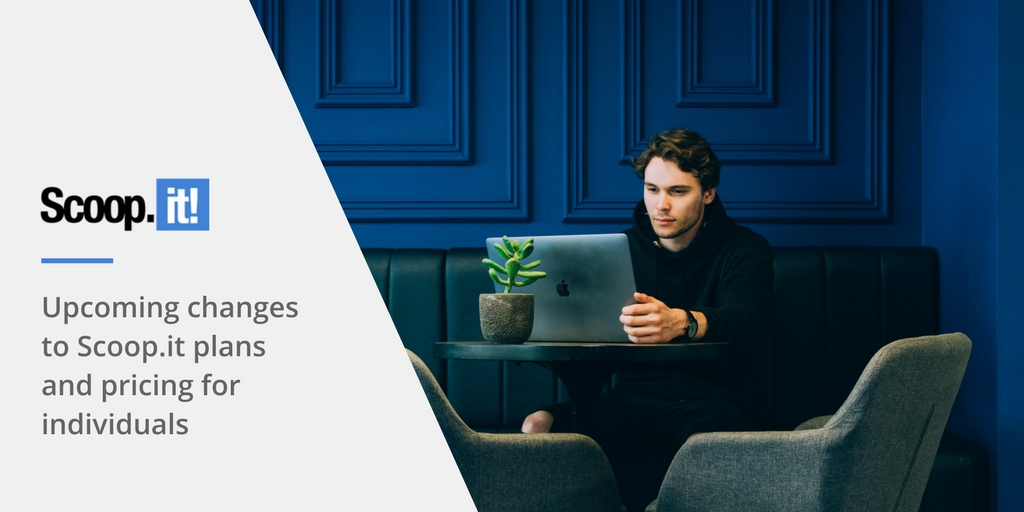 At the end of last year, we conducted a significant research on the way our Pro and Business plans were used alongside our free version and on the value perceived by our users and customers. As a result, we've decided on a number of changes that will go live in the next few weeks and we wanted to give you a heads up.
Note: these changes won't affect Scoop.it Content Director or Scoop.it Knowledge Sharing, our solutions for companies and businesses, which pricing and scope remain the same. Only our plans for individuals (free, Pro and Business) are about to change.
Why we're doing this
Our main objective to undertake this research and implement these changes is to bring simplicity to our product range.
Over time, we've now grown to having multiple products. This has enabled to grow revenue and develop a sustainable model by addressing the needs of businesses on top of individual customers. But this has also brought complexity and we wanted to simplify this.
What we learned from you
We used two main sources of data for our research:
We analyzed usage of all of our premium users: which features they used, how frequently they used, etc…

We did a survey of both active free users and paying customers to assess which features were the most valuable and why.
What we found is that the most valuable features to individual users and customers were the ability to create and publish topics pages with curated content and then distribute them: mostly to social channels and, to some extent, to a personal website or as an email newsletter.
So we've redesigned our plans with the following main principles:
Our new

 plans are now designed around topic pages and distribution channels you can share them to.

Our free version enables you to get started with a limited topic connected to one social channel (with the Direct Link option previously only available in Pro – more on that below).

Upgrading to Pro gives you a branded topic that will reflect your professional brand thanks to custom templates (previously available only in Business – more on that below). It also brings multiple social channels so you can share your topic page with your entire netwo

rk.

The Business plan is discontinued but we introduce a new plan, Scoop.it Plus, that brings you multiple Pro topics as well as more social channels and the ability to embed your topics in your website or send them as an email newsletter.

All paid plans have access to premium support and analytics.
The upcoming changes we're making to Scoop.it plans and pricing
So here's how our new product range will look like:

And our new price page for Scoop.it will look like: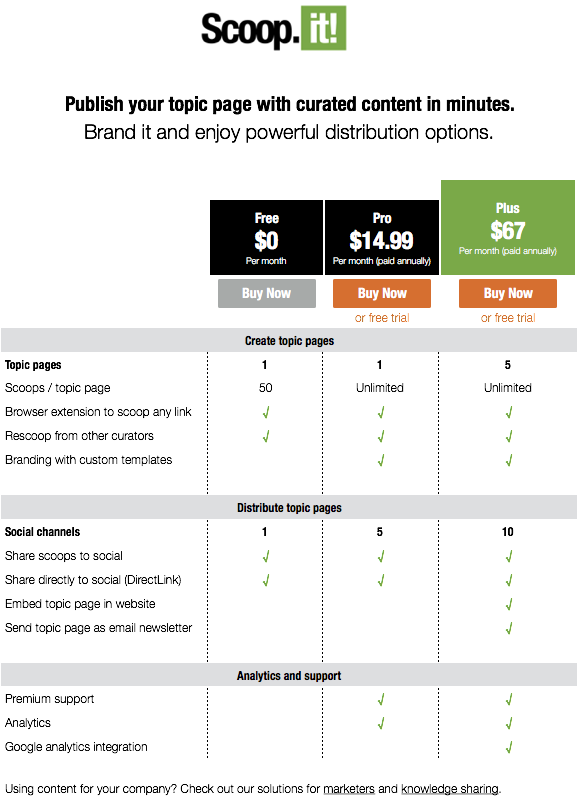 And here's a recap of our various plans and their value propositions:
Scoop.it Pro: the best way to publish curated content to your personalized topic pages and social channels
We've redesigned Scoop.it Pro to be simpler and better. With Scoop.it Pro, you can create a beautiful topic page that will reflect your professional brand and image, publish curated content to it in just a few clicks and have it shared automatically to your social channels.
This new Scoop.it Pro will bring you all the customization options previously found in Scoop.it Business. This means you'll easily be able to organize your content the way you want but also add branding elements and visuals and even code your own template with custom HTML or CSS.
On the distribution side, you'll be able to connect up to 5 social channels to keep your entire network updated when you post fresh content to your topic page. And as before, you'll be able to either direct your follower and friends from your social media posts:
to your Scoop.it topic page,

Or to the original article (using Direct Link).
Finally, Scoop.it Pro comes with premium support and analytics so you'll be able to track visits to your topic page and understand which of your curated posts generate the most engagement with your network.
Advanced branding options and templates: now available from the Pro plan
So what are these branding options that are now available in Scoop.it Pro?
Previously found in Scoop.it Business, they include:
The ability to change the layout for your topic with pre-defined templates. This gives you more options to present your curated content to your readers. Some templates also offer search capabilities or display various widgets to personalize your topic page.

The ability to add custom HTML and CSS to your template. This enables you to control the look and feel of your topic and make more advanced modifications to your template.

The ability to even code your own template and take complete ownership of your topic page.
We like to say that you are the content you publish. So with the new Scoop.it Pro plan, you will have the ability to personalize and brand your content to reflect your personality and expertise.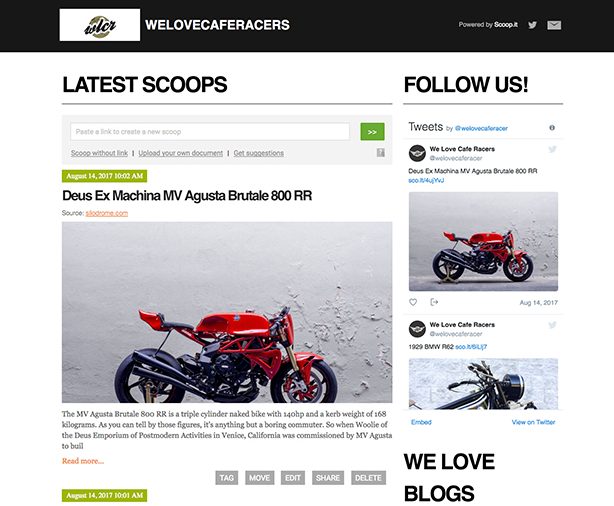 Scoop.it Plus: more topic pages, more distribution options
Compared to Scoop.it Pro, our new Scoop.it Plus plan will simply bring you more:
More topics (up to 5) so you can publish on multiple areas of expertise and organize your curated content across topics.

More social channels to automatically share your curated content as you publish it.

More distribution options by enabling you to embed your topic pages in any website – just like a YouTube video – or send any one of your topic pages as an email.
Scoop.it Plus also comes with premium support and analytics as well as with our Google Analytics integration.
Direct Link: now a free feature available to all users
A key benefit of publishing curated content to a Scoop.it topic page is that you can show more than just one piece of content to your readers. By landing on your topic page, they can discover related content as well as the insights you've enriched them with. But sometimes, we can prefer to directly drive our friends and followers to the original piece we curated. To do this, we introduced a feature called Direct Link which does exactly that:
By turning Direct Link to On, Scoop.it will post your curated content to your topic page and share it to your selected social channels but with a direct link to the original article – not to your Scoop.it page. This means you can have both an updated Scoop.it topic page and drive your social media audience to the original article.
This feature was so far only available within our Pro plan but with these upcoming changes, we're making it available to the free users.
What happens to Scoop.it Business? What's the best way to use Scoop.it for my company?
As part of these changes, we're terminating Scoop.it Business. We'll grandfather existing users (including anyone upgrading before the changes happen) but it will soon disappear from our price page.
The feedback we heard on Scoop.it Business was that it was both too complex for individual customers who were not professional marketers and not enough marketers who needed to integrated with more systems such as marketing automation, email, advanced CMS, etc…
So with these upcoming changes, we'll have better solutions for everyone:
If you're an individual customer looking to publish multiple topic pages, Scoop.it Plus should bring you all the necessary options in a simple package including easy to use distribution options.

If you're a marketer looking to monitor and research content on a variety of keywords and industry sources – whether for content curation or ideation – you'll have the perfect solution with Scoop.it Content Director

 (which also lets you plan, manage and distribute original content more efficiently).
And of course, if you're looking to curate that content internally with your team, Scoop.it Knowledge Sharing provides you with a secure and private environment to do so, independently from the Scoop.it community.
Here's a recap of our various products:
For individuals

Curated content pages

Publish topic pages with curated content in minutes.
Share them with your networks to build your professional brand.

For businesses

 

Content marketing automation

Research content on any topic and from any website.
Plan, manage and distribute original and curated content to all your channels.

For businesses

 

Collaborative content curation

Make it easy for your team to discover, curate and share content.

For businesses

 

Content intelligence

Measure, analyze and understand content for any topic, website or competitor.
Implementation and grandfathering
We're planning to introduce these changes in the next few weeks. When we do, the following will happen:
The Scoop.it Pro plan will be replaced by the new plan described above.

The current Scoop.it Pro and Business plans will no longer be available on the price page but existing Scoop.it Pro and Business customers will be grandfathered and able to keep them. If or when they downgrade, however, they will no longer have the option to buy the Scoop.it Pro and Business plans.
We're trying to make Scoop.it simpler, better and more aligned with what you told us was important to you. We hope you'll like these upcoming changes and welcome your feedback: don't hesitate to tell us in the comments if you have any questions!