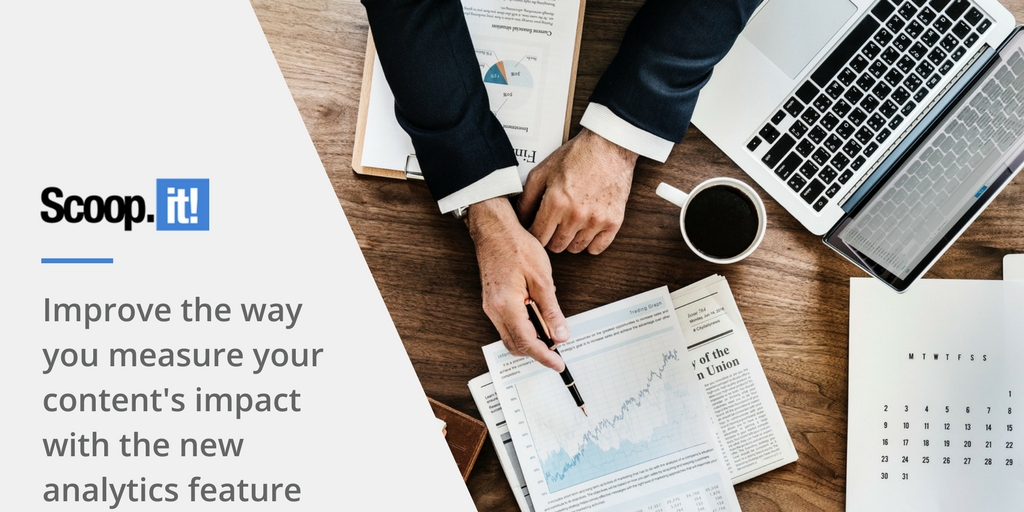 Measuring the impact of your actions is key in content marketing. We always advise here to design a strategy first so you can generate significant results. To do so, it's important to define precise objectives and identify a few KPIs that you should keep track of.
We revamped the analytics feature in Scoop.it Content Director, so that you can measure the impact of your content marketing on your traffic and lead generation in further details. Now you can get more insights!
1. A new dashboard to give you a clear overview of your performance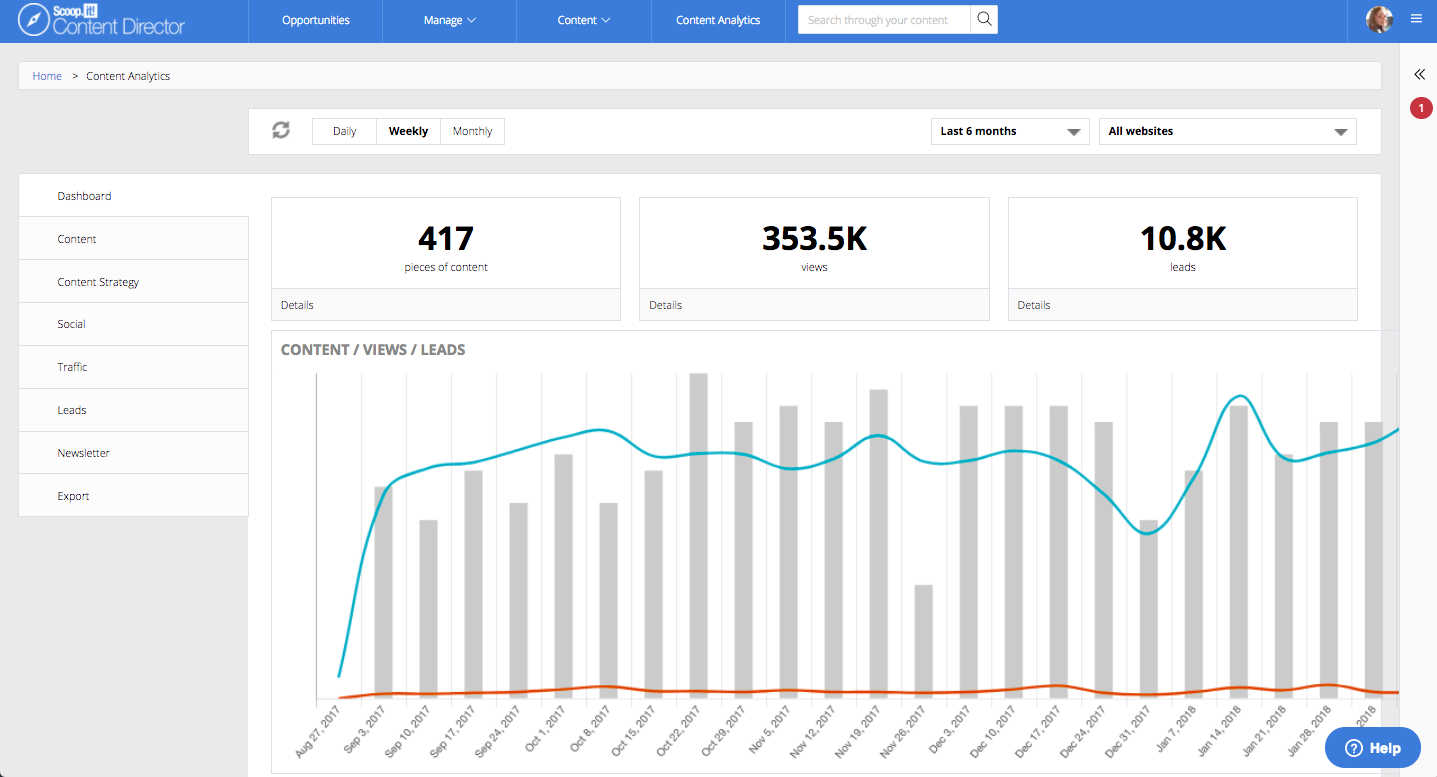 This overview will help you track your traffic evolution, as well as the number of leads generated and the number of pieces of content published. You can set up a custom date range and choose a daily / weekly / monthly view.
Please note this data is calculated based on the views & leads trackers that you normally have set up on your blog beforehand.
2. A granular view to help you understand the quality of your content better
We often recommend that our customers break down the performance of their content, so they can map it according to the number of views / conversion rate generated:
Hits

: these are highly converting posts which generated high traffic. Look at what they have in common and try to do it again because that's what your audience wants. And of course, keep promoting them.

Dogs

: these are low converting posts with low generated traffic. Try also to understand what they have in common and how they differ from hits. Avoid replicating the issue.

Potential gems

: These are high converting posts which generated low traffic. Giving them a second chance by re-sharing them over your social calendar could generate good results.

Question marks

: these posts generated traffic, but did not convert… Should you stop creating that kind of content? Maybe not. Look at these posts again: do they have CTAs to start with? Are they aligned with the topic of the post? Find a better corresponding CTA if you can. If you can't, it probably means this post was generating the wrong kind of audience for your business goals.
With this type of approach, you'll understand why a granular view of your performance is necessary. Here's how it looks – you can see the number of generated views as well as generated leads per article: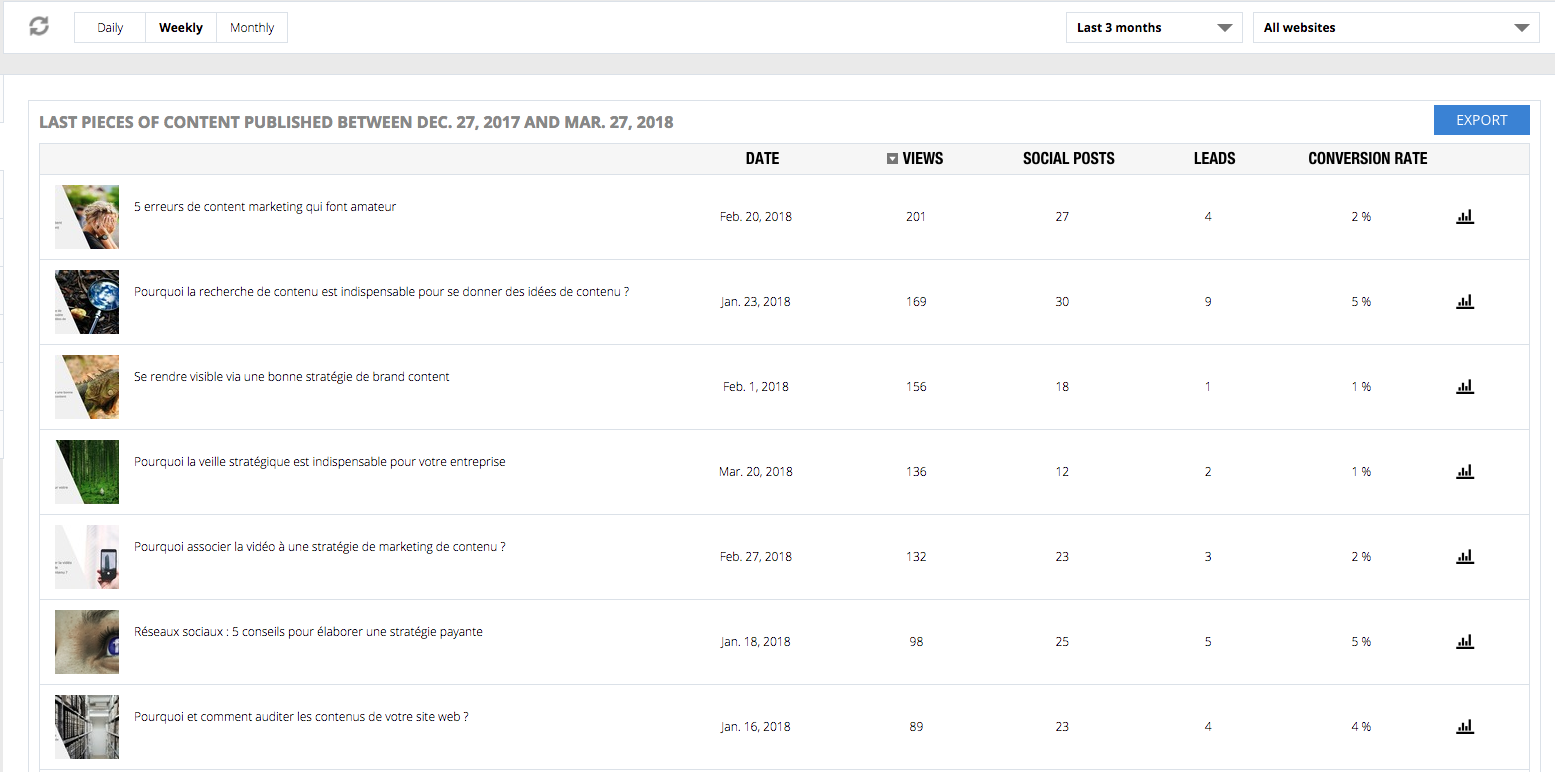 It's important to mention that we chose a specific attribution model for the way we measure leads: the "multi-touch" model, so you can understand the influence that each and every article had on your general lead generation.
3. Measure your content strategy
A few months ago, we added a new feature called Content Strategy. The feature was designed to map your content according to your personas, your conversion funnel, and the key topics you're interested in, to make sure you cover each and every topic you're supposed to cover.
From now on, you have access to a whole section into your analytics that helps you keep up with the strategy better than ever:
4. The impact of your work with Scoop.it Content Director
As a marketer, it's important to be able to measure efficiently the work you've done with a given tool. That's why we offer specific data for the promotion efforts done on Scoop.it.
In the "social" section, you'll find data that will help you understand how many views you generated thanks to shares created from the smart calendar :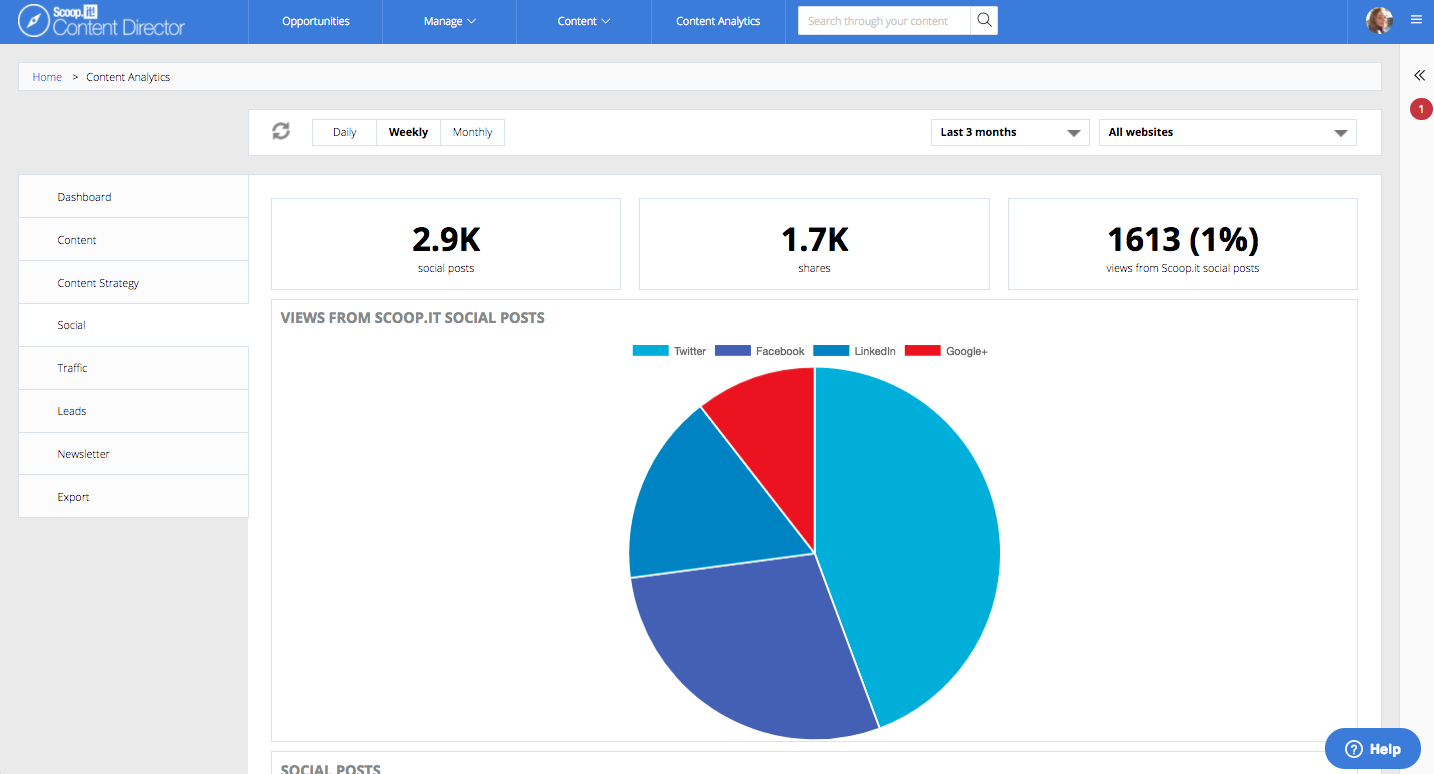 Same for the newsletter, you'll find in the "newsletter" section the views generated from the feature.
Hope you'll like the new versions of our analytics! Should you need any further information, don't hesitate to contact your customer success manager.