Personalization has almost become like a buzzword in the world of email marketing. However, if it is not executed in your strategy correctly, your email marketing efforts would go down the drain. Email marketing has become more challenging because it is not enough to reach the inbox; engaging with the subscribers is equally important.
Email personalization enhances subscriber engagement and works as an opportunity to connect with the subscribers at an individual level. Brands are experimenting with different ideas to personalize emails like this one by Travelocity:
The trend of email personalization had started with including "Hey Name" at the beginning of the email and advanced to executing technologies like Artificial Intelligence and Machine Learning.
Let's understand about these techniques in detail.
1. Artificial Intelligence
AI allows brands to send out automated personalized content that follows the email trinity of sending the right email at the right time to the right person. It helps you to match the information about your services and the information that your prospective customers are looking for, at the moment. This holds enormous promise with endless possibilities.
How AI works?
AI works by implementing three Ds, namely detect, decide, and develop.
AI can recognize the most predictive elements or attributes in a subject matter domain from the huge amount of digital noise and variety of data types.
With AI, you can deduce rules pertaining to the data and get an idea of the most important attributes. This is possible by considering numerous characteristics and making an inference after pondering over the relevance of each factor.
Every iteration helps AI grow and get mature. As an implication, it can modify the opinion about the environment and evaluate it according to the new information or experimentation results.
AI as a Tool to Send Personalized Emails
You can manage massive amount of data through AI. As you keep getting more subscribers for your emails, AI allows you to learn more about the customer behavior and send tailor-made emails.
Let's say a subscriber opens the emails in the evening. AI will help you determine such behavior and customize the email send time accordingly. Moreover, you can even send an email that allows your subscribers to set preferences and receive emails that they would interest them and cater to their needs.
On the basis of the subscriber preferences, you can create segmented lists and send hyper-personalized emails that help in enhancing the overall email metrics and engagement.
Here are some use cases that can help you with creating 'intelligent' emails.
AI has made it possible for marketers to create an email automation system based on the customer behavior and insights generated according to it. Massdrop

sends out an interesting email that encourages the user to finish checking out. If sent at the right time, it would surely get good conversions for the brand.



Product recommendation emails improve the click-through rates of your email and help in building customer loyalty. Check out the email by Zee & Co. You can accomplish an effective email personalization strategy through product recommendations determined by artificial intelligence systems.

As fierce competition reins the email marketing world, marketers should send email campaigns that are highly relevant and match the customer lifecycle. Predictive analytics in addition to artificial intelligence help in generating insights about the customers and leverage data according to their interests. B2B marketers can use information like the past downloads to send out personalized emails.
Grammarly

sends out an email summary of the activity of the subscriber throughout the year and subtly promotes their premium version. This would not have been possible without AI.

2. Machine Learning
Machine learning employs the use of algorithms to prompt the computers to perform several tasks and facilitate decision making.
Let's understand its role in email marketing personalization.
Optimizing email subject lines
Platforms powered with machine learning can work out different subject lines that would best match the particular target audience.
Delivery time optimization
Sending emails at an inappropriate time can leave your emails unread. Therefore, your email should reach the inbox at the right time so that it does not go unnoticed. Marketers cannot manually schedule every email according to the time zone of each subscriber. Machine learning makes it possible to optimize the delivery time after analysing the time when the subscribers are most likely to read the messages.
Drafting relevant copy
Relevant content with an interesting copy is an important factor to engage customers. If you do not get it right, your email is bound to get deleted or even worse, marked as spam. Machine learning can help you draft a humanly copy with perfectly place calls-to-action and images after complete evaluation of what your target audience likes. It helps to create consistent emails that are aligned with the brand guidelines.
Facilitation of Efficient Testing
A/B testing and multivariate testing allow the email marketers to figure out what works the best for their target audience. Machine learning has made it possible to build tests that can effectively recognize the trends and help marketers make the necessary changes.
Use Cases of Emails Using Machine Learning
Just like ecommerce marketers send out cart abandonment emails, Airbnb sends out a reminder email to encourage the customer to complete their booking. In addition, the email also includes suggestions that fall under the same price and location. Such emails can be created by machine learning and convince the customer to make the purchase.
Netflix sends out behavioral emails to their viewers by using machine learning algorithms that study the shows that their viewers have watched or are interested in. Then, they send out relevant and customized emails that keep the subscribers hooked and prevent the list decay or churn.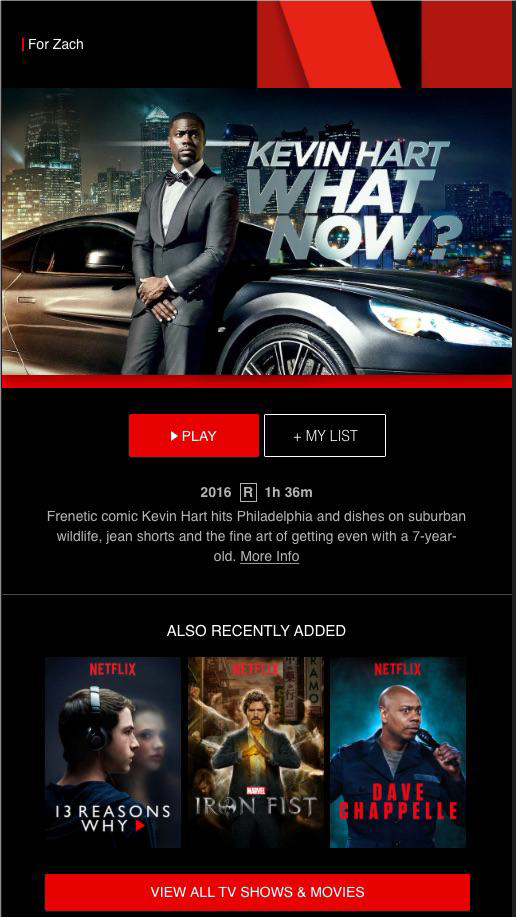 Machine Learning Tools and API
MailChimp offers several personalization tools, send time optimization systems and A/B testing tools to make effective email campaigns.
Seg comes as an extension of MailChimp and allows segmentation of the users and targeting them according to their purchase and browsing history.
Automizy has features that can automate the workflows and enhance the email campaigns by creating personalized user experiences, split testing, and tracking metrics.
Amazon's Machine Learning API allows you to design scalable applications that help in segmentation, content personalization, and prediction of the customer churn.
8 Key Takeaways to Send Perfect Personalized Emails
Here are the points to remember while personalizing your emails whether you are a small or large organization working as a B2B or B2C.
Use the right tone for the various segments of your target audience and start with smaller chunks of data.
Carry out proper profiling to figure out the needs of your customers according to their buyer's journey.
You should create appropriate buyer personas by collecting maximum data to build effective targeted emails.
Let your subscribers control the conversation by setting up behavioural automation.
Your emails must reflect that you have researched well to meet the needs of your customers.
Make sure your personalized emails do not give the impression that you are stalking the customer's actions.
Test your email before you hit the 'Send' Button.
Allow the subscribers to unsubscribe or share their feedback for your emails.
Wrapping Up
Artificial Intelligence and Machine Learning have made the task of email marketers simple by detecting subscriber patterns that cannot be recognized manually. Subsequently, emails have become more personalized and relevant for the subscribers, thereby imparting a more agreeable user experience.
Photo by Denisse Leon on Unsplash