When marketing and sales work together in close alignment, they can help companies close 38% more deals.
Sales enablement connects marketing and sales by the key roles each plays in educating prospects, closing deals and contributing to growth.
Marketing teams provide sales organizations with tools and curated information. This includes blog posts, external content, best practices and tools.
For example: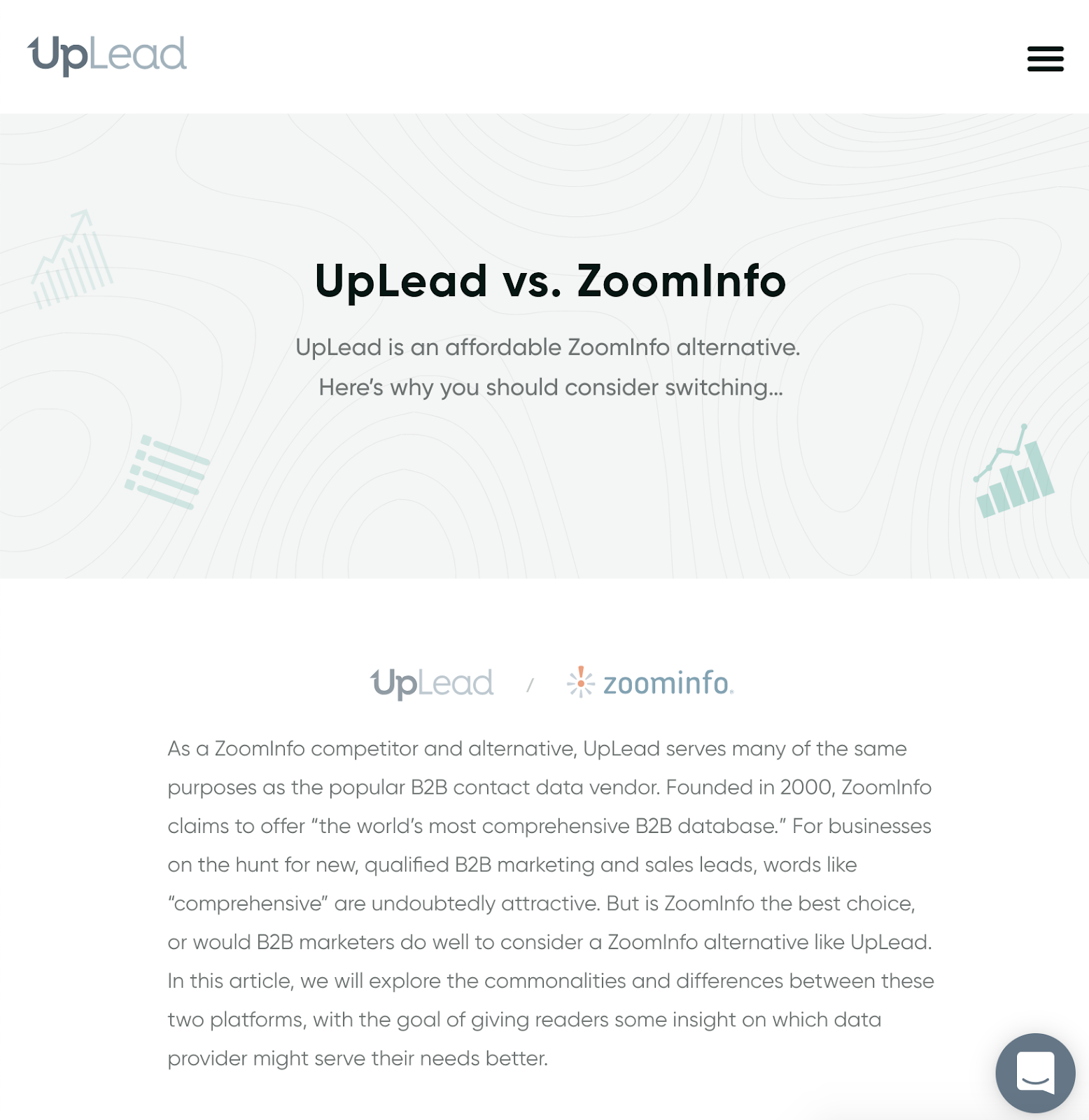 Invaluable to salespeople who come across competitor objections on a regular basis, this UpLead content provides a detailed comparison against one of their competitors.
Don't just curate sales enablement content
from your marketing teams, include third-party research, industry-wide news and competitor analysis as well. These materials help the sales team educate prospects and sell more effectively.
Sales enablement content includes:
Sales presentations

Informative blog posts

Case studies

Ebooks and whitepapers

Sales scripts

Competitor research and analysis

Social media content

One-pagers
Essentially, content that keeps high-value prospects educated, engaged and moving through the sales cycle. With each well-positioned piece of content, a sales rep will have an easier time converting a prospect into a happy customer.
What to Consider When Using Content for Your Organization
While you may already have existing content in place for your sales efforts, you must continuously audit the information that sales teams use. Gathering insights from your reps can uncover any content gaps, questions to be answered and objections that could be handled.
Here are some questions to ask your sales team:
What pieces of content are performing best at each stage of the sales process?

What pieces of content are performing worst at each stage of the sales process?

What are the most common questions you hear (both product and non-product related)?

What are the top three objections you hear?

What are the biggest pain points we're solving for customers?
Armed with these answers, you have a better idea of what's already working and not working content-wise, and can create effective content that addresses your prospects' concerns at every step of the customer journey.
Maybe you discover that certain pieces of content aren't working effectively because they need to be put in another stage of the sales cycle, or that a one-pager wasn't actually relevant to prospects' biggest pain points and needs to be replaced with something new.
Perhaps a new whitepaper needs to be written to showcase actual applications of the product, or that prospects don't feel your company understands industry news, in which case you may have to curate outside content for sales reps to share.
All these insights are valuable in preparing, creating and curating the right information for your sales reps from the start, and all the way to the close, of the buying cycle.
The list below showcases the ten fundamental types of sales enablement content.
1. Enabling Your Reps with Sales Training
Comprehensive sales training that contains the right documents, videos and other supporting materials can help to improve sales activity quickly, highlighting how reps should interact with prospects, as well as the most effective ways of using various sales channels.
Partner with different people in the company who have complementary expertise for a more interactive way to conduct ongoing sales training, and to gain new, different insights.
For example, you could partner with a product manager on product related training, or collaborate with a market researcher on updated competitor analysis information.
2. Streamline Processes Using Sales Scripts
Creating a database of sales scripts for reps to use in different situations familiarizes them with messaging, product features and target audiences. Providing your team with this database allows them to go through and individually curate the sales scripts for their needs on any given call.
For example, here's a cold calling script used by Purplegator's reps when they end up reaching a prospect's voicemail: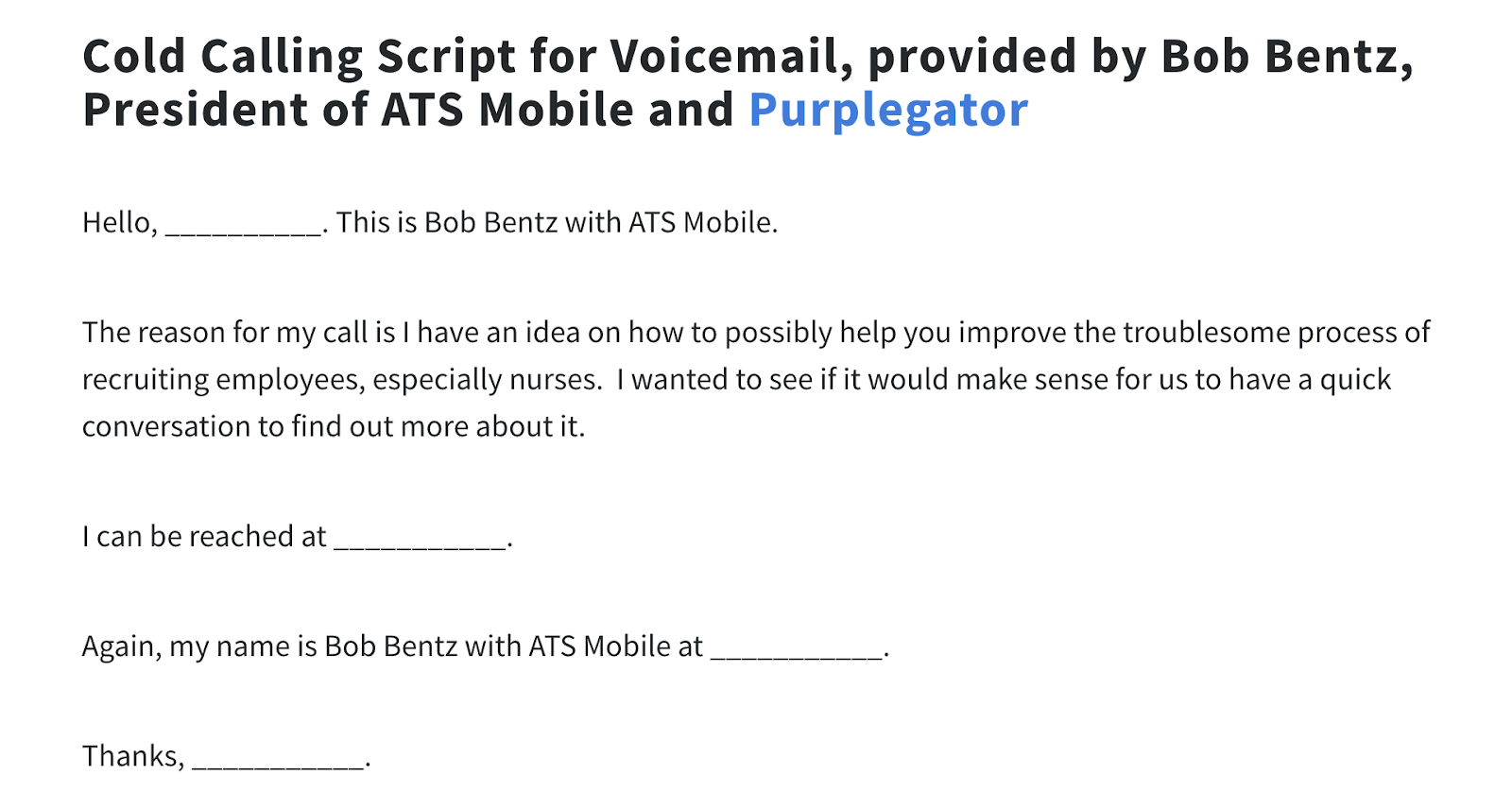 Other than written sales scripts, there should also be video and audio recordings of your top salespeople delivering these pitches and questions.
3. Create Proven Sales Presentations
Sales presentations are often used to introduce a prospect to your company and the solution you can provide. During a product demo, reps use the initial overview deck to prepare for any potential questions that may arise. In subsequent sales calls, there may need to be additional sales presentations to keep the deal moving along.
To make it easy for sales to customize their own slides, consider building out a "master slide deck" so that team members can go in to find what they need and do it themselves.
Sales is then empowered to effectively curate their own sales presentations based on the industry, persona type and stage of the buying cycle.
4. Competitor Analysis Materials
For your sales teams to win, they not only need to know what their customers' needs are, but also who their competitors are and how they affect the overall market.
Ask yourself the following questions:
In which areas is competitor X better than us?

In which areas are they weaker?

Why do customers leave them?

Why do customers flock to them?
Externally, a competitive analysis, if done well, could persuade a prospect to take that leap from sitting on the edge of the fence to becoming a loyal customer.
Work with marketing to uncover who your top customers are. Use competitive analysis tools such as SEMrush to cross reference SEO data with your own competitive analysis: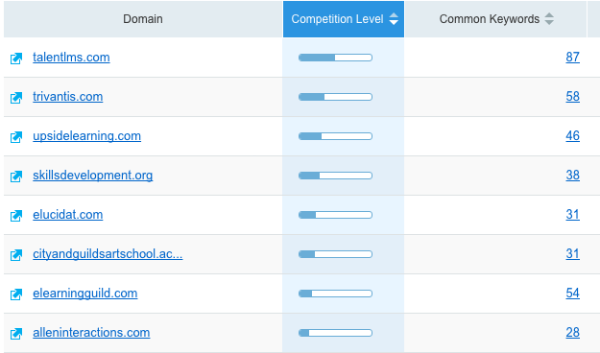 5. Case Studies and Testimonials
Case studies and testimonials are some of the best pieces of sales enablement content available to a salesperson.
When a prospect reads or watches a case study, they are led through a story of what another customer's challenges were and how they were solved with the help of your company.
Furthermore, a simple case study or testimonial can be repurposed into shorter quotes for use on landing pages, social media content, emails and more.
Though usually unsolicited, third party online reviews can serve as another resource for high value prospects. Your sales team can gather some positive online reviews as screenshots to put in sales collateral, or as website links for prospects to view.
5. Add Value with Blog Posts
While long-form blog posts may have been created for top of funnel activities, they can be reused during later stages of the sales cycle, serving as tools to educate and nurture prospects.
For example, this blog post from Intercom shows how salespeople can use storytelling to get more from live chat: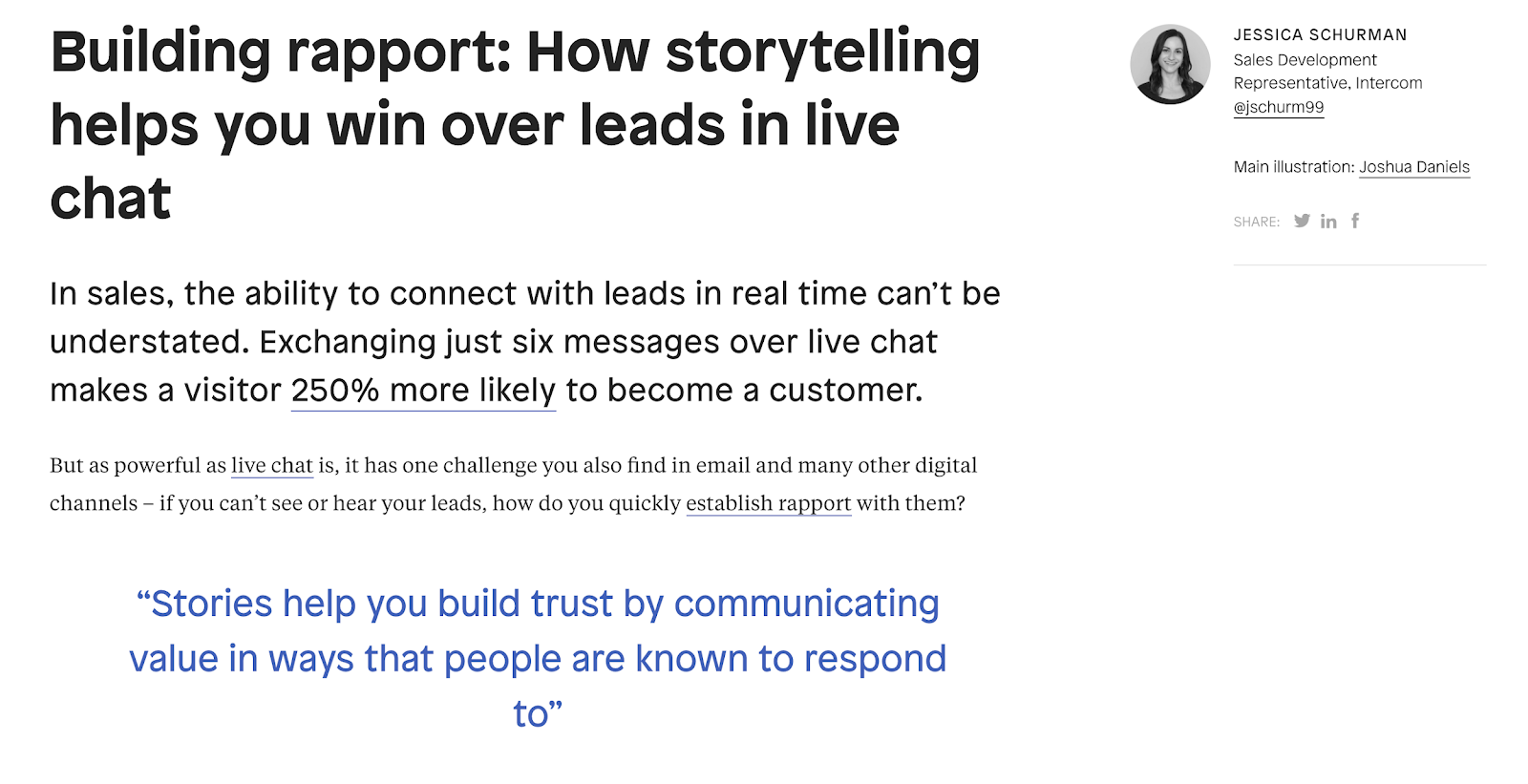 In terms of accessibility, you can store blog posts in Google Drive or Dropbox for sales reps to quickly share with leads.
6. Build Authority with Thought Leadership
Thought leadership content addresses industry trends, pain points of prospects, and the company's innovative approach. This content can include blog posts, ebooks, whitepapers, webinars and more.
LinkedIn articles are a great place to host thought leadership content. For example, Jason Miller, Head of Brand Marketing at Microsoft Europe, uses the platform to share his opinion pieces on all things content marketing: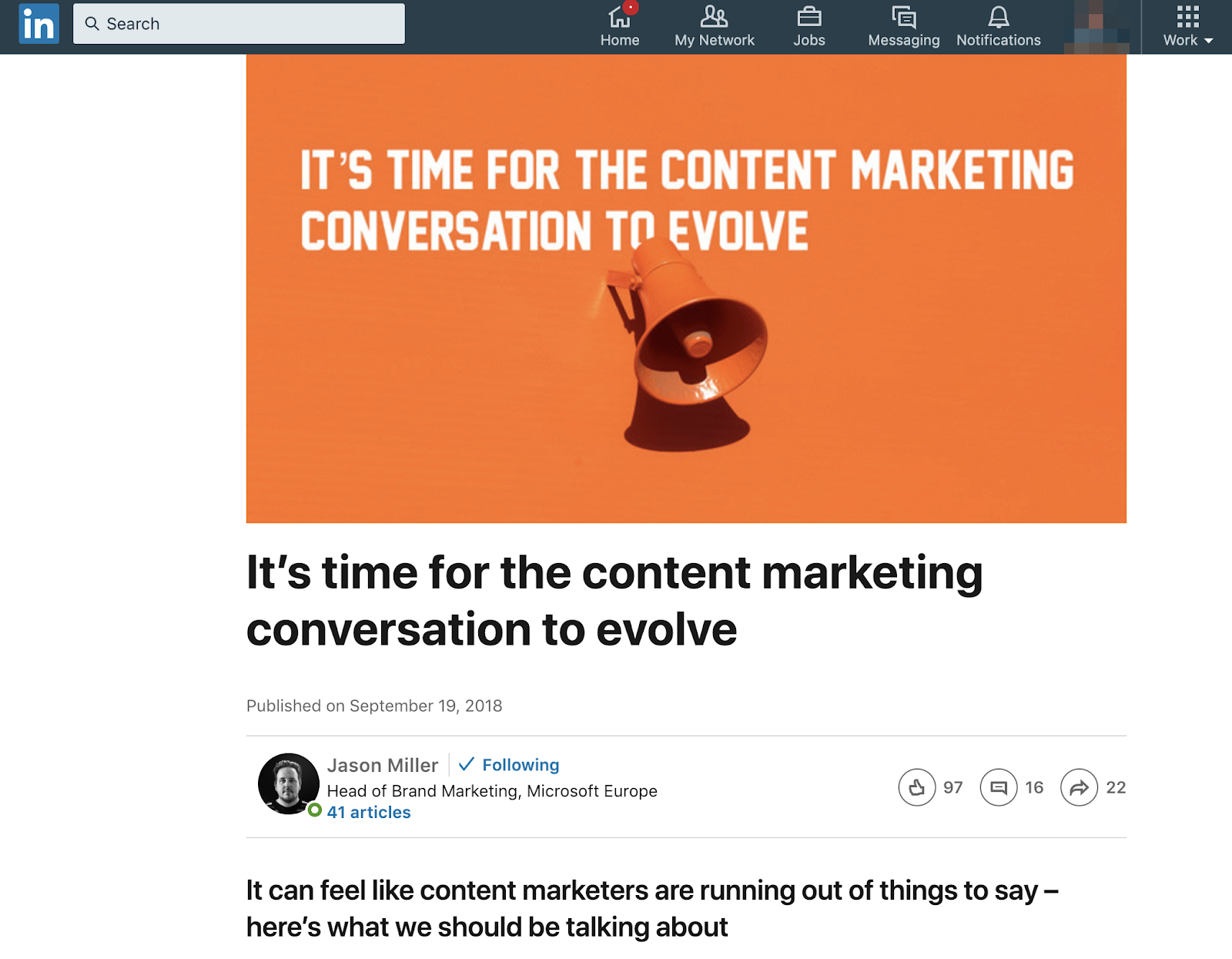 As a pre-sale strategy, it creates the initial buzz and conversation around your company; for post-sale engagement, it builds loyalty with you customers.
7. Streamline Outreach with Email Templates
Sales email templates save sales reps from writing the same emails over and over again. With marketing's help in crafting email messaging, sales reps can have an arsenal of curated emails to choose from.
After some simple personalization, reps are able to fire off an email for any scenario. Review your open rates and response rates on a regular basis, as this will help you optimize your email templates, making them more effective.
8. Crush the Competition with One-Pagers
One-pagers include specification sheets, website product pages and explanations on features and benefits.
If you have a large product suite, it's helpful to focus individually on each product through these one-pagers. For example, Intercom use one-pagers to demonstrate certain product use cases: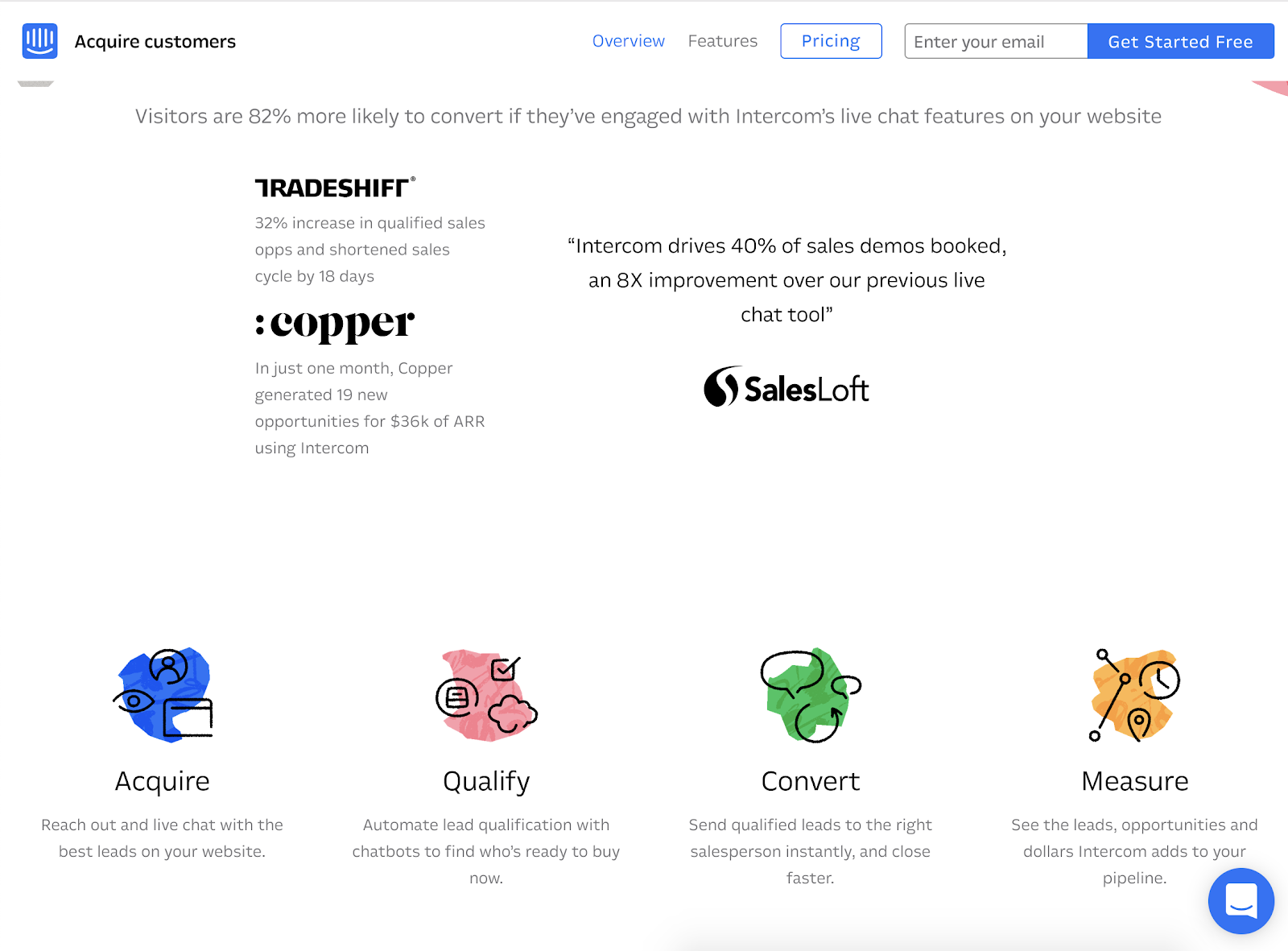 You can also use one-pagers to spotlight certain product features, or even include a comprehensive competitor comparison. These formats are most valuable towards the end of the sales cycle.
9. Stay Top-of-Mind with Social Media Content
There are other ways to add value beyond "how to" blog posts. Provide information on industry trends and insights to keep your prospects up-to-date on what's going on.
In terms of sales enablement, this means gathering, reviewing and curating information, including news, research, surveys and reports. By continually sharing these new pieces of content, you'll build trust and engage with potential prospects over time.
Instead of only sharing the reasons why your company's approach is great, which can put prospects off, you are putting your potential customers first by catering to their interests. As an added bonus, your sales reps can use this opportunity to stay on top of industry developments themselves.
10. Boost Retention with Onboarding Content
Last, but not least, customers deserve to have a good experience after the close – they want to be reassured that the sales rep will deliver on their promise. Use sales enablement content to create post-sales materials around onboarding, timelines and next steps.
Sales enablement should also work with customer success teams to make sure the material addresses customer concerns and questions – if it doesn't, modify it accordingly.
Conclusion
Continue to keep communication between marketing and sales open as your sales enablement processes will evolve over time.
With each new sales insight, there will be fresh content to create and curate. However, the overall goals will always remain the same when it comes to educating prospects, closing deals and achieving overall organizational growth.
Want to start a sales enablement strategy? Feel free to book for a demo of our Enterprise solution!