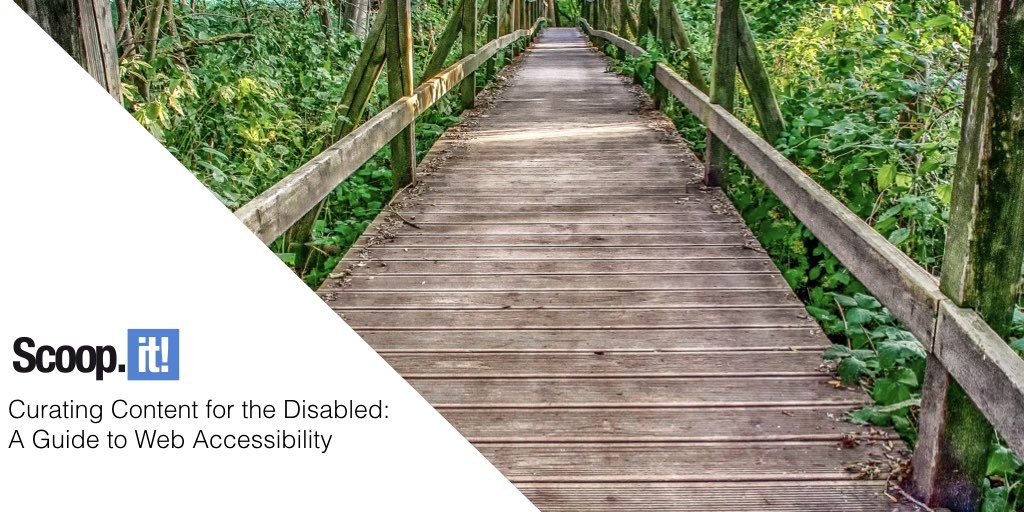 Imagine this: You're working on content curation for your business site's blog. You've plotted out different audiences and created personas and researched which customer needs and interests you need to address. You've thought about which relevant content you need to keep driving traffic while advancing your other marketing goals. 
And then a colleague upsets all your plans by pointing out that you've ignored everyone with disabilities. What do you do next?
Why You Need to Curate Content for People with Disabilities
Ignoring people with disabilities isn't just politically incorrect. It can also hurt your business. Today, 18% of Americans live with disabilities, making up around one-sixth of your audience. Thanks to medical advances, the number of people living fulfilling lives with a disability is only growing. 
If your site content is not accessible, 71% of visitors with disabilities will simply leave, damaging your bounce rate and conversion rates. Non-accessible content will lose you customers even if other parts of your site are accessible, like your online store. Customers with disabilities shop at businesses that respect their needs by making all their content accessible, with 80% saying that they'll choose the company with the fewest barriers rather than the lowest price. 
What's more, running inaccessible content can even bring a serious lawsuit on your head. ADA lawsuits against non-accessible online stores rose from 814 in 2017 to 2,258 in 2018, with the biggest leap in website accessibility lawsuits against eCommerce sites. 
Curating accessible content allows you to position yourself as a trusted source, one that opens up new content to people who would otherwise be unable to access it. As noted by web accessibility venture accessiBe, "Providing an accessible solution for users and customers is much more than a strategic way to prevent web accessibility lawsuits, it's a business commitment with social impact." 
Here's a guide to help you curate content that reaches everybody.
7 Ways to Curate Content that is Accessible for All
1. Create a clear hierarchy
Around 4.4 million people in the US use screen readers to navigate the internet, but they can only read sites with a clear hierarchy. Use hierarchical headings marked <h1>, <h2>, etc. for all your content. As a bonus, hierarchical headings make it easier for everyone to scan and understand your content. 
2. Make it easy to enlarge
What happens when someone enlarges your webpages on their device? All too often, it causes key content to "drop off" the edge of the screen, or messes up the page organization so that the user can't tell where to click to move forward. Make sure that all your webpages can be easily enlarged without affecting the structure, format, and readability of the content. 
3. Design a navigable site
There are many reasons why someone could navigate your site using keyboard buttons. They could have an ongoing physical disability that makes it difficult to position and click a mouse, a temporary disability like a broken arm, or a technical issue like a computer with a broken mousepad. Design your menus with drop-down options that can be navigated by the arrow buttons on the keyboard, so that people in all these categories can find their way around your site.   
4. Format for access
Simple formatting steps make it much easier for people to access your content. Lay out your curated content in a clear and intuitive way, so the reader can flow naturally from one section to the next. Think about little improvements, like a "Read More" button that's large and easy to click, and easy-to-read fonts without curly serifs. Color and contrast matter, too. I've clicked away from content written in pale grey before, because it was hard to read in poor light, and I have no vision issues. 
5. Use descriptive link texts
It's not enough to put link text in another color, because readers with color blindness, weak vision, or in poorly-lit environments can't always see the difference. Make the link text obvious by underlining it, and/or set a hover text for when the user hovers over the link. 
Descriptive link texts, like "Watch video" are much easier to understand than "Click here." If your link activates a file download, it's helpful to include that in the link text, e.g., "Download our white paper" instead of "white paper." 
Finally, never write out the full URL as the link text. Not just because it looks clunky, but because a screen reader will spell it out, letter by letter. Imagine the frustration, and avoid it like the plague. 
5. Add alt texts for images
Alt image text plays an important role for users with screen readers, and for everyone if your image doesn't load properly. Your social media image posts also need alt texts (Twitter has an option that enables this) and/or descriptive captions to make them accessible. 
You can win yourself a lot of social media followers by adding your own alt texts to popular memes or images. Just don't make them too long, because the most popular screen readers only read around 125 characters of alt text. 
6. Transcribe videos
Make videos accessible for the hearing-impaired and people watching videos in busy places by adding a summary or transcription. If your content pulls takeaways out from a long video, include an overview of the entire video as well. You can also use Youtube to automatically add captions, and edit them to make them more accurate. Finally, make sure that viewers can adjust the volume and pause the video – another small improvement that has a big impact.
7. Keep language simple
Many people find long, detailed reports to be daunting and scary. Take steps to simplify the language, summarize the takeaways, and make your content easy for everyone to understand, including the cognitively impaired.
Curating Content for the Disabled is a Win for Everyone
There's no downside to curating accessible content. Simplifying language, setting alt texts for images and captions for videos, improving your formatting and link texts, including accessible navigation menus, using hierarchical headings, and making it easy to enlarge your page are all simple techniques, but they can boost traffic, increase sales, and raise your business reputation across the board. It's a win-win situation.