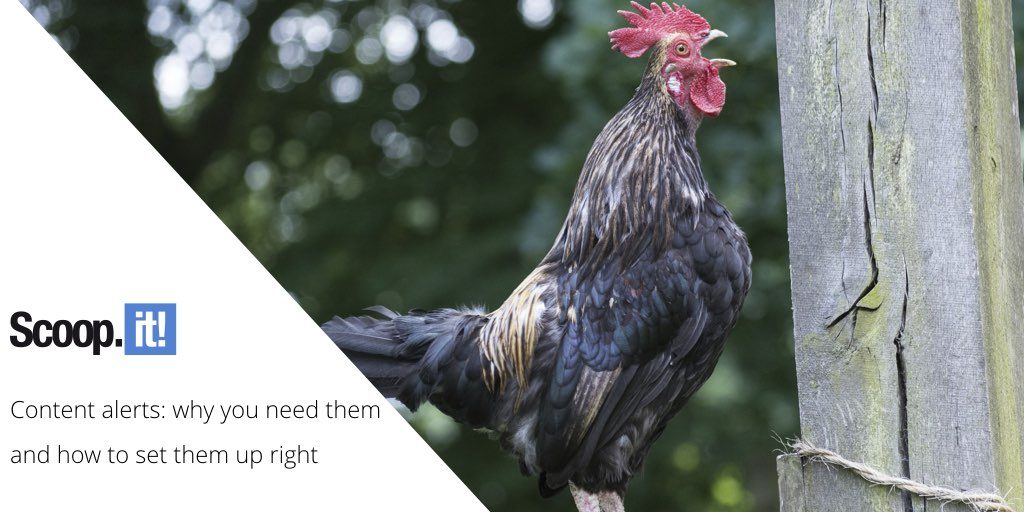 Do you have a process of monitoring trending topics and content online?
Or content from your competitors?
How about mentions of your own brand (or founders and executives)?
There's no one single place to do this. You can use Google search and social media platforms (search, hashtags, and mentions), Google alerts, and more.
These are all useful, but you might end up spending a lot of time jumping between tools and spending more time gathering this content than doing something about it—and that's not fun, especially if you repeat this day after day.
Our Research Content section inside Scoop.it Enterprise is exactly what helps you streamline and centralize this process. In this guide, we'll show you the essential setup, how it works, and how you can make the most out of Scoop.it's Research Content capability.
How Research Content works
To get started with content monitoring and setting up your regular alerts, you'll find everything you need by opening the top right corner menu and selecting My Research Content.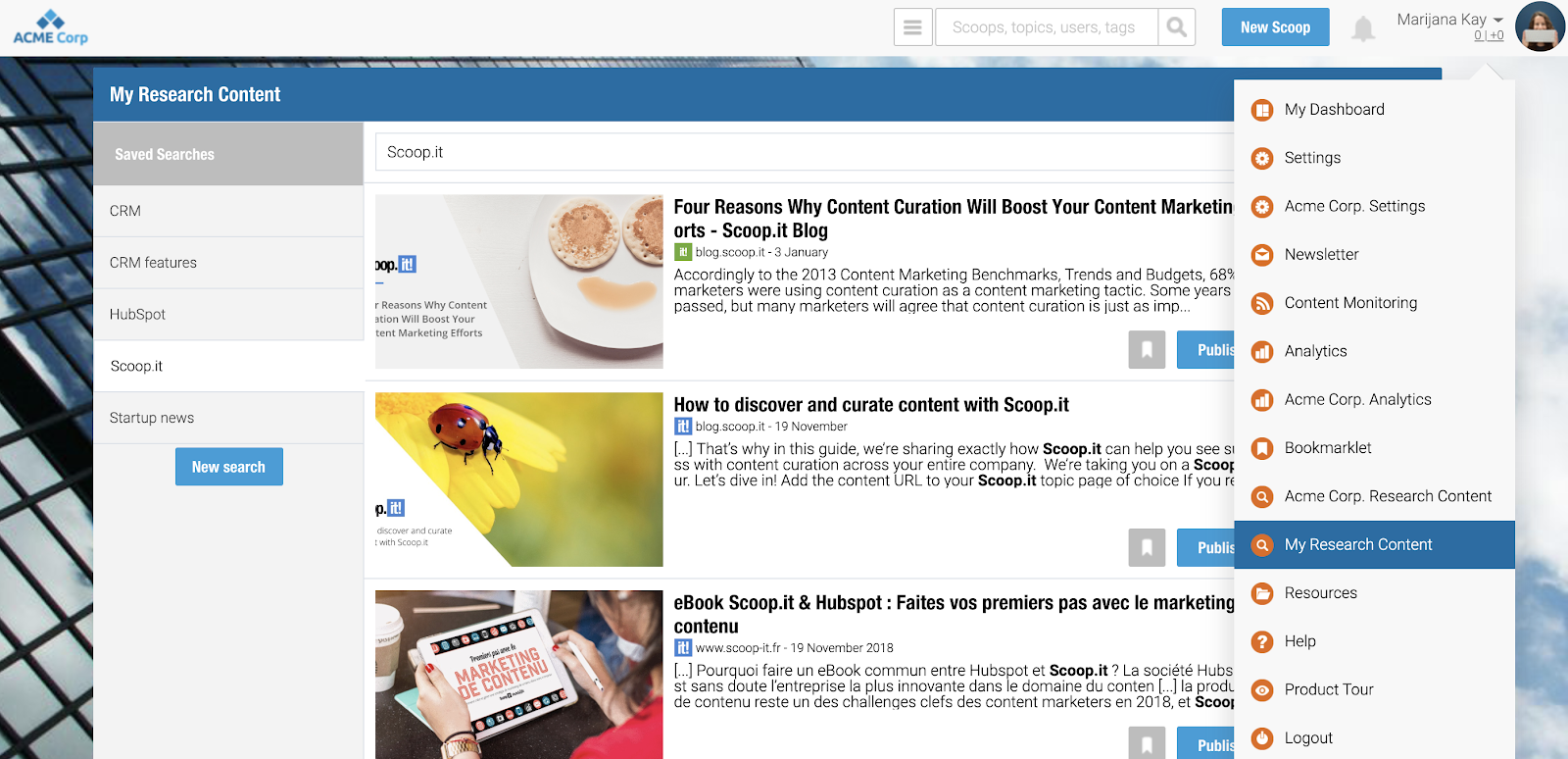 This is what the top of each search will look like when you're setting it up:

Now, let's dive into everything you need to know about setting up your content monitoring streams and filtering options available to you. (We'll get into the setup for individual use cases in sections that follow.)
Add search conditions based on the title, content, or domain

This means you can select whether your search terms should be limited to the title only, expand to the content, or focus on the domain where this content is hosted.
Filter further based on a Boolean search

You can stack up your search conditions based on how narrow you can go. This is done with AND and OR modifiers (which make up a Boolean type of search) that Scoop.it makes easy to apply.
For example:
If you selected Mailchimp OR Aweber, you'd see results that contain either of the two search terms.

If you selected Mailchimp AND Aweber, you'd only see results that contain both; you wouldn't see results that contain just one of the two search terms.
Set up and customize an email alert
Although you can make Research Content your central monitoring hub, you can also make it more practical by setting up email alerts that will notify you of key content on a recurring basis.

To customize it, you can select the frequency of email alerts by clicking on the Set an email alert link:
You can also define:
The time period for your search: X months, X days, or all time

The language

Sorting criteria: relevance, freshness, or popularity
Finally, you can choose the content formats you want to include in your search. By default, you'll see them all: articles, documents, pictures, videos, and social networks. You can remove any that don't apply, and add them later if you change your mind.
When you're done with your setup, name your search at the top (this will show up in the menu on the left for easy selection) and click "Save & Apply".
Here's how you can apply this in real life and get actionable insights—quickly and effortlessly.
Use case #1: Monitor your brand mentions for links, reviews, and more
One of the best opportunities to build backlinks to your website are mentions of your business that don't already link to you. (Responding to any mentions, whether linked or not, is also simply a great connection-building practice.)
Here's how you would set it up if you were working in HubSpot:
It's simple: you add your brand name for the title and the content, and exclude your own content by excluding your domain. Review the results you get and reach out to publications and authors that have mentioned you, but haven't linked to you. And that's it!
Pro tip: make sure you add variations of your brand name, your flagship products, and your executives to your search. For example, Apple may add: Apple OR iPhone OR Tim Cook to monitor the mentions of their company.
Furthermore, you can create an alert specific to reviews of your company. This is useful to track positive reviews (and potentially share them, use them as social proof, etc.), as well as to monitor negative reviews and help unhappy customers.
This is what a search like that could look like:
Finally, if you have a loyal customer base that tends to write or create videos about your product or service, you want to make sure to thank them and share their content as soon as it's out. You can easily set up this alert—here's an example: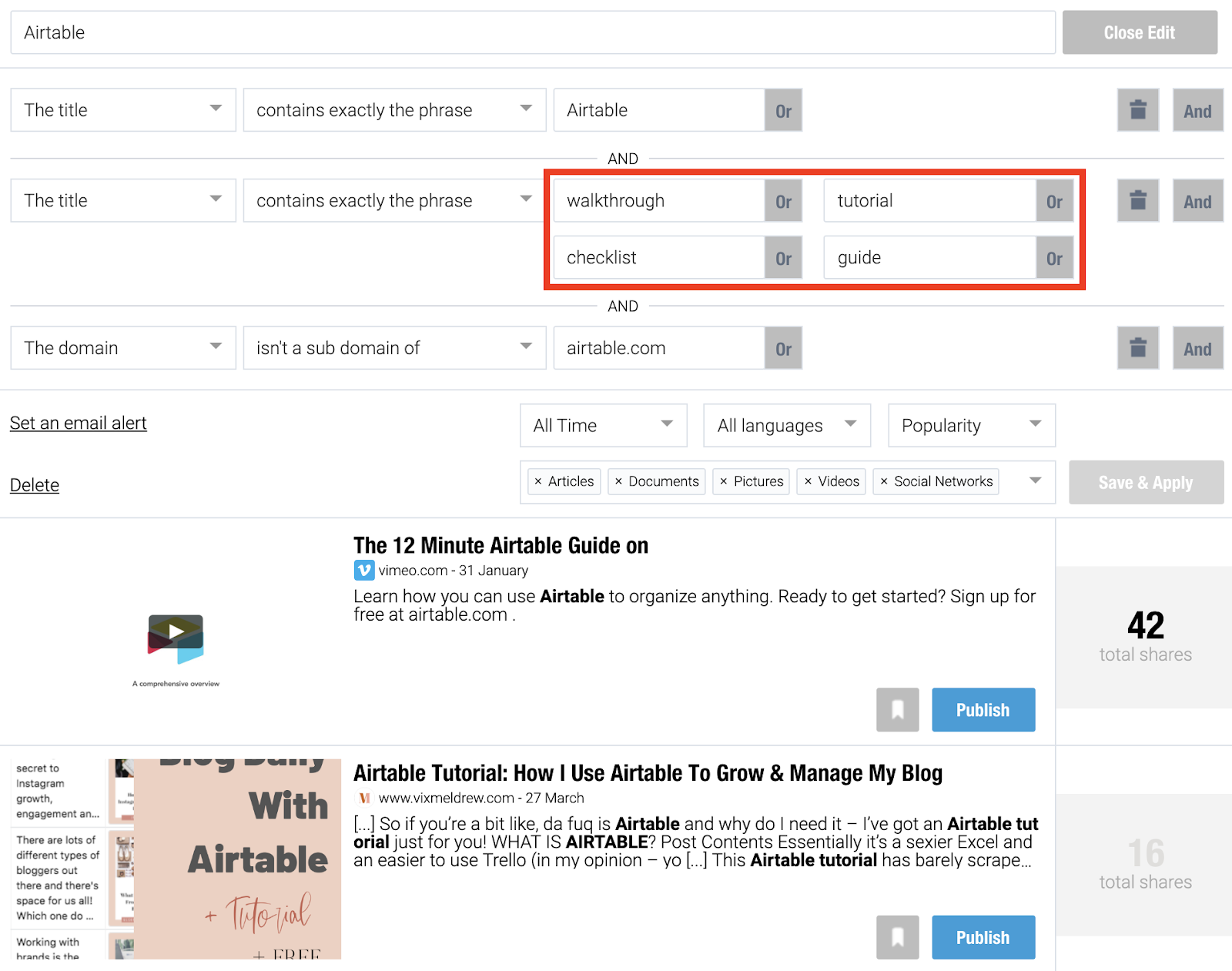 Use case #2: Track industry changes and trends
There are hundreds (probably thousands!) of companies working in the same industry or serving a similar audience as you are. You can keep your finger on the industry's pulse by being aware of original research, statistics, case studies, and other data they're publishing.
This way, you can quickly identify new fields you can create content in, statistics you can quote, trends you can share in your interviews, on social media, and so much more.
Take a look at this simple, but powerful setup: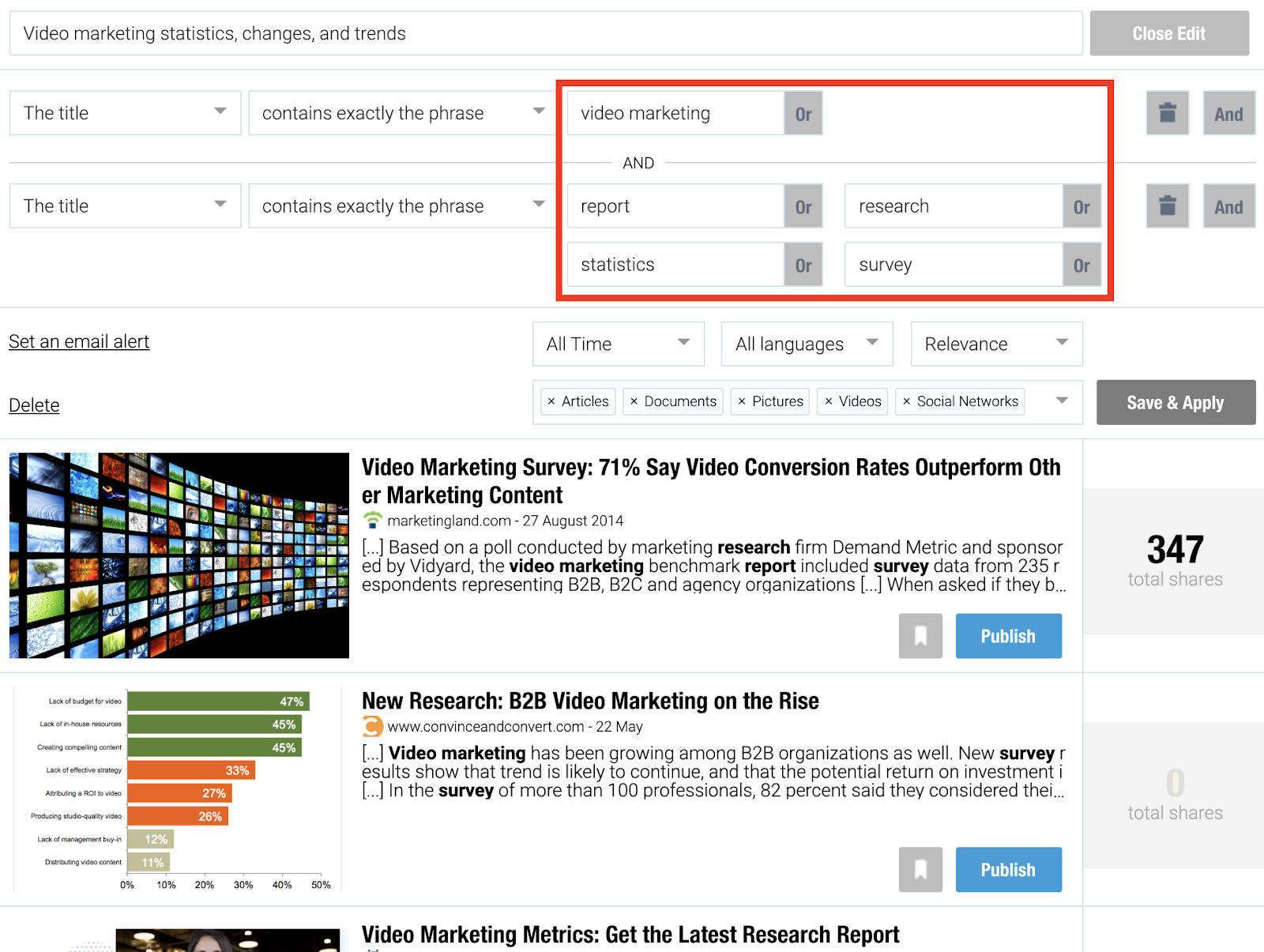 Use case #3: Keep an eye on your competitor's content
Chances are that your content categories closely mirror your product categories. For example, if you sell a project management software and one of your products is specifically targeted at remote teams that want to be organized with meetings and notes, some of your blog categories may be 'Productive meetings' or 'Remote teams.'
As a result, you might want to keep an eye on what your competitors, even the indirect ones, create about your main topic categories.
Check out this search you could do based on the above example: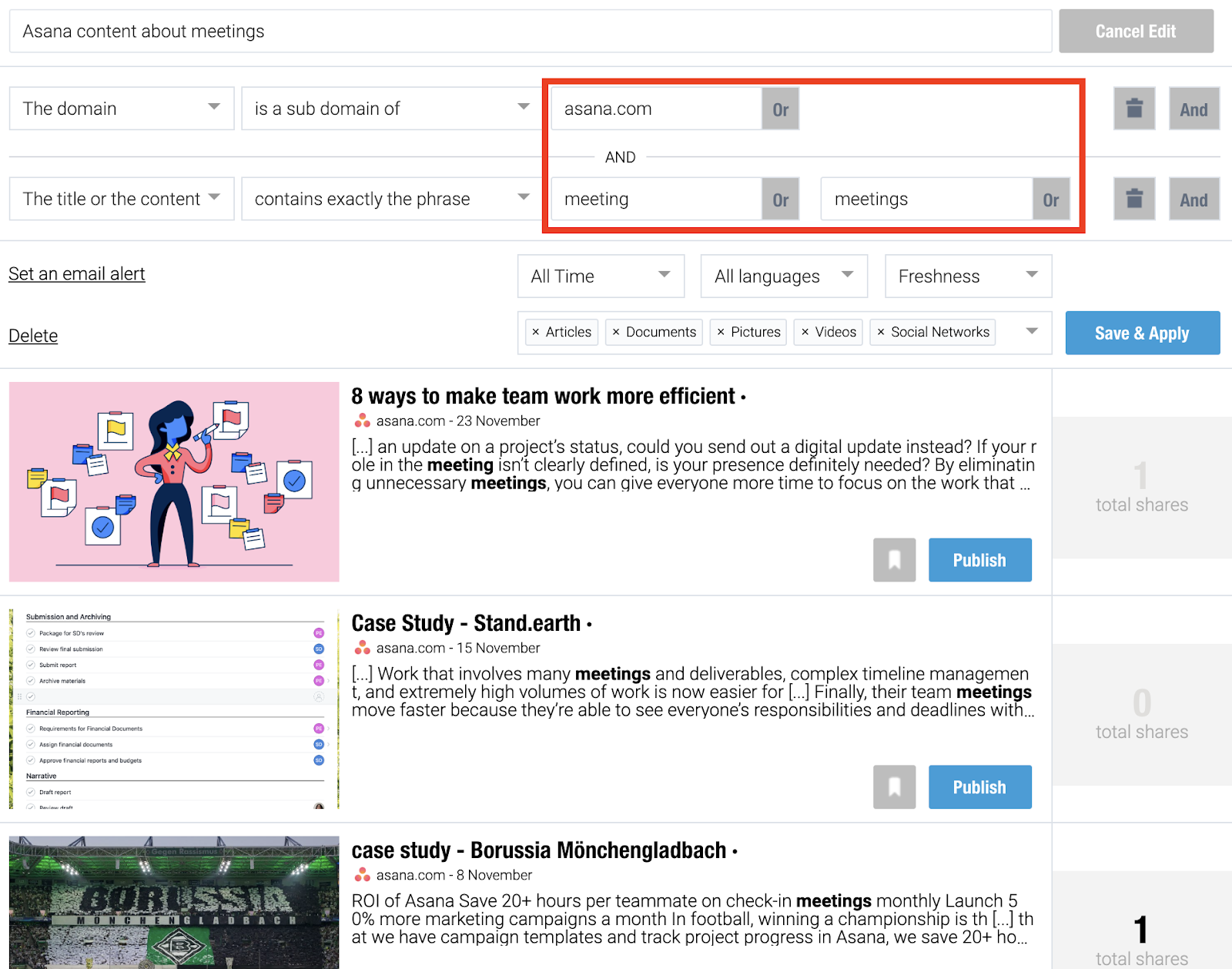 You can create individual search alerts for various combinations of competitors and topics.
Use case #4: Monitor and answer questions in your niche
One of the best ways to build trust in your brand and the individuals who represent it is by answering questions people have about your industry.
Check out the setup of this content alert below. You can start by simply adding the topic and the question modifiers (why, how, what, where, and when); depending on your industry, you may have to narrow down to Reddit, Quora, or a specific industry forum.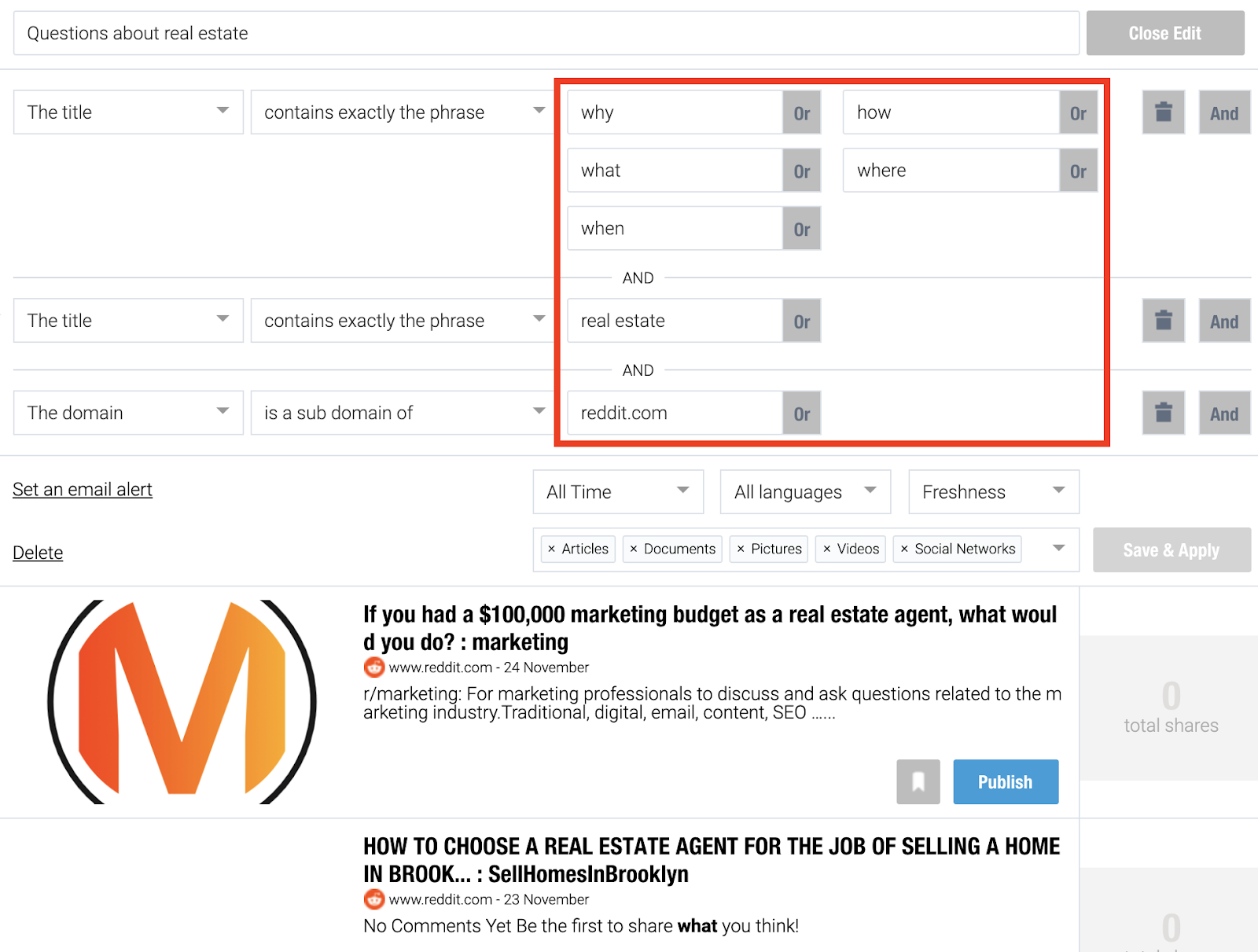 When you have a list of relevant questions, schedule a block of time to write and publish answers to them!
What will you do with customized content alerts?
We've now empowered you with some foundational, yet powerful ways to track what's happening in your field and react to it in a timely way.
This isn't just about crisis management or hoping you won't get negative reviews. It's about building your reputation, earning valuable backlinks, being in tune with industry trends, and connecting with your various audiences.
And once you've set these up in your Scoop.it dashboard, you can do all of this in a time you've predefined, right from your email inbox. No more jumping between tools and screens.
Intrigued? Let us know and we'll get you a demo of Scoop.it Enterprise so you can experience the magic yourself!