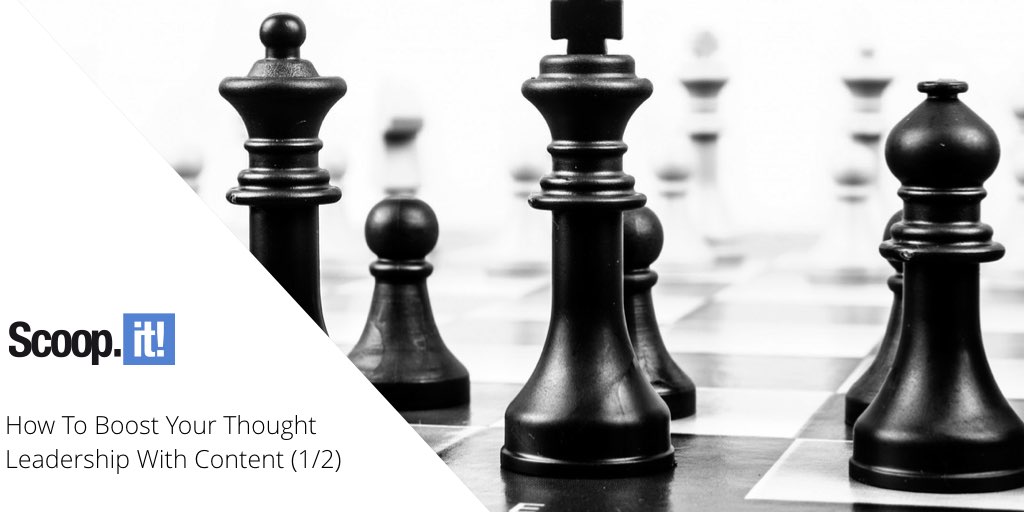 Content marketing helps you reach more people through relevant channels and answer their questions, which ultimately builds trust.
Thought leadership allows you to develop and share an authoritative voice that helps others make the right decisions. In other words—it helps you develop trust from an audience.
Does that mean that content marketing and thought leadership are interchangeable concepts?
Not quite. However, they feed into each other. Smart marketers and business owners infuse thought leadership into content marketing to carve out a unique, memorable position in the market for their company.
In this guide, we'll show you how they do that, and how you can do the same.
What's the difference between content marketing and thought leadership?
When we talk about content marketing, we talk about a few different elements:
Solving problems and challenges of potential and current customers
Engaging them across multiple platforms
Reaching business goals and objectives
Following a thought-out strategy and measuring performance
According to one report, blog content creation is a top priority for 53% of marketers. That's no surprise: creating blog content doesn't require expensive equipment or technology and it's a simple way to share ideas.
When you get to know your target audience and their habits around consuming content and purchasing solutions really well, you can create strategic content that will bring you a positive return on investment.
But there's an issue when you only focus on the strategic aspect of content creation: it can make you blend in with your competitors a little too well.
When you only focus on content marketing goals, you may end up following templates and cookie-cutter instructions to create value for your audience. They'll appreciate the value, but they won't be able to tell the difference between you and your competitors who create that same value for them.
This is where thought leadership comes in.
Thought leadership positions an individual and, by extension, their company, as the authority and a trusted source in a specific field. Thought leaders bring insights, vision, and new ideas to the table.
They shape industries and become someone people are ready to buy from—not just in the literal sense, but also by adopting their points of view and relying on their opinions when making decisions.
That's a lot of power in just one individual.
When you add thought leadership into your content marketing strategy, you're more likely to cut through the noise and create genuine engagement. Your content is no longer interchangeable with your competitor's because your story is now part of it.
Furthermore, according to an Edelman-LinkedIn report:
58% of decision makers read one or more hours of thought leadership per week
55% of respondents use thought leadership to vet companies they may hire
Thought leadership can lead directly to sales, as well as drive growth with existing customers
Thought leadership can create pricing power
Thought leadership in content marketing will only work as a long-term approach. There's no quick ROI on it—after all, you're aiming to become the filter and the sanity check for trends and ideas that your audience is overwhelmed with.
That won't happen overnight. Instead, it will require consistency in the long run.
So what does thought leadership content look like? That's what we're looking at next.
Content marketing and thought leadership in the real world: an example
Among the best examples of strong thought leadership content comes from Basecamp, a project management tool founded all the way back in 1999.
Basecamp's co-founders, Jason Fried and David Heinemeier Hansson (DHH for short), are frequently the names and faces representing the content coming from Basecamp. They've published four books, dozens of podcast episodes, and hundreds of blog posts.
As a company, they stand for:
Freedom to work wherever you want
Simplicity, clarity, ease-of-use, and honesty for their products, publications, and company
Treating customers how they'd want to be treated
Treating coworkers like family
Doing exceptional work without overworking or burning out
If you've ever come across either Jason Fried's or DHH's tweets (there's about 80 thousand of them combined!), you've noticed that these values are infused into everything they talk about, comment on, reply to, and share.
Let's look at the topics and approach behind their bigger pieces of content.
Their most recent book is called It Doesn't Have to be Crazy at Work and focuses on busting the myth of crazy hours, all-nighters, anxiety at work, and more:
Their podcast is called Rework and one of their recent episodes focuses on the 'cult of overwork', the relationship between hours worked and productivity, and healthy patterns in the workplace:
And if you check out their blog, they share tips on topics such as giving feedback, employee motivation, and building social connection in a remote team.
They also share product updates, and if you go all the way back to 2015, you'll see that a product update is based on one of their product design pillars: Work Can Wait.
They position this against the increasingly common expectation that "if you're reachable, you should reply."
Since they firmly believe that there should be a line between work life and personal life, they've built the "work can wait" approach not only into their product (you can only be notified by Basecamp during working hours), but into the way they talk about product, too.
Yes, Basecamp is 'just' a project management tool. But they're speaking up for way more than just project management, and it is now the foundation of everything they talk about, inside the product and out.
This is thought leadership in content.