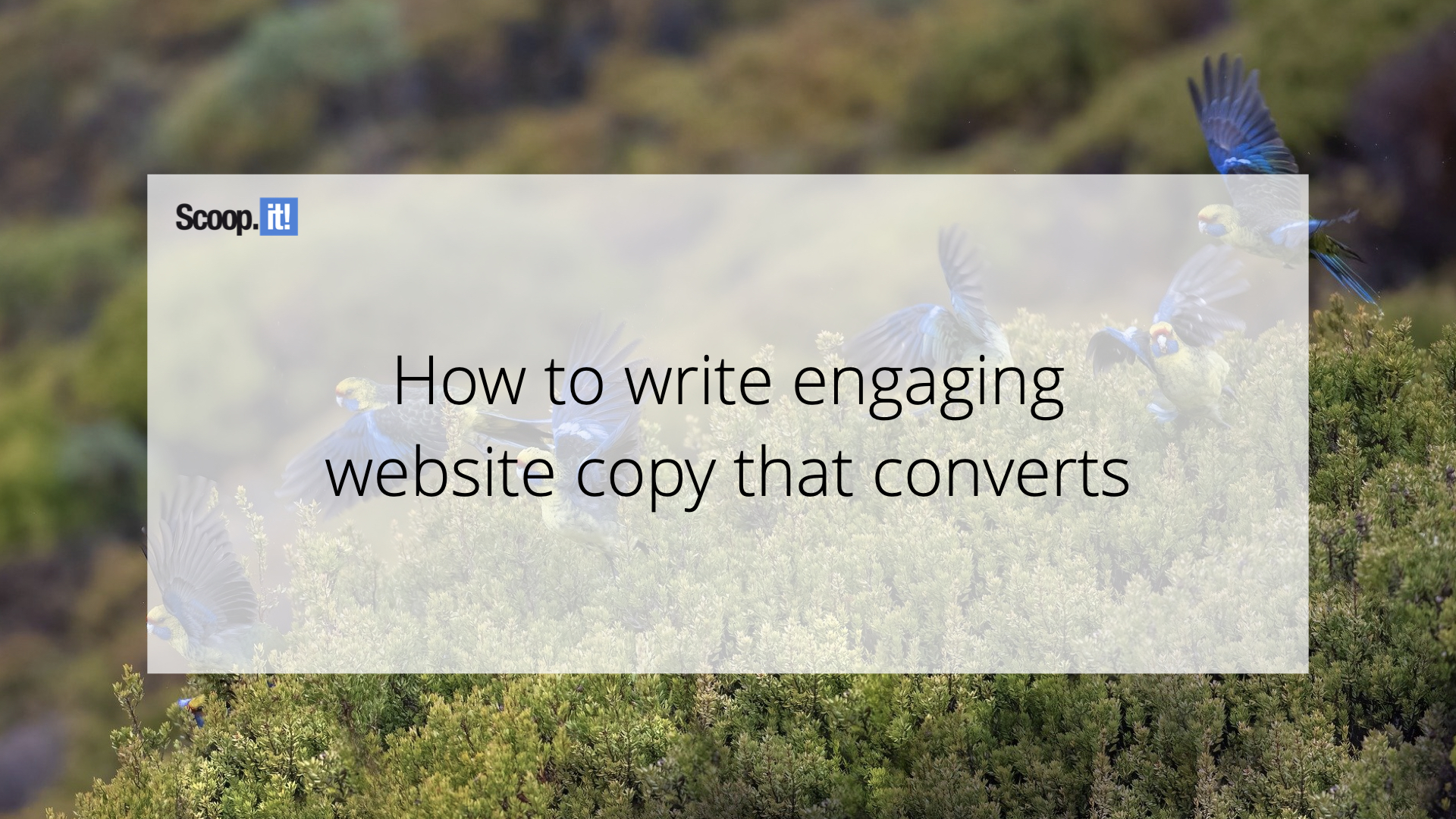 Writing web copy is undisputedly challenging for every copywriter in the world. It takes a long way of experience to deliver a compelling copy that works.  
Moreover, not everyone can write a website copy that drives conversions. Many have to pull out a great effort, practice, and inspiration to address messages to convince readers.    
One common problem when writing copy is that copywriters often perceive messages from the perspective of a business rather than customers. This is the reason why your customers don't see the point of your copy that benefits them.
Creating engaging copy can help you in bringing more customers significantly. When people stumble upon your page, a good copy will lead them to convert. After all, that's the purpose of copywriting.
In this article, you'll find five tips to make a compelling web copy that drives sales.  
1. Know your customers
Regardless of what you offer, whether it's a product or service, understanding customers is crucial in writing an engaging copy. You need to know their pain points to deliver the right solution for them.
When you know what your customers need, writing a copy becomes less painful as you won't go through a guessing game. Potential customers can be easily attached to a copy that's helpful for them. That's how they're likely to convert.  
There are two major elements in understanding customers, including:
Make buyer personas
This step is important in determining who your audience is to write a copy that fits the target market. A buyer persona will help you understand what people need based on their characteristics.
First, you can do a survey around your audience. Find out the common problem these people face at the moment. Make sure that your product will be helpful for them in giving solutions.
Another way to create a buyer persona is to fact-check with them. Present your audience with some ideas and see how they feel about it. People who face challenges in their life will give you the honest feedback that you need to develop your products.
You may as well use online feedback tools and read customer comments to understand their needs quickly. Usually, people who manage to leave comments on the internet are most likely the ones who deal with problems and seek help. Use this opportunity to offer your products to them.
This is an example of how you can create buyer personas effectively.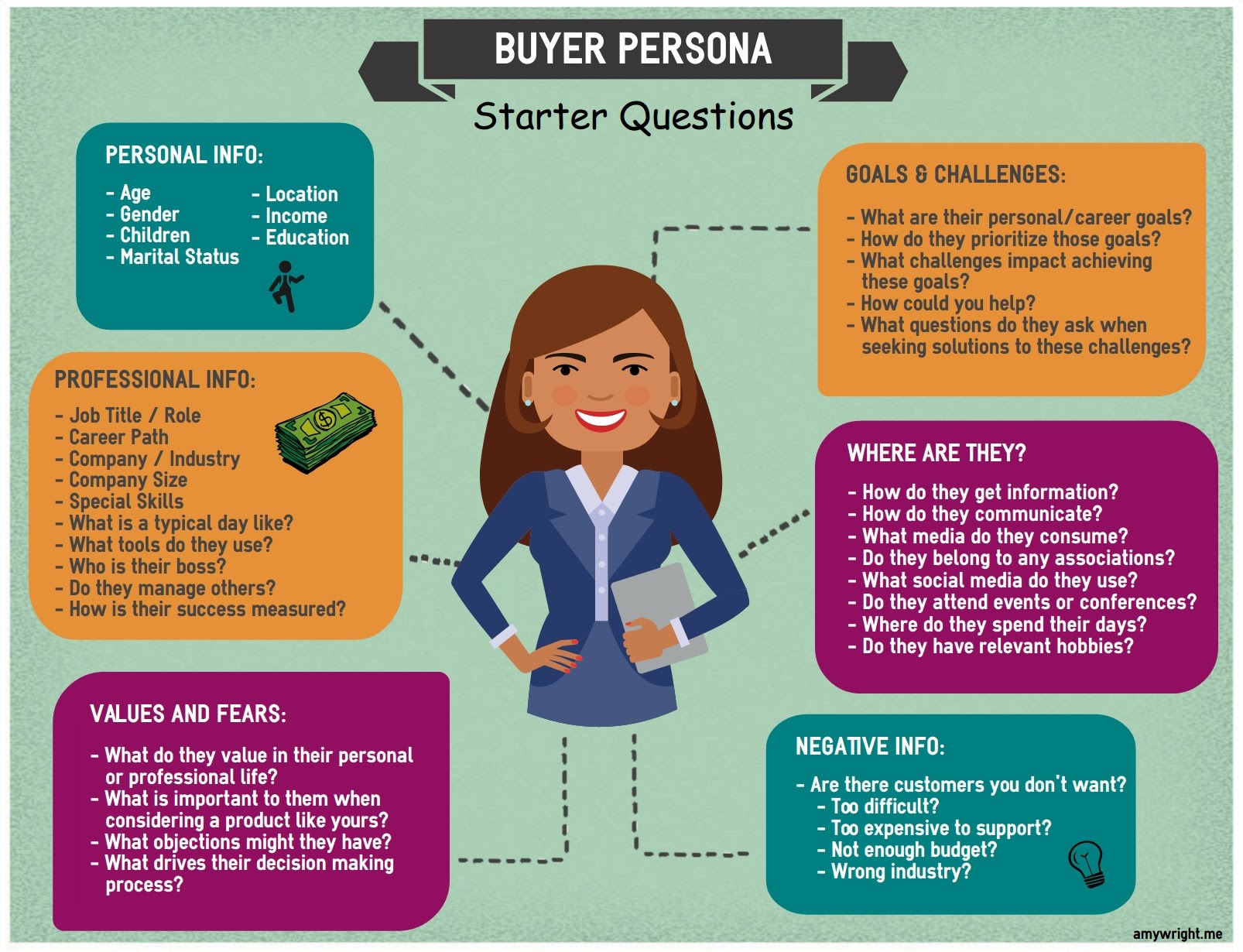 Source: algorithmicglobal.com
Speak in customer language
Did you know that people can easily relate to online content because it speaks on their behalf?
The key to winning your audience's approval is speaking with their language. Your copy will resonate better when you deliver in the tone of your customers.
Although there's no exact guideline to write in a specific tone and style that attracts attention, you can create one that's in line with the focus of your copy.
Suppose you're writing for a landing page about diabetes supplements. You may begin your copy with some background stories that lead to the invention of the supplement. In this case, you won't apply a funny tone in your copy as it doesn't fit the context at all.    
Make sure to implement a tone and writing style that supports the message you want to convey.
2. Focus on benefits over features
Product features are useful information for the audience who wants to learn more about the specification. Although this type of information can nudge potential customers to buy the product, it doesn't always work out for every business.
Most people won't actually pay attention to product features because that's not what they're looking for in the first place. Your customers are more curious about what the product can do for them, what benefit they can get by owning or using your products.
It's a bit tricky because a product and its features are often tied with one another. However, you need to change the method by showcasing product benefits that help solve your audience's problem.  
If a textual copy doesn't do justice in explaining your product's key advantages, you can incorporate product demo videos instead.  
Using video content in your web copy isn't something new. In fact, many marketers have used this approach to hook their audience much more effectively. A product demo video can help you convey your messages in a meaningful way. Moreover, it's designed with compelling narration that allows viewers to understand the information quickly.
It's basically an approach to convert your written copy to a video. Since textual copy can make up to a long paragraph, which the audience finds boring, turning it into short-animated videos will help you retain readers.    
3. Be concise
Your copy is pointless if no one is reading it.
One of the many reasons people ignore a plain, long landing copy is that it's too long. The bulky text always scares people away. Not to mention the paragraph itself is overly complicated to understand.  
Attention spans tend to be short. When people come across overwhelming pieces, they don't bother to understand them. Instead, they will leave the page in an instant, opting for another source of content that's easy to learn.
The tip is to be concise in what you write.
You may think that the longer the sentence, the more knowledgeable it is. In contrast, it isn't true at all, especially in terms of marketing purposes.  
When you write a copy, you have set a goal in mind. Whether it's to increase traffic or generate conversions, you should work your way to achieve your purpose.  
This is a great example of how you use headers, bullet points, and short sentences in your website copy.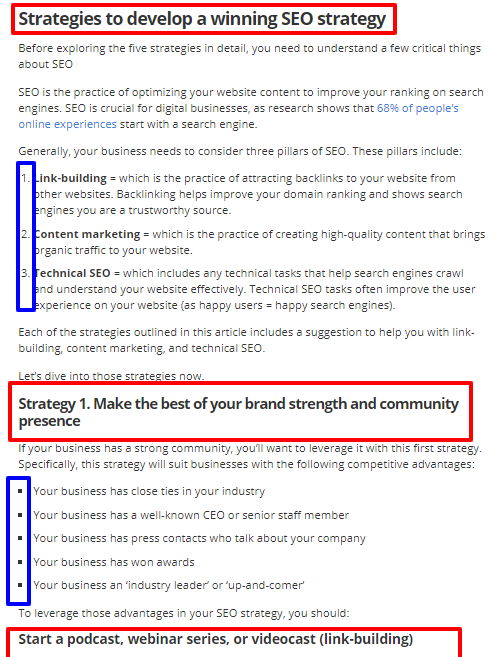 Source: scoop.it
Apply headers
Headers are an important element in writing. Without headers, readers can't differentiate the main story of your copy.
Headers work as a separate line that indicates different parts of your writing. When you break up a copy with headers and subheaders, readers will find it easier to scan the paragraph.
You can also highlight the information by giving a brief introduction to your headers. That way, people know what they're about to read in the next paragraph.
Use bullet points
Another method to optimize the clarity of your copy is to insert bullet points.
Since people always scan through a text, having bullet points can help you catch their attention. Readers will be more likely interested in reading short text to save their time. The bullet point is attractive to read first because it contains important details from a copy.  
Therefore, do not be afraid to use bullet points to emphasize what you want to convey to the audience. If anything, people skim reading your copy; your bullet points will save the day.  
Use short words and sentences
Writing copy is like conversing with your potential customers through words. If you can't make your opponent understand what you have to say, then it's not a conversation.
So, when you converse with big words and long sentences, it's a miracle if people are still engaged with the conversation. Try to make your sentence short and digestible.  
Using short sentences in your copy will eliminate misunderstanding. Moreover, the bite-sized text enables readers to immediately move to other important points of your copy.
4. Improve your design
You can't deliver a good copy without a decent design on it. Presentation is essential in delivering marketing information to your audience. Your copy won't attract readers if its design is barely enjoyable.  
Good design will help readers consume and understand a copy easier. That's why copywriters work with design teams to create visuals that support the message.
Fonts
Font choices contribute to how people consume a written copy. Wrong font selection will leave a bad impression on your brand because you provide something that isn't readable.  
Moreover, fonts determine the quality of a copy as a whole. Opting for small fonts for a long paragraph text will make it harder to read as it looks cluttered. This hinders people from continuing to read your copy until the end.
In contrast, oversized fonts won't look professional on your behalf. It takes a long time to pass through your copy.
However, fonts aren't all about size. Font styles also represent your brand personality. Choose your fonts wisely to improve the reader experience.  
Visuals
There's a reason why adding visuals to your copy is mandatory.
A human brain is drawn to visual objects. When presented with images, people can process the information faster. A picture is a great tool to attract attention in seconds.
You can use images to support your copy. It helps readers visualize what you mean through a picture that you provide along with the text. With pictures, you're able to convey your message in a clear way.
For example, use visuals to showcase your products on the copy. That way, readers can picture what your offer immediately without guessing how the product will look like. Also, certain visuals, like feature images can emphasize your copy to the next level.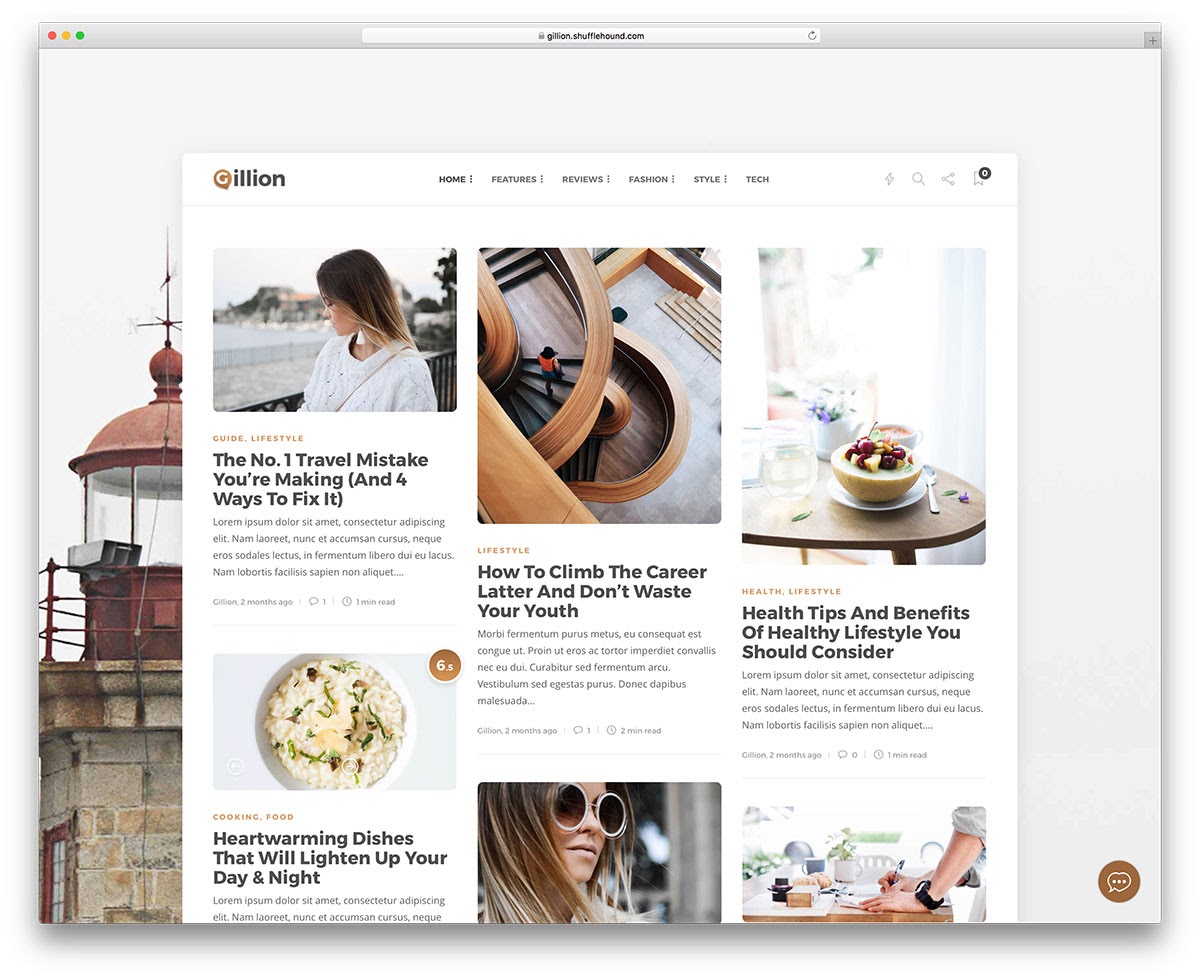 Source: Gillion
Adding visuals on your website copy makes your content look attractive to click. When you match the content with suitable fonts and images, your readers will more likely check your post without another thought.
5. Give a bold headline
You sure miss your opportunity to make an engaging copy when you don't nail your headline.
A headline is a vital factor in copywriting. You can't convince your audience to read the rest of your copy when the headline doesn't look promising.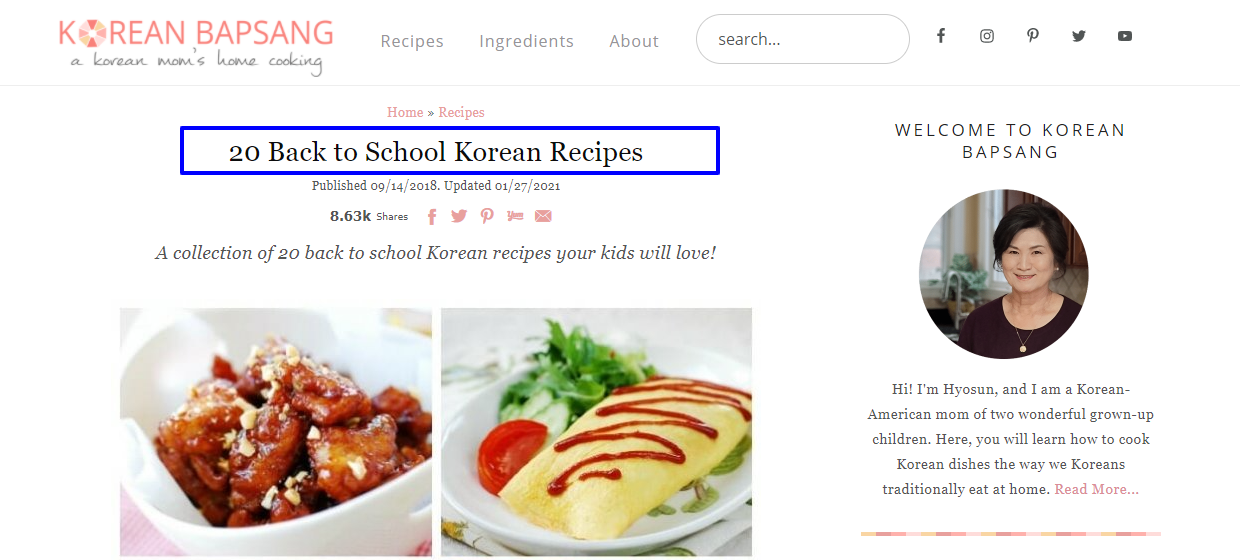 Source: koreanbapsang.com
However, do not use click-baiting headlines that aren't relevant to the context. The audience hates that, and so do marketers because such headlines don't make conversions.
Instead, try creating as many headlines for the sake of practice. Over time, you'll be used to making eye-catching headlines for your copy.
But remember that you'll come up with stinky headlines for the first few rounds, but that doesn't matter. All you need to do is keep producing headlines until you find the right one.
6. Apply clear call-to-action
Now that you're done with most of the work of writing copy, so what's next? Write a shorter copy to nudge your readers to make a purchase.
This is where a call-to-action (CTA) comes into play. It's a brief written copy that urges readers to take action immediately. This copy will give a sense of urgency to whoever reads it. CTA prompts readers to keep going and go down to your marketing funnel.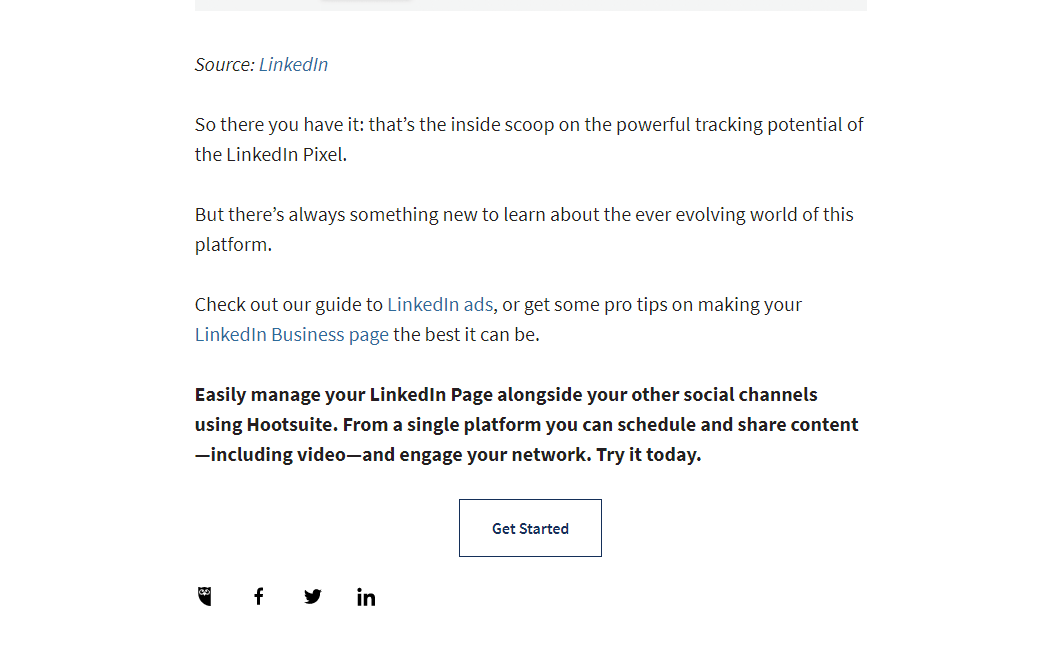 Source: hootsuite.com
However, as promising as it looks, your CTA won't work if it's not clear in the first place. Make sure to write a concise CTA that people can understand at first glance. So, you don't need to always be tracking time and checking new conversions every here and there. Let the CTA work for you naturally.
Do not work on a long, unnecessary copy explaining why they need your products. Simply adjust a brief sentence that powerfully encourages readers to do the following step.
Bottom Line
Writing a copy that converts isn't an easy process. You have to go through hours of trial and error to find the right approach to make a compelling copy. Not to mention to test and redo your copy once you finish writing it.
However, don't fret just yet. You can follow all the tips above to improve your copywriting technique to make it work. Give yourself a chance to learn something new whenever you make a mistake. Good luck!