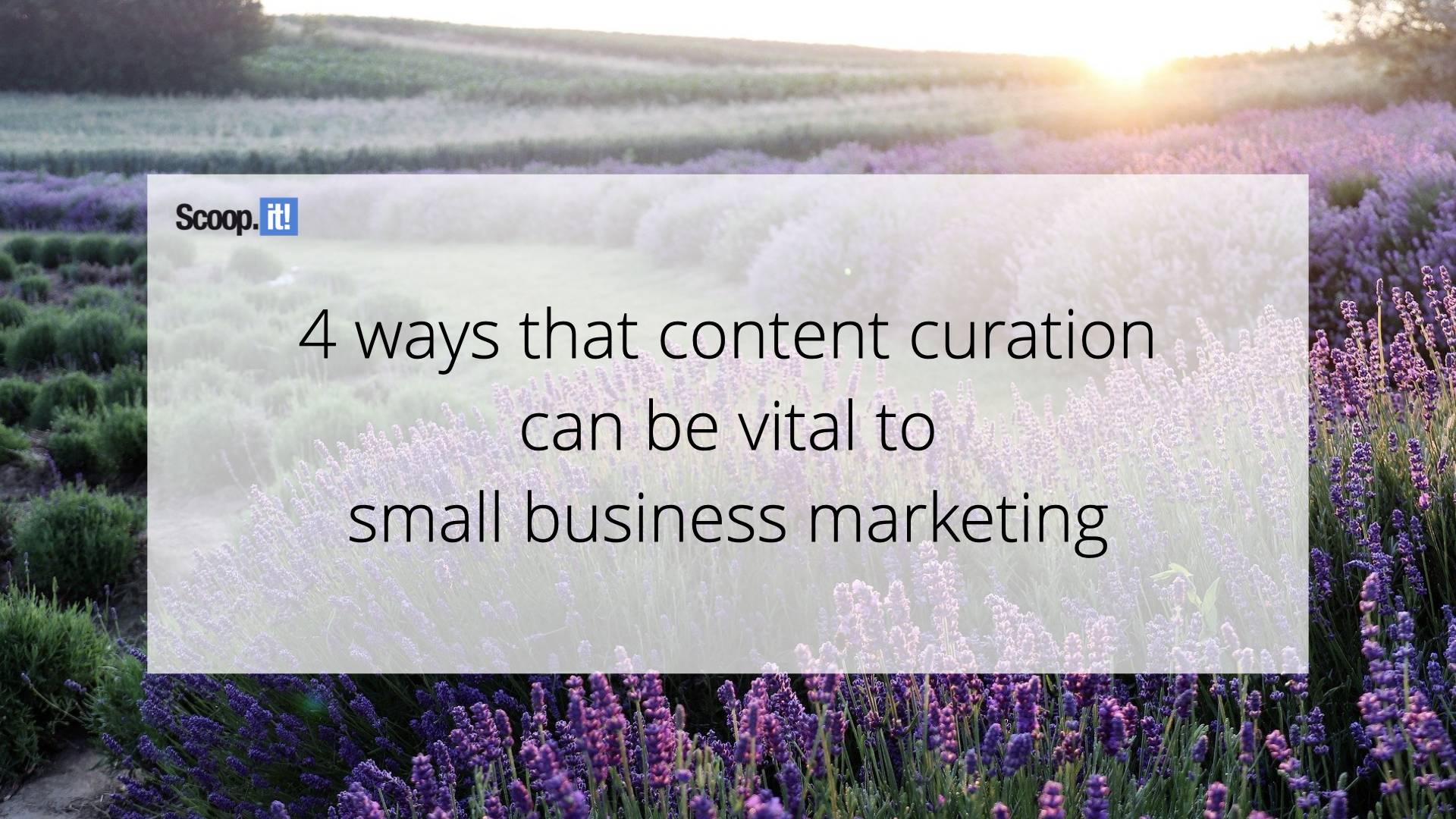 Content curation is one of the most effective ways for businesses to keep their audience constantly engaged on social media without having to invest all their time in thinking and executing content ideas.
By sharing, commenting, or referencing existing content from relevant and popular sources, small businesses have an opportunity of building trust with their audience and generating a greater level of credibility. Curated content can also make for a perfect conversation starter with leads.
However, it's vital to remember that you're curating content for your audience, and this marketing tactic isn't about the things you find interesting on a personal level. This calls for a fundamental understanding of who you're marketing to and what they find most engaging. Failure to strike the right note with your target audience could mean a decline in traffic that falls into your sales funnel.
But what is content curation? And how important can it be as a small business marketing tactic?
Let's take a deeper look at one of the most cost-effective ways to engage your audience as a small business.
What is Content Curation?
Content curation revolves around the process of spotting articles, media, or commentaries that already exist elsewhere online and repurposing them as a means of engaging your target audience.
This means that content curation doesn't involve creating original content. There are no hours spent in front of a word processor, no video editing sessions, and no product photo ops. In effect, curation is all about discovering content that's relevant and suitable for your target customer profiles before arranging it in a way that is easy for your followers to interact and share it further.
As we can see, some companies like Specsavers have made curated content a central theme to their social media strategy – with the company's Twitter account continually inviting audience participation through hashtags and informal conversation starters.
(Image: SocialPilot)
The top challenges that content marketers face include finding the time to generate content and the actual task of compiling content creating original content. On the flip side, with the right content curation strategy, it's possible to engage audiences, boost brand visibility, and get better SERP positions.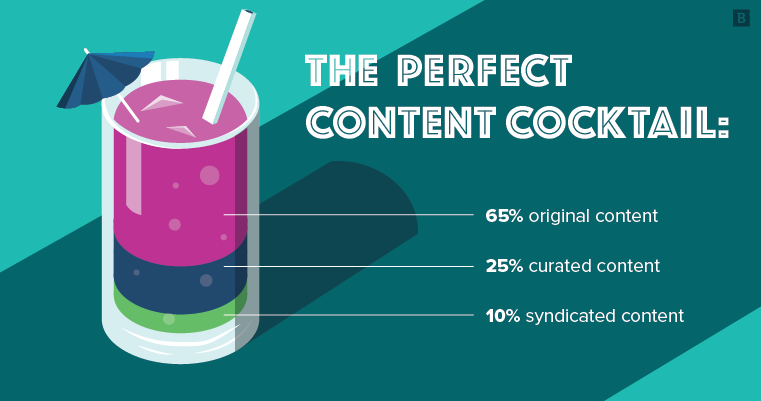 (Image: Brafton)
As for the frequency of publishing curated content to your social networks, Brafton suggests that content curation can ideally amount to 25% of your total content output. This creates the perfect cocktail of original thought, syndicated information, and curated content.
Although the time-saving benefits of curated content could lead to the temptation of curating at a more frequent rate, it's important to ensure that your business maintains its own voice without overwhelming the audience.
So, how can content curation be best used to boost SME marketing? Let's explore four vital ways in which you can curate content in a way that grows your reputation and generates fresh leads:
Go Deeper Underground
Content curation, at its best, displays amazing content that your audience wouldn't have seen elsewhere.
Imagine that you have a friend who's into a certain genre of music. You can imagine their excitement when they share a new underground artist who's yet to go mainstream.
Likewise, you need to create a similar level of excitement with the content that you create. Consider yourself a DJ whose goal is to put the crowd in touch with the freshest and best music.
By sharing valuable 'underground' content that people have yet to see, you can position your online presence as the place to go for finding the best-curated content. The best way of building your brand is to get ahead of the curve and gain an eye for content that has the potential to go viral.
The only problem with this approach is that news travels fast on the internet, so it can be hard to keep up with the trends. With this in mind, how can you find underground content that's yet to be curated in your industry?
Although RSS feeds may seem like an outdated way of receiving news, it can be perfect for finding content as and when it's published online. Scoop.it will help you manage multiple feeds to suit your industry or certain discussion points.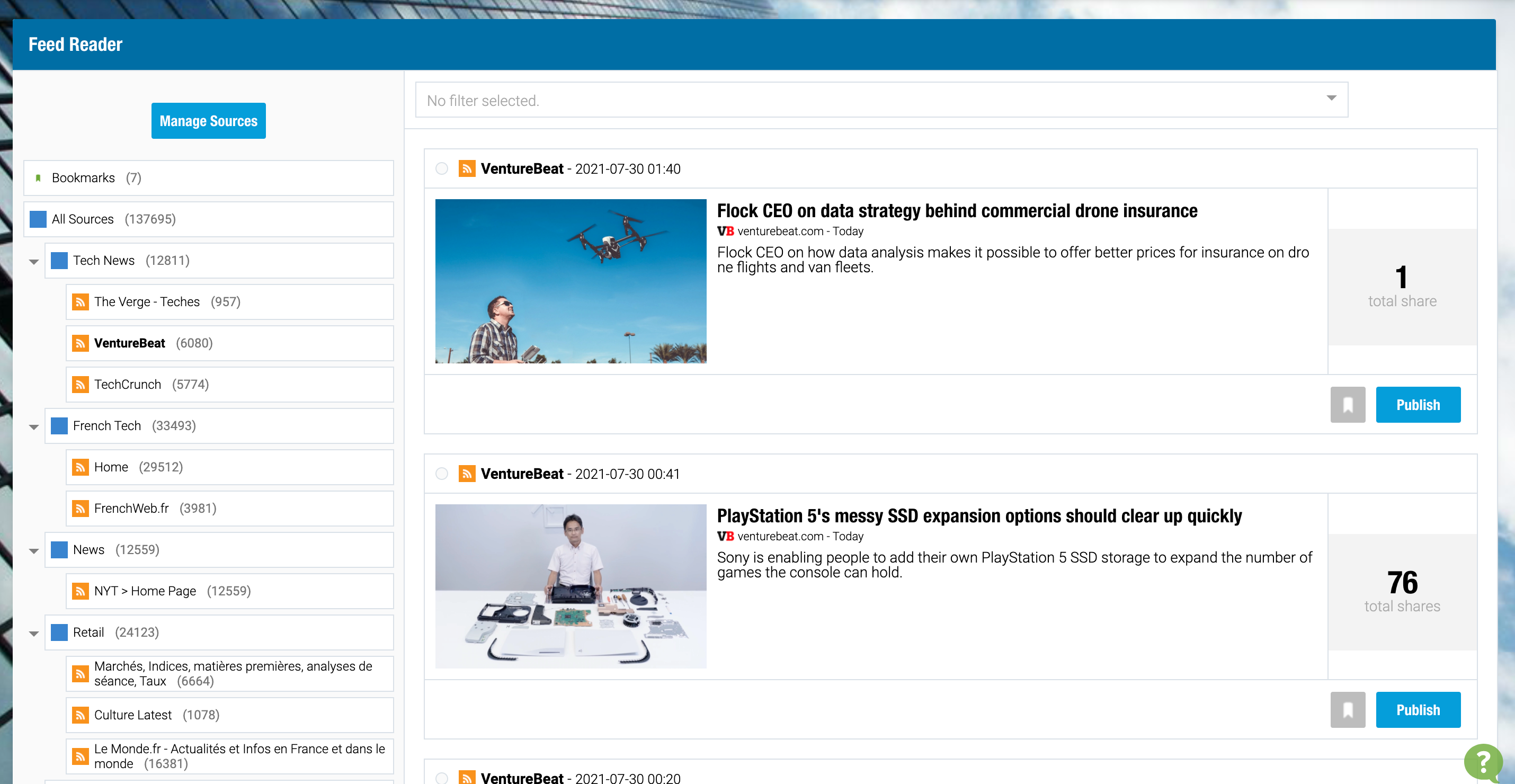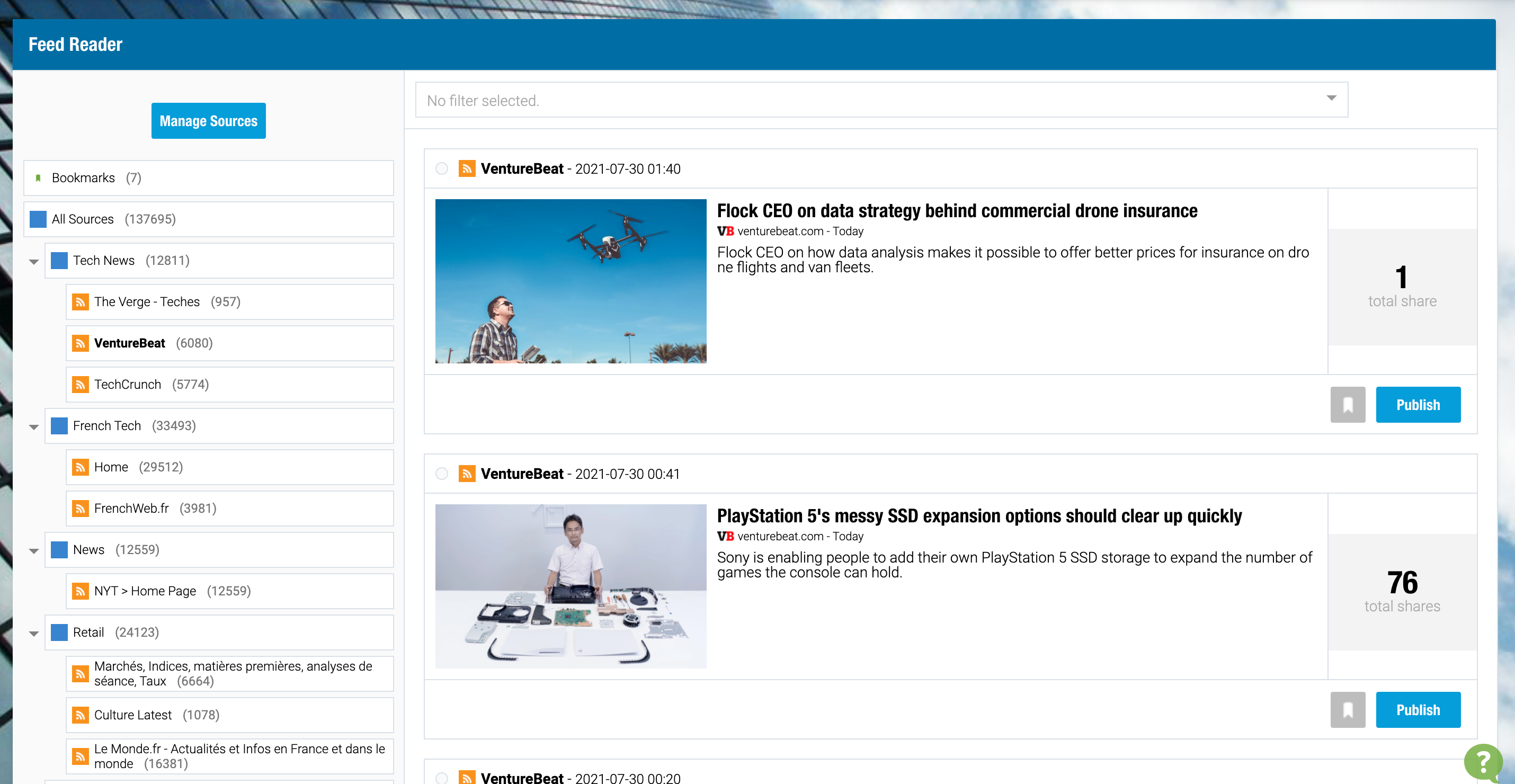 As we can see with Scoop.it's feed, there are plenty of topics that users can add as a means of accessing new content and talking points before it's picked up elsewhere.
Another excellent but time-consuming tactic is to scour sources that have around 10% to 20% relevancy to your industry. This helps you to find content in places where your audience is unlikely to be looking.
Relevant examples of this approach will vary based on your industry, but for the sake of this guide let's say you're a marketing agency.
To scour the internet for 10% to 20% relevance, you'll need to branch out from The Drum and Campaign Live and instead look at marginally relevant platforms that might cater more to the psychology of consumers, cultural trends, and emerging technology – all of which can offer transferable relevance to marketing.
Aim to Generate Value
Remember that your followers follow you for a reason. They'll likely want to know your thoughts and recommendations within your area of expertise. They will also want to learn from you and see the act of following you as a means of potentially improving their understanding of your business, your industry, or your products. Alternatively, they may just enjoy the memes you post – but either way, it's still vital to use your presence as an opportunity to generate value.
The wisdom you share doesn't have to be 100% your own opinions, and your followers will understand that you're not the only voice of authority in your industry. It's also important to show the world that you're not pretending to be the only voice on the topics you discuss.
When you curate content to share with your followers, you offer them additional value by giving them access to various perspectives – a great way of adding value to your marketing efforts and generating discussion.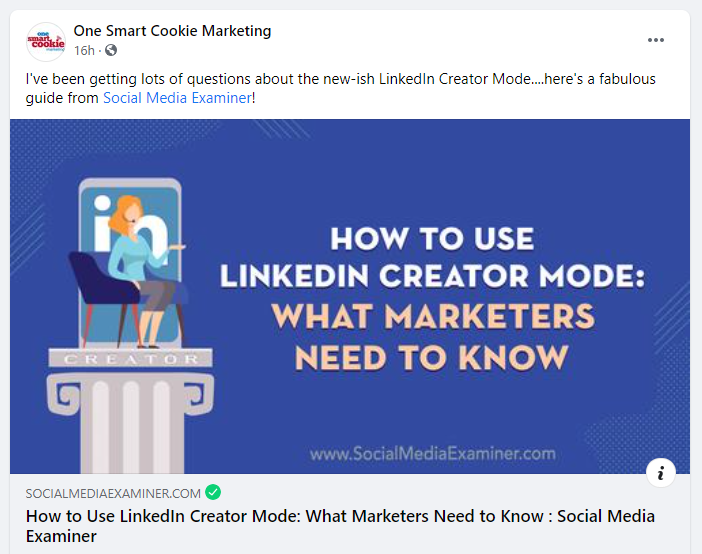 It's worth noting that your relationship with your followers continues only as long as you provide value along the way. Sharing curated content shows that you care enough to offer them what you believe is valuable and relevant information. This helps reinforce the perception that your business is about more than just sales.
One of the most effective approaches to building trust is through analyzing statistics published elsewhere. There's plenty of analysis available across virtually every industry imaginable,, and they all have the potential to resonate with your audience.
For instance, statistics show that 75% of the world needs some form of vision correction. This is an interesting statistic that could be of great use to opticians, eyewear businesses, and fashion retailers. By highlighting this fact and sharing your opinion on it, you can not only engage your audience but show them that you know what you're talking about.
Keep The Conversation Flowing
Particularly in the early stages of your content initiative, it's crucial you learn who your audience is and the type of content they're interested in. The best way of doing this is by experimenting with various different forms of content – and it's absolutely essential to ensure that you're not rushing around creating all of this content yourself.
By curating content and tracking your performance, you can pick up on what your audience engages with best and in the format they're happiest to consume.
For audiences that are more mobile and socially motivated, content curation can be perfect for starting and maintaining a conversation on a daily basis. It can also enable you to be present with your audience without making it seem like you're focusing all the attention on yourself.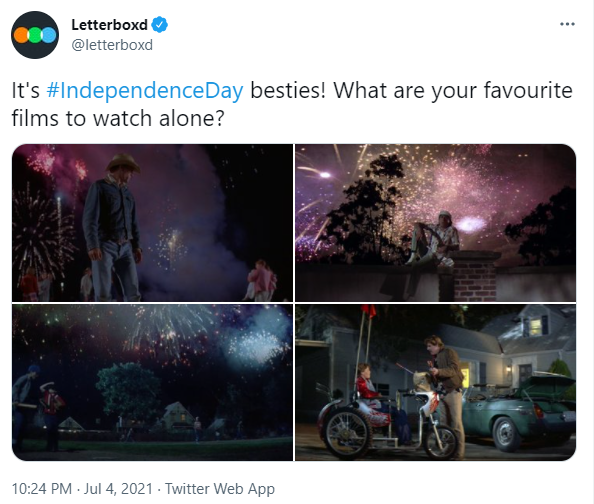 Here, we can see how curated content can be used to spark topical conversations among your followers. This technique can be used in many ways and can really help businesses to better understand their prospective customers whilst leveraging greater engagement.
Continually Work on Your SEO
Last but certainly not least, it's vital to remember that curating content can offer great opportunities for search engines to drive the target audience to your social media pages with relative ease compared to creating new content.
When you curate content, you cast a wider net and although SEO may not be the main goal of content curation, it's certainly a byproduct of the practice.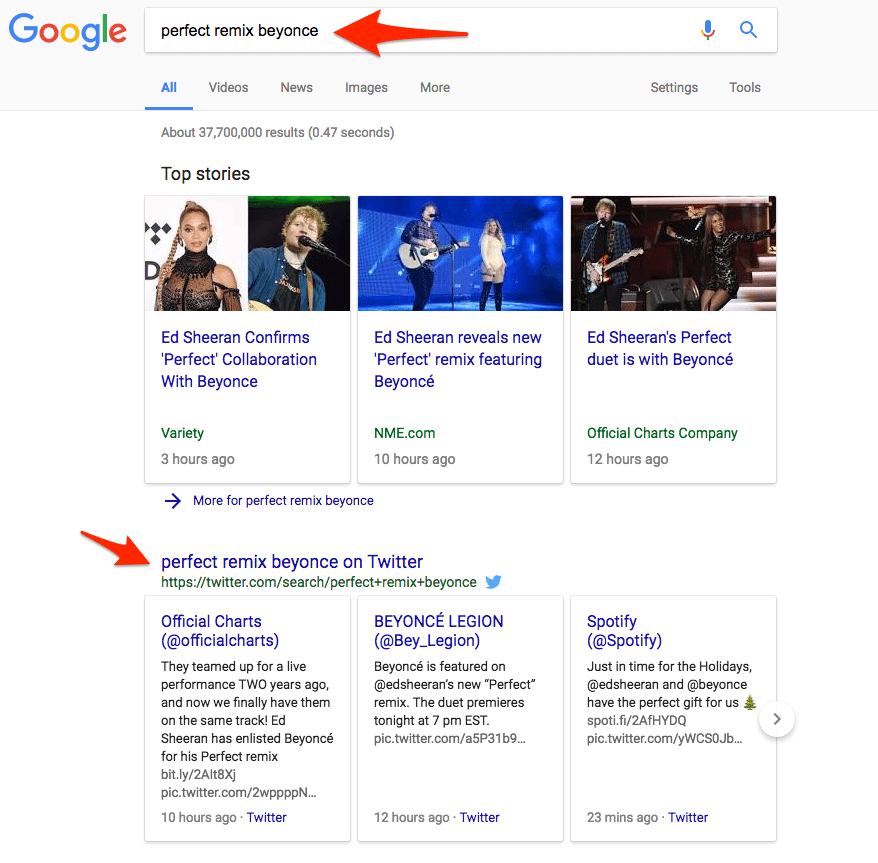 (Image: Triber)
In the image above, we can see how effective curated content can be in terms of driving traffic to your social media profiles. In this case, simply sharing your thoughts on a topical remix between two popular artists has the ability to propel your brand to the very top of Google.
As always, though, it's important to know your business and your audience before engaging in content curation and committing to a specific approach to what you share and comment on.
Ultimately, content curation is a juggling act, but there are few better ways to engage with your audience and build brand loyalty. Cherry-picking the very best of the internet and sharing it with the people who would appreciate the effort is a simple strategy that produces rich results.