Sales cycles usually follow a similar pattern, but they're all unique in their own right. Some people want 1-on-1 attention from a sales rep. Others want to do their own research. In fact, 95% of customers choose to buy from providers that offer relevant content at every stage of the buying process.
So, how do you ensure your sales reps have all the content they need when they need it?
Sales content management is the solution.
Here is the ultimate guide to sales content management including its definition, benefits, and how you can get the most out of your sales content:
What is Sales Content Management?
In technical terms, sales content management is the practice of creating, storing, organizing, and ultimately delivering sales content throughout each stage of the sales cycle. It's a complex process that you can simplify by choosing the right sales content management software and following best practices.
In plain terms, sales content management is a way to support your sales reps by enabling them to serve up the content they need to book an appointment, overcome objections, or close a deal. More importantly, it's about serving it up in a simple fashion that helps them come off organized, confident, and as more of a sales consultant than a pushy vendor.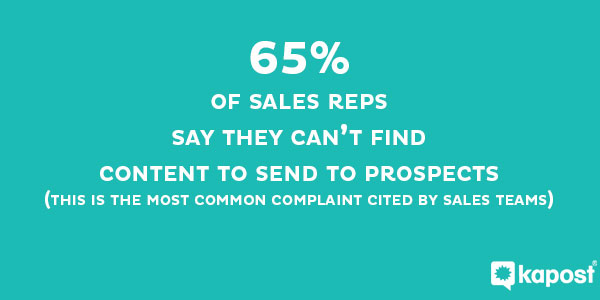 (source)
Benefits of Sales Content Management
When sales content management is in place, salespeople spend less time searching for content and more time focusing on their number one priority: selling.
Let's get more in-depth with the key benefits of including sales content management in your sales enablement strategy:
1. Enhanced productivity of your team
Creating a productive sales team means maximizing the time each salesperson spends actively selling. That could mean implementing smarter sales strategies like SPIN selling, for instance. It could also mean implementing a sales content management system that stores and serves up the best content at the perfect moment to keep a prospect interested or even perhaps seal the deal. Without it, reps will search for the right content and waste precious time.
2. Better content visibility & usage
There's a strong chance your sales ops and marketing teams spent countless hours creating amazing content that'll help you be a more effective salesperson. There's also a decent chance you're not aware of every piece of content, unsure where to find them, and likely leaning on the same few pieces of content. Sales content management solves all those problems. Be sure to mix up the type of content you create. Some of the most popular types include; blog posts, listicles, ebooks, infographics, animated videos, how-to guides and case studies.
3. Increased sales rep effectiveness & shorter sales cycles
Longer sales cycles are rarely a good thing. It usually means the prospect is indecisive, or worse, that they don't trust that you have the solutions they need. A big part of gaining trust boils down to enhancing your customer's research efforts and making them feel comfortable buying your product, knowing that it's been approved by their peers already, that can be easily done through adapting a testimonial page to your website. It's giving them clear guides, statistics, and answers to their questions and being two steps ahead at all times. Sales content management makes that possible.
4. Enables Sales Enablement
Your reps need tools, knowledge, and support if they want any hope of closing deals. Content is a big part of that. Content acts as a seemingly unbiased resource (if it's packaged right) that helps uncover pain points and carefully suggest solutions that line up with the features of your product.
5. Speed your buyer's journey
The prospects who move through your funnel the quickest are the ones who don't rely on human interaction. They're not waiting for a phone call or an email back. They're actively engaging with the amazing content you've made available to the public.
Sales content management ensures all your content is up to date and easily accessible both internally and externally. What more could you ask for?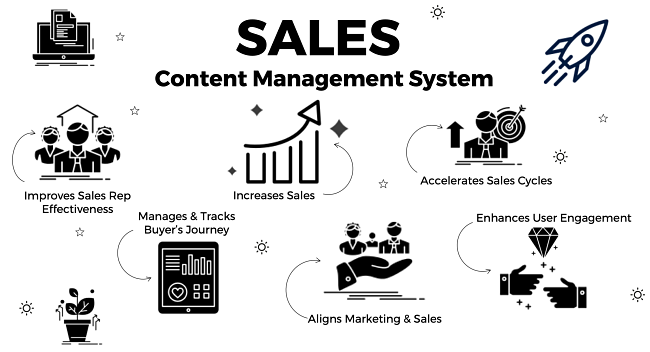 (source)
How to Improve Your Sales Content Management
Investing in the right software will certainly help your sales content management process, but it won't solve all your problems. It's just as important to follow best practices such as these:
1. Ask your Sales Team – Meet with your sales team and evaluate your sales content together. Nobody knows better than your frontline salespeople which content is working, what's not, and how your internal processes stack up. Have them create a wishlist regarding content and ask them lots of questions to help shape your content strategy. What content do they want? Ideally, how would it be available to them? And so on.
2. Assess your Sales Collateral – Review and examine existing content. After meeting with your sales team and getting feedback, it's time to put that info to good use. Scrap the content that isn't working and retool the content that is working, but could be better. Remember, this is an ongoing process, and only through repetition and creativity will you ensure your content is the best it can be.
3. Aggregate Your Content – Organize and centralize your sales content. Without this step, there's a strong chance your content will never see the light of day. All your hard work will be for nothing since it's hard to find and difficult to access. Each piece of content should have tags or keywords associated with it that make it easily searchable and so sales reps can browse for similar content and find it quickly. It should also all be in a similar format and file type, so they know what's customizable.
4. Assimilate Your Content into your CRM – Integrate your content into your CRM. Here's another crucial step that will seriously enhance the efficiency of your sales team. If they have to dig for content and attach it repeatedly throughout the day, then you're losing precious time. If it's clearly integrated into your CRM or marketing software solution, then it's always a click away from getting into the client's hands.
5. Activate Content Tracking & Analytics – Enable content tracking & analytics to derive valuable insight regarding your sales collateral. 9 out of 10 B2B buyers say online content has a moderate to major effect on their purchasing decisions. The trick here is figuring out which pieces of content are performing the best so you can repurpose them elsewhere and scrap those that aren't working. Ideally, you'd have content tracking tools, so you have plenty of analytic data at your disposal that allow you to make better content management decisions.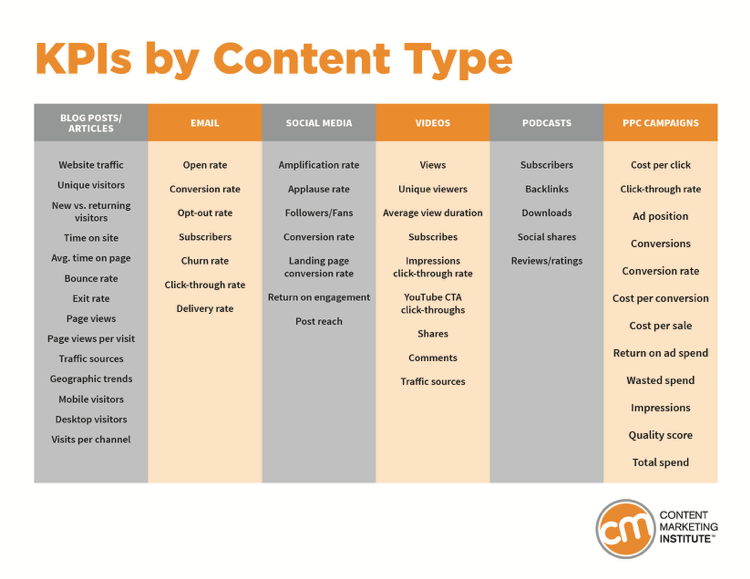 (source)
What is Sales Content Management Software?
Sales content management software can provide a centralized location to create, store, and distribute material used during the sales cycle. Sales representatives are able to access critical content when engaging with current and potential customers.
There are ways to do it for free, like keeping everything in a shared drive, but that's storage, not management. The right software keeps all your content easily accessible, up-to-date, and will provide data regarding the usage and performance of your content. Without one, you're essentially operating blindly and taking educated guesses as to what's going well and what isn't.
3 Tools for Sales Content Management
Choosing the right sales content management tool is tricky. Before you start, it's wise to make a list of all the different features you want and prioritize them. If you do that up front, then your search will be quite a bit easier since you can eliminate options and prioritize others fairly quickly.
Here are three tools for sales content management to consider:
Bloomfire – Bloomfire's aim is to decentralize your workforce and increase team collaboration by having all of your customers' information and insights available at your team's fingertips. Not only does this help keep your team connected, it also increases productivity by reducing the amount of downtime searching for emails and chat threads with pertinent information
Seismic – Seismic's content management solution offers a "robust platform for creating, managing, collaborating on, and improving your sales content." Your team is able to stay connected and collaborative by being able to see the entire workflow throughout the approval process, which keeps things both on-track and on-brand. Automation and keeping everything in compliance are just two other benefits of Seismic's content management solution that are worth checking out for yourself.
Paperflite – Paperflite is more of a true content management system that has fewer bells and whistles than solutions like Mailshake, but has added functionality like the ability to create microsites to share content via secure channels. It provides real-time insights into your various content campaigns and helps you make better decisions related to your sales content performance.
Conclusion
You don't have to run a SaaS sales team to know that content management software is a worthy investment. Its ability to serve up the best possible content at the right time is invaluable to keep clients moving quickly through your sales pipeline and, ultimately, closing more deals.