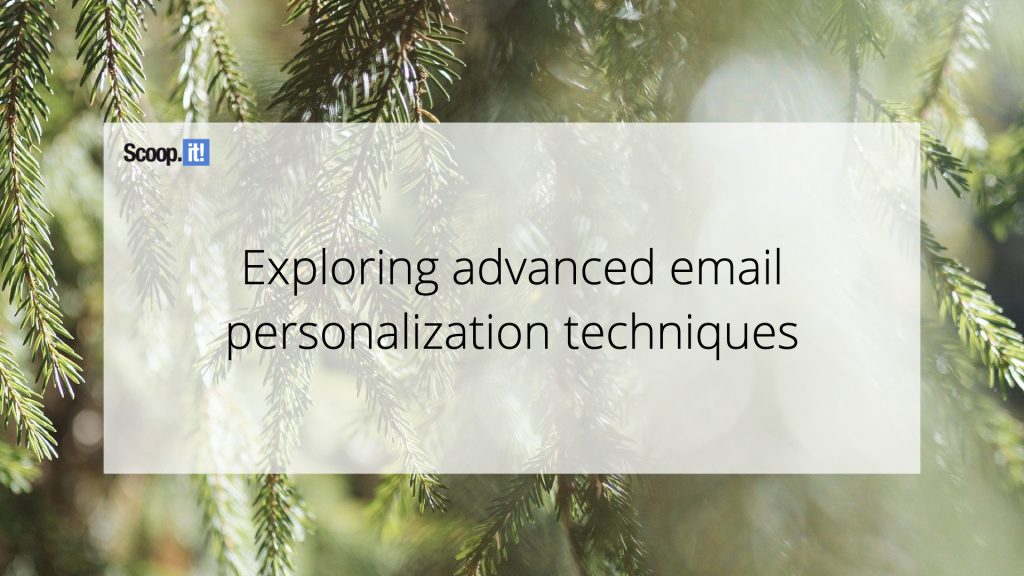 Remember the last time you received an email that felt like it was written just for you? Maybe it addressed you with your first name, popped up surprisingly on your birthday with a few fantastic offers, or even recommended you something which was just the right fit for you. Didn't it make you feel absolutely special? Well, that's the power of personalization in email marketing. And that's why 20% of retail, consumer goods and services, and e-commerce companies are now focusing on personalizing emails on the basis of gender, race, ethnicity, and other such parameters. That's not all; marketers have observed a 56% increase in sales figures upon switching to personalized emails from generic ones. So, it's hardly any wonder that every business and brand wants to hop on this bandwagon at the earliest!
If earlier personalization just had your curiosity, now it has your full, undivided attention, doesn't it? Lucky for you, we have packed enough fodder in this article to help you satiate your hunger. Read on to find out!
Advantages of Personalization
In the present scenario, you can no longer afford to engage with your customers simply as a commercial entity. You must attempt to find out more about their interests, preferences, and ideologies and communicate with them accordingly. This is why personalization has turned out to be such an effective tool for marketers over time. Let us take a look at some of the other advantages of personalization.
Drives Greater Conversions: Personalization allows you to send extremely relevant and unique messages to your readers. As a result, these emails are much more successful at inspiring engagement and interaction over their non-personalized counterparts, eventually paving the path for increased conversions. There are multiple ways to implement personalization in an email campaign; you can either craft a personalized subject line, have a customized email copy, landing page, or even add a personal touch to your post-purchase follow-up emails. Even an incremental lift in any one of these areas can end up providing a significant boost to your overall conversion rate.
Lets You Focus on Quality, Not Quantity: As effective as emails are as a marketing channel, they also have a notorious reputation for flooding inboxes. With personalization in the mix, that narrative changes for the good. In a world where personalization hadn't set foot yet, brands had no other resort but to amplify the "number game" of their emails to ensure maximum success. Now, thanks to personalization, they stand to rake in twice or thrice the returns by sending half as many emails. This is because personalization lets them send targeted communication based on the buyer's profile and persona, increasing the relevance of their communications by leaps and bounds.
Takes Your Lead Nurturing Game Up A Notch: Any marketer worth their salt knows that the basis of good lead nurturing is curated content. And what better way to ensure that your leads see what you want them to see than implementing personalization? Personalizing content to the tune of every individual's behavior and tastes incentivizes their conversion into sales leads. Don't just confine yourself to personalizing content based on their topic of interest; go a step further and show them content that corresponds to their position in the sales funnel. For instance, if they are a bottom-of-the-funnel lead, send more and more product-based content their way. On the other hand, if someone is a top-of-the-funnel lead, lure them in by showcasing general content.
Segmentation- The Foundation of Personalization
Now that you know you need to target different clusters of your customers with varying brands of communications, how do you create those groups in the first place? The answer lies in email list segmentation. Segmentation refers to the practice of dividing your buyers or subscribers into different segments based on different parameters such as gender, ethnicity, geographic location, interests and preferences, purchase history, position in the sales funnel, and the like. Subsequently, you get the liberty of approaching these different segments with messages and emails that are unique to each. In this way, email list segmentation empowers you to deliver unparalleled customer experiences by allowing you to engage your customers with hyper-personalized emails. Owing to this reason, segmented campaigns have been observed to register a 760% increase in revenue over non-segmented ones. Given all we have discussed about personalization up to this point, this doesn't really come as a surprise, does it?
Getting Started With Personalization- Understanding The Most Basic Form
When you hear the term "personalized email", what's the first thing that comes into your mind? An email subject line or copy that addressed you using your first name, right? Well, that's because it's the most basic form of personalization out there. And to be fair, it did have its fair share of merit until it started being overdone. Over the last few decades, increasing brand penetration has brought about a complete overhaul in customer expectations as well. Buyers no longer wish to engage with brands just for the sake of transactions but look forward to being actively heard and serviced by them. That's one of the primary reasons why addressing customers by their first name isn't enough anymore as a personalization tactic; people see right through it.
It's high time brands embraced other nuanced and advanced modes of personalization to captivate the attention of their audiences. Let's take a look at them in the following section.
Advanced Personalization Techniques
A highly effective personalization technique, sending your users recommendations based on their past purchases and browsing history can go a long way towards incentivizing them to buy more stuff from you. Nothing tells a buyer that you care about them and your choices than a recommendation email that lines just perfectly with what they have purchased from you in the past.
Source: https://reallygoodemails.com/emails/new-in-from-asos-perry-ellis-ben-sherman-esprit-and-jack-jones
Milestone emails are both an impressive personalization tactic as well as a great way of nurturing your existing customers. When you send your customer an email on their birthdays or when they complete a year (or more) with you, it instantly makes your brand approach more friendly and personable. It tells your consumers that you are actively following any and all interactions that they are making with your products & services and that you care about them beyond their transactions with you.
Source: https://reallygoodemails.com/emails/tumblr-congratulates-you-milestone
In this age of dwindling attention spans, it is not uncommon for people to exit or abandon your product page in the midst of browsing. And attention span is just one of the many reasons you can put the finger on; the others are far more elusive. Whatever might be the case, it is your responsibility to alert users about their browse-abandonment with the help of cleverly written browse abandonment emails. Needless to say, if your browse-abandonment email isn't personalized, it isn't going to do anyone any good.
Source: https://reallygoodemails.com/emails/nomad-gear-is-selling-out-quick
Every year, cart abandonment causes eCommerce brands to lose $18 billion in sales revenue. The figure's enough to spur anyone into action, isn't it? Now the question is, what is the best way to deal with abandoned carts? Personalized cart abandonment emails (yes, you probably guessed it). Remember, abandoned carts are not lost causes; they just need a little nudge in the right direction to complete their transactions. A personalized cart abandonment email does the trick just right.
Source: https://reallygoodemails.com/emails/don-t-let-free-shipping-go-to-waste
Wrapping It Up
Implementing the advanced personalization techniques discussed above will allow you to get on top of your customers' needs and expectations and help you establish an unwavering and endearing brand image. So, what are you waiting for? Go ahead and take the first step towards building a lasting brand legacy!
Email Uplers collaborated with Email on Acid to create an infographic on email list hypersegmentation for the holiday season. Check it out for some useful insights!


Source: Email List Hyper-Segmentation