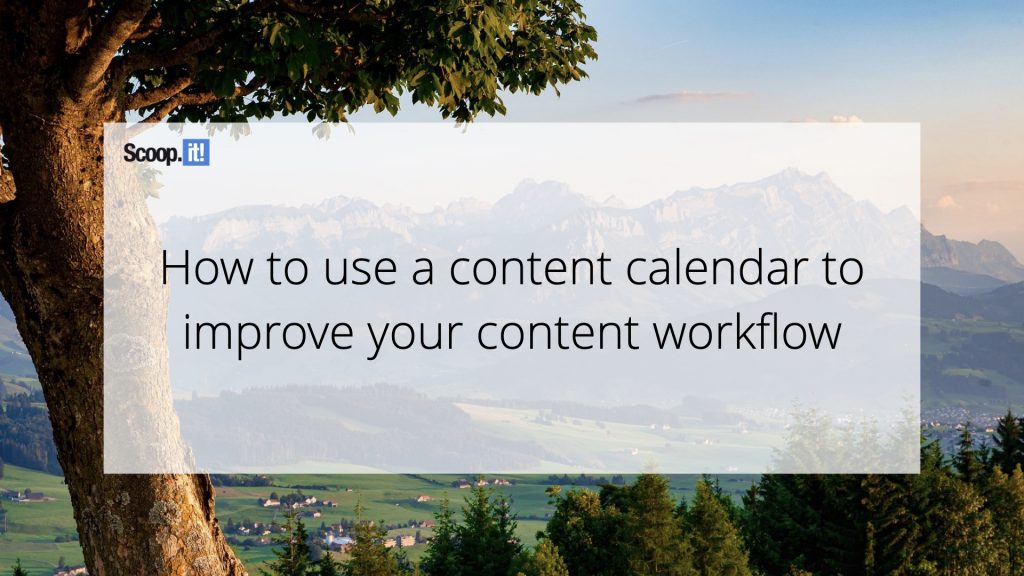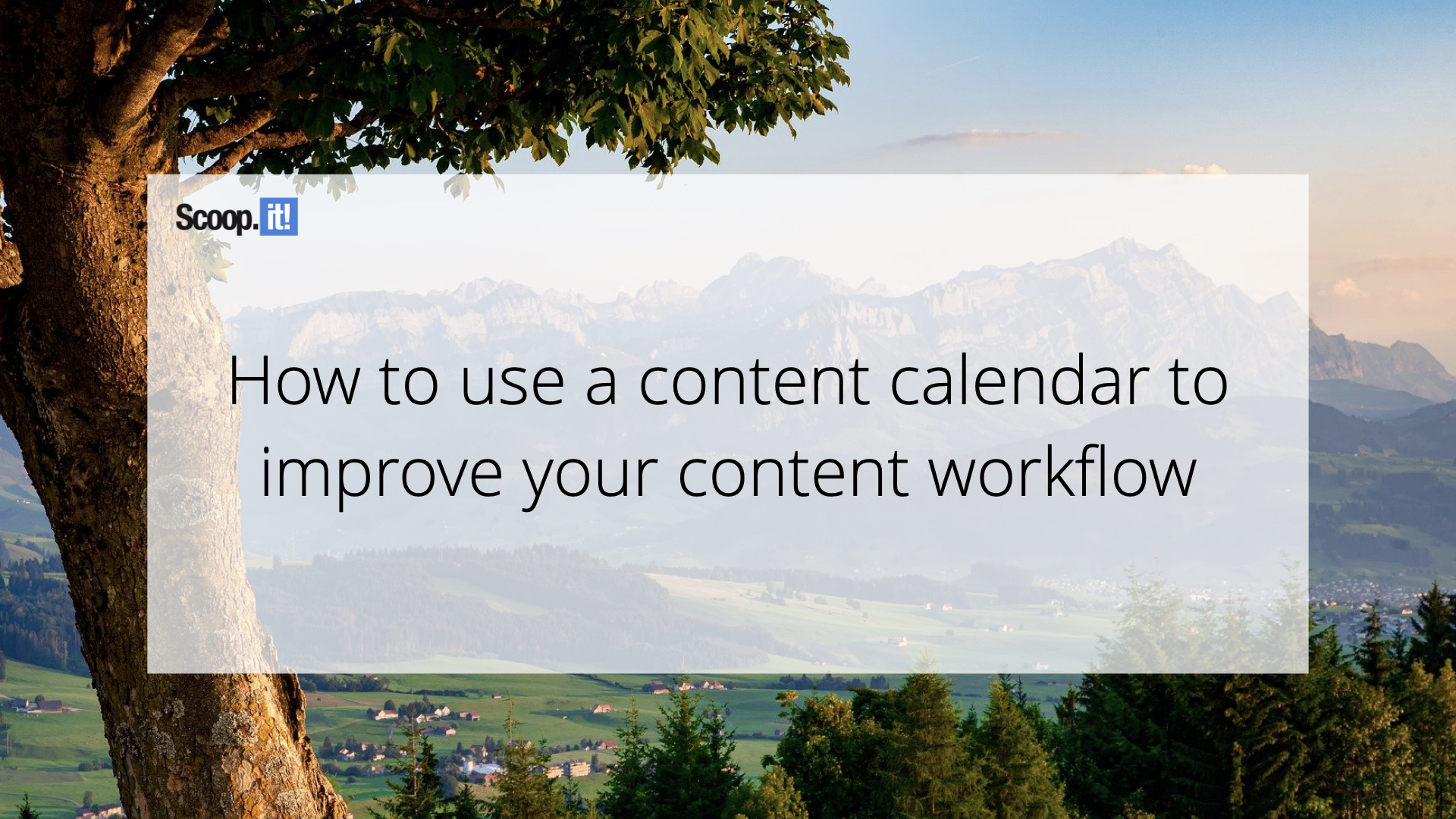 In January 1996, Bill Gates first coined the phrase "Content is King" in an essay he published on the Microsoft website. He stated that content is where much of the 'real money' will be earned on the Internet in the coming years. Interestingly, what he said about the Internet more than two decades ago is truer today than it was back then.
Today, content marketing is one of the most popular forms of online marketing with more than 70% of its users actively using it to drive their advertising KPIs. If you are someone who has tried exploring this field, you must know how difficult it is to create a regular content flow and then distribute it to the right channels, for the right audience.
Let's look at a few ways you can manage your content smartly using a dedicated content calendar.
Why Is a Content Calendar Essential for a Smooth Workflow?
A content calendar can help you boost your content marketing game exponentially. Besides telling you what to post and when, here are all the reasons why a content calendar is essential for a smooth workflow.
It helps you post consistently and timely. Social media algorithms reward consistency. Besides, being consistent with your content can keep your audience hooked and improve your brand recall a lot. You can always be creative and plot out specific events, holidays, or times of the year that are important to your audience and post accordingly for a personalized experience.
It helps you reduce mistakes and errors. When you have everything planned and organized well before time, you can proofread it multiple times to remove any errors and typos. Plus, since there are multiple eyes on the calendar, anyone can pick up mistakes and fix them then and there.
It saves you time and keeps you organized. With a content calendar, you can keep taking notes of your ideas and compile them whenever you get the time. This way, you don't have to multitask. The ideation and creation process gets faster and saves you time that you can invest in other activities.
It helps you build on your social and content distribution strategies. Having everything in one place gives you a better overview of all that has been happening with your social media and other places you post your content on. This way, you can better think of what to do next and create long-term strategies.
It helps you stay up to date on trends. Commenting on trending topics always gets you more traction than usual. With a content calendar, you can mark all the trends down and then create content accordingly. A simple example could be an instagram hashtag contest for a trending campaign.
It helps you track and improve content performance. When you start keeping track of your daily or weekly activities, you are better able to identify gaps and then improve on them instantly. Your calendar can help you plan A/B tests until you find the right content mix that gets you maximum attention from the audience.
It helps you collaborate with your teammates. Most calendars have dedicated team collaboration tools that allow you to share the calendar with your teammates and have multiple editors and creators on the same calendar. This way the team stays updated on what is happening and gets to work together efficiently.
What Should Be Included in Your Content Calendar?
Now that we're clear on how exactly a content calendar helps, let's check out some essentials for your calendar that can get you started.
Monthly Plan
You can start with a basic content plan for the month which includes everything that needs to be created or rolled out on specific dates. Each day of the month could include content that is to be posted, things that are in the pipeline, and a few action items for the content team.
Source: Quicksprout
Content Information
This should include the content title and a short description of what the particular piece is about. You can also include additional information that may help your team such as the content category i.e., blogs, social media posts, landing pages, etc., or the medium it is going to be posted on.
Normally, project management tools such as Asana, are used to assign tasks to teams but you can also tag the person responsible for a certain piece of content directly on the calendar. If you're looking to explore more of such productivity tools, you can also consider Hubspot and KanbanFlow as they are pretty good as well.
Source: Social Media Today
Campaign Type
Different campaigns require different content plans so it is a good idea to include the campaign type directly on the calendar. You can use separate tags for blogger outreach, SEO campaigns, paid ads, off-site posts, etc.
Again, you can tag the campaign owners here directly or use a separate tool to do that. Both ways, the idea is to timely communicate the plan to the relevant parties so that there are no delays.
Deadlines
Deadlines are always great to have considering the fact that some people only work under the pressure of deadlines. Mark the dates you want things to be ideated, created, and then posted but make sure you're giving enough time to your team so that they don't have to compromise on quality.
Content Briefs
Content briefs are usually quite detailed so the best way of including them is to upload the brief somewhere else and then add a link to it on the calendar. Google Docs can be of help here.
Link to Publication
Once the content is out, you can add the URL of the post in the calendar so that you can always go back and find old posts instantly instead of wasting time looking for them in the archives.
Content calendars can come in all shapes and sizes, some people use apps like Hootsuite, Social Bee, Google docs or Excel sheets. It's all about finding what tools work best for you and your team. Here's an example of a Content calendar below:
Source: Digital Opportunity Trust
How to Use the Content Calendar?
If the idea of managing a whole calendar overwhelms you, you can start with these four quick tips on how to use the content calendar as a beginner.
1. Gather Requests From All Departments and Update Your Calendar
As soon as you start scaling up your content strategy, you will have to incorporate content ideas from different departments of your organization. For instance, in an average tech company, your technical teams might want you to develop case studies for projects while the sales department might want some business email templates created. The marketing team, on the other hand, could be on a totally different roadmap and request social media videos.
The first step should be to collect all these requirements and structure them in order of priority. You can create a requirements document template and share it with the person sending the request so that they can properly communicate what they want.
Once you've updated your calendar with all content requests for the month, you can proceed to the next step.
2. Checking Resources Against Requests
Before you set the deadlines and communicate them to your team, you should do a basic analysis to see if the requests are even achievable. You might be limited in terms of financial or human resources and hence all of them might not be completed timely.
If you have the right resources to fulfill the request, you can put it on your priority list and proceed to the next step. If not, you need to communicate your limitations to the relevant department and advise them of a more feasible plan. Most often, companies have limited human resources so they plan out their campaigns such that none of the team members is overburdened and the work quality is also not being compromised.
3. Execution, Repurposing, and Distribution
This is the part where the magic happens. You have the content brief ready and the right resources to do the job. Now, you start putting things into action.
Usually the content manager takes up this role and ensures that the content creation happens exactly as required. Action items are assigned with reasonable deadlines and everything is updated on the calendar. If there are any approvals or revisions required for any content, they may also be managed directly on the calendar.
Long-form content can be easily repurposed for other channels such as social media posts or short videos or infographics. For instance, you could create short animated GIFs out of a blog post to explain the idea in a more creative manner and then post it on a different platform altogether.
If you have already set up the content category tags we talked about earlier, it is simpler to plan the distribution and repurposing. You can simply tag a post for the content form it can be repurposed as and the platforms it needs to be posted on.
4. Performance Tracking & Optimization
The process does not end at publishing the content. You need to actively monitor and track its performance based on all the analytics you have access to. If you're posting something on your website, Google Analytics can give you all the information on how many visits, clicks, or shares did that piece get. And if you're on social media, the platform's own analytics should do the job.
You can set a specific period, say one month, after which you note down all performance metrics of the content you posted and update them on the calendar. You can also compare the expected performance with the actual performance to see how far you are from your goals. Some basic metrics you can start tracking could be impressions, clicks, leads, conversions, visits to a website, etc.
What Results Can You Expect After Using a Content Calendar?
Settling in with a whole new content management system might be a little difficult for your team at first. But once they get the hang of it, results will start to flow in.
With time, you will see how your content strategy starts picking up speed. Your team members will be better connected with each other and their collaboration will improve. As a manager, you will be able to understand their daily routines and hence be in a better position to evaluate their performance.
Work-wise, there will be little to no disruptions in your content plan and you will finally start rolling out content on a regular basis. The downtimes will disappear and delays will be unheard of. Overall, you will be able to achieve more with the tiny budget you have and the small team that works with you.
Conclusion
Content marketing isn't really about creating random stuff and throwing it in the face of your audience hoping that they'll fall in love with it. You need to actively research what your audience likes and then capture that idea in your content to the best of your abilities. And with a content calendar, you can do just that in a more regulated and systematic manner. So make sure you try out one and if it works out for you, you can start using it regularly for all your content management needs.
____________________________________________________________________________
FAQs
What should be included in a content calendar?
Content calendars normally include content plans, status updates, planned promotions, partnerships, and revisions for existing content. You can also include additional tags for the content category and the platform it is meant for.
How do I create a content planner?
You can start with a basic monthly calendar which includes the content planned for each day. Once you get comfortable with it, you can start adding more information such as the content brief, requirements, owners, and deadlines.
How do I create a Google calendar for contents?
Google sheets can be great for creating a content calendar. You can pick the month you want to plan your content for and then use formulas to fill in the days of the week. Once you have that down, you can start adding content information along with some basic design elements to make it look more professional.