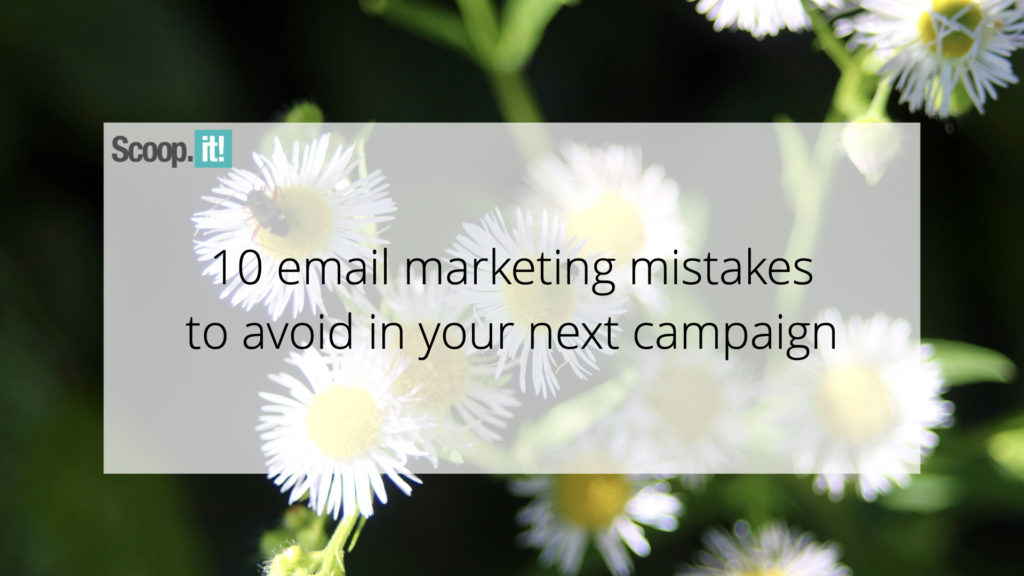 Email marketing is an effective strategy for any company. It boosts customer engagement, increases brand awareness, and as a result, generates more sales. However, small businesses often make the same mistakes when designing and sending marketing emails. 
And while these common mistakes might not seem like a big deal at first, they can prevent your business from experiencing the highest possible ROI on your email marketing campaign.
So before you send out any more campaigns, take a few minutes to double-check your emails for these top ten email marketing mistakes.
Not adding a value proposition.
The reader should know what's in it for them. They need to understand that you're offering a solution, a promise of things to come, and why they should trust you above all other companies.
It can be tempting to focus on your product or service, but you often forget to explain how the customer will benefit.
You can start your first email by posing an interesting question to your email list. Then immediately answer it directly to the email's subject line with a value proposition.
The best way to do this is by telling them exactly how you can make their lives better. What problem are you solving? What makes your product special?
Please don't assume your customers will know why they need you; tell them.
Take Kudos, for example. Their value proposition, streamlining the entire online checkout experience, is depicted and easy to understand on their website. They would be making a huge mistake by not including this same value proposition in their email campaigns.
Otherwise, their target market will be unsure of their product offering and quickly close or delete the email altogether.
Not segmenting your list.
Email marketing allows you to send more targeted emails, resulting in higher open and click-through rates. One way to target your audience is by segmenting your email list, allowing you to create more relevant content for your subscribers. According to a study from the Direct Marketing Association, marketers who used segmented campaigns saw as much as a 760% increase in revenue.
For example, you could create a list of people who regularly open your emails after signing up; these users would receive more frequent contacts. "Hot leads" should be added to specific campaigns designed to nurture these users as they develop into long-term customers.
​​​​Suppose you are using an email marketing software tool like Mailchimp. In that case, you can check this guide on how you can use features and the different Mailchimp lead scoring integrations, get the most out of the tool, and whether or not it's the best contact scoring tool for your business.
Not setting expectations (and keeping them).
Your readers will unsubscribe from your email list if your email copy does not meet their expectations.
It is essential to set expectations from the start. For example, how often will you be sending emails? Will it be daily, weekly, or monthly? Be clear and upfront with these details.
If you promise to email your audience once a week but email them every day instead, you may be disappointing your readers. Alternatively, if readers expect to hear from you every day and only email once every few months, you may disappoint them.
When your emails go on tangents that do not pertain to your product or service, you risk losing your audience's attention.
For example, Reliable Couriers provide rush delivery and courier services to meet your needs. It would not make sense for them to send an email that discusses top interior design trends for 2022. Instead, they should focus on how 41% of consumers are willing to pay a charge for same-day delivery on high-budget items such as furniture.
Not proofreading your emails.
It's no secret that you will lose subscribers' trust if you don't proofread your emails. Nothing screams unprofessional, like a bunch of spelling errors. One study found that 92% of people said errors negatively impacted the credibility and professionalism of a company.
When reviewing your email campaigns before sending them out, keep an eye out for:
Typos – Don't send an email with misspellings, grammar errors, incorrect subject lines, or missing copy. It's best to have someone else look at it to spot anything you may have missed.
Broken links – Double check all links in your email campaign are correct and go to the right place, even in the preview area, before sending it out yourself. You'd be surprised how simple it is to link to something else accidentally.
Sending all your emails from the same address.
Studies have shown that the most critical factor in an email's open rate is whether or not the sender is trusted. That means it's vital to choose an effective and consistent "from" name and email address.
If you're sending out many emails, you're probably using an email marketing tool to help automate the process. Most email marketing tools will allow you to set up multiple "from addresses." This is helpful because it will enable you to provide context for the email campaign simply by leveraging the "sent by" email address.
If you send both marketing and transactional emails, give subscribers an idea of what you're sending them by fitting your "From" address to the purpose. For example, newsletters@, invoices@, or support@.
The last thing you want is all of your emails going directly to a spam folder.
Forgetting to include a call-to-action.
A call-to-action will help your readers know the next steps you want them to take. Without a call to action, your audience will wonder what you would like them to do.
Including an appropriate call-to-action can help direct your reader toward taking their next step in the buying process. For example, if someone has opened a newsletter featuring new products just released, they are likely interested in learning more about them.
A good call-to-action for a newsletter could be: "Click here to see our new selection of products!" This type of language is straightforward. It also gives the customer exactly what they are looking for: more information on these new products. In addition, it is essential that the wording of your call-to-action reflects the language used across your brand or company so that all aspects of your marketing are cohesive and consistent.
The whole point of sending an email campaign is ultimately getting customers back on your website, so direct them where you want them to go.
Including too many CTA's in one email.
You should focus on 1-2 goals for each email and make it clear to the reader what you want them to do. Your CTA is your opportunity to give the reader something to do, such as "Buy," "Explore," or "Visit."
Include a clear and easy-to-understand CTA in every email you send. Use the same CTA buttons across all emails so that readers can quickly identify your brand.
Make sure that your CTAs stand out from the rest of the text by using different colors and sizing.
For example, this welcome email from the graphic design company Freepik has just 2 CTAs – explore our site and visit our blog. It is simple, straightforward, easy to follow, and not overwhelming for a new email subscriber.
Having a weak or nonexistent subject line.
Email subject lines are the first thing recipients see when they get an email, which will considerably impact your open rates depending on how you write them.
You need to make sure your subject line is clear, concise, and compelling. You want to include the essential keywords upfront so that the reader knows what they're getting into right off the bat.
If you have an enticing offer or deal in your email campaign, include it at the beginning of your subject line.
Making your subject line too long.
If your subject line is too long, a lot of it will get cut off in the inbox. Most inboxes stop displaying your subject line after nine words (around 50 characters). If you haven't caught their attention by then, they're not going to click on it.
However, if the first few words (your most important words) are the only ones displayed in the inbox, they need to do most of the heavy lifting. You have to capture their attention immediately or risk being overlooked and unread.
To avoid this mistake:
Keep your subject lines concise.
Don't go overboard with flowery language or filler words that aren't as impactful or enticing.
Use power words and action-oriented phrases instead to motivate people to open your emails.
Using generic greetings instead of customizing to the recipient.
If you want to increase your open rates, the best way to do that is by personalizing your email marketing messages. This can be as simple as addressing your recipient personally by name or tailoring the content of the email based on what's relevant to them.
How can you expect them to pay attention if you don't know who is receiving your message and their interests? That's why it's essential to know your audience. If you've already set up a segmented list of subscribers, you have an idea of who they are and what they like.
Key Takeaways
Email marketing is a great way to reach your audience. It can be used to drive traffic toward your website, and it also helps you build relationships with customers and convert them into repeat sales. That being said, email marketing produces poor results if it's not done right.
Don't fall into this trap. Take a few extra minutes to perfect your email campaign before pressing send. These silly mistakes are easily avoidable with a bit of time and effort. Sit back, relax, and watch the sales come rolling in.