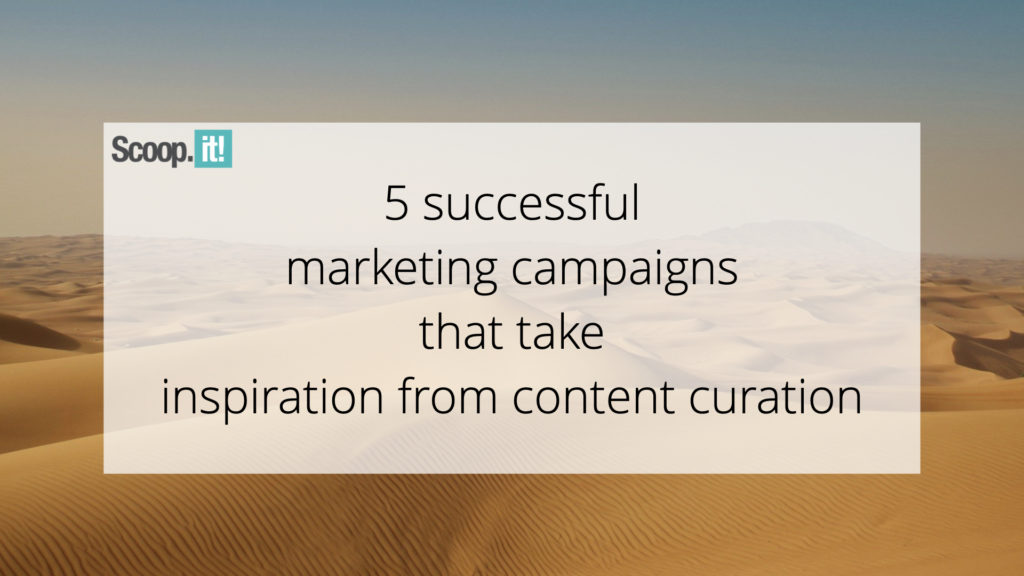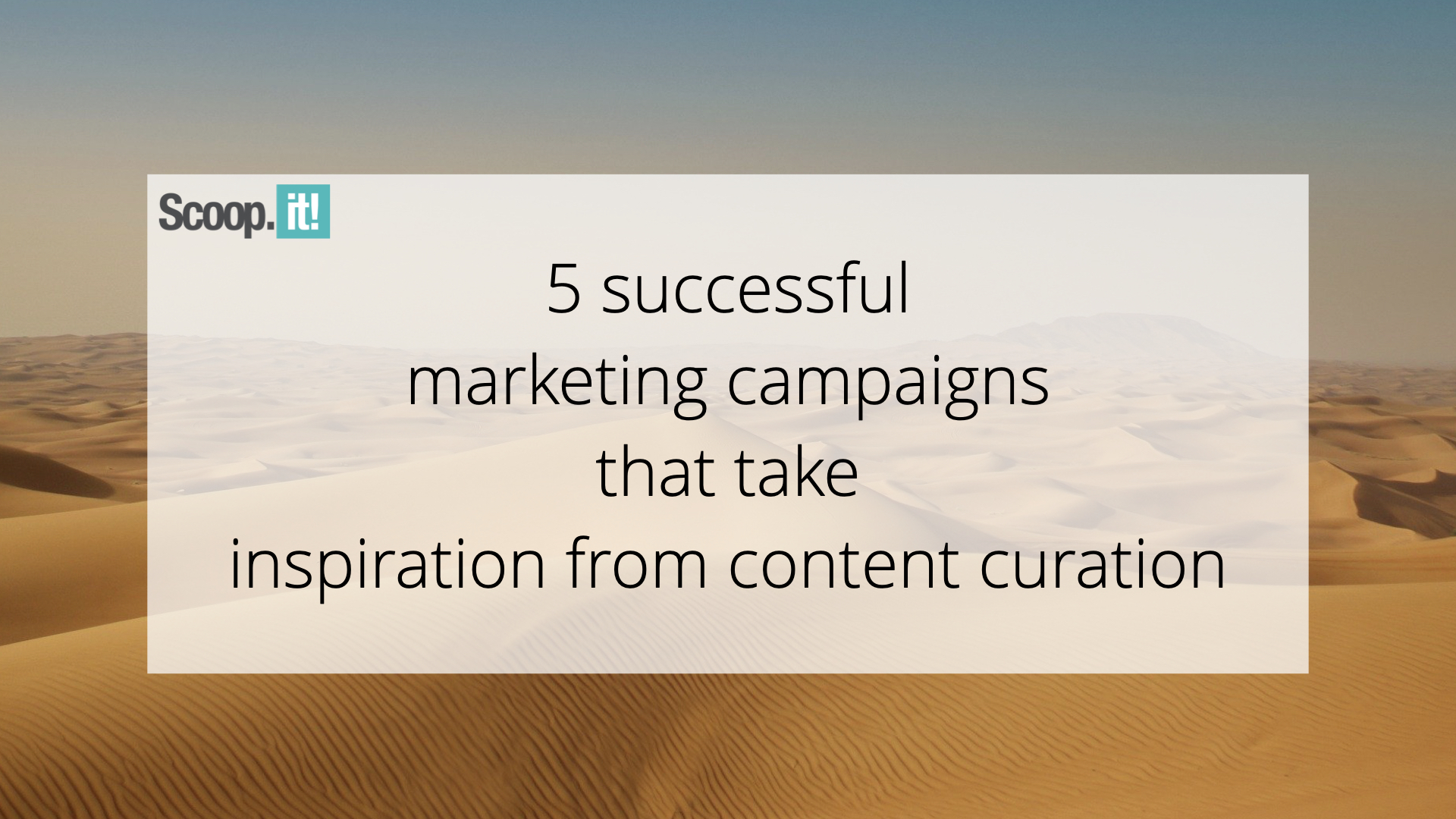 The concept of curation has existed for centuries in the art world, but it only recently made its way into the marketing vernacular.
In marketing, today, content curation is the process of sorting through and selecting the best content from a variety of sources on a specific topic. The result is a curated collection of content that is tailored to a specific audience.
It's a popular marketing strategy for businesses across industries. After all, who doesn't love getting their news, entertainment, or information from a trusted source?
When done well, curation can help you build thought leadership, drive traffic to your website, and even generate leads. It is a valuable marketing tool and you can't afford to ignore it.
To give you some inspiration, here's a list of successful marketing campaigns that take content curation to the next level.
5 successful marketing campaigns based on content curation
Check out these real-life examples of individuals and businesses using content curation as direct and indirect marketing campaigns.
You'll get ideas for your own content curation strategy while also seeing how other marketers are driving results with this approach.
1. Engage your community with curated community content
Anna Mason is a renowned watercolor artist with an online school. A significant part of her online course includes managing and engaging thousands of aspiring watercolor painting students.
To make sure that her audience visits the website, tries the online tutorials, and engages with the community, she sends weekly newsletters.
Weekly newsletters by Anna Mason
In these newsletters, members get updates on the latest tutorials. And they hear about interesting conversations in the community forum. Members who have painted and shared remarkable art also get a shout-out.
Members of the community get updates
And members also get a shout-out for good work
As a result, the community becomes more engaged. They keep coming back for content that's relevant and tailored to their interests. And the business keeps its subscribers.
If you have a community-based business, club, or organization, consider using content curation to keep everyone engaged and subscribed to your brand.
2. Build a following on social media
Accidentally Wes Anderson is a popular Instagram account that went from a handful of visitors to 1.6 M followers today.
The theme of this account is pretty simple: it curates photos of locations that look like they were designed and captured by the popular director Wes Anderson.
Accidentally Wes Anderson's Instagram account. Image Source.
Its creator, Wally Koval is an avid traveler who admired Wes Anderson and also loved to travel. Taking inspiration from a subreddit with the same name, he launched the Instagram account which features photos of interesting places.
The images match Wes Anderson's aesthetic; they have symmetry, pastel color palettes, and a faded old-world appearance. And they have a story or a narrative attached to each piece.
Today, there's a website that curates interesting locations and offers guides based on themes like 'classic facades', 'doors', and color palettes.
Instagram account to website and best-selling book. Image Source.
There's also a book with the same title that is a New York Times bestseller book showcasing 200 locations for people who want to travel to a Wes Anderson-like set piece.
There are several lessons you can learn from this example:
Develop a theme for your content curation
Focus on providing valuable content and stay consistent with your theme
Add your unique perspective to the content
Leverage your curation and make it available in different formats
This is an example of a social media curation that started as an experiment and blew up into a cultural phenomenon. If you can capture the attention of your audience and offer value, your content curation will be a success.
3. Brand yourself as a thought leader
A thought leader is a person or a brand that is recognized as an expert in their field. They are often quoted or featured in the media for their opinions. And they have an engaged following on social media or their own websites.
Content curation is a powerful way to brand yourself as a thought leader. You can also use it to establish your business as an authority in your industry.
People find value in curated content because it saves them time. They don't have to sift through all the noise to find what's relevant. When you do this for them and curate content from various sources, you become a valuable resource.
Check out James Clear, the author of Atomic Habits as an example. He's best known for his best-selling book. But what most people don't know is that Clear built his audience well before he published Atomic Habits.
He did this by sharing practical tips on productivity and task management. And by curating content too. Clear recommends or curates books, podcasts, speeches, and travel gear.
James Clear's recommendations. Image Source.
You can do something similar and use content curation as a way to establish your brand and grow your following. The key is to know who your target audience is and what they're interested in. Once you know this, you can curate content that appeals to them and build your audience over time.
4. Create affiliate income
Why does music, pop culture, and political media publication Rolling Stone create posts on topics like 'best massage tools'? Or 'best home workout equipment'? Or 'best road trip accessories'?
Curated posts with affiliate links help Rolling Stone magazine make money. Image Source.
Because they make significant affiliate income from such curated content.
Creating blog posts that rank for specific terms with a strong buyer intent is a powerful way to earn passive income, help people, and rank as a topic result on search engines.
Buyer intent refers to the likelihood of a person taking action and buying a product after they've searched for it.
For example, someone who searches for 'best Bluetooth speaker under $100' is more likely to buy one than someone who just searches for 'Bluetooth speaker'.
The latter is just looking for information while the former is closer to making a purchase.
Here's how you can curate content and earn an income:
You curate a post with a list of products in a specific niche or category.
For each product, you include an affiliate link.
When someone clicks on the link and buys the product, you earn a commission.
It's that simple. You'll need to find and sign up for affiliate programs to get started. Once you do, you can start creating content and including affiliate links.
In this way, curating content isn't just a powerful marketing campaign to grow your audience, but you can also make money from it.
5. Generate leads with lead magnets
A lead magnet is a free and irresistible offer that you give to people in exchange for their contact information. It's a powerful way to generate leads and grow your email list.
And you can use content curation to create lead magnets.
For example, you could curate a list of the best resources in your industry. This could be a list of blog posts, podcasts, books, or anything else that would be useful to your target audience.
You can then package this up as a downloadable PDF and offer it in exchange for people's email addresses.
Here's an example from WPBeginner. Readers who visit the site can download 'The Ultimate WordPress Toolkit' in exchange for dropping their names and emails.
This is a curated resource for anyone who wants to learn about WordPress and use it to start a blog or website.
It provides value, removes the need for people to search for this information across several sites, and generates leads at the same time. And because it's free and helpful, it also builds a positive brand image and loyalty over time.
Think about the information that your audience needs and curate it into a lead magnet. You can then use this to grow your email list and generate leads.
There you go, these are five content marketing campaigns that you can use to take inspiration from content curation.
Each one helps you achieve specific marketing goals, whether it's growing your audience, generating leads, or making money online. Give them a try and see how they work for you.
Tips to create engaging and shareable content
Here are some key tips that go into creating content that people will actually want to read and share:
Know your audience: This one is key. You need to know who you're writing for and what they're interested in. Only then can you create content that appeals to them.
Offer value and answer a problem or need: Your content should offer value to your reader. It should answer their questions or help them solve a problem. If it doesn't, they're not going to bother reading it, let alone sharing it.
Use the right format: The format of your content is just as important as the actual information you're sharing. People are more likely to read and share content that's easy
Leverage the right tool: And here's a critical component of powerful content marketing – use the right tool. Take your audience and purpose into consideration and choose a social media platform or a comprehensive marketing tool to grow your brand.
Scoop.it is the perfect tool for curating and sharing content. It allows you to quickly and easily find relevant content, package it up, and share it with your audience. Leverage it to get the best results for your content and email marketing campaigns.
Over to you
We've shared these examples of content curation and marketing campaigns to inspire you. Now it's time to put what you've learned into practice.
Make sure that you explore Scoop.it to get a powerful content marketing and content curation tool – one that will help you drive traffic, generate leads, and grow your brand.
So, what are you waiting for? Start curating and sharing content today!