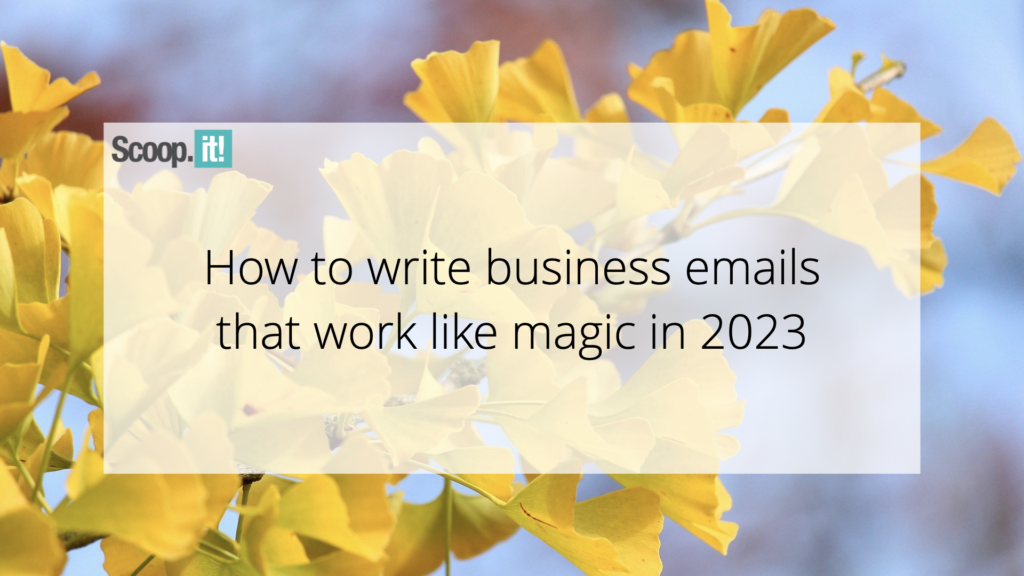 Business emails have established a significant role in recent times. It is a way to effectively communicate with employees, colleagues, partners, sponsors, and business associates. People count on emails to run their business without any hindrance. As more than 25% of people work in a remote setup, business emails have become an integral part. People prefer this channel over video calls and texts.
Business emails help build strong relationships with the recipients. You can convey longer messages without any character limit and even use visuals to elaborate the matter. When done right, business emails help in painting a credible brand image. Users will be more likely to trust you and take the action that you expect from them.
These points go to show how important business emails are. So, let's discuss how you can make your business emails more impactful in 2023.
The subject line is of utmost importance in business emails. You have to be sincere in your approach and write a meaningful subject line. Try to convey what the email is about. Vague subject lines come off as spam and deter the users from opening your email. So, be as clear as possible. Write a short and compelling subject line for your email marketing campaign that would make the users read your email. A good subject line includes important keywords and summarizes the reason for writing the email.
Write a concise copy
Once a user has opened your email, they are looking for important information that would be useful for them. Beating around the bush is sure to put them off. Writing a concise copy that is easily readable and consumable ensures that people do not miss out on the necessary information.
Here are some tips to guide you:
Focus on a single topic. Make it as uncluttered as possible.
Refrain from using technical jargon and complicated phrases. Write as if you are talking to a friend and in a conversational tone.
Ask yourself whether the sentence adds any weight to the email and edit accordingly. Delete anything that does not contribute to the purpose of the email.
Make sure the user does not have to scroll too much. They are most probably using their mobile devices to access the emails and you must make their job as easy as possible.
Use spaces between paragraphs, bullet points, and plenty of white space to make the email skimmable.
Check this email by Active Campaign in which they have included all the salient points that will encourage the readers to download the Holiday toolkit.
3. Use a powerful voice that matches your brand personality
Your emails should be brief but that does not imply that you do away with your brand voice. Address the reader correctly. For instance: Avoid using "Hey there" in formal business emails. You can write "Hi" or "Hello" according to the professional culture that the reader might like. Adding emojis can belittle your personality and make it more casual. So, avoid it if you want to come off as a professional.
If you sift through your professional inbox, you might come across a number of "badly written" business emails. Some might have an inappropriate language or tone, some might not be properly formatted, while some might have a ridiculous ask from you. Take inspiration from such emails so that you know what not to do.
For example: Take a look at this email from some random marketing professional.
Follow your brand guidelines and maintain consistency throughout the communications. Acknowledge the fact that you understand that the reader is busy. Write the copy in such a way that it reflects that you respect their time and professional or personal space. Thank the readers if needed and be empathetic. If it is a follow-up email, recapitulate the point that you made in the first email.
4. Add a suitable signature
In addition to the subject line and copy, your signature also provides an opportunity to leave an impact on the readers. Include social sharing links, your contact details, and any other important information that you deem necessary.
Here's an example of a good email signature. It includes the designation of the sender, his website, and links to the client testimonials and case studies. It will pique the reader's curiosity and build their trust. Consequently, they will be keen to reply to the email or take action.
For brands, a good signature (or footer) would look something like this. They have included all the important navigation links and the unsubscribe link in the signature.
5. Always proofread before hitting the send button
Your business emails should be written in impeccable English. Grammatical mistakes annoy the readers. It can also increase spam complaints and make them unsubscribe. Make it a point to proofread your emails before hitting the send button.
Also, consider the way people like their brand name to be written. For example: Mailchimp was previously known as MailChimp (with a capital C) but now they have switched to Mailchimp. HubSpot prefers a capital "S" in their name. Such things seem trivial but they would matter a lot to someone working there. It all comes to their branding guidelines.
It is advisable to get it reviewed by someone else in the team. Doing so will help you get an unbiased opinion and improve the copy further. In addition, you can also use tools like Hemingway App Editor or Grammarly to help you with the tone, better usage of words, and ease of readability.
Wrapping Up
With business emails, you must always think about the person you are sending to. Count the time zone barriers too in addition to the points discussed above. If you are sitting in Australia and writing to someone in India, remember that it could be "tomorrow" in Australia but it is still "today" in India. Have an eye for detail —That's the key to writing business emails that work and impart a pleasant experience.