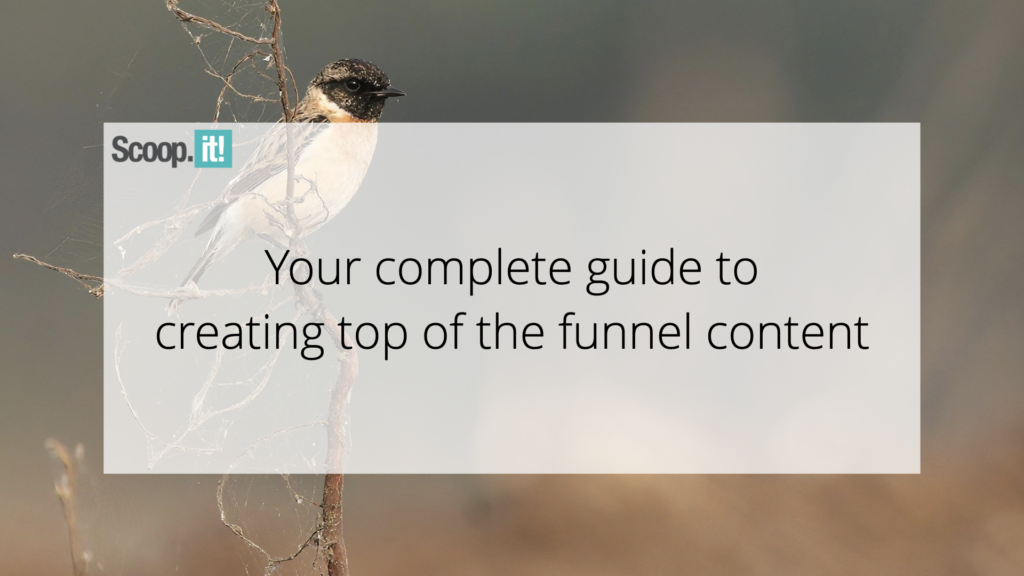 Do you know why they call customer acquisition a journey? Because it is an actual journey, traversing the lead stage to the paying customer stage. 
You have audiences distributed across every stage of this customer journey, represented by a marketing funnel. Below is a great visual representation of what the funnel looks like.
From the image, you'll understand that the needs of every stage differ. So, disseminating one content type across the levels is not advisable.
The top of the funnel (ToFu) accommodates customers who are just interacting with your business for the first time. These people just realized they have a problem and want a solution. So, top-of-the-funnel content focuses on providing value – informing them without trying to sell to them.
The goals of top-of-the-funnel content are to promote sustainable lead generation, organic traffic, and brand awareness. But the question is; how can you grab your target audience's attention, create a memorable first impression and achieve these goals with your ToFu content? Read on. You'll find your answers in this guide.
Focus on Informative Content
As mentioned earlier, your top-of-the-funnel content should not focus on selling. Instead, it should educate, entertain, or inform.
You want to capture the reader's attention and give them answers to their queries. Therefore, trying to sell from the outset can deprive you of that. Instead, publishing compelling and informative pieces will help you move these audiences down the funnel, where they'll be more open to buying something.
See an example from scoop below. This example is an interesting blog post on insightful SaaS marketing strategy. It is a chance to make a lasting first impression on anyone struggling with SaaS marketing.
It addresses the reader's pain points, establishing the foundation for a relationship that will eventually make them invest in the Scoop software down the road.
To create a meaningful and informative piece of content, start by asking questions such as:
What do my potential customers want?
What pain points can I address?
What information will they value?
The answers to these questions give you a picture of your buyer persona and keywords they would probably use to search for solutions. Insert these keywords on SEMrush or Moz Keyword research tools. The tools will then show you other relevant keywords your audience uses.
See the image below for a clearer picture.
A quick tip: always target the long tail keywords with low competition and high volume.
Combine these keywords and create comprehensive content. Be sure to edit and proofread the content before putting it out.
Also, remember that this content represents your brand image. Therefore, provide factual and reliable content setting yourself apart as a thought leader in your industry. This will help you attract more leads, increase conversions and retain your customers long-term.
Don't limit yourself to text content, either. Instead, create visual elements, repurpose your blogs into engaging videos, and target a wider prospect bracket. According to Google, 90% of people discover new products and brands through YouTube. So, tap into that space.
Post Consistently on Social Media
PewRearch listed information access and entertainment as some of the reasons 70% of users use social media. This means some of your prospects are probably surfing through Twitter or Reddit for answers. As such, creating compelling social pieces can help proffer solutions to your prospects' pain points.
However, consistency is vital. Set a pace and stick with it.
A social media calendar or schedule will help keep you on track. You can create this with Airtable, Trello, or other workflow optimization tools. See the example below for a great format you can replicate.
The type of content may vary by platform. For example, Instagram, YouTube, TikTok, and Snapchat need informational and engaging videos. See an example below from YouTube.
Conversely, you can make do with text on platforms like Twitter, Reddit, and Quora. See an example from Twitter below.
Further, only use platforms relevant to your audience. Therefore, create your ideal audience persona to get a picture of their age range, preferences, and interests. This helps you understand where to direct your efforts.
Actively Answer Common Questions
Use AnswerThePublic, People Also Asked, and online communities to understand the commonly asked questions around your industry.
For AnswerThePublic, insert search terms relevant to your niche on its search bar. This will show you several questions people are asking related to that search term.
For example, when you search content marketing, the following related search terms come up.
Further, when you search for a term related to your niche on Google, you'll find relevant questions in the people also asked section.
Moreover, you may ask your sales team to join social media communities on Facebook, Reddit, Twitter, etc. They will better connect with prospects here and gather relevant FAQs.
Combine these strategies. Discover what people are looking for and create the right informational content type. This content could be listicles, blog posts, explainer videos, social media content, checklists, etc.
Add a Strong Call to Action
You've created killer content; what's next? Of course, you want these audiences to take further steps that will take them to the middle of the funnel. So, clearly state these actions with a strong call to action.
Remember that individuals targeted by top-of-the-funnel content are still not ready to buy. As such, you want to avoid overly promotional calls to action. These might push them away. Instead, you want to focus on adding calls to action that;
Capture their contact details: This could be "subscribe to access your free worksheet" or "download your free digital marketing e-book." These are great calls to action to build email lists, as shown below.
Drive engagement: examples of this are "leave a comment," "share this post," and "follow us on social media." These are ways to further build awareness and increase interactions with the leads.
Every content should serve as a conduit helping to move the prospects further down the marketing funnel. However, don't just assume the prospects know what to do. Include the CTAs to make the next steps clear.
Encourage Feedback
Top-of-the-funnel content creation is not one-dimensional. To better understand how well you've catered to these leads' needs and when or where to improve, you need feedback. So, enable comments on your content, whether on social media or your website.
Enabling comments means you have to deal with both relevant and irrelevant comments. Use spam filters such as Akismet to filter out irrelevant comments on your blog.
Some social media platforms like YouTube allow you to see only relevant comments using the top comment filter. You can learn a few things from reviewing the top comments.
See the image below from YouTube.
You can learn what other pain points your audiences may have through comments. This can help you recognize how to improve your existing content strategy and focus on other content types you can produce.
Lastly, encourage these comments by asking for them. This could be at the end of your content or via emails and other channels. Encourage your audiences to drop a comment or tell you how they feel about the content they just digested.
Offer Incentives for More Newsletter Signups
Top-of-the-funnel content pieces are great for attracting leads. However, you'll need more than these content types to nurture those leads into paying customers. That's where email marketing comes in.
Email marketing can help you follow up with the leads and nurture them through the customer journey until they are ready to purchase. That's why building your email list from your existing top-of-the-funnel content is essential.
For the best results, you'll need to incentivize your leads to join your email list. This is where brands use lead magnets and gated content. With lead magnets, you offer your leads a valuable resource for free in exchange for their email address.
For example, if the lead is interested in content marketing, you may offer a free content marketing plan template, a content marketing calendar, or a comprehensive content marketing ebook. All the lead has to do is provide their email address and have the resource emailed to them.
Some common resources or lead magnets that can help you build your email list include:
e-books
Document templates
Educational courses
Downloadable pdf assets
Workbooks
Cheatsheet
Remember that you must create an incentive valuable enough for your audience to consider trading their email address for it. Essentially, you'll need to figure out what kind of asset or content your customers really need and then set out to create it.
Moreover, you'll need a robust email marketing strategy. After emailing the asset, start sharing more valuable content to keep the prospects engaged with your newsletters.
Summary
Your top-of-the-funnel content provides the perfect opportunity to attract qualified leads to your funnel and familiarize them with your brand. ToFu content may include informational blog posts, guides, and social media posts.
This guide taught you how to create this type of content to achieve the best results. First, you'll need to create informative and educational content. Users at the top of the funnel usually seek more information about specific topics.
You must also post consistently on social media, answer frequently asked questions, and use strong CTAs to move the leads down the funnel.
Moreover, encourage feedback from your leads and offer incentives to build your email lists where you can nurture the leads further.
That's how to create effective top-of-the-funnel content that'll bring you closer to your goals.