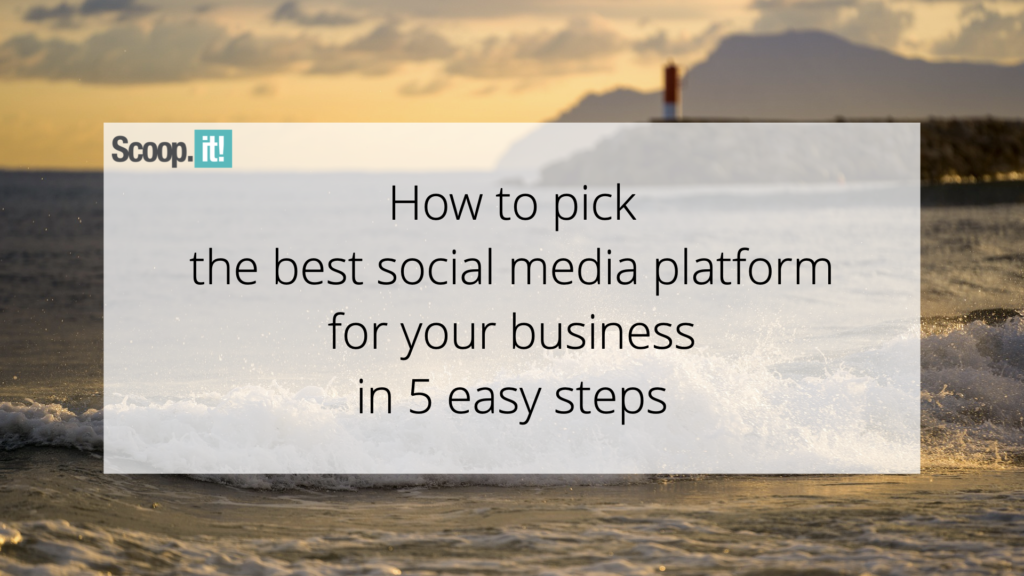 Currently, there are more than 200 social media applications available worldwide. Some have a considerably wider reach and are vastly more popular than others. Different social media platforms appeal to different target audiences.
Knowing which platforms to utilize for your business requires first researching your target audience and seeing which social media they're most active on. Through this, you can direct your social media sales strategy in a way that is familiar to them.
In this post, we'll look at 5 practical steps to expand your business on social media and how to generate more leads with the simple strategy of keeping your audience engaged by curating your content.
Why Use Social Media Platforms For Your Business?
Social media marketing is growing substantially as marketers spent 60% more on social media marketing campaigns in 2021 than in 2020.
In the current digital climate, businesses are expected to have an online presence. Moreover, they must be active on social media if they want to increase their brand awareness and enhance lead generation.
Connecting with your customers on social media also provides a closer look into consumer behavior. Since most of your customers use social media daily, you can get a clear picture of what they are interested in, what they're saying about your brand, and how you can help to meet their needs.
Social media marketing comes in two forms; channels and platforms. They are often used interchangeably; however, there are a few key differences between them.
What is a social media platform and channel?
A channel serves as a one-way communication pipe. Think email marketing, websites, and push notifications.
A platform is a digital space where people can interact. Think Instagram, Facebook, and Pinterest. These platforms allow businesses and customers to engage with each other and form a digital community.
As you can guess, the marketing strategies for channels differ from platforms. Knowing what your goals are and which type of social media tool is more effective for your target audience is essential.
How to Choose the Right Social Media Platform For Your Business?
Step 1: Defining Your Social Media Goals

The first step for selecting the right social media tool(s) is to define your social media goals. Begin with the end in mind. What do you want to accomplish using social media for your business?
You can ask yourself some questions to get started:
Do you want to enhance your lead generation?
Do you want to increase brand awareness?
Do you want more engagement from customers?
Do you want to monetize your social media?
All of the above?
Once you've considered these questions, set specific and measurable goals that you can achieve. Setting goals keeps you accountable and lets you see your progress. Start small and feel the momentum build into bigger and greater achievements.

Interested in customer satisfaction strategies? Read Helpcrunch's post on how to make your customers happy.
Step 2: Define Your Target Audience

When considering which social media platform to use, get a clear picture of the people you want to market towards. Find out their likes and dislikes. Take the time to define your target audience.
Questions you can ask yourself to define your target market:
What demographic are you targeting?
Which industry does your target market work in?
What interests does your target audience have?
Where do they live?
How do they communicate?
Once you have done that, decide which social media platform your target audience is most active on. The best social media platform will likely be the one that your target customers use. How can you maximize the potential of each platform to engage with your customers?
Identify and link social media platforms to your target audience. Once you have a list, the next step is researching the various platforms you can use to boost your brand. Sometimes adding such unconventional features as a social media QR code can attract your target audience and raise brand awareness.
Another great way to find the ideal social media platform is to see what your competitors use. To do this, perform a simple Google search on your competitors and jot down which social media accounts are listed. For example, if you notice that your competitors are targeting customers that mainly work from their homes, then take notes on the language they use and how they are getting them to engage with their content.
Expert tip: When researching the platforms your competitors' platforms, take the time to go through their feeds. Make notes on what they do well and what they could improve on. Use this information to provide an even better offering to your customers.
Step 3: Choosing a Platform

As mentioned earlier, there are many social media apps to choose from. Over 200 platforms/channels that you can use to market to your audience. But, unless you want to keep reading until Christmas, we decided to discuss only the top platforms.
So, which social media platforms are right for your business?
Facebook
The biggest social media network, with over 2.45 billion active users monthly as of 2021. People use the platform to connect with their loved ones, favorite brands, and other emotional content that appeals to their sentiments.
Share pictures, updates, and news in a manner that will engage your audience on Facebook so that they'll like, share and comment on your posts. Your posts should not be overly salesy because many users use Facebook to interact with friends and family.
Instagram

A social media app that allows users to upload, edit, and share messages, images, and videos. Take your audience behind the scenes using Instagram, use hashtags to find new audiences, or promote new collaborations. Businesses account for one-third of Instagram stories with the highest views.
To increase your visibility, create shareable content that encourages people to tag and share with their peers to highlight the solution you offer. Use the link in your bio section to promote events, app downloads, and sales.
LinkedIn

Created with businesses and professionals in mind. LinkedIn is a useful learning tool as it is a site for business networking. Users rely on the website to increase their knowledge of a topic and discover new information on various industries.
For B2B businesses, LinkedIn is often the best business social media platform to connect with their target market. It is an effective tool for increasing traffic, developing thought leadership, and hiring new staff.
YouTube

As the importance of video content in the field of digital marketing increases, YouTube is growing in popularity as a social media site for vlogs and other forms of video content.
You can distribute anything, including tutorials, instructional videos, tips and tricks, and corporate videos. Create interesting videos on YouTube to promote your brand and engage your audience. Keep in mind that video quality is paramount.
Last, but certainly not least: Twitter

Where people go to get news and updates on live events, users check this portal frequently to keep track of and remain current on hot issues and happenings. Additionally, this is a great platform for customers to interact with the brands and companies they follow immediately.
Use Twitter to have a conversation with your followers. Share statistics, articles, or quotes, and links to your landing page or website. To reach a larger audience, use hashtags. Choose the best hashtags for your tweets.
Expert tip: There are, of course, other platforms that your target audience will use. The idea is that you narrow down the top platforms in the beginning. As other platforms start to pick up speed with your target audience, you can show your prowess by also moving onto that platform. For example, some progressive organizations are working to enter the Metaverse to engage with their customers.
Other popular and target audience-specific social media applications include TikTok, Snapchat, and WhatsApp. Marketers are getting positive results from using these platforms to reach their audience, with TikTok as the fastest-growing social media platform.
Step 4: Structure a Social Media Strategy

Structuring your social media strategy is essential to successful marketing. Each platform you use should carry your brand's voice and values. You should see each post as an opportunity to drive your business further. Your online presence is an extension of your company.
To create a social media strategy, you need to decide what type of content you want to make. Ask yourself questions like:
What kind of content is relevant to your brand?
Which targeting option is best for achieving brand awareness?
What kind of content is most interesting to your target market?
What content will make your product stand out if it is visual?
Start your social media strategy by researching what your target audience prefers. Again, take time to take a look at what your competitors are doing. This could be in the form of images, videos, short information-rich text, infographics, data figures, etc.
Next, start crafting your content. If you aren't an expert content creator, hire someone to help you. Make sure your content clearly communicates your brand's voice and overall emotion.
A crucial part of your social media strategy is how to keep posting content regularly while ensuring each post is fresh and relevant. This is where content curation comes in handy.
Content curation is an excellent way to use and reuse information from previous posts, articles, websites, etc. It's imperative that you post regularly to keep your audience engaged on social media. However, constantly coming up with fresh content isn't easy.
And, who said that social media marketing needs to be difficult? Use content creation to bring the best out of your social media marketing.
When do you know if your social media strategy is succeeding?

You need to set goals in your social media strategy, specifically SMART goals.
SMART goals have a specific frame of reference for success because you can measure your progress with them. Through them, you can set up key performance indicators (KPI) around:
Brand awareness – organic and paid impressions
Traffic – the number of clicks that your posts lead to your website
Engagement – number of likes, comments, and shares on your posts
Lead generation – the number of social sign-ups, downloads of guides, etc. Social media is the first step of the customer journey
Influence – the number of mentions in the media and how people are talking about your brand
Conversion – your sales figures from social media traffic. You can also measure your return on investment (ROI) as a key performance indicator
Expert tip: Making your own merchandise is crucial to boosting brand recognition and customer engagement. Head over to Printful for high-quality, customizable merchandise that you can use to promote your business.
Step 5: Monitor, Evaluate, and Review

The final step is monitoring your performance on social media, evaluating what is working, and reviewing what you should change to perform better. This step is a repeat process that you should do weekly or monthly.
You need to develop an effective monitoring and evaluation (M&E) strategy that is both measurable and actionable. Based on your KPIs, analyze your monthly social media platform statistics to see which posts did the best. Consider why this content caught your audience's attention and how you can increase engagement on the same site and other channels.
Review the times of day you post and the type of content you're posting if there are posts that didn't perform well on specific platforms. Knowing when to post on the various social media platforms enables you to post during periods of high activity, increasing engagement and communication. Make sure to integrate those insights into your social media strategy so you can plan future posts.
The keys to a successful M&E strategy:
Start planning your M&E strategy as early as the design phase
Know your project both inside and out
Trial various M&E tools to find the right one for you
Gather quality data from multiple sources
Be honest with your statistics
Wrap up

The start of your social media marketing journey is always exciting. There is so much to learn and experiment with to boost your brand awareness on social media. The key to success is effective research, planning, and setting goals.
Be patient in the beginning and enjoy the process. Remember that keeping your content fresh is crucial for customer engagement. Content curation is your best friend.
Here's a quick recap: