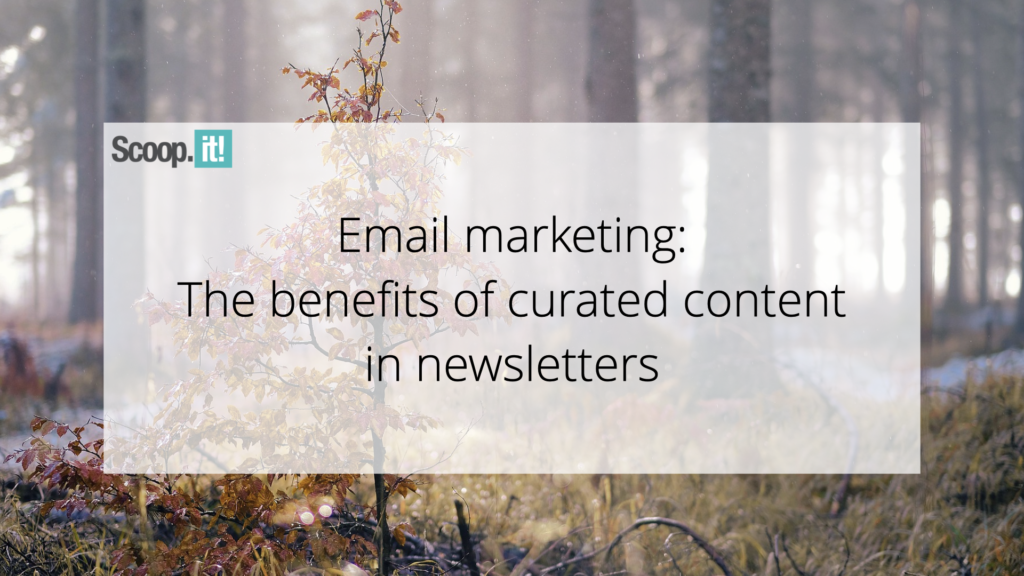 Email is one of the most effective channels to communicate with your audience and enhance your brand reputation. Statistics show that at least 306 billion emails are sent and received daily, and over 4 billion people interact with emails at least once per day. And that's not all. Studies show that every dollar a business spends on email marketing generates about 42 dollars in revenue — a whopping 4,200% ROI!
However, these numbers don't mean that emails are a magic wand that can automatically boost your sales. For them to be effective, you need to use the right strategy and send out emails with content that stands out and captures your audience's attention.
One such strategy is using an email newsletter. An email newsletter is a perfect scaffold for sharing valuable content with your audience. A well-curated email newsletter provides an effective way to share with your audience the latest industry news, upcoming events, and other valuable tips to keep them engaged and informed about your products or services.
And there's more. In this article, we'll share seven reasons curated content is excellent for your next email newsletter.
Highlights What's Important
In today's world, information is at our fingertips: you can find answers to any question online without much effort. But with the copious amount of data available, it's almost impossible to find what's important. Readers often feel like they are missing crucial information from all the internet noise.
A curated newsletter helps remove the noise and presents only vital information to the reader. It contains the best and most relevant content on a specific topic, giving your audience an overview of what's important and trending in your industry.
Share Valuable and Credible Content From World-Leading Publications
An effective email newsletter doesn't contain content from your blog only. A curated newsletter is a roundup of all the top content in your industry, including content from your competitors, provided it's the best material.
The idea is to compile everything crucial in one place to give people a complete overview of what's trending in your industry. Think of it as making a mixtape or a playlist of the currently trending hip-hop music. You find the top songs from different hip-hop artists and create a mixtape that you can showcase to your friends to establish yourself as a musical genius.
It's the same case with email content curation. For instance, good content is often shielded behind a paywall. Partnering with content licensing firms and incorporating some pieces of such content in your emails will make your newsletter invaluable.
When choosing content to include in your emails, be sure to follow the principles of good digital citizenship; great content is inclusive, has been verified for accuracy and authenticity, and strives to solve problems and encourage action.
Preserves Your Readers' Time: There are No Dull Moments!
With all the digital chaos, time is the single most important asset that your readers have. There is so much digital noise on the internet, and readers appreciate sources that make it easy to find what they are looking for. For instance, did you know that more than 2 million blog posts are published daily? As a reader, this much content can make you feel like you're missing out on important information due to time constraints.
Curating a newsletter with the most crucial stories helps your audience find what they are looking for without spending too much time searching for it. And this helps build trust in your brand (more on this later.)
Helps You Stay on Top of Industry Trends
Curating an email newsletter allows you to explore and stay on top of the latest trends in your niche and industry. Keeping up with trends will enable your brand to break market boundaries and communicate its values in a diverse manner.
For instance, let's say you're a digital marketing business. Tracking a few industry keywords can tell you a lot about what's happening in your industry and what your competitors are doing to maintain their market share. It can also give you valuable insights into other details that can help improve your business strategy.
Curating newsletters exposes you to new topics, websites, and ideas, giving you helpful insight into industry trends. However, for maximum results, you might need to put together a team of professionals and sign up for team collaboration software that comes with critical features, such as keyword alerts and topic monitoring, to find relevant content and keep up to date with what's new.
Establish Your Business as a Thought Leader and Subject Matter Expert
Providing excellent and relevant content regularly puts your brand in an authoritative position and builds trust with your audience. It tells your readers that you know your industry well, which makes them value the content you share and respect your brand. In short, it makes you a thought leader in your niche.
A thought leader is someone who influences a narrative; they are the go-to industry resource for news, opinions, and general information. Being an industry thought leader could bring great results to your brand identity, recognition, and authority. Thought leaders are invaluable assets for promoting their organizations' growth as well as fostering community-building within their respective fields.
Thanks to the Covid-19 pandemic, e-commerce has grown exponentially, and with it, the need for reliable opinions and online thought leadership. For instance, at least 51% of B2B decision-makers say they now consume thought leadership before making purchase decisions. This shows that brands with stable thought leadership status produce more ROI than those that don't.
To further improve your authority, ensure all your marketing messages come from your business email. Developing and using a professional email address is crucial when communicating with your audience, as it helps your readers take your brand more seriously.
Curated Content Drives More Engagement
An engaged audience is crucial for any online marketing strategy.; no one wants to talk to a wall.
Curation is a great way to give you plenty of exciting content to pique your readers' interest and keep them hooked to your brand. In fact, studies show that curated content receives 33% more clicks than general content.
This shows that curated newsletters can help keep your audience talking about your brand and interacting with your content on other platforms, like social media.
Capture Your Customers' Attention and Increase Conversions
One of the main advantages of email marketing is how efficient it is. Emails offer the simplest way to get your content in front of a vast audience at a go. With a single email, you can share your content with many people at once and encourage them to learn about who you are and what you have to offer.
What's more, a targeted email marketing campaign can help you increase conversions. For example, a curated email newsletter about product launches can get your customers' attention and increase conversions for your business.
A beautifully designed website can further increase conversions; just make sure it's built with customer security in mind. Features like SSL certificates, a PCI-compliant payment gateway, and account access through multi-factor authentication can go a long way in showing your customers they can trust your brand.
Conclusion
In the current digital world, consumers often face information overload and don't know which sources to trust. Curated content newsletters provide a great strategy to promote your content, demonstrate your brand's thought leadership, and enhance your email communication. And the cherry on the cake, email marketing is one of the marketing strategies with the highest proving ROI available.