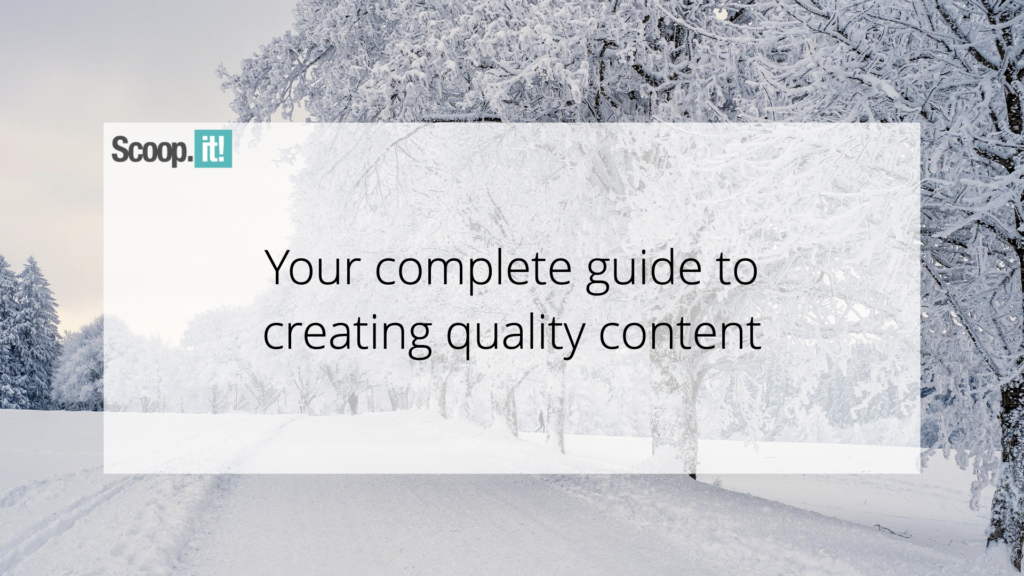 Have you ever wondered how you can write content that generates more leads, engagement, and site traffic? 
High-quality content creation is a fundamental pillar for inbound marketing. As such, much of your time needs to be dedicated to creating quality content that can boost your search rankings and increase conversions.
Writing is a craft, and like other skills, it takes time to improve. This guide will teach you some essential resources to help you create quality and original content.
Identify Customer Pain Points 
Identifying customer pain points is the first and essential step in creating valuable content. If you know the problems your customers face, you can use them to create solution-based content.
Surveying is a great way to identify customer pain points, as it allows you to ask detailed questions to a large group of people. Just make sure you are posting the survey in the right places.
Here's an example of a survey question that identifies pain points:
The question is well worded and specifies that the respondent must answer in detail, leading to better data on the pain points.
Another way to identify customer pain points is by reading reviews. If, for example, many customers have an issue with a particular feature on a digital camera, you can create content that explains the feature.
You may also want to go through the issues raised by customers through your customer support department. Identify the recurring issues customers experience. These pain points can then inform your content creation strategy.
Write High-Quality Content
After identifying pain points, the next step is to create high-quality content. But what is high-quality content? High-quality content is useful, in-depth, educational, accurate, and readable. Readable, meaning it is easy and entertaining to read.
High-quality content fills a niche and adds value to your readers' lives. But you also need to ensure your content is relevant to the user's search intent, so optimize your content to address the user intent fully.
Basic SEO strategies like using alt tags and optimizing meta descriptions are a great way to make your content easier to find.
Formatting is key as well. Long paragraphs can bore the reader, so stick to short, compelling paragraphs. High-quality content incorporates multimedia, too. You can enhance the text with videos, GIFs, and other infographics.
Always consider if your content adds value to the reader's life. It's also important your content follows your brand voice, so consider writing a style guide for uniformity. Follow this style guide whenever you're creating content to maintain consistency.
Market Your Content
Content marketing is varied. It can involve video content, infographics, search engine optimization, social marketing, and more. You could even use a marketing agency proposal template and outsource your marketing function.
Share your content on social media platforms like Facebook, Twitter, and LinkedIn to get people talking about it. More potential customers will find your content through these platforms, increasing your organic reach.
Here's an example of how to share your content on social media:
The content is effective as it engages the audience with a visual and includes an external link to the content.
You can also pay for targeted ads to expose your content to the right audience. You will get more engagement with targeted ads as the content is more likely to appeal to the reader.
The ad below is a targeted Facebook ad that promotes an article.
Another good way to promote your content is through rewards and referral schemes. Ask your customers and people interested in your brand to share your content among their circles. If your brand has a positive perception, your customers won't hesitate to share the content.
Here's a great example of a successful referral program from this newsletter:
The referral program encourages readers to share the content with friends who are more likely to pay attention to the advertising compared to a random social media ad. Rewarding the reader also makes them more likely to engage with future content.
But don't forget to promote your content via email as well. Email marketing has an old-fashioned perception in the eyes of some marketers. However, 89% of marketers still use email as their primary marketing channel for lead generation.
Here's a good example of email marketing content:
The content has appealing visuals, enticing incentives, excellent copy, and a strong call to action.
Establish the Metrics You Want to Track
The next step to creating quality content is establishing the metrics you want to track. By identifying these metrics, you'll have a way to track your content's performance. If the content isn't performing as it should, you can make tweaks based on the metrics.
There are many ways to measure content performance, but you should start with these:
Social shares: Your social media reach is a great indicator of how your content performs. Most social media platforms have an analytics tab you can use to monitor performance. You can also use dedicated analytics tools to gain deeper insights, for example.
SERP rankings: Your search engine rankings are an essential metric to consider. You can monitor your SERP ranking by using SEO tools like Ahrefs, SEMRush, and Moz. High SERP rankings are a good indicator that your content is high-quality.
Impressions: Impressions show the reach of your content. Pay attention to the number of times your content is viewed and the location it reaches. That can help determine whether your content is reaching the right people.
Click-through-rate (CTR): Your CTR informs you how your meta-descriptions and keywords are performing, i.e., how often users click on your content.
Here's an example of a dashboard showing open and click-through rates:
Once you've established your metrics, you can use them to assess your content and make any necessary adjustments.
Track Your Performance
You can keep track of your content performance by looking at the metrics most important to you. Most marketing teams track by looking at metrics like the number of visitors they get and how long those visitors stay on their websites.
Tools like Google Analytics, Ahrefs, and SEMrush will help you track your performance over time and compare it to other companies in the same industry. These tools give you insight into what types of content drive traffic and keep your visitors engaged. A typical tracker looks like this:
Tracking your content performance is crucial to understanding buyers' interests. It gives you an idea of what's working and what's not. It also helps you see what needs to change, allowing you to identify trends that can inform your future content strategy.
In Closing
Creating quality content is essential for your business. Users pay attention to and trust websites and businesses that provide quality and engaging content. How else will your business progress if your target audience doesn't trust it?
In this guide, you've learned how to create high-quality content for customers' pain points. You've also seen how to market that content effectively and track its performance to ensure it's working as intended. The takeaway is that quality content is crucial to the success of your blog, so ensure your content is as thorough and detailed as possible.
All the best!