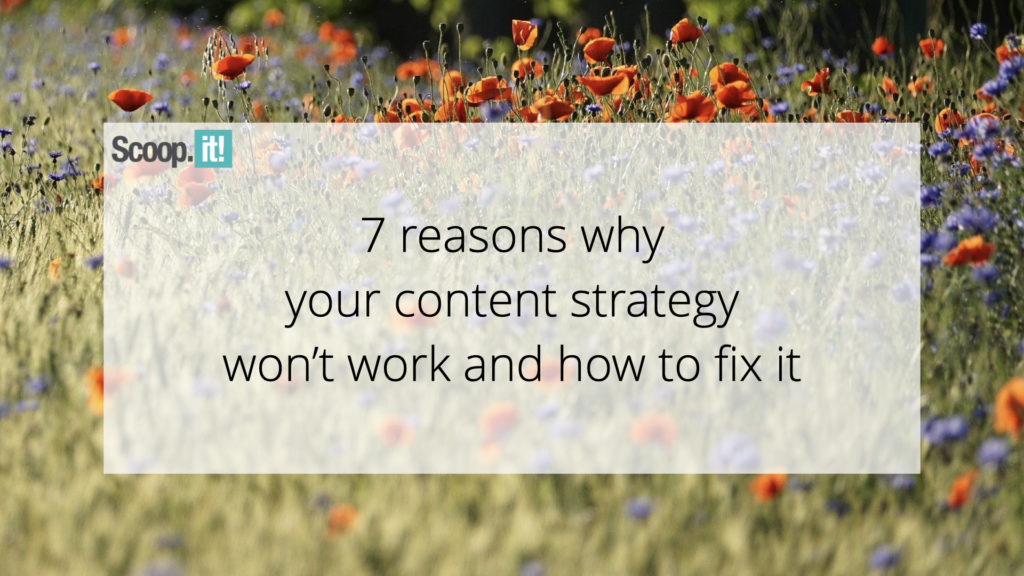 You have been trying so hard to work on your content marketing. You have read hundreds of "10 things to do" articles on content marketing and content creation. You have tried all things possible, but absolutely nothing is working!
If that is you, we have exactly what you would need to fix your content marketing strategy!
In the content abundant age that predominantly functions on algorithm manipulation, your content marketing strategies are always at the risk of failing. The pace at which our technology is changing is unprecedented, and almost every day, there is some alteration being made in the ways social media functions.
So let's try the content strategy game in reverse. Instead of doing all you can to make your blog posts work, let's see why they won't!
Problem 1. Your campaign lacks a budget and documentation
Basically, your campaign lacks a strategy. Spending when you don't have much in hand might sound like a risky game, but you need to understand that your content marketing strategy will go nowhere if you do not have a basic budget allotted to it. In fact, the budget needs to be planned and extremely precise.
Some companies don't have a plan for budget nor a content strategy and end up spending a lot more while wildly shooting bullets in the air. They would have spent less if they had a budget.
In simple terms, if you don't have a budget, you don't have a marketing strategy in hand.
Most times, when startups and small-scale businesses claim that they don't have the budget, it's a lame excuse. If you have jumped upon the idea to start a brand, it's crazy to think that it will suffice to only spend on manufacturing the idea or the product.
You need your content to speak for your product and your brand. Trust us; it's a highly lucrative move.
Another very specific reason your content is failing might be the lack of documentation. It may sound strange as, with or without the documentation, if you are making the right moves, your digital marketing strategy should work, right? Wrong!
If you don't have the proper documentation, how will you trace where the problem stems from? Documentation helps to set priorities and hence is a productive move.
Lack of documentation can also create unnecessary miscommunication. For example, you might have a very clear idea of what you want for a solid content strategy, but your team might not be on the same page as you are. You need to have clear and concise communication via well-documented channels to deliver unified messages.
We suggest moving content marketing up in the priority list and allot a well-thought-out chunk of the budget to make a strategic move to ace your digital marketing game.
Problem 2. Your content targets the wrong audience
You need to know who you are selling to; your audience needs to have a precise customer persona. Focus on narrowing down your target audience to make sure that you are reaching the ones who are interested and can turn into potential customers.
The first step is to research and understand exactly who you want to sell your product to. Targeting a specific gender or age group isn't enough. Demographics, cultural background, economic background, their motivation to gravitate towards your product, etc., should be well researched before setting your target audience.
The next step should be to know which communication channel works the best for them and promote your content on the right channels. Learn their social behavior, the timings of their activity online, the content format that they most interact with, etc.
In this step, you should also make sure that you understand the language they speak so you can sound familiar to them while you deliver your content.
The final step is to now redesign your ad campaign with the learning from the above steps and implement it to draw more customers who would resonate with your ideas.
Quick Tip: Highlight the features of the products that are the most important to your audience — this will make your content work better.
Problem 3. Your content isn't unique
This one is tricky and one of the most important problems that need your attention. The internet isn't just full but drowning with data, content, information, and surprisingly, it's all the same.
Of course, there is a problem, and well, this one is ironic as you need to strive to be unique when the competition sells almost the same thing and talks in the exact same language.
Our problem here isn't only that you need to stand out, but you need to strategically stand out since the algorithm only works for those who create content in the same language which the algorithm understands.
Source: Agorapulse.com
So your content marketing success is dependent on you standing out doing the exact same thing as others. This is surely a mind-boggling problem.
Creative problem solving is your solution here. Understand the social media channel and what content format works for your audience. For example, suppose your target audience mostly prefers Instagram. In that case, you need to understand that if you deviate too much from the norms of Instagram to be unique, Instagram won't let you compete.
Instagram prioritizes reels over any other content format available in it. However, everyone makes reels, and even more specifically, Instagram prefers to promote the reels which use trending songs and trending video formats only. This aggravates your problem as you have to look exactly the same now and still stand out.
Some tips for walking this fine line:
Start with a pertinent question that might interest your audience.
Start with the unique feature of your product on display.
Use attractive color schemes that are informed by psychology for exciting and engaging your audience.
Make it clear that you understand your audience's pain points and address their issues.
Make your brand's unique voice loud and clear.
We have given you a rough draft to follow in case Instagram reels is the channel that works for your customers. Take note and create the right content for different sets of customers on other platforms.
For example, use interesting and visually appealing ways to display your content, like in this post that features a mattress size chart. The visuals ease the job for the customers by displaying the size charts in a simple yet visually appealing manner.
Alternatively, you could turn blog content into a sharable infographic. This infographic will spread faster than competitors' blog posts because it is social-media friendly. Creating an infographic is easy — just use an infographic maker.
Note: Videos rule in today's content consumption, so even if your target audience mostly prefers blog posts, do not forget to engage audiences with videos.
Problem 4. You aren't optimizing for search engines
Keywords are what the internet works on. Even if you produce quality content, it has no value on the web until you optimize it for search engines. The easiest way is to write what you feel works the best for your audience and sprinkle your content, article, and captions with SEO keywords.
Source: Oberlo.com
Don't just limit SEO to your blog posts, but make sure your blog name ideas are SEO smart.
Great content isn't great if you can't find it, so take that extra step and use SEO plugins. But first, do thorough keyword research and make a list of keywords that would work for your content and audience.
Apart from adding keywords to your content, make sure you add value. The more useful your content is for the audience, the higher the chances you will be up at the top of the search list. If you write a helpful article, it also becomes part of good resources for other blog posts, and hence they may add your website link to their blog, which will redirect traffic to your brand page.
Another important thing to focus on is that your website design is user-friendly and easy to navigate for your audience.
Problem 5. You aren't leveraging cross-promotions
Content marketing doesn't end with you creating content and posting it online. Do not make the mistake of waiting for web traffic to start pouring in magically. Cross-promotion is where your marketing team starts playing their cards and strums on the right strings so that your content marketing strategy starts giving lucrative returns.
The easiest way of doing this is via social media. Promote on all possible social media platforms and prioritize the ones used by your audience the most.
You should also consider the drawbacks and tricks that work with different social media platforms. For example, a tweet only lasts for 18 minutes, while an Instagram post will be shown in your followers' feeds for four hours.
A few things to keep in mind:
Tweet and make the content retweet worthy so that it keeps circulating beyond the first 18 mins.
Each time you post, make sure that it's at the exact same hour. This move tweaks the algorithm, especially on Instagram, and shows your post to a wider audience.
Schedule and reschedule shares on Facebook.
You should not forget email marketing.
Seek help from your personal contacts and your sales team — ask them to share content on their personal accounts to direct more traffic to it.
Do not forget LinkedIn.
Submit content as a guest post to websites belonging to influencers in your industry.
Mention and link your content while commenting on others' posts.
Use SMS to cross-promote your website content.
Add internal links. Link your previous article to your new article to redirect website traffic to your previous posts.
Source: Mangools.com
Problem 6. Your content prioritizes the hard sell
Yes, you are trying to sell a product, but you don't always need to keep announcing it and bug your customers. What we mean is avoid creating explicitly sponsored content and don't make your content look like an ad.
Even your most loyal customers might just skip reading or watching your content if they feel like you are trying to sell something. The first thought that arrives in your mind when you see an ad is, "I will have to pay now," which is not always a pleasant thought; hence your ad look might repel the audience.
Instead, try helping your audience by delivering a solution to the problems that they might be facing. In such situations, your content would feel like a savior to your audience, and the thought of payment fades to the background.
For example, you set up an online store, and you want to draw traffic to your website. You should write how-to guides and other content that adds to the horizon of your audience's knowledge so that they can be informed and act upon that information to purchase the product that you spoke about in your guide.
Source: HubSpot Blog
Problem 7. You forgot about search intent
When you google anything, it's not just random words, but there is an intention behind it, right? Search intent is exactly that; you make your content functional for various intents at the different stages of the sales funnel.
There are four kinds of intentions that you need to rank higher in:
Informational Intent. It's exactly how it sounds, your audience is looking for information, and there you are, providing them with what they want.
Commercial Investigation. In this kind, the potential customer intends to buy the product but is investigating the variety of options available. Reviews, demos, and a comparative analysis will help you rank higher in these cases.
Navigational Intent. This one is tricky as the audience is looking for a specific product and brand. However, you might be able to win the game if you have good visibility on every social media platform and are included in online directories.
Transactional Intent. The customer wants to buy the product but is looking for the best price and promotional offers. For such cases, your SEO comes in handy. Strategically sprinkle words like "best price"/ "great deal"/"best offer"/ "combo offer", etc.
It's time for your content strategy to work!
Yes, you are ready to ace your game now and make your content work for you.
You have done your introspection and are now powered with the knowledge of why your content won't work. Now, tweak it so it gives you some lucrative returns.