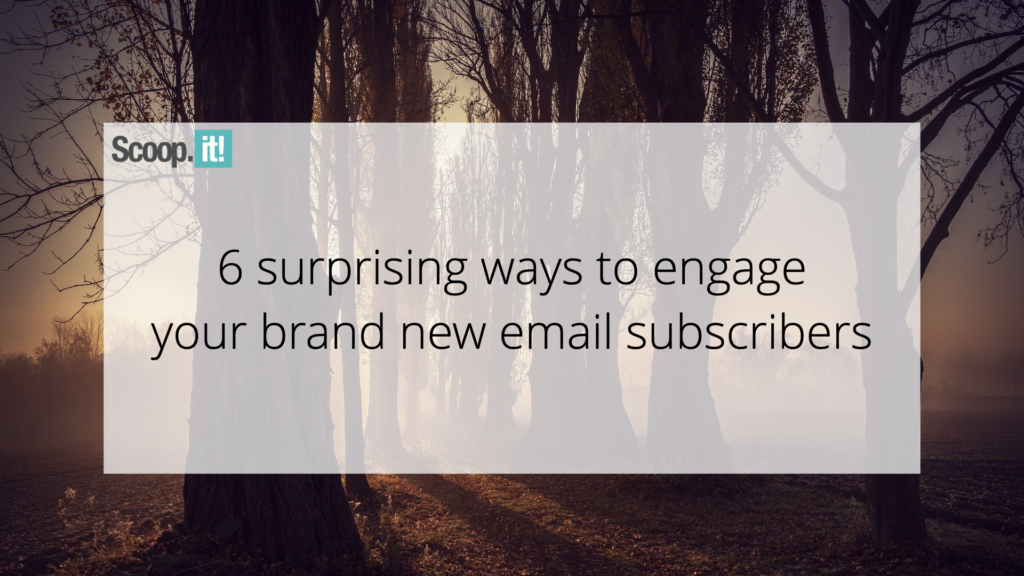 Growing your email list can be challenging but engaging your newly onboarded email subscribers is even more difficult.
People are quick to leave if they don't get any value from staying subscribed to your email list. To prevent that from happening, you have to keep the users engaged and make their subscriptions worthwhile.
It's all about sending the right messages to the right people at the right time to keep them engaged and subscribed to your list.
But, this may not be as easy as it sounds. People have diverse preferences so it can be difficult for you to engage them all via impersonalized messages. This is the reason why email marketers struggle to ensure two-way communication.
If you've been looking for ways to engage your new email subscribers, here are some proven tactics that can help.
So, without further ado.
Let's dive in.
Don't Forget to Welcome Them
Did you know that welcome emails have an average open rate of around 82%? That's way higher than the open rate of your standard emails.
It's a common practice in email marketing to send a welcome email once a user has subscribed to your list. But, some marketers take it for granted.
By sending a welcome email, you show your new subscribers that they're important to you and you cherish their decision of subscribing to your list. Overall, it's a nice gesture.
Everyone likes to be welcomed and your subscribers are no exception. Sending a welcome email is your first step to engaging your subscribers and ensuring lasting relationships.
Timeliness is the key here. The sooner you send your welcome emails the better. Your subscribers are more likely to open welcome emails if they receive them immediately after subscription.
To send welcome emails, some prefer automation, whereas others like to welcome their subscribers by sending emails manually. It doesn't matter which method you choose as long as email deliverability is not compromised.
Be the One to Break the Ice
In order to engage your email subscribers, you have to ensure two-way communication. You can't just send emails on a periodic basis and be done with it. Your subscribers are more than just emails added to your list. Think of them as people you've just met and want to start a conversation with.
You have to be the one to break the ice. It's less likely for your subscribers to proactively reach out to you with their queries and concerns. So, make them feel at ease to ensure hitch-free communication.
A common mistake often made by email marketers is inquiring their subscribers about the information they may not be comfortable sharing especially with new businesses.
Try and take things a bit slow. It's best to let them get to know you first. Don't dive right into the investigation mode as it can make your subscribers very uncomfortable.
Share Relevant Content
Content is king. There's no denying that. Around 87% of marketing visionaries consider content as the core of their marketing strategies. Why? Because content helps you connect with your target audience.
Content makes it possible for you to cater to the queries of your audience and provide them with fitting solutions. This is one of the most effective ways to gain the trust of your subscribers and scale your engagement.
People like exploring things that align with their interests. So, sharing content tailored to the needs and preferences of your subscribers can lead you to acknowledge high engagement levels.
Sharing relevant content is also a great way of generating value by offering something in return to your audience. This gets you the desired traction from your subscribers and brings your brand into the limelight.
Personalize Your Emails
Did you know that personalized emails can boost engagement and increase your conversion rate by up to 6 times?
It's common for businesses to use email automation tools these days. It's a brilliant technology that makes it easy for you to design complicated drips in a matter of minutes. But, there's a flip side to everything.
One of the critical flaws of using email automation tools is that they can lead you to create impersonalized emails if not carefully administered.
No one likes to receive an email that reads as if it was drafted by a bot. So, it's essential that you tailor your messages as per the respective use cases to grab your audience's attention. Therefore, to maximize engagement, you have to ensure that your emails are personalized as per the recipient's profile.
Using just the recipient's name in your email's subject line can lead you to acknowledge an open rate of around 21.2%. Imagine the results when you've personalized the entire email marketing campaign.
Encourage Replies
Sending emails is easy but getting your recipients to respond to them can be challenging. People are generally very busy. So, responding to your emails may seem like an extra chore to your recipients.
This is more likely to happen if your emails are centered around you compared to your audience. There's nothing wrong with pitching your product or service. But, doing it all the time can be a major turn-off.
Give your subscribers the reason to get back to you. You can't say that your subscribers are engaged if it's just you sending them emails. This has to be two-way communication. So, you have to encourage replies. And the best way to do that is by shaping your emails around the interests and preferences of your subscribers.
Be Quick to Respond to Queries
One of the biggest mistakes made by email marketers is ignoring the queries received from their subscribers. People are generally reluctant to respond to emails. However, there are a few who do not shy away from writing back to you.
The last thing you would want to do is ignore these emails. Your audience reaches out to you for a reason. So, it would be unwise to just ignore their responses. Plus, this is the engagement opportunity you've been striving for.
So, it's best that you are quick to respond to queries received. Addressing the concerns of your subscribers is one of the effective ways to gain their trust and nurture them into sales-qualified leads.
It's a Wrap
There you have it. The 6 surprising ways to engage your brand new email subscribers. The implications of the recommendations may vary from one use case to another. So, try the ones that pique your interest and see if they work out for you.