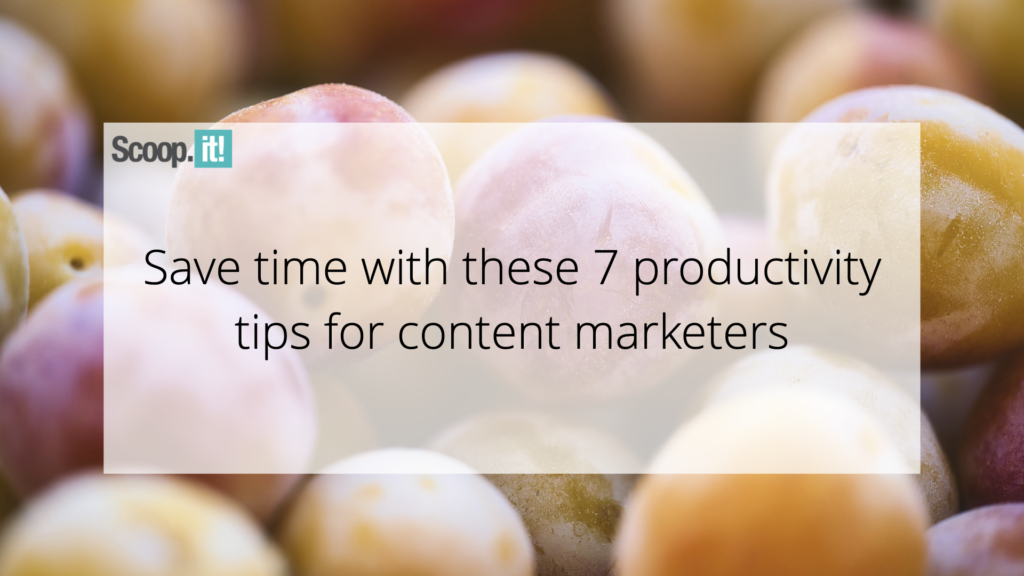 It takes a lot of work to generate ideas, then draft, conceptualize, and edit content to fit the new market environment. The deadlines are intimidating, which only makes it worse. But if you're well-organized, you can easily overcome these difficulties, save time, and avoid stress.
This article will provide seven recommendations to help you get through the grind as a content marketer. Let's examine each of them individually.
Start by Strategizing
Every great and agile content marketing strategy starts with clearly laying down the goals you need to focus on.
Here are some great tips that can help you get started:
Monitor competitors. Look at what your competitors are doing, and benchmark your goals against their results. Make sure you choose a successful competitor who is only one step away from where you are with your business growth. Try to catch up with them.
Set SMART goals. It's always worth checking whether your goal meets the five fundamental criteria. Every goal you set should be specific, measureable, achievable, relevant, and time-bound.
Organize brainstorming sessions. Start with gathering your teams under one roof and mapping out ideas from each one. You'll later match them with specific goals.
source: Venngage
Once your goals are set, you're ready to lay out all the activities that will help you get there. Create one document listing all your goals, activities, and estimations, and return to it regularly to ensure that what you do aligns with your objectives.
Unravel the Power of Workflows
Content creation is a step-by-step process, and each step demands attention. Here's how:
Your marketing team gathers information and forms a content plan.
The strategy then gets passed on to the team or person responsible for SEO to perform a keyword search and gather other metrics.
The information collected from the above two teams reaches the content team, who then start the drafting process.
The drafts reach the editor to conduct final proofreading.
The ready draft then goes back to the SEO team, which analyzes the keywords' depth and formatting.
The final draft reaches the team responsible for updating the content on the website.
source: Orbit Media
With each of these steps, you get a final product that makes you rank higher on search engines. Defined roles and set expectations improve your workflow, and the work gets done faster.
To facilitate communication between team members, you can use project management software. Team members will get notifications when the status of a task changes or a new task is assigned.
Leverage the Power of Automation
Automation is life-changing. Here are some examples of different processes that can be automated in content marketing:
Use cold email software for sending automated outreach email sequences while distributing content or building links.
Leverage a social media scheduling tool for sharing content across all your channels with a single click.
You can use apps like Shift to bring messages and emails from different accounts under one roof.
Use Grammarly for instant grammar checks and plagiarism detection.
Inspire your writing with the AI-powered outlines offered by Surfer SEO.
Hire a virtual marketing assistant if you're not able to deal with everything on your own during your working hours.
Use automated webinar platforms to save time you would normally dedicate to designing the landing page for your event from scratch. With webinar automation, you can use simple templates and deal with the task much faster.
Do reduced efforts paired with increased productivity sound like a dream come true? This is exactly what you get with these tools and strategies.
Make Friends with Time-Blocking
You can avoid distractions and stay productive by blocking off parts of your calendars and following a set schedule. For instance, check your emails during the first hour after you reach your workplace, stopping right after the set time period.
Here are some additional tips:
Reduce interruptions in your writing area, such as the urge to idly check your social media accounts or browse the internet. You can accomplish this by using an application blocker.
Learn how to keep track of your time and work hours using a tracker so as to not exceed the blocked off time.
Remember the task at hand. If you are a writer, your task would be to produce a piece of content and send it to an SEO expert for further action. You will inevitably lose focus if you start juggling several tasks.
Content drafts created in one sitting are ideal. You won't have to go back and forth as often because they are better organized.
Use the Pomodoro technique: focus on your task for 25 minutes, then give yourself a five-minute break.
Following these tactics will not only make you more productive at work, but they will also help you improve the quality of your content because you're more organized and better focused.
Navigate Seamlessly through Resources
As content marketers, we all have resources we refer to repeatedly at different stages of our work process. However, more often than not, we forget where to find these resources.
Organizing your content resources is one of the most underrated productivity techniques. It helps you navigate your notes easily without wasting your precious time and creative energy.
Create a single folder for all your content resources to make navigation seamless. Divide the main folder into subfolders for topics such as blog articles, social media posts, infographics, etc. You can use your Google Drive or a project management tool for this organization.
Repurpose Content
Reusing previous material is a huge time saver. It allows you to maximize the potential of a single piece of content. It also takes less time to adapt content to a different format or post it on a different platform than to prepare a new piece from scratch.
Say you've recently hosted a webinar. You can upload the recording to YouTube or transcribe it and convert it into a blog post. You can also draw a few highlights from the webinar and turn them into social media posts.
source: Renderforest
Make the most of each format of content you use, and repurpose them as much as possible. In this way, a single piece of content can be the gift that keeps on giving.
Take Some Time Off
The modern world is fast-paced, so taking a breather and relaxing for a while is okay before jumping onto the next thing on your to-do list.
Take a break to read a book or go for a walk with your dog. Regular breaks go a long way in making you more productive because you bounce back with double the energy.
Avoid checking your inbox after hours or during breaks, and never do so during your days off. Use this time solely to find the perfect work-life balance. By being kind to your mind, you can avoid feeling reluctant towards your tasks, experiencing burnout, or quietly quitting.
Conclusion
Being productive is all about becoming ruthlessly organized, but it may sound like a buzzword if you don't know what exact steps to take to actually organize yourself.
As a content marketer, you should constantly have a strategy at the back of your mind and set clear workflows for all tasks that require input from more than one team member. You can finish your tasks way faster if you automate repetitive ones, have your resources organized, and repurpose a single piece of content for different platforms and formats. Finally, it's essential to take time for yourself and keep your thoughts away from work while your body's away from the computer.