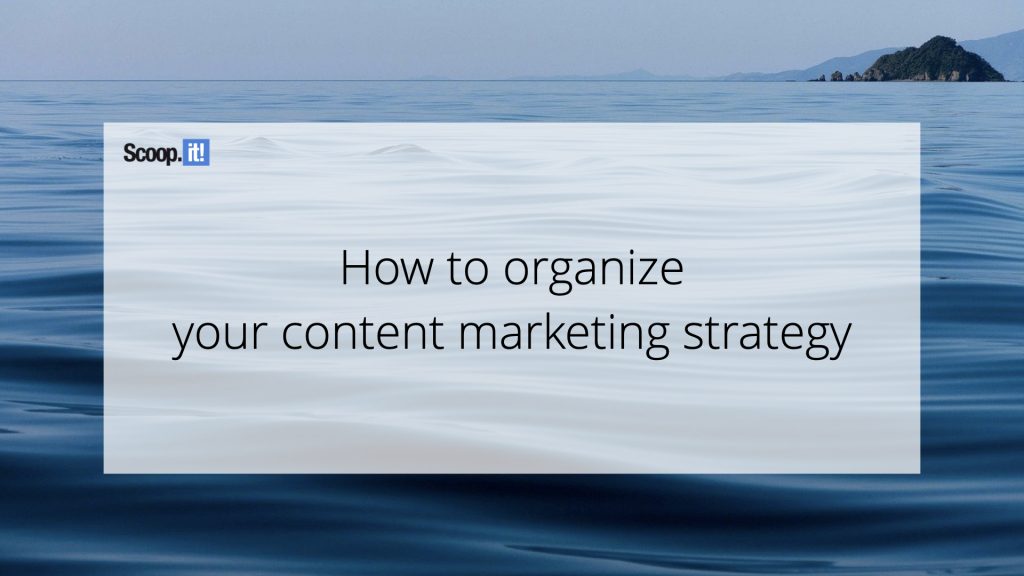 Content marketing isn't what it used to be. In today's day and age, where millions of social media posts, blog posts, videos, and articles are pushed out on a daily basis, you have to be intentional and focused. In other words, you can't fly by the seat of your pants – you need a strategy.
What is a Content Strategy?
Source: https://contentmarketinginstitute.com/wp-content/uploads/2016/02/Marcia_WorkflowGov-01.png
Every brand produces content in some form or fashion. But there's a difference between creating content and having a content strategy. A content strategy is a documented plan that identifies your business goals and then uses content as a primary conduit for achieving those goals.
For example, if your goal is to introduce your new brand to the industry through a targeted brand awareness strategy, your content might focus on viral social media videos, SEO, and paid traffic (as a way of reaching a cold audience). On the other hand, if you're an established brand with plenty of eyeballs and clicks, your strategy might be centered on establishing authority through high-value content like eBooks and courses.
For now, the what is less important than the why. Whereas most brands take a shotgun approach, a content strategy forces you to zero in on your goals and get focused. More specifically it helps you:
Track progress. When you have a documented strategy, it allows you to track your progress toward your goals so that you know when you're tracking and when you're not.
Identify new opportunities. Content marketing isn't stagnant. It's constantly shifting to meet the changing demands of the marketplace (as well as the evolution of technology). When you have a strategy, you're able to more quickly identify opportunities and adapt to them.
Eliminate waste. A good content strategy eliminates wasted spend and allows you to focus on the 20 percent of tasks that generate 80 percent of the results.
Iterate to great. With a content strategy, you quickly identify where you're excelling and where you're not. In response, you can continually iterate until you're squeezing every last drop of value out of your content.
The biggest challenge with having a content strategy is staying organized. With so many different moving parts, it's easy to become overwhelmed. There are pieces of content, tools, processes, goals, etc. If you don't stay organized, even the best-laid plans will disintegrate before your eyes.
How to Organize Your Content Strategy for Better Results
Organizing a content strategy doesn't have to be impossible. As long as you have a few good pieces in place, everything else will fall into line.
Here are some suggested action steps:
Establish the Foundation
An organized content strategy starts with a very clear, articulate, and well-documented foundation. At a minimum, this means understanding:
Who will be reading the content? / Who is your target audience?
What specific problems are you solving for your readers?
What makes your brand unique?
What is your brand's voice/personality?
What is your brand's visual style? (Colors, fonts, logos, etc.)
Each one of these questions requires a thoughtful and documented answer. For convenience and clarity, organize all of this information into a singular resource that can be easily shared and accessed throughout the company.
Organize and Store Content Securely
In order to stay organized, you must have a home base for all of your content. More specifically, you need a place to store your content and a system for how you store content within that place. In other words, you need to:
Pick a cloud storage platform to host all of your content files. Ideally, this solution should be equipped with enterprise-grade security (which includes encryption of documents in transit and rest).
Develop a clear folder system whereby every piece of content is placed in a very specific folder or subfolder. Some brands organize content by type (blogs, social, video, etc.), while others have a time-based system where content is organized by the week or month.
Keep your content organization system simple yet clear. Anyone should be able to pick them up quickly. However, it should do a good job of keeping content securely organized so that any piece of content is accessible at a moment's notice.
Pick the Right Channels (and Stick With Them)
You don't need to use every type of content or every channel to succeed with content marketing. In fact, the most organized and effective content strategies purposefully do not try to do everything at once.
Unless you have the resources of a Fortune 500 brand, you probably can't manage Facebook, Instagram, Twitter, LinkedIn, TikTok, Instagram, Snapchat, onsite blogs, guest blogs, YouTube videos, podcasts, and webinars all at once. Instead, you need to pick one or two mediums and one or two channels.
For example, it's much easier to stay organized and create effective content if you're 100 percent focused on your website blog and Instagram (or maybe it's a podcast and YouTube channel). Pick the right channels and stick with them!
Develop a Calendar
Source: https://blog.scoop.it/wp-content/uploads/2019/06/5c663957-60b5-4b29-b83c-499d17f3e67c.jpg
One of the best ways to stay organized is by creating a content calendar. A content calendar is basically a dedicated calendar that includes specific dates and deadlines for content creation, publishing, and sharing. It allows you to plan out your content as far as three to six months in advance. This ensures you're always tracking with key deliverables. It also gives you a visual overview of when content is being created and shared so that there are never any major gaps.
Use Templates and SOPs
In order to scale up your content strategy, you need to add more people to your team. (Outsourcing to freelancers is usually the most cost-effective option.) And to stay organized through this expansion, you'll need documented processes. This is where templates and standard operating procedures (SOPs) come into play.
You should have a template for any type of content that gets created multiple times. This includes blogs, social media posts, and email newsletters. Then there should be SOPs for how to create content, format content, share content, publish content, pitch content, etc. In fact, your SOPs should be so detailed that anyone can pick it up and follow along (even if they don't have any previous experience).
Take Your Content Marketing to the Next Level
Source: https://www.techsoup.org/SiteCollectionImages/Content/5-steps-to-an-effective-content-strategy-for-your-nonprofit-01-attributed.png
You can have the best content in the world, but if there's no plan for how to share it in a way that maximizes exposure with the right people at the right time…well, it doesn't really matter.
Take your content marketing strategy to the next level this year by finally getting organized. It won't always be fun, but it doesn't have to be difficult.